Port Modernization Critical to Export Futures
By Patricia Keefe
Readiness for Panama Canal Expansion is Just One Variable Driving Global Play. Inland Waterways, Ports Must Tackle Time and Money Issues to Play in the Post-Panamax Era. It's risky business.
It always comes down to time and money, doesn't it? And when it comes to the readiness of U.S. ports and inland waterways to handle the opening of the expanded Panama Canal, service post-Panamax ships and deliver exports to burgeoning middle classes in southeast Asia and China, it's the same old song and dance: Will they have the money to get done what needs to be done, and will they get it done in a timely fashion?
Given estimates that as much as 99% of U.S. trade – $1.4 trillion in goods every year – travels through the ports and inland waters, and as much as 81% of U.S. agricultural exports ride the Illinois and Mississippi Rivers, the answer could significantly impact U.S export market shares – and even open the door to aggressive South American ports and suppliers if we're not careful. The United States is the world's economic powerhouse – we buy the most stuff and ship the fastest in key areas. Shippers want to come here. Our rate of consumption is unlikely to abate anytime soon, but from an export standpoint, where we are most at risk is time to market, or more precisely, time to port. And time is money – at all stops along the delivery channel.

Speed
"What makes the U.S. so competitive is not because we do, say agriculture better. But because we can get the agricultural goods to market better. We win on the world market consistently because of our speed. If we lose that ability it puts a whammy on the system," says Jim Kruse, a ports and waterways expert and researcher at the Texas Institute of Transportation.
The Panama Canal Authority (PCA) claims that roughly 14,000 ships transport 300 million tons of cargo through the canal every year, adding that 66% of that cargo traffic today flows to and from the U.S. Post expansion, the PCA expects canal volumes to grow from 12.3 million TEUs to 25.4 million TEUs by 2028, in the process doubling existing TEU volumes to the East Coast and Gulf ports by 2028.
Those increased volumes are going to show up at U.S. piers in significantly larger vessels. The canal is currently limited to handling vessels up to 5,000 TEU, but that will jump up to 13,000 TEU once the third set of locks is completed sometime in early 2016. Moreover, some U.S. ports are already seeing vessels as large as 18,000 TEU coming through the Suez Canal, which can handle even larger vessels that are not too far off on the horizon. According to the U.S. Army Corp. of Engineers (USACE), post-Panamax vessels accounted for 16% of the world fleet and 45% of its capacity in 2012; it estimates that by 2030, those vessels will account for 62% of the global container fleet capacity.
Partially driving the movement to bigger vessels is the rise of shipper mega alliances, which are likely to pick a handful of ports to do business with. "Shipping companies are going to pick one or two ports that they are going to come into. They aren't going to hopscotch between ports. They want to drop off a massive load and pick up another massive load and leave as soon as possible. They don't make money in port," says Kruse.
Those big vessels will be looking to load up with U.S. goods to bring back to new hot consumer markets abroad. And increased demand for exportable products at the ports means an increase in grain and other traffic up river, on a system that has "flat out-lived its intended design life," says Paul Rohde, vice president at Waterways Council, Inc., an inland industry alliance. "They'd be on the National Registry of Historic Places as if they were museum pieces instead of the essential transportation infrastructure providing for our future needs, like whatever the Panama Canal may dish up."
That's a lot to get ready for, and size is going to matter – a lot. The deepest pocketed, deepest dredged ports with the biggest cranes, rail heads, cargo space and most access to the most forms of intermodal transportation, are going to be the winners here – for their communities and for the nation, as it strives to protect and expand its export business in a global marketplace that is getting more level by the day.

Inland Issues – International Implications
Inland, the issue revolves more around getting project authorizations and funding for new construction and repairs to proceed fast enough to outrun the growing creep of unscheduled delays due to breakdowns within the crumbing system of 240 locks and dams. "If you've got a million dollar port, it doesn't do you any good if you can't get to it," noted Gary LaGrange, president of the Port of New Orleans.
In fact, in terms of readiness, for the inland waterway system, the answer is decidedly no. Not with estimates ranging from 78% to 90% of the system locks and dams being well into their dotage – some locks are between 60 and 90 years old – and barges being stopped for hours each day with unscheduled delays, preventing goods from getting to market and driving up costs, according to the American Society of Civil Engineers' (ASCE) 2013 Infrastructure Report Card. It cited an average of 52 service interruptions a day throughout the system.
Worse, there is little to no money to fund repairs because the Inland Trust Fund is essentially broke, and has been hijacked by one repair project. It is fed by a diesel tax paid by operators on the river that hasn't been increased in over a decade. But more importantly, allocations from the fund have been eaten up by the money pit that is the Olmsted locks, a project so delayed, its estimated completion date is 23 years late. In fact, Olmsted's delays have ricocheted onto other projects, either pushing them back as well, or in some cases stopping them, and any new funding needed, cold. If something isn't done to get Olmsted off the Corp.'s budget for maintaining and repairing the Inland system, Rohde warns it could take until 2090 for all currently authorized repair projects in the system to be completed, and there would likely be no new projects approved until 2040.
To hear river advocates and U.S. Army Corp of Engineers (USACE) tell it, the system daily is steps away from disaster. "We could have a catastrophic failure," says Dennis Wilmsmeyer, executive director of America's Central Port, adding that "some of these locks could shut an entire river system down." Unscheduled maintenance is increasingly wreaking havoc on the Corp.'s carefully prioritized budget and causing delays in both traffic and other scheduled projects and planned delays. "At peak travel times, you can get barge tows backed up for three-four to five days," says Wilmsmeyer.
And then you are talking about trust in the system. "Becoming more unreliable is never a good thing," says Kruse. "What's important for shippers is for cargo to arrive on the day it is supposed to arrive – not early, not two days late." Impatient shippers can turn to rail or trucks – both decidedly more expensive, less green and more time-consuming options.
"Doom's Day is not imminent, but the clock is ticking," warned Col. Mark Deschenes, an engineer with the Corp., while speaking earlier this month at the 10th Tri-State Development Summit at Hannibal-LaGrange University. "The Mississippi River is a vital connection to the global market, but the locks and dams are under resourced and decades past their design life."

Deepwater SITREP
From a deep water perspective, it's much more of a mixed bag, but more ports will likely be ready than not. The West Coast contains the nation's busiest ports and the majors – Seattle, Oakland, Los Angeles and Long Beach – are already at post-Panamax depths. On the eastern seaboard and on the Gulf, some ports, like New York/New Jersey, Baltimore and Norfolk, are already at 50 feet. Others, like Miami say they will be by year end, some are at 45 feet and fine with it (Savannah with its two high tides a day, and Houston) and still others are shooting for approved depths of 45 to 48 feet, by 2018 at the latest. All are in various stages of multi-year modernization and expansion plans. Each believes it can attract the new breed of big vessels, some as big as four football fields, and increasingly, the mega alliances operating them.
Money issues threaten to run many of these projects aground, assuming the interminable permitting and approval process doesn't bring them to a hard stop first. All port dredging and maintenance and all inland maintenance and repair work is handled by the Corp., and funded partially by federal dollars and appropriations from user fees paid into a trust fund set up in each system.
However, the approval process used by the Corp can drag the vetting process out for years, with one of the longest being the 17-year gauntlet run by a Port Everglades project. "We are literally studying infrastructure to death," laments Rep. Bill Schuster, chairman of the House Transportation and Infrastructure Committee. Funding has also increasingly become an issue.
The Harbor Maintenance Tax is a user fee collected by the ports and turned over to the Trust for the sole purpose of dredging the ports. There are two problems with the tax: it can't be used for any other modernization or repair work, and deep draft ports are handing over millions of dollars and getting back either pennies on the dollar or some monies – but not enough to cover their annual dredging costs; and Congress consistently allocates about half of the fund to the Corp. each year, siphoning off the rest for other projects.

Show Me the Money
"Here's how I view the Harbor Maintenance Tax Trust Fund: Imagine a bank vault, and inside are cubby holes and everyone has an IOU in it. Less than half gets spent for its intended purpose; the rest disappears into the Treasury. It's very similar to Social Security in that regard – while it has billions of balance, there's no cash in it. It is the travesty of the HMTF,'' says Mike Christensen, executive director for development at the Port of Los Angeles. He estimates at least $4 to $5 million dollars is gone into the General Fund. "That's money we'll never get back. That horse has long since left the barn."
The Port of New Orleans is dredged to 47 feet and was authorized to dredge the river to 55 feet in 1986. "It's the money more than anything else," says Port President Gary LaGrange, adding the port has been under constant construction since 2004 and is in the third phase of its modernization plan.
Getting funding for the billion-dollar port expansion projects is another kettle of fish. While the government has made an effort to expedite the approval process for dredging and other port projects, "they aren't handing out much in the way of monies to pay for them, according to Kruse.
"Tiger grants aren't going to do much here," says Kruse, noting they run at most to $10 million to $15 million while the projects are more on the scales of billons. This is why he says, the state legislatures of Florida, South Carolina and Georgia went ahead and allocated money to update their ports. "They know the government isn't going to pay for this – it can't." Other ports, like Baltimore and Norfolk, have turned to public-private partnerships to help fund their expansion and modernization plans. Still other ports use profits from port operations and or bonds to pay the bills.
Time is also an issue. And with project approval processes taking anywhere from 5-20 years in some cases, it's not an exaggeration to say that time and ships could pass by some ports stuck for years in planning mode and environmental mitigation. Fortunately for these projects and the deteriorating interior, it looks like this will be the year of water infrastructure.

WRRDA
After a seven-year wait, at press time, the Senate and House announced a bipartisan agreement on the country's first water resources bill since 2007. The Water Resources and Reform Development Act (WRRDA) still needs to be approved by both chambers, and signed by President Obama, who had urged its passage in the State of The Union address, declaring that "in today's global economy, first-class jobs gravitate to first-class infrastructure." (Not to mention export market ownership.) "I've been a port employee for 33 years, that was the first time I ever heard the word "port" used in a State of the Union address," said LaGrange.
How far WRRDA will take country's ports and inland waterways toward Obama's goal, and into the 21rst century, is not clear, since few details were being released prior to the committee's report being fully signed. But industry insiders say the bill does tackle to a degree the industry's request that full amount of the HMT be spent each year. There is also said to be a provision that will enable the fund to return more money to already dredged ports for use on other purposes. The bill supposedly will significantly reign in the Corp.'s lengthy and costly plan approval process and encourages alternative forms of funding. While it's also expected that the bill will federalize the Olmsted repair, removing an albatross from the Inland Trust's neck, what's not said to be in the bill, is an industry-requested hike in the diesel tax hike it pays into the beleaguered Trust Fund. Regardless of the specifics, the long-awaited bill will have its work cut out for it.
The U.S. was ranked 15th in quality of infrastructure, and 5th in terms of overall global competitiveness, by the World Economic Forum's 2013-2014 Global Competitiveness Report, and ninth in its ability to move goods from manufacturers to consumers according to the World Bank's 2014 Logistic Performance Index. "We've fallen 20 spots in the last decade when it comes to the quality of our infrastructure. That puts us behind Barbados – a country with one airport," quipped Transportation Secretary Anthony Foxx, referring to the World Economic Forum numbers while speaking at a Transportation Research Board luncheon in January.
The ASCE, which issues a report card on the nation's infrastructure every four years, is more intimate with our byways, and hence, decidedly more harsh in its view of what Foxx has called "America's infrastructure deficit." Its 2013 report gave the country's overall infrastructure a D+. U.S. ports fared slightly better with a "C" grade, while the inland waterways garnered the lowest individual score, a "D-."
The ASCE defines a D as being in "poor to fair condition and mostly below standard, with many elements approaching the end of their service life" and exhibiting significant deterioration. "Condition and capacity are of significant concern with strong risk of failure." The ASCE will get no argument from the USACE.
Which is what industry advocates like the Waterways Council, the Vessel Alliance and the American Association of Port Authorities; and legislators like Sen. David Vitter and Congressmen Nick Rahall, Bill Schuster and Janice Hahn have been screaming about all along. By contrast, major ports in Europe and the Far East are said to be dredged and ready for the post-Panamax world. Closer to home, the fear now is that South American ports will eclipse their North American rivals, and sail away with key export markets, if action isn't taken now to shore up the U.S. infrastructure.

Risk in Rivals
U.S. ports are racing with the likes of Ecuador, which is the only coastal South America country without a post-Panamax-ready port, and Brazil's Port of Santos, which may be its biggest, but it is not the deepest. The Brazilian government is investing $240 million into a multi-year project to dredge the port to acceptable depth.
The United States has 300 commercial ports, 12,000 miles of inland and intra-coastal waterways and about 240 lock chambers, which carry more than 70% of U.S. imports by tonnage and just over 50% by value. Given that the U.S. Army Corps of Engineers estimates that more than 95% of overseas trade produced in or consumed by the United States moves through our ports, while the inland waterways carry the equivalent of about 51 million truck trips each year, it's not hard to see the threat to the economy, and to our competiveness on the export stage, that an aging and badly underfunded infrastructure poses.
As explained by the ASCE's 2012 companion study, "Failure to Act: The Economic Impact of Current Investment Trends in Airports, Inland Waterways, and Marine Ports Infrastructure," those infrastructure issues boost the cost of shipping and goods, costs that "reverberate" through the economy, causing exports and GDP to fall, and ultimately threatening more than 1 million U.S. jobs and causing a drop in personal income. Costs attributable just to delays in the nation's inland waterways system were $33 billion in 2010, and the ASCE expects that will increase to nearly $49 billion by 2020. The report claims that if the marine funding shortfall is filled, by 2020 that investment will serve to protect $270 million in U.S. exports, 738,000 jobs and $697 billion in the GDP.
With each Report Card, the ASCE estimates the investment needed in each infrastructure category out to 2020, to maintain a state of good repair, i.e. a grade of "B." For the inland waterways and marine ports combined, the ASCE assessed a need of $30 billion, and with an estimated funding of $14 billion, we're looking at $16 billion funding gap.
But, laments the ASCE, even as the various port authorities and their private sector partners "have planned over $46 billion in capital improvements from now until 2016, federal funding has declined for navigable waterways and landside freight connections needed to move goods to and from the ports."
Inland, the need is pretty much the 'same old same old' – too many new or rehabilitated lock and dam projects and little to no funding to get them done.
And despite Obama's 2010 National Export Initiative, and his vow to "double exports in five years," and his State of the Union push aside, his last two budgets cut funding to the Corp. – by 9% in 2015 – and hence to the ports and waterways. "Our nation is at a critical point in maintaining our international competitiveness and the FY [President's] 2015 budget request would result in trade-related infrastructure losing further ground at a time when we are already behind many of our competitors," said Kurt Nagel, AAPA president.
Nagel is not alone in his criticism of the Administration. While there has clearly been a flurry of proposals and initiatives, such as ordering the USACE to speed up the vetting process, a National Infrastructure Bank, a freight investment program, the We Can't Wait initiative that has benefited at least 5 east coast ports, along with visits to various U.S. ports, there is growing grumbling that about a perceived lack of substance behind some of these proposals and Obama's speeches of support for U.S. Ports.
What most industry players aren't grumbling about, however, is the one thing that observers at many levels think the country desperately needs – a national policy specifically focused on ports and waterways – one that prioritizes and strategizes, and one that directs government funding to the ports that will provide the most bang for the buck, and return the most benefits to the country. Resistance would be huge of course, because such a policy would create the haves and have-nots. It's also a lot to expect from a legislative body that couldn't even take advantage of an offer from a group of taxpayers to tax them more, in a bid to help shore up the nation's riverways, which happen to also be their workplace. But with the future of U.S. trade hanging in the balance, can the government and industry really afford not make some hard choices about what ports are best situated and suited for handling the bulk of the coming new world order in vessels, trade routes and supply chains?


(As published in the 2Q 2014 edition of Maritime Professional - www.maritimeprofessional.com)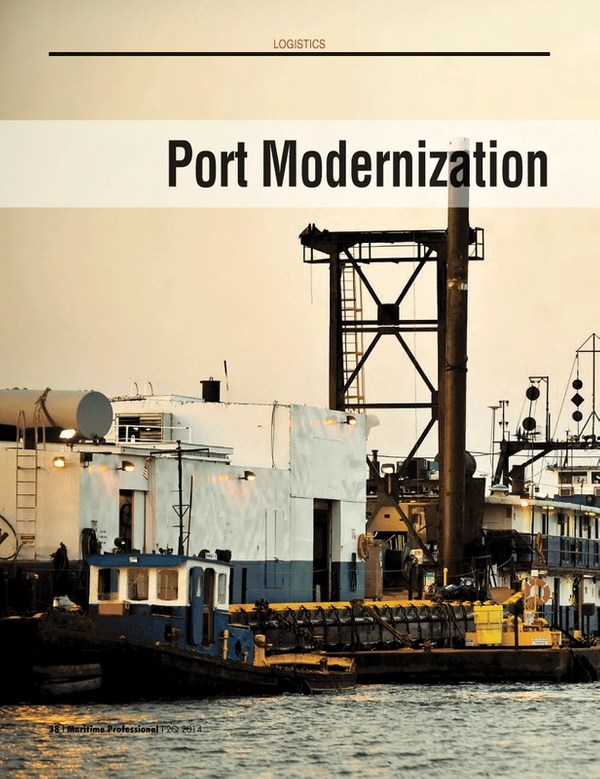 Read Port Modernization Critical to Export Futures in Pdf, Flash or Html5 edition of Q2 2014 Maritime Logistics Professional
Other stories from Q2 2014 issue
Content