DRS Offers Advanced Sonar Signal And Video Processing Systems
Free Color Literature Available Diagnostic/Retrieval Systems, Inc. (DRS), Oakland, N.J., is a prime defense contractor designing and manufacturing advanced systems for signal processing, videoimage display, data recording, storage and playback, and training for undersea warfare, command, control, communications and intelligence (C3I) and other military and governmental applications. The company's systems are deployed aboard surface ships and submarines, as well as in the air and on land for target detection, classification, localization and attack involved in a number of strategic and tactical military initiatives.
DRS is a major supplier of integrated signal processing, display, recording and trainer systems for Anti-Submarine Warfare (ASW) surface and subsurface fleets and coordinates shipboard-technology developments with air programs for the integrated operation of ships with aircraft.
DRS pioneered passive sonar detection for surface ships with the AN/SQS-54—the original acoustic signal processor deployed on U.S.
Navy aircraft carriers.
Since then, DRS has become the Navy's prime contractor for the AN/ SQS-17 sonar signal processing system, one of the company's major systems on board over 100 Navy ships, and its more advanced version, the AN/SQR-17A.
The AN/SQR-17A, a totally integrated submarine detection, classification, display and recording system for ships, is the sixth generation in this product line. It includes the Sonar Signal Processor and Display System, the RD-420B Tape Recording System, the AN/ARR-75 Sonobuoy/ Receiver Interface Unit and an antenna unit. The system analyzes and displays eight channels of processed information from a number of the most advanced helicopter- deployed and ship-launched sonobuoys, as well as passive sonar data from hull-mounted and towedarray sonars.
Other advanced electronic equipment from DRS includes the signal processor of the AN/SQR-18A Tactical Towed Array Sonar System (TACTAS), which processes signals received from sensors towed behind a ship and the Advanced Video Processor (AVP), a display unit selected for the AN/UYQ-21 acoustic display stations in the AN/SQQ-89 sonar suite, planned for deployment on board most U.S. Navy ASW ships. Designated the "OJ-653/ UYQ-21(V) Integrated Display Console" for this application, it can process and display sonar, radar and infrared images for electronic countermeasures (ECM) and strategic and tactical C3I. This display console is expected to become the standard bus, hardware and software modules with high-speed, highdata- rate video processing.
DRS has emphasized the need for on-board training for many years.
The company's ASW acoustic simulator systems were developed for training new military personnel and for maintaining the skills of veteran sensor operators at all proficiency levels.
Diagnostic/Retrieval Systems' AN/SQR-17A(V) On-Board Trainer is embedded in the AN/SQR-17A Processor for use on U.S. Navy FF- 1052 Class frigates. A high-fidelity, modular, acoustic simulator, it sharpens the skills of sonar operators through target identification, analysis and classification.
For free color literature detailing the advanced sonar signal processing systems and advanced display systems from DRS, C i r c l e 9 4 o n Reader S e r v i c e Card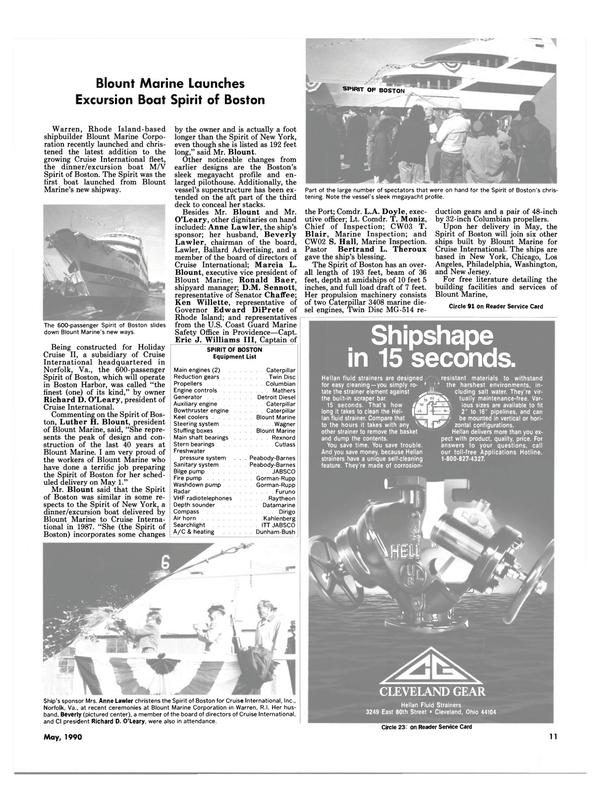 Read DRS Offers Advanced Sonar Signal And Video Processing Systems in Pdf, Flash or Html5 edition of May 1990 Maritime Reporter
Other stories from May 1990 issue
Content