International Paint Applies New Coating Technology To U.S. Marine Market
—Free Literature Available— Offering new tank coating technology that greatly extends the operational flexibility of ship owners and operators—thereby enabling maximum flexibility of cargo carriage— International Paint is moving toward consolidating itself as a market leader in marine tank coatings for the U.S.
The new tank coating technology developed by International Paint, a subsidiary of Courtaulds Coatings, the international chemicals and industrial company, has been engineered over the past four years.
With this technology, the company has become one of the major players in the highly specialized area of cargo tank coatings.
International Paint currently is a leader in the newbuilding market worldwide for tank coatings with a share of almost one-third of all vessels contracted.
International Paint, already a leader in the U.S. in marine coating sales, has only recently stepped up its tank coating activities in the U.S.
market.
A special unit, headed by market manager Glen Dempsey, has been formed to promote International's range of tank coatings and specialized products, led by the advanced Interchem TC 900 Series and the Intergard TH 700 Series. U.S. production of the Intergard TH 700 Series is scheduled to begin later this year at International's Houston, Texas, facility, which is one of the largest marine manufacturing plants in the U.S.
Mr. Dempsey points out that the advanced products improve profit potential for ship owners and operators through extending flexibility in the range of cargo carried.
He says the new technology present in the Interchem TC 900 and Intergard TH 700 Series makes this possible and yields the additional benefits of greater ease of application and cleaning between cargoes compared with similar tank coating systems.
Mr. Dempsey notes that the Interchem TC 900 series, as an ambient cured material, offers a range of cargo carriage previously available only with products that required post-heat curing.
While both series continue to increase their market share in the U.S.
and worldwide, International's product development team has further enhanced the performance and appeal of the two systems.
Through gaining compliance on U.S. Food and Drug Administration rules and regulations, Intergard TH 700 Series now gives ship owners and operators the flexibility to trade in refined vegetable oils for the U.S.
market as well as white oils and a good range of aggressive chemicals on the world spot market. This greatly increases the potential of the coating, since 23 percent of all deepsea chemical cargoes are vegetable oils and animal oils.
International notes that further improvements have been made to the Intergard TH 700 Series, which they describe as the premier epoxy tank coating system. Intergard TH 700 Series may now be applied and overcoated at temperatures as low as 42 degrees F without compromising the drying and curing properties of the film or impairing its cargo carriage capability.
Company officials say that International's newest tank coating system, Interchem TC 900 Series, is becoming firmly established as the premium tank coating system for chemical carriers. The company believes that the system offers the widest spectrum of cargo carriage currently available from any ambient cured organic tank coating system and the most flexible carriage sequencing options.
International's Interchem TC 900 Series has been upgraded since its introduction last year. Further exhaustive cargo sequence testing has been carried out to evaluate its wide spectrum cargo capability. This has resulted in the lifting of restrictions on some aggressive cargoes such as Styrene Monomer, Benzene and Methyl Isoamly Ketone. In addition, the period of carriage and recovery of aggressive cargoes has been considerably eased to take into account customer requirements for longer carriage periods or more rapid turnaround between cargoes.
International envisions further product tailoring with both premium systems as the company continues to work toward meeting customer requirements for even greater flexibility in cargo carriage.
For free literature fully detailing the tank coating systems from International Paint, Circle 92 on Reader Service Card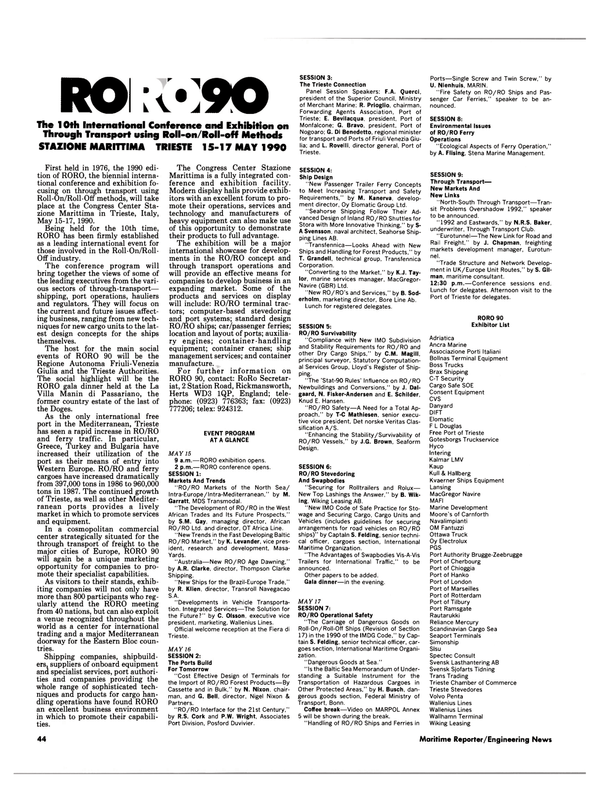 Read International Paint Applies New Coating Technology To U.S. Marine Market in Pdf, Flash or Html5 edition of May 1990 Maritime Reporter
Other stories from May 1990 issue
Content