STATUS REPORT ON U.S. NAVY SHIP AND EQUIPMENT PROCUREMENT
By James R. McCaul, President IMA Associates, Inc.
DOD Requests $100.3 Billion To Fund Navy Programs In FY91 The Department of Defense (DOD) has requested slightly more than $100 billion to fund Navy programs in FY 1991. The funding level is virtually the same as the amount approved for this year.
Shipbuilding & Conversion The shipbuilding and conversion program calls for the construction of one Trident Class (SSBN) ballistic missile submarine, two Seawolf Class (SSN-21) attack submarines, five Arleigh Burke Class Aegis destroyers (DDG-51), one amphibious assault ships (LHD-1), one Landing Ship Dock, Cargo Variant (LSD-41, CV), three Coastal Minehunters (MHC-51), one Fast Combat Support Ship (AOE) and one Ocean Surveillance Ship (T-AGS). Procurement of 12 Landing Craft, Air Cushion (LCAC) is also requested.
For more details on these programs, see Table 1.
Although there were no ship conversions included in FY91, advance procurement funds totaling $113.1 million were requested for the Carrier Service Life Extension Program (CV-67 SLEP) for the USS John F.
Kennedy scheduled in FY93.
The remainder of the FY91 request includes $10.4 million for landing craft, $27.3 million for service craft, $231.1 million for outfitting, $154.5 million for post delivery, $5.8 million for first destination transportation, and $36.3 million for special support equipment.
First destination transportation has been transferred from the operation and maintenance to the procurement appropriations to more fully reflect acquisition costs.
A significant change in the FY91 budget request from the Revised FY99/91 President's budget submission is the addition of two new multiyear procurement candidates.
The LHD and LCAC programs are now being submitted as multiyear candidates in order to maximize cost savings and competition. The DDG-51 budget continues to assume multiyear procurement in FY90 and FY91.
The FY90 changes reflect proposed reprogramming actions for the following: an increase of $21 million in the CV SLEP for full funding of essential repair and modernization items; an increase of $27.9 million in the AOE program as a result of prior year shipbuilding execution experience; a decrease of $9.4 million for the SSN-688 program as a result of shipbuilder contract award savings; a decrease of $5.2 million in service craft requirements; and decreases in the outfitting and post delivery line items of $12 million and $9 million, respectively, as a result of ship schedule changes.
Long-Term Shipbuilding Plan Over the six-year period of FY 1989-1994, the Navy plans to build 117 ships, as well as perform six conversions and order a variety of small craft. Details of this work are shown in Exhibit 3.
Naval Weapons The Weapons Procurement, Navy (WPN) appropriation request of $6.16 billion in FY 91 funds procurement of strategic and tactical missiles, satellites, torpedoes, guns and other weapons, ammunition and other ordnance, spare parts and support equipment.
The FY 91 Trident II (D-5) program resumes full rate production following recent successful flight tests. The Tomahawk missile program supports maximum competitive dual-source production levels, accelerating near-term procurement while capturing substantial cost efficiencies.
The FY 91 AMRAAM program continues progress towards full rate production. The Harpoon program reflects an increase in FY 91 to procure missiles at a more economic rate when combined with Foreign Military Sales. Antisnip requirements are also met by the orocurement of Norwegian-built Penguin missiles. Fiscal Year 1990 includes a proposed reprogramming of $23 million to cover projected price increases for the Penguin missile.
The budget reflects the continued joint acquisition of the Air Force/ Navy procured HARM anti-radiation missiles as well as the joint Army/Navy Hellfire anti-armor missiles to meet continuing defense suppression requirements. The Rolling Airframe Missile (RAM) program provides self-defense protection for amphibious and auxiliary ships, and is a joint NATO Cooperative program with West Germany.
The FY 91 buy will be the second competitive procurement of RAM. The FY 91 Standard Missiles program buys 600 SM-2 Aegis Block IIIA and 300 Aegis Extended Range Block IV missiles on a dual-source basis. Both Sparrow and Standard Missile modification programs incorporate the Missile modification programs incorporate the Missile Homing Improvement Program (MHIP) upgrades starting in FY 91.
Funding for the installation of equipment modifications was transferred in FY 90 from the operations to the procurement appropriations.
While reflected as a single line item in FY 90, these funds are budgeted in FY 91 with the appropriate weapon system or modification program line item. Additionally, the procurement of ammunition is, in FY 91, transferred from OPN to WPN, and first destination transportation costs are transferred in from and maintenance appropriations to the procurement appropriations.
The dual sourced MK-48 ADCAP torpedo will provide a substantial increase in operational capabilities over the in-service MK-48 Mod 4 Series. The FY 91 buy sustains procurement at a minimum level of 240 torpedoes until product improvements have been incorporated. The MK-50 ALWT torpedo program, a follow-on to the MK-46 lightweight torpedo, is dual sourced, with FY 91 representing a third year of procurement.
The consolidated ASW Targets program supports both the MK-30 heavyweight targets, for highly sophisticated training requirements and the low cost MK-39 Expendable Mobile ASW Training Target (EMATT), for less stringent training requirements. Other procurements support ASROC, Torpedo Support Equipment and Modifications, and ASW Range Support Equipment.
Other Procurement The other procurement appropriation request of $6.08 billion in FY 91 will fund procurement of ship support equipment, communications and electronics equipment, aviation support equipment, ordnance support equipment, civil engineering support equipment, supply and personnel/command support equipment and spares and repair parts. The decrease from FY 90 is primarily associated with the onetime FY 90 increase in ship's support equipment of $1.82 billion to fully fund the installation of modernization equipment procured in FY 90 and prior years. In FY 91, installation costs have been incorporated into the total cost of the end item, resulting in increases in many line items. First destination transportation has been transferred from the operation and maintenance to the procurement appropriations to more fully reflect acquisition costs.
Additionally, ammunition procurement previously reflected in aviation support equipment and ordnance support equipment has been transferred to the Weapons Procurement, Navy appropriation. Finally, funding for Special Operation Forces (SOF) has been transferred to Procurement, Defense Agencies commencing in FY 91.
The Ships Support Equipment budget of $1.34 billion in FY 91 includes procurement of one reactor core, and minor increases in firefighting equipment and pollution control equipment.
The FY 91 budget includes $2.02 billion for communication and electronics equipment. Major increase in FY 91 include increased procurement of AN/SQQ-89 Surface ASW Combat Systems and AN/BQQ-5 Sonar Systems to continue to modernize the fleet, $141.9 million for the BSY-2 software support facility which is required to meet the initial operating capability if the SSN-21, and funding for one Relocatable Over the Horizon (ROTHR) system.
Ordnance Support Equipment includes $86.2 million for the procurement of equipment associated with the backfit of the D-5 missile configuration into Trident submarines commencing with the first overhaul in FY 93. Other major increases include the procurement of Aegis Support Equipment and Shipboard Expendable Countermeasures.
Supply Support Equipment is funded at a level of $478.4 million in FY 91, primarily associated with classified special purpose systems.
Personnel and Command Support Equipment is budgeted at $748.6 million and includes $348.2 million for industrial depot maintenance equipment (previously included in the Navy industrial fund asset capitalization program), and an increase for training devices for such items as a Landing Craft Air Cushion (LCAC) trainer and required state-of-the-art modifications to existing trainers.
Research & Development The RDT&E, Navy, appropriation request is $9.10 billion in FY 91, a decrease of $363.4 million from the FY 90 request. Most of the decrease is caused by tactical programs transitioning to production.
The Technology Base, which provides funding for basic research and exploratory development with the primary objective of increasing fundamental scientific knowledge adaptable to solving needs of widely varying future requirements, increases by $62.6 million from FY 1990 to FY 91 Advanced Technology Development Programs have been restructured for better managerial oversight, but funding remains relatively constant.
The primary effort in Strategic Programs is the Trident D-5 missile development effort, which completes full-scale engineering development in FY 91.
The decrease in FY 91 for Tactical Programs is the sum of several changes and reflects the impact of programs transitioning to production, including P-3C Update IV, MK-50 torpedo, Joint Advanced Systems, and the termination of funding for V-22 development after FY 90. The FY 91 budget continues the F-14D predeployment update (PDU) effort to expand the capability of baseline hardware to meet projected operational requirements; SSN-21 will continue development and testing; Surface ASW System Improvement will continue fullscale engineering development of the AN/SQQ-891; and Fixed Distributed System will continue both wet and dry end development. Sea Lance development has been terminated in FY 90.
Intelligence and communications programs are level funded following an increase from FY 89 to FY 90 to reflect the transition of Navstar GPS from development to a level required to integrate the system into Naval aircraft on schedule with termination of other navigation systems.
Ship Maintenance Funding DOD has requested $3.7 billion to fund ship maintenance and modernization in FY 91. This figure will fund 13 overhauls and about 135 short term scheduled maintenance availabilities. Included in the budget is $2.5 billion for active fleet depot level repair and $205 million for maintenance and modernization of ships in the naval reserve fleet.
IMA Associates is a management consulting firm. For the past 17 years, IMA has systematically covered business developments affecting shipbuilders and marine equipment suppliers in the U.S. Part of its activities include publication of a quarterly report which tracks developments affecting business opportunities with the U.S. Navy. For more information about IMA's quarterly report, contact: James R. McCaul, IMA Associates, Inc., 2600 Virginia Avenue, NW, Suite 901, Washington, DC 20037; telephone: (202) 333-8501; or fax: (202) 333-8504.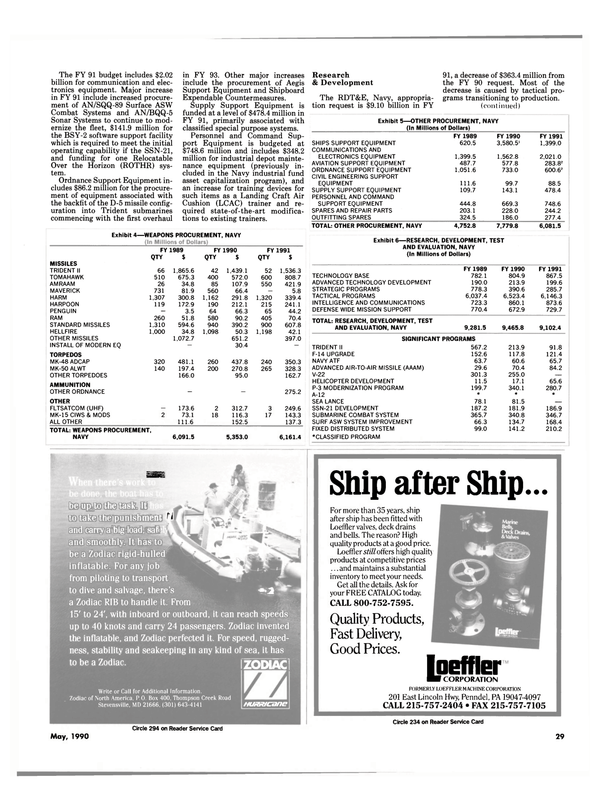 Read STATUS REPORT ON U.S. NAVY SHIP AND EQUIPMENT PROCUREMENT in Pdf, Flash or Html5 edition of May 1990 Maritime Reporter
Other stories from May 1990 issue
Content