Subsea Installation, Heavy Lift And Transport Vessels Show Muscle In FPSO Market
Having added a unique multi-purpose offshore installations vessel and a powerful floating crane to its fleet, the Smit International Group is increasingly busy on installation heavy lift and heavy transport projects associated with FPSOs.
Smit Pioneer, formerly a LASH carrier, was acquired and converted by Smit in 1999. The vessel represents a new concept for multi-purpose offshore installation tasks. This large, dock-type vessel is designed and equipped to remain on station for extended periods, having an unusually high degree of selfsufficiency.
The multi-purpose vessel's primary roles include: installation of moorings, diverless tie-ins, well servicing, flexlay, manifold and riser installation, ROV support and long haul cablelay.
The vessel's equipment outfit includes an advanced DP system, two moonpools, a fully heave-compensated revolving crane (rated at 150/250 tons) and a Super Puma-capable helideck.
Following its extensive conversion program and successful sea trials, the vessel has gained instant acceptance in the global offshore installations market in its new multi-purpose role. The newly commissioned vessel — the first of a new class — started immediately on a contract connected with development of a new field in Angolan waters, and then secured another contract, for work related to Canada's first FPSO, offshore Newfoundland.
Engaged by Coflexip Stena Offshore, Smit Pioneer undertook a series of installation tasks required within the first phase of the fast-track Kuito development, in 400 m water depth offshore Angola. Coflexip Stena Offshore, SBM and ABB are members of the consortium responsible for the subsea installations program. Chevron is the field operator.
Smit Pioneer's role, performed during autumn 1999, involved the installation of flexible risers and mid-water arches consisting of buoyancy tanks and counterweights.
In addition, an 80-ton subsea manifold 20 x 10 x 10 ft. (6 m x 3 m x 3 m) was installed.
Equipment for this project — loaded onto Smit Pioneer at Le Trait, on the Seine — included a 65 ft. (20 m) diameter carousel and Coflexip's VLS (Vertical Lay System) reel — located at the aft moonpool. Smit's project team engineered a 20 x 20 ft. (6 x 6 m) moonpool plug, required to ensure that the radius of flexible lines remained within the specified parameters.
Smit immediately secured another contract from Coflexip requiring Smit Pioneer to undertake trenching and laying of flexibles at 312 ft. (95 m) depth in the Terra Nova Field, located in the grand Banks Area, 350 km off St John's, Newfoundland.
During April, Smit Pioneer loaded equipment and departed for Canadian waters. The equipment included 12 reels, the Coflexip VLS (mounted at the forward moonpool), a trencher and an ROV.
The vessel's operational advantages include: a single platform for all offshore installation tasks: mooring lines and anchors (plus pre-tensioning); flowlines, umbilicals and tie-ins; risers, riser bases and manifolds; ROV support; well servicing; and drill support; single mobilization for most mooring systems; minimum time required for mobilization/demobilization/ transit; a large deck area and loading capacity ideal for long haul fiber optic cablelay.
In this role, Smit Pioneer can load and lay 10,000 km of trans- « Atlantic cable in a sin- f , gle voyage.
Smit Pioneer's New- » * foundland assignment t marked the second contract success for Smit concerning Terra Nova. Asian Hercules II, the largest floating sheerless in the Smit fleet, performed a series of 20 heavy lifts during the outfitting of the FPSO at Bull Arm, Newfoundland, in May/June 2000.
Acquired in early 2000, the big seagoing sheerlegs is now the flagship of Smit's seven-strong fleet of floating cranes.
The capacity and flexibility of this sheerlegs — one of the most powerful in the world — make it ideal for fast-track FPSO projects. It is able to lift and transport integrated units weighing well in excess of 2,000 tons. With this capacity available, those responsible for fitting out FPSOs can exploit the cost-efficiencies and timesavings of ever-larger prefabricated modules. Lifting from the water also means no problems with the weight-bearing limits of docksides, and minimal interruption to other dockside activities. A further costeffective advantage of the floating solution over the landward alternative is that lifts can begin as soon as the sheerlegs arrives, on site. No complex positioning, assembly or stabilization is required.
Despite the sheerlegs' size, Asian Hercules II's four 1,175 kW Azimuth thrusters offer excellent maneuverability.
Some assistance is usually on hand from a stand-by vessel, to assist in severe weather conditions, but the crane's self-sufficiency limits the amount of equipment that must be mobilized for FPSO assembly programs.
Asian Hercules II features a main A-frame equipped with four hooks, with a capacity of 800 tons each. With the four hooks fitted to the 295 ft. (90 m) A-Frame, the sheerlegs can lift its maximum capacity of 3,200 tons to a height of 246 ft. (75 m), at an outreach of 66 ft. (20 m). The maximum weight can still be lifted to 205 ft.
(62.5 m) at 156 ft. (47.5 m) outreach. With its 115 ft.
(35 m) flyjib attached to the top of the A-frame, Asian Hercules II can lift 1,600 tons to a height of over 361 ft. (110 m). Maximum outreach in the flyjib configuration is almost 377 ft. (115 m). although lift capacity at this distance is down to 250 tons. The four main (Aframe) and two flyjib tackles can be used in combination: therefore, installations can be engineered and rigged to be lifted from one to six points.
The base of the A-frame can be adjusted, by hydraulic skidding, to one of three positions (forward/ mid-ships/aft) to suit the circumstances. Fixing the A-frame mid-ships maximizes workability of the sheerlegs while maintaining a typical lifting-clearance required to install decks and modules. The forward position gives maximum reach, while the aft position minimizes the distance between sheerlegs and hull, platform or quayside — useful if lifting engineers need to transfer quickly between crane and FPSO decks.
Beyond the offshore and civil construction sectors, Smit's sheerlegs have developed a useful niche market in the European shipbuilding industry, lifting very large modular sections. In particular, Smit has obtained extensions to existing framework agreements for regular heavy lift assistance for German shipyards at Flensburg (FSG Shipbuilders) and Emden (TNSW).
Asian Hercules II reached Bull Arm on May 17. following the arrival of the FPSO newbuild from Daewoo, Korea. The sheerlegs carried out its 20 heavy lifts within a one-month visit.
The first lifting assignment involved the 285-ton tensioner connector. This module was picked up from the quay and partially lowered into the FPSO's turret.
Some lifts during the visit were more challenging, with several modules of unusually large dimensions.
One unit — the 2,200 ton separation/HP compression module, was 148 x 82 x 66 ft. (45 x 25 x 20 m).
Careful planning was also essential for the lift of the 600-ton flare tower, which has a height of 328 ft. (100 m). The tower was installed in the vertical position on its support frame. 85 ft. (26 m) above the water line.
Asian Hercules II picked up the tower in the horizontal position, using a three-hook lifting arrangement. The tower was rotated through 90 degrees into the upright position; two A - f r a m e hooks were then disconnected, using the hooks differentially.
Two A-frame hooks were then disconnected, and the third was used to lift the tower to its installation height.
The program also included the lift and installation of the 1.050 tons upper turret section, a 1,400 tons generator/WHRLT module, a produced water/glycol unit, and a 1.857 tons separation/LP compression module.
Asian Hercules II returned to Rotterdam in June, but left again early July to call at Aker Stord, Norway, to lift modules for the Snorre B semi-submersible production vessel. The heaviest lift here involved the 1,040 tons lower section of Snorre B's ram rig. A second visit is planned, to install a series of heavy modules.
The semi-submersible is due for installation in the Snorre Field next year. Onshore fabrication of the hull began in May of last year, with fabrication of the topsides under way during the following month. Load-out and float-off of the Snorre B's steel hull has been scheduled for September of this year, allowing hook- up of topsides/hull to take place at Aker Stord, at the end of the year. Towout to location is expected in May 2001. Smit Transport & Heavy Lift has been awarded the contract for the hull load-out and float off. This structure, a four-column stabilized floater in a ring pontoon configuration, is now under construction at the Cadiz yard of Dragados Offshore.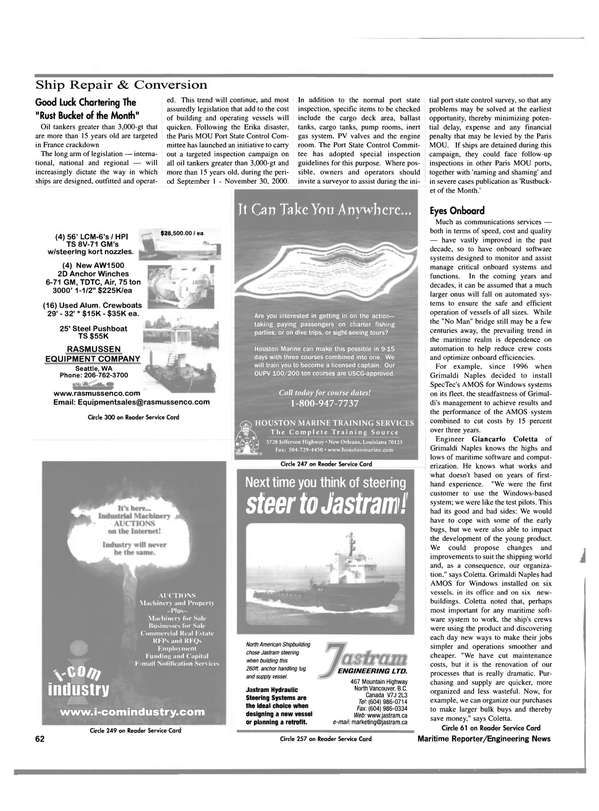 Read Subsea Installation, Heavy Lift And Transport Vessels Show Muscle In FPSO Market in Pdf, Flash or Html5 edition of October 2000 Maritime Reporter
Other stories from October 2000 issue
Content