BP Takes Three DH Tankers From NASSCO
Mid last month. General Dynamics divulged that its National Steel and Shipbuilding Co. (NASSCO) unit had won a lucrative and much sought after contract to build three double hull tankers for BP. The deal, worth approximately $630 million, calls for a tanker trio which will carry crude from Valdez.
Alaska, to U.S. West Coast ports. The contract includes options for three additional vessels, driving the potential price-tag for the project to well more than $1 billion.
The design will put strong emphasis on environmental safety, including redundant diesel-electric propulsion systems in independent engine rooms, two propellers, and twin rudders. The ship will incorporate the latest, proven technology in environmental protection, ship navigation, and cargo control systems.
The new 185,000-dwt double-hull design will have a length of 941 ft. (287 m), and a beam of 164 ft. (50 m). Capacity will be approximately 1.3 million barrels at a design draft of 61.5 ft.
(18.75 m) "NASSCO has a long, successful history of building commercial tankers, and we are extremely pleased to have been awarded this construction contract for Jones Act-qualified ships from one of the world's leading oil producers," said NASSCO president Richard Vortmann.
"It reflects NASSCO's growing reputation for producing technically creative, cost-effective designs for both Navy and commercial customers. It also is a great tribute to the exceptional gains in quality and productivity our employees have made in recent years, " he added.
This new contract will keep approximately 1,000 NASSCO workers employed over the life of the contract.
Design work is underway and construction on the first ship will begin in early 2002 with the first delivery in the fourth quarter of 2003, and subsequent deliveries in late 2004 and 2005.
"These ships have been designed for exceptional environmental performance and cost effective transportation of North Slope oil to market," said Anne Drinkwater, business unit leader for Alaska Pipelines & Marine. In addition to double hulls, BP's new "Alaska Class" tankers will be built with redundant propulsion and steering systems which include twin diesel electric power systems in segregated engine rooms, twin propellers and twin rudders. Use of diesel electric propulsion systems will also reduce air emissions at sea and in port while reducing maintenance down time. To eliminate accidental oil leaks, the propeller shafts will be cooled and lubricated with seawater instead of lubricating oil. Cargo piping will be installed in the cargo tanks, instead of on deck, to reduce the risk of small spills. The ships will be fitted with state- of-the-art machinery and cargo control systems and an integrated navigation system.
"We see a long future on the North Slope," Drinkwater said. "We expect our net Alaska production to stay at or above the current level for another decade." BP has net Alaska production of 300,000 bpd.
The "Alaska Class" design will allow maximum flexibility for oil deliveries to West Coast ports, including BP refineries in Los Angeles and Cherry Point, Wash.
The ships will be operated by Alaska Tanker Co. of Portland, Ore., which was formed in 1999. The Alaska Tanker Company operates BP chartered tankers used in the Alaska North Slope trade. BP operates 12 Alaska oil fields with gross production of approximately 800,000 barrels of oil per day.
BP is also the leading gasoline retailer in the five western states of Washington, Oregon, California, Arizona and Nevada. The company has more than 1,700 ARCO retail outlets.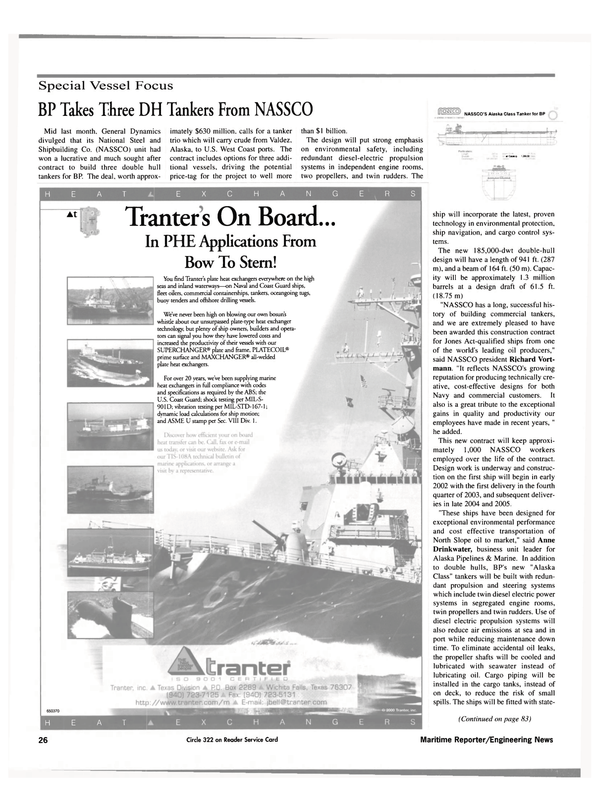 Read BP Takes Three DH Tankers From NASSCO in Pdf, Flash or Html5 edition of October 2000 Maritime Reporter
Other stories from October 2000 issue
Content