Local Yards Start To Feel The Impact
The U.S. Gulf of Mexico region is again poised to prosper, spurred by the buzz of activity surrounding the oil patch, and specifically the renewed vigor with which companies will explore and develop deepwater fields for the production of natural resources.
Though the resumption of business at "full throttle" has taken perhaps a bit longer than many observers would have initially predicted, particularly given the continued high price of oil and gas and the "pro" oil industry political team occupying the White House, it is a safe bet that, at least for the next several years, the offshore oil business will ensure that the marine business in the GOM region is a prosperous one.
While a recent (May 11, 2001) report from the International Energy Agency notes that global oil demand has dipped in recent months, a look at the big picture shows that global oil demand has grown from 74.8 million barrels per day in 1999 to 76.5 million barrels per day in 2001. As is always the case with oil production, however, straight supply and demand analysis are rarely the entire picture, as the market is fraught with an array of political motives. Today, OPEC insistence on maintaining new production targets, in the face of slacking output from Iraq, has kept oil prices in the stratosphere, and there are indications that shortages are imminent.
Reflecting the sector's positive sentiment, in a recent interview, Global Marine Inc.'s Chief Executive Bob Rose said he expects dayrates for offshore oil and gas drilling rigs to surpass their highs of three years ago in 2001.
Dayrates are currently at about 74 percent of their 1997/98 highs, Rose said, with the West African and North Sea markets now showing signs of recovery as a longer-established natural gas drilling boom continues in the U.S. Gulf of Mexico.
Interestingly. Rose said Global Marine is currently limiting the length of new contracts that it signs for its rigs so that it can benefit from the further increases in dayrates that it expects. The average dayrate for the company's rigs was $71,100 during the first quarter of 2001.
up from $52,000 in the same period of 2000. The fleet utilization rate reached 100 percent last month for the first time since July 1988.
Rose said he expects some drilling rigs to be moved from the U.S. Gulf of Mexico to other markets this year, as international dayrates catch up with and overtake domestic rates.
Rose said global oil markets were currently more firmly underpinned than they were in late 1997 — when prices peaked before starting a steep decline — because, unlike then, there is currently very little unused production capacity.
The little spare capacity now available is held by Saudi Arabia, the United Arab Emirates, and Iraq, all of whom back OPEC's policy of limiting supply to support prices, thus reducing the chance of cheating on OPEC production quotas, he said.
The Yards Despite a spate of financial woes, Friede Goldman Halter, Inc. (FGH) appears to be back on track, with a host of recent contract announcements.
Halter Marine. Inc., the vessel segment of Friede Goldman Halter, Inc., signed a contract for the new construction of a 230-ft. (70.1 m) offshore supply vessel for Kim Susan, Inc. Construction, which is scheduled to begin in 30 days, will be completed for delivery in one year.
FGH was also awarded a contract from the U.S. Army Tank and Automotive Command (TACOM) for the detailed design and construction of a Logistic Support Vessel (LSV). The contract includes provisions for spare parts, technical services, and options to build two additional LSVs. The total value of the base contract is $26.9 million, and could be worth upwards of $78 million once the options are exercised.
Engineering and construction at the company's Halter Moss Point shipyard in Escatawpa, Miss., are scheduled to take about two years to complete. This project is expected to create approximately 75 new jobs at that yard.
The 313-ft. (95.4 ft. ) LSV class vessels will have a beam of 60 ft. (18.2 m) and a molded depth of 19 ft. (5.7 m).
They are designed to carry more than 2,000 tons of deck cargo, and will be designed and built to the requirements of the American Bureau of Shipping.
"We are extremely pleased that the U.S. Army has chosen Halter for this very significant program," said Anil Raj, COO of Friede Goldman Halter.
"The government conducted a detailed review of our financial and technical capabilities before making this award.
We appreciate the government's continued confidence in Halter's capabilities." Halter has successfully completed numerous U.S. Army programs such as the Landing Craft Utility (LCU), the Large Tug (LT), and has already built all six (6) of the LSV's currently in the Army's fleet.
The newly constructed LSVs will be based in Hawaii and Baltimore, Md.
With comments in regards to the company's recent financial struggles, Raj continued, "With the exception of the Petrodrill program where we had no choice but to curtail our losses, work on our other projects continues, and negotiations continue to secure even more work in each of our segments. In the recent past, we have delivered two Power-Generation Barges, an Expeditionary Series yacht, and the world's largest SWATH-hull vessel." Leevac Industries LLC of Jennings, La., recently delivered to Hornbeck Offshore Services Inc. the first Classed DP II PSV, HOS Innovator. Upon delivery, the vessel began a three-year charter with Sonsub Inc. of Houston, Texas as a multi functional ROV Support Vessel.
This vessel is the first of six DP II classed vessels to be delivered to Hornbeck Offshore during the next eight months. HOS Innovator measures 240 x 54 x 18 ft. (73 x 16.5 x 5.5 m).
The vessel features passive roll reduction technology, as well as active stabilization.
It is certified to both USCG subchapter L (OSV) and I (Industrial Service) and is fully SOLAS for international operation.
Two Caterpillar 3516 B main engines produce 4,520 bhp. The mains drive two 96-in. Scana Volda CP propellers.
Three CP tunnel thrusters (two forward and one aft) are provided by Brunvoll and produce 800 bhp each. Two Schilling "Fishtail" rudders, which may be operated independently, are designed to provide superior maneuverability and vessel control.
The new design offers optimum deck space and load capabilities, with a clear deck space area for cargo loading of 8,100 sq. ft.
and a cargo capacity of 1.900 long tons.
Navigation equipment includes the IVCS 2000 DP system provided by Frank L Beier Radio Inc.
Five more of these units have been slated for installation on the remaining HOS vessels under construction.
The electronics suite selected by Hornbeck Offshore and installed by Beier offer the crew state-of-the-art tools needed to operate safely and efficiently. Other advanced technologies in this suite include radars providing real-time chart plotting software and touch-screen monitoring systems.
The next of these state-of-the-art DP II vessels is due for delivery mid October 2001.
Conrad Industries in Morgan City, La., has logged its best quarterly results since 1998 in announcing that its net income for 1Q 2001 is $951,000 for the three months ended March 31.
versus net income of $782,000 for the comparable quarter in 2000. Gross profit for the quarter was $2.8 million, as compared to a gross profit of $2.5 million for the three months ended March 31. 2000.
In assessing the results. William H. Hidalgo, president and CEO. said "The vessel construction segment continues to remain competitive, but we believe that our strategies of managing our backlog to take advantage of favorable pricing trends and pursuing opportunities in our key niche product areas will continue to produce favorable results.
We are currently in discussion and negotiations with various customers for vessel construction projects.
and have learned that the U.S. Army is planning to purchase three additional ST Tugs, which have already been authorized and appropriated by Congress for approximately $7.5 million." Conrad is in the midst of a big facility expansion and enhancement, with the development of 52 acres of land in Amelia. The first phase of the development will start this summer, cost $4 million, and include dredging a slip, bulkheading and partial construction of an infrastructure to support repair and conversion activities. An $800,000 expansion of the Morgan City facility will increase capabili- ties for pre-fabricated components and modular construction techniques." Alabama Shipyard in Mobile, Ala., has entered into an alliance with Conoco wholly owned affiliate.
Seahorse Shuttling and Technology LLC (Seahorse) and Samsung Heavy Industries of Korea to develop a design and construction plan that could have American-built shuttle tankers ready for service in 2004.
The approval of the use of FPSO vessels in the Gulf of Mexico (see MR/EN June 2001, Future Requirements for Shuttle Tankers in the Gulf. pg.
42) means that the demand for these vessel types will be high for the coming five to 10 years. Seahorse was formed by Conoco to provide crude oil storage and tanker shuttling services for new oil discoveries made by Conoco and other companies in the deepwater Gulf of Mexico. "Our previous successes with Samsung building the first generation of double-hulled tankers and our pacesetting ultra deepwater drillships are evidence of the companies' technological innovation," said Rick Oshlo.
vice president and general manager of Conoco Supply and Trading. "We are pleased to add Alabama Shipbuilding to this long-standing relationship," Oshlo added.
The recent surge in offshore fortunes has even spurned the opening of a new construction facility, in anticipation of the overflow of demand, which can be expected in a strong offshore oil market.
Kiewit Offshore Services, Ltd., a unit of Peter Kiewit Sons'. Inc. of Omaha, Neb., is building a state-of-the-art offshore fabrication facility in Ingleside, Texas, near Corpus Christi. The new yard is being built on a 400-acre parcel along the La Quinta Channel, providing unrestricted deepwater access to the Gulf of Mexico. The yard is currently under construction and will be ready to start performing fabrication services in June 2001. The KOS facility is expected to create 800 to 1,000 jobs.
Said KOS President, Myron Rodrigue: "We expect to successfully compete in the offshore fabrication arena, especially on large, complex deepwater projects. Our greatest assets are our people, our cohesive team and our commitment to safety, quality and productivity." He added that a team of seasoned Kiewit employees, who have worked together in the offshore industry, will manage the new KOS facility.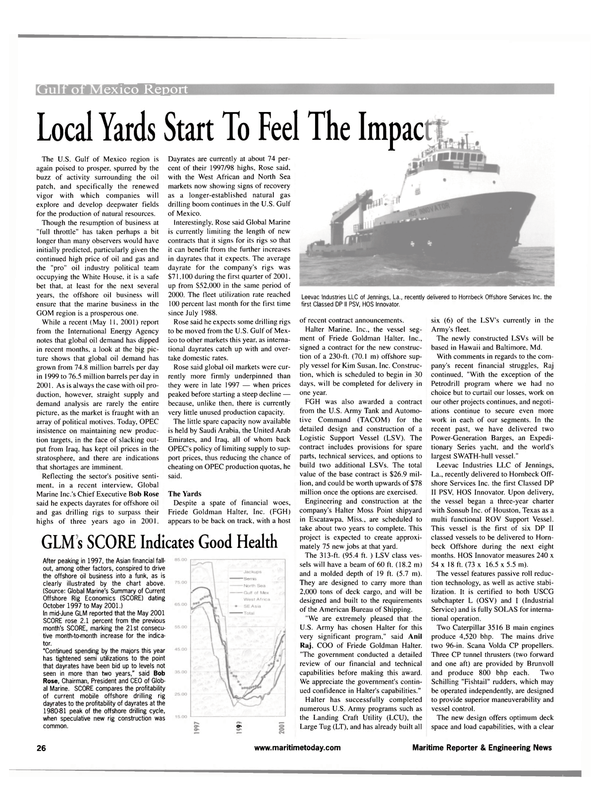 Read Local Yards Start To Feel The Impact in Pdf, Flash or Html5 edition of July 2001 Maritime Reporter
Other stories from July 2001 issue
Content