Mechanical Problems, Late Deliveries Continue to Plague Industry
By Kegina P. Ciardiello, senior editor
A stagnant economy, threat of overcapacity and canceled cruises due to repairs and late deliveries have conspired to slow the hyper-growth cruise industry has enjoyed for the past decade.
Even last year's new Millennium, which hurst onto the cruise scene with its new gas turbine propulsion, had its share of troubles. Despite unparalleled reassurance by Celebrity that Millennium's propulsion problem was remedied. Infinity, its sistership, which was delivered this past Spring, recently experienced new problems with faulty bearings in its propulsion system —forcing the line to cancel two weeks of sailings.
In addition. Celebrity's Galaxy dealt with a damaged propeller, causing lost money and cruises on that vessel.
These problems not to mention the late delivery of Royal Olympic's Olympic Explorer and the complications with the two new U.S. Lines Ships currently being built at Litton Ingalls offers a plaguing question — Has the Cruise Industry Gone Bust?
By Kegina P. Ciardiello, senior editor With order books filling up and yards bursting at the seams with cruise ship newbuilds, it would seem as though the industry is one that is flying high — at least by the numbers — 58 ships on order consisting of 98,000 berths worth $18.5 billion, (Source: CLIA).
But, will the lines be able to fill these ships to their full capacity, or will they be forced to perform weekly sailings with a large quantities of empty staterooms? That is if they even manage to get their vessels up and running according to schedule — and keep them running smoothly and safely.
Cruise companies, which have faced a falling economy, resulting in heavy discounts, have had to recently contend with a number of revenue-slapping technical issues. Case in point is the recent delay of Royal Olympic's 24,500-ton Olympic Explorer, which was to have been delivered to the Fort Lauderdale, Fla.-based line from Germany's Blohm + Voss Shipyard on April 27. The $175 million vessel has since been pushed back for delivery sometime this summer — leaving Royal Olympic in a financial and itinerary bind; the line had to cancel all cruises until September 15, 2001.
The delay, according to Royal Olympic is reportedly due to "a variety of technical problems that need to be addressed before the vessel's delivery." While Royal Olympic waits in limbo while a technical team assesses the situation, Celebrity Cruise Lines has also called upon Blohm + Voss' Repair Division to help it fix its 866-ft. (263.9-m) Galaxy. The vessel, which entered service in December 1996, sustained damage to its port propeller as it moved through a lock in Holland, according to the company's director of corporate communications, Lynn Martenstein. A diver managed to recover one eight ft. blade, which was bent. Three other blades — each weighing 3.5 tons sustained scratches.
At press time, the vessel was at Blohm + Voss' drydock.
waiting to undergo repairs. While the drydocking forced Celebrity to cancel a 14-night Northern European cruise, Martenstein added that the company expects Galaxy to have returned to the seas by June 16.
Celebrity also had to contain with bearing problems on its newest delivery — Infinity — the second member of the Millennium class of ships. The vessel had to undergo repairs associated with a ball bearing in its starboard propulsion system and had its own slew of canceled itineraries.
Infinity's drydocking at Victoria Shipyard threw out its June 8 and June 15 sailings — seven night Alaskan cruises leaving from Vancouver.
Celebrity's decision to dry dock Infinity at Victoria was two-fold — close proximity and capability. The yard, which is located on the Southern tip of Vancouver Island is only a four-and-a-half hour transit time from where the vessel had been docked.
In addition, Victoria is the sole facility in the area capable of accommodating Infinity. Its graving dock, which measures 1,176 x 126 ft. (358.6 x 38.4 m) can handle vessels up to 100.000 dwt.
According to Malcolm Barker, manager of Ship Repair for the yard, other reasons prevailed as well. "We (Victoria) are the largest drydock on the west coast, next to San Francisco Dry Dock," Barker said. "Geographically we were the first choice, in addition to our already-established relationship with Celebrity." While Victoria proved to be a smart choice economically, the yard ran into one significant logistical roadblock as it readied for Infinity's arrival — two vessels already occupied the yard's drydocks; Canadian Naval vessel HMCS Protecteur, and Sarga Sea, a Russian- flag fish factory trawler.
The former was already three months into a nine-month refit project, while the latter was in the process of having its interior design finalized; both therefore had to be moved for berthing at the shipyard's landing wall. In addition, customized keel blocks had to be constructed specifically for Infinity. According to Barker, it took three days to reset the blocks (where Protecteur had been berthed) from 5.2 to 12 ft. so that Infinity could be drained and drydocked properly.
Upon the vessel's arrival on June 14.
crews from both Alstom and Kamewa (the pod's manufacturers) were flown in and worked round-the-clock to identify the problems. According to Barker, once the pod is stripped down, the technical crews assessed that the bearing was indeed showing signs of detoriation.
There were also indications that metal was seeping into the vessel's hydraulic oil. And while the ship was still able to move at 22 knots, the bearing was poised for failure — ultimately lending to Celebrity's decision to dry dock.
Barker added that the old bearing was removed and new bearings were then fitted into the starboard side unit. As an extra precaution, Celebrity opted to replace the vessel's port side bearing as well.
Subsequent to testing of both units.
Infinity was deemed fit to return to sea and departed Victoria Shipyard on June 21 — one day ahead of schedule.
However, Royal Caribbean, Celebrity's parent company, admitted that these mechanical failures would lead to lowered financial returns during the second quarter. The company indicated that repairs, refunds and other compensation to Infinity passengers would impact earnings of that quarter anywhere from $0.03 - $0.04. per share.
As a result. Equity Research Analysts Lazard Freres have cut their 2002 EPS estimate to $1.96 from $2.09. Despite RCCL's added compensation expenses, Lazard analysts continue to rate the line at Hold.
Illegal Dumping Continues One problem that RCCL managed to avoid so far this year, however, is illegal dumping, a violation, which scarred the line when it was fined $6.5 million in October 1999 for dumping oily bilge water and other pollutants into Alaskan waters. This area was once again tainted this past May, this time by Norwegian Cruise Lines, who was cited for illegally dumping concentrated sewage into the scenic Inside Passage, according to the U.S. Coast Guard. The line's Norwegian Sky reportedly discharged the sewage for approximately 30 minutes while steaming between Juneau and Ketchikan. Known as the first large cruise ship to dock this year in Juneau, the ship, which was traveling at 17 knots, produced a waste stream of about three-quarters of a mile, according to Coast Guard Commander.
Adding fuel to the fire at Norwegian, tests conducted by an independent lab on samples from the vessel showed fecal coliform 3,500 times the acceptable fed- eral standard and suspended solids 180 times the standard, the Coast Guard added.
The violation by Norwegian is the first of its kind in regards to a new federal law that sets guidelines for treated sewage from cruise ships and forbids discharge of untreated sewage in the Inside Passage's "donutholes." which are sections in the channel more than three miles from shore.
According to the Coast Guard, the civil penalty for a violation of this nature is up to $25,000 per day "We're looking at a delay of about four to nine months. The shape of the hull is taking form, but this will not be an easy process." — Rod McLeod, COO of AMCV confirms the problems plaguing the U.S. Lines vessels being constructed at Litton Ingalls Shipbuilding in Pascagoula, Miss.
U.S. Cruise Ships Face Delays Just as quick as cruiseship building has returned to the U.S. after 45 years, with the construction of the recently delivered Cape May Light by Atlantic Marine for American Classic Voyages' (AMCV) Delta Queen Coastal Vessels, it was also quick to run into delivery delays — specifically the two new U.S.
Lines vessels.
Better known as Project America, the vessel pair, which is currently being built at Litton Ingalls in Pascagoula, Miss, is behind on its steel fabrication, according to AMCV's president and COO Rod McLeod. He added that the vessels, which are in a 10-K delay are about 20 percent complete. "We're looking at a delay of about four to nine months." McLeod said at a recent press conference onboard Cape May Light in New York City. "The shape of the hull is taking form, but this will not be an easy process," he added.
Following discussions held at the beginning of June between AMCV and the shipyard, it was approximated, according to McLeod that the first part of the U.S. Lines series will be delivered "sometime during 2003" as opposed to its original delivery date of January 2003.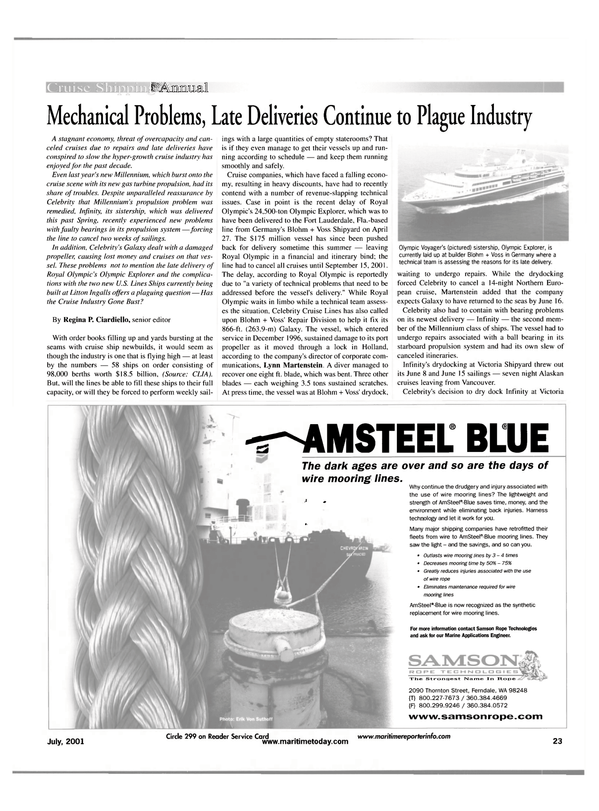 Read Mechanical Problems, Late Deliveries Continue to Plague Industry in Pdf, Flash or Html5 edition of July 2001 Maritime Reporter
Other stories from July 2001 issue
Content