Owners... Start Counting The Cash
The much anticipated turnaround in the Gulf of Mexico Oil Patch is happening, and the companies that supply boats and services in the area are feeling the impact.
Consolidation has touched every facet of the marine business — every facet of business — for nearly a decade. Following the economic slowdown and resultant "weeding out of the weaklings" in the early 1990s, a new business plan stressing size and economic resource emerged. The plan, obviously, has not worked universally, as some companies overextended just as the market came crashing down in 1997. Today, for better or worse, a handful of enormous companies reign over the business of owning and operating vessels and rigs in the Gulf of Mexico region.
Seacor Smit is perhaps the best example of controlled growth and adhering to a solid business plan — in times good and bad. Led by Charles Fabrikant, the company has amassed one of the world's largest fleets of diversified marine support vessels primarily dedicated to supporting offshore oil and gas exploration and development in the U.S. Gulf of Mexico, offshore West Africa, the North Sea, Mexico, the Far East and Latin America. The company announced net earnings for the first quarter ended March 31, 2001 of $12,134,000 on revenues of $93,200,000.
Operating revenues were up $4.9 million, or 5.5 percent, from 4Q 2000 due, primarily, to increases in the size and rates per day worked of the company's offshore fleet. In the first quarter, Seacor continued its expansion tradition and acquired 17 mini-supply, 11 utility, two towing supply and one supply vessel. Also in the first quarter, it sold three utility and three crew vessels, and removed three standby safety vessels from service to be held for sale.
I am cautiously optimistic that 2002 will be a good year, although any prediction that looks out more than one year has to be a guess ...
My nightmare is the U.S. and global economy.
Why, I ask myself, be optimistic when the United States appears to be entering a recession?
... The answer is Natural Gas.
Charles Fabrikant, Chairman of the Board, Seacor Smit, in his annual letter to shareholders Seacor. however, saw drydock expenses rise $1.6 million due to an increase in the number of large supply, towing supply and anchor handling towing supply vessels put through survey. Twenty-six vessels were drydocked in 1Q 2001, compared to 19 in 4Q 2000. 1Q 2001 results were positively impacted by $947,000 of income from Chiles Offshore Inc., a drilling rig affiliate, whose profits improved parallel with strong demand for offshore contract drilling services.
Ft. Lauderdale-based Seabulk International (formerly Hvide Marine Intl.) continued on the road to recovery by announcing a net loss of $7.2 million versus a net loss of $12.9 million during the year-earlier period. While a loss may hardly seem like a gain, Seabulk said that revenues were up four percent (versus the year-earlier period) to $81.4 million, and that operating income hit $8.4 million versus $2 million in the 2000 first quarter.
"We had good results in what is traditionally our weakest quarter," said Gerhard E. Kurz, president and CEO. "While we have not yet achieved bottom-line profitability ... we did post solid quarter-overquarter gains." He noted that Seabulk Offshore is benefiting from rising rates in the worldwide offshore energy support market, while Seabulk Tankers is in a strong position in the domestic product tanker market. Seabulk Offshore saw its revenues leap 26 percent to $43.2 million, or 53 percent of company revenues. Supply boat day rates in the Gulf of Mexico averaged $6,946 for the quarter, or nearly double that of yearago levels. In West Africa dayrates averaged $6,325, and in Southeast Asia they averaged $5,347, 19 and 33 percent gains respectively.
The company currently operates a cumulative fleet of 207 vessels in its offshore, tanker and towing business lines.
Tidewater, another of the area's major vessel-owning players, announced 4Q (ending March 31, 2001) net earnings of $29.3 million on revenues of $174.5 million. By comparison, net earnings in the quarter immediately preceding were $22.3 million on revenues of $159.1 million, and last year's 4Q earnings were $19 million on revenues of $139.6 million.
For the year ended March 31, 2001, net earnings were $86.1 million on revenues of $616.7 million, versus net earnings of $76.6 million on revenues of $574 million for the year previous.
The company owns and operates 570 vessels, the world's largest fleet of vessels serving the global offshore energy industry. Galliano, La.-based Edison Chouest Offshore (ECO) has announced plans to continue its newbuilding program, which has already produced more than 50 new generation offshore vessels servicing the deepwater oil and gas industry. The company is adding six 260-ft. (79.2-m) deepwater supply vessels, a pair of 165-ft. (50.3-m) fast supply vessels, and the conversion of an existing vessel into the larges offshore supply vessel on the U.S. march, and the construction of the largest anchor-handling vessel in the world. The company's affiliate shipyards will perform all construction and conversion, with the first 260-ft. deepwater supply vessel delivered in January, and the two 165-footers expected in 2001.
North American Shipbuilding is converting the Margaret B. Chouest — the largest vessel in the fleet at 320 ft. (97.5 m) — into the largest offshore supply vessel in the U.S. market. It was built in 1995 as a container/cargo vessel.
The recordbreaker of the newbuild will is the construction of the 347-ft.
(105.7 m) long, 6,500-dwt anchor handling vessel. The vessel will be equipped with the largest winch system ever installed on an anchor handling vessel in the world, producing a 600-ton pull. The vessel will offer an installed power rating of 30,000 hp and will be capable of operating in depths up to 12,000 ft.
Privately owned Crowley Maritime Corporation, based in Oakland, Calif., has embarked on two new business opportunities. Based on its long service and commitment to the oil industry — Energy Logistics and Project Management services group both based in Houston, TX, will incorporate all of Crowley's expertise in servicing the needs of Energy Operators. Crowley's Energy Logistics group assists customers in the set-up and operation of their logistics during various stages of their E&P program.
This could range from supporting a 1 to 2 well exploration drilling effort or a larger field development program; to supervision of crude offloading and marine transportation. Current customers include majors such as BP and Repsol, independents including Presence and CGX, and contractors such as Heerema, R&B Falcon (TransOcean) and Noble. Crowley's Energy Support Services is designed to address challenges inherent in today's energy industry, including: • Exploration and Production (E&P) that is taking place in increasingly remote areas with limited access to infrastructure • The economic challenge from increasing field development costs and volatile petroleum product prices.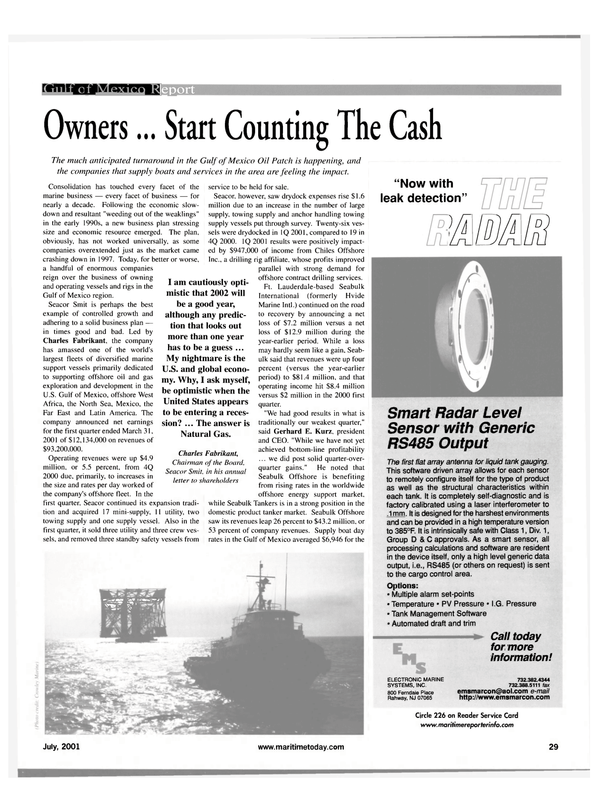 Read Owners... Start Counting The Cash in Pdf, Flash or Html5 edition of July 2001 Maritime Reporter
Other stories from July 2001 issue
Content