AMCV Demise Sinks U.S. Cruise Building Hopes For Now
By Regina P. Ciardiello, senior editor
In the fall of 1999, American Classic Voyages (AMCV) announced plans to almost singlehandedly revive the business of building cruise ships in the United States. Critics claimed it couldn 't be done, but the ships steadily took shape on the building ways in Pascagoula, Mississippi. Two years, a sour economy and horrific terrorist attacks later, the dream of building cruise ships in the U.S. is seemingly dead, as AMCV filed for Chapter 11 and the Maritime Administration is unwilling, at press time, to fund the ships further.
By Regina P. Ciardiello, senior editor While the cruise industry was hurting prior to the terrorist attacks of September 11, the industry has been put into a seemingly perpetual tailspin as economic woes and fear of travel have conspired to leave ships far from full capacity. In an attempt to circle the wagons, Royal Caribbean and P&O Princess announced that they would join together to form a $6 billion company with 41 vessels and 75,000 berths — the world's largest cruise company. While the larger lines are muddling through, some lines have not been able to hold on — specifically Renaissance Cruise Lines, which closed its doors the end of September, and American Classic Voyages (AMCV), which filed a voluntary petition for reorganization under Chapter 11 of the U.S.
Bankruptcy Code. While this was a blow to the cruise/travel industry, it was also a setback for American shipbuilding, as Litton Ingalls in Pascagoula was leading a charge to re-energize the business of building large cruise ships in the United States.
The two 1,900 passenger vessels, which are awaiting completion at Litton Ingalls in Pascagoula, Miss., are 40 percent complete and 55 percent erected, according to the yard's parent company Northrop Grumman. In addition, the yard said that approximately 91 percent of the material had already been committed.
Six days later, however on October 25, Northrop Grumman issued a news release stating their decision to suspend all work on the two vessels - affecting more than 1,250 shipyard employees and about 500 additional subcontractors. Northrop Grumman cited that "ongoing work on the program was subject to Project America's ability to secure immediate financing for the balance of the contract" — a completion that was contingent upon U.S. Maritime Administration (MarAd) loan guarantees.
MarAd decided, however, to cease all funding for the vessels' construction, leaving Northrop no choice but to stop production. The company has announced that it will continue to work with MarAd to secure additional financing for the project, as well as report a charge to operation margin of approximately $60 million if financing cannot be secured, which would force the termination of the contract between the yard and AMCV. "When it was evident that the financial status of AMCV wasn't changing, MarAd decided to not continue funding for construction of the vessels," said Randy Belote, Northrop Grumman's director of Corporate Public Affairs and International public relations.
"We're looking at all of our options," Belote said. "There are several angles, but we're not making any immediate moves right now. While it's unfortunate that MarAd dropped funding, we're (Northrop Grumman) working diligently to kept the project moving forward." At press time, AMCV decided as part of the Chapter 11 filing, to trim down its Delta Queen fleet to just one ship — the Delta Queen, which will continue to operate out of New Orleans. The company's remaining subsidiaries — Delta Queen Coastal Voyages, American Hawaii Cruises and U.S. Lines — have closed, leaving more than 1,000 (450 shore-side, 1,500 ship-based) without jobs.
The company, however, according to spokesperson Fran Sevcik, who is based out of AMCV's headquarters in Miami, Fla., will keep approximately 30 employees shore-side in New Orleans and 80 aboard the company's only remaining vessel, Delta Queen.
"The evidence of the Taliban pushing back marks a turning point in sentiments toward travel," said Lazard Freres analyst Jim Winchester. "Stocks have begun to bounce back as much as 20 percent in the last week (of November 12)."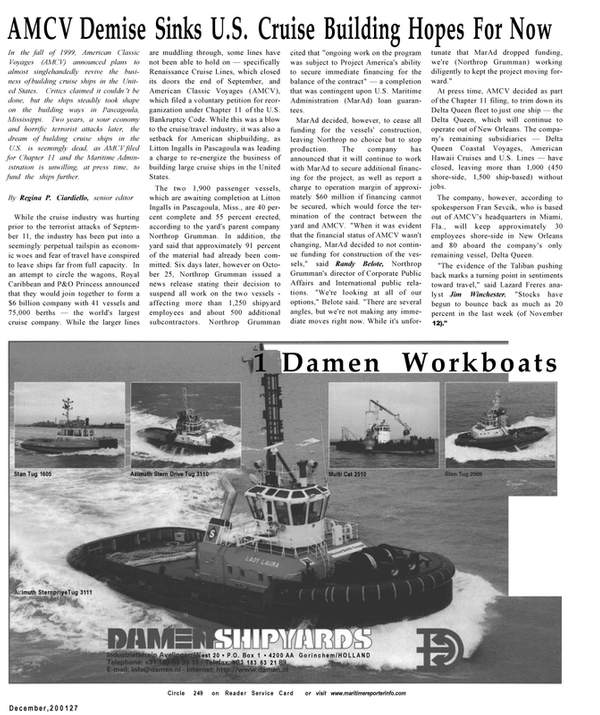 Read AMCV Demise Sinks U.S. Cruise Building Hopes For Now in Pdf, Flash or Html5 edition of December 2001 Maritime Reporter
Other stories from December 2001 issue
Content