Great Ships of 2 0 0 1
By David Tinsley
Ship Name Stena Vision/Stena Victory Shipbuilder Hyundai Heavy Industries Ship Type VLCC Owner Concordia Maritime Stena Vision — built for Concordia Maritime AB, a public tanker company of the Swedish-based Stena organization — is a unique 315,000-dwt VLCC built by Korea's Hyundai Heavy Industries Co., Ltd. (HHI) in that it features twinengines and twin-propellers. The 1,102 ft. (336 m) long Stena V-Max design VLCC differs from other large tankers built in the world to date.
The V-Max tankers have been conceived with a clear customer focus. The objective has been reduce oil companies' logistic costs, by offering a 30 percent higher loading capacity on a limited draft relative to more conventional designs of newbuilding VLCC, on an equivalent bunker consumption. Stena Vision is claimed to be the first VLCC to satisfy Det Norske Veritas' requirements for the class notation RPS (redundant propulsion, separate). The premium entailed in a dual main engine installation, with two shaftlines and twin propellers, plus the associated special underwater form, is largely offset by the increased revenue-earning capacity and potential savings in unit transport costs.
Concordia's investment in the pioneering V-Max type was quickly vindicated by Sun Oil Company's three-year charter commitments to the newbuilding pair. As a consequence of the agreement, the twin-skeg Stena Vision, joined in July by Stena Victory, will become a regular feature of the traffic to Sun's two refineries near Philadelphia.
However, options on a further six such vessels appended to Concordia's contract with Hyundai Heavy Industries have not been exercised, in the absence of satisfactory agreements with other charterers. The reported 10-12 percent higher price commanded by each of the V-Max duo at the time of contracting, relative to more standard VLCC capacity, is a measure of the premium entailed in conferring such a high margin of safety.
Although there would currently appear to be few charterers worldwide willing to pay significantly more for quality tonnage designed and engineered to confer very high safety factors, Concordia Maritime's managing director Lars Carlsson believes that the V-Max investment will pay-off in the long-term.
In addition to double hulls, the VLCC has double, completely separate engine rooms, double rudders and double propellers.
This twin-engine configuration gives the VLCC substantial advantages since one main engine can be shut down for maintenance while the vessel continues its voyage with the other. But these double functions represent an extra safety feature, and provide the VLCC with maneuverability touted as far superior to that of other conventional VLCCs.
"This ship not only has unique double hull design features, but is also equipped with two separate engines in two completely separate engine rooms, two rudders and sets of steering gear, two pro- pellers and duplicate control systems.
The V-MAX is thus designed to overcome any single type of system failure - a yet unrivalled active safety capability which we consider just as important as the passive safety of a double hull," said Lars Carlsson, Concordia's Managing Director. "Statistically more than 30 percent of serious tanker accidents are caused by vessels losing control due to machinery and system failures. This risk is all but eliminated in the V-MAX.
Using only one of its twin engines, the vessel can maneuver during a period of minimum 72 hours at a speed of at least six knots in a head sea and gale force winds of Beaufort force 8. This reserve of power makes it the first VLCC tanker to satisfy Det Norske Veritas' Redundant Propulsion Separate (RPS) requirements." In terms of maneuverability the VMAX performs considerably better than a conventional modern tanker. At a maneuvering speed of 8 knots her turning circle is tighter than that of a Suezmax of half her size.
The new VLCC - with a service speed of 16.9 knots - also employs an exceptionally beamy, shallow-draft hull form. The vessel has a beam of 229.6 ft.
(70 m), compared to the normal 190- 197 ft. (58-60 m) one for VLCCs.
These features make it possible for the VLCC to offer a 30 percent higher loading capacity on a limited draught than more conventional VLCCs.
A large emphasis has been placed on the arrangement, equipment and layout of the navigation bridge, as well as on the training of deck officers. For instance, the bridge provides a 360 degree window view from a centralized co-pilot conning station where all control and monitoring can be performed through the state-of-the-art Integrated Bridge Control System (IBCS). Training has been conducted in cooperation with local pilots using a full scale bridge simulation model featuring the vessels' primary trading environment, the Delaware River. The V-MAX has slow-speed main engines, which satisfy the new IMO requirements for Nitrogen Oxide emissions and also have separate tanks for more environmentally friendly fuel for operation in sensitive areas calling for reduced emissions.
The vessel is prepared to be the first large tanker equipped with 'intelligent' engines with enhanced combustion control, enabling fuel consumption or NOx emissions to be minimized in each speed range. Also lubrication oil consumption is significantly reduced.
In the interests of long term corrosion resistance, the ballast tanks are double coated with epoxy totaling 300um, and the cargo tanks are coated from the tank bottom and 1 meter up and from the under deck and 2 meters down; including complete coating of the transverse web frame. Particular efforts have been made in meticulous preparation of the steel surfaces and climate control for ultimate paint adhesion.
Ship Name Skandi Carla Shipbuilder Aukra Industrier Ship Type ROV/Offshore Support Ship Owner District Offshore Norway's west coast maritime cluster has again demonstrated its technological skills and business verve through the delivery of a complex, diesel-electric offshore support vessel equipped to carry out deepwater subsea inspection and construction tasks. Ordered from Aukra Industrier by local operator District Offshore (DOF), the 275-ft. (84-m) Skandi Carla ranks among the world's most sophisticated ships designed for ROV(remote-operated vehicle) deployment.
The powerful, dynamic-positioning vessel entered an immediate fiveyear charter assignment to Aberdeenbased survey specialist Fugro-UDI, to whose requirements she has been customized.
She is considered equally well suited to the harsh environment of the North Sea as to the so-called Golden Triangle development areas of West Africa, Brazil and the Gulf of Mexico, where operations in extreme water depths are the norm. ROV-based work can be carried out by the new vessel at depths as great as 3,000 m.
Built to a design developed by the Norwegian consultancy Marin Teknikk (MT), the versatile Skandi Carla has integrated, protected moonpool for ROV operations, just forward of midships, complemented by an open deck area of 640-sq. m. The deck has been strengthened for a 5-t/sq. m. loading, with a total carrying capacity of 2,000-tons, and is plumbed by a 50-ton, heave-compensated Hydramarine crane stooled on the starboard side.
The main, work-class ROV is dispatched and retrieved through the moonpool using a custom-designed launch and recovery system (LARS). A moveable mezzanine deck arranged in the after part of the ship provides a platform that can be used for a second ROV - or for trenching equipment. The arrangements permit two ROVs to be deployed simultaneously, with the second unit put overboard to starboard by way of the Hydramarine crane. Facilities are in place on deck to support clients' trenching, pipeline and cable deployment spreads.
Scope for undertaking unbroken, longer work assignments is enhanced by the foreship helideck, strengthened to receive a Super Puma-type aircraft, and enabling personnel to be changed out at sea. In terms of bunker capacity relative to the fuel consumption profile, the ship has an endurance of around 40 days.
Characteristic of such vessels, Skandi Carla has a large accommodation capacity for up to 80 persons in single-berth and two-berth cabins, so that charterers' own technical specialists can be carried in addition to the vessel's regular complement.
Her power and propulsion plant is based on four eight-cylinder engines of the Caterpillar 3600-series, a popular marquee among Norwegian operators yield. The 'Big Cats' serve as the prime movers in the 2,475-kV main gensets.
Diesel-electric has become the mode of choice for many Norwegian supply and support vessel owners in the latest period of fleet investment, through the recognition of benefits with regard to overall operating performance in terms of flexibility and full-cycle economy.
The location of the diesel-alternator aggregates only about one-third aft in Skandi Carla is also indicative of the increased ship design and layout possibilities conferred by a diesel-electric system. Furthermore, its adoption denotes a perception of environmental benefits, in terms not only of reduced exhaust emissions but also as concerns onboard noise and vibration levels. In fact, the vessel's environmental attributes as a whole have been recognized in the award of the Clean class notation by Det Norske Veritas.
The propulsion, maneuvering and station- keeping devices which form the main electrical energy consumers are the two 2,200-kW main thrusters, of contrarotating azimuth type, plus two 1,000- kW bow tunnel thrusters and adjacent, retractable unit of 1,000-kW. ABB had total responsibility for the ship's electrotechnical systems, engineering and installation.
A Simrad SDP21 system from Kongsberg ensures the precise dynamic positioning critical to the safe and efficient performance of subsea assignments, as well for operations alongside structures.
The nature of the outfit is such that it meets the Norwegian Maritime Directorate's Class II requirements for DP.
The propulsion arrangements give a free-running speed of 14 knots.
Aukra undertook the District Offshore build project on the basis of a delivery time of less than 10 months, demonstrating the depth of individual capability within the Aker Yards group. Production scheduling and work quality, key competitive factors in Aukra's target markets, benefit considerably from the full weather protection afforded by the yard's facilities near Molde. Skandi Carla has been taken under the wing of DOF Management, which was already familiar with the Aker build philosophy and delivery performance as a result of earlier projects at the group's other Norwegian yards, namely Aker Brattvaag, Langsten Slip and Soviknes Verft.
Ship Name Esperanza del Mar Ship Type Hospital/Salvage Ship Shipbuilder IZAR, Gijon yard As of September, 2001, the Spanish fishing and merchant fleet can count on a truly exceptional seagoing salvage and medical care facility: the ship Esperanza del Mar, built by the Gijon yard of the Izar Group, for the Marine Welfare Institute, a division of the Spanish Labor Ministry.
There is no other ship in the world of this tonnage and characteristics built specifically for salvage and medical care at sea. This project is due principally to the initiative of the Marine Welfare Institute. When the time came to replace the old Esperanza del Mar, after more than 20 years of service, the Institute employed its long experience in the preparation of an exhaustive specification for the call for tenders for the building of the new ship, and financed its construction and commissioning.
Izar's Gijon yard produced an excellent design and built an extraordinary, highly innovative vessel capable of rendering complete service to those who require assistance at sea, with the contribution of ideas, technology and human resources from a broad range of Spanish companies and professionals.
The ship is also equipped with the means to carry out salvage operations and assistance to other ships in distress.
Special attention was given to the safety of the ship itself, from the general arrangement and separation into compartments to the launching and recovery of rescue craft. Other design criteria were maneuverability and low noise levels.
For the latter, the Lloyd's Register, aside from the normal ship classification tasks, took charge of an exhaustive series of measurements and checkings that have demonstrated that the noise level is below that required by IMO.
Based on the above-mentioned criteria, the following design criteria were defined.
• Comfortable and safe accommodations for 41 crewmembers, 17 patients and 30 victims recovered from accidents at sea. Provisions were made to allow for increasing the hospital bed capacity in the future.
• Reinforced hull for navigation in icy water.
• Capability to provide towage; firefighting; fuel, fresh water and electricity • Logistics support for repair work • Pollution control capacity • Scientific research container shipping capacity. A weather forecasting container can also be accommodated.
• Hold for logistics support cargo in special situations, such as natural disasters.
• Helideck (not a permanent installation) and helicopter refuelling facility.
The vessel design was carried out by the yard's technical department, in close co-operation with the technical and inspection personnel of the owner, the Marine Welfare Institute. Oliver Design participated in the first stages of the project in an area of maximum importance in a ship of this type: the architectural design and shapes of the superstructure and its decks. The ship, along with all its machinery and equipment was built according to the Rules and under the surveillance of the Lloyd's Register.
Patient Care Spaces and Means Esperanza del Mar was designed, as the Director General of the Institute of Marine Welfare, as "a hospital equipped with the capacity to navigate". This concept has materialised in the design of the Hospital Deck, and around it all the spaces, equipment and systems that correspond to a modern ship, in accordance with the with the following design criteria: Hospital area located on a single deck, situated as low as possible for minimum accelerations in this area. Situated on the same level as the helideck and the rescue equipment for direct access from rescue operations and smooth passage of beds and cots to treatment area; An accommodation deck is arranged between the engine room and the hospital zone to reduce noise. In addition, to reduce noise from the air conditioning system, its machinery is located in the engine room and the air conditioning in the hospital zone is separate from the rest of the ship. Air is not re-circulated. This system is described later on in this report; Natural lighting and ventilation are employed to the maximum. Corridors are designed to accommodate a flow of hospital beds with an accompanying person on the side. The doors of the patients' cabins are designed to accommodate hospital beds. The patients' cabins have access to beds on both sides.
Rescue Equipment Esperanza del Mar is equipped with efficient means for rescuing victims from accidents at sea, towing operations and assistance in different types of emergencies such as fires, breakdowns, pollution or natural disasters. That equipment includes FRDC (Fast Rescue Daughter Craft) or "ambulance boat", type MP-100, manufactured by Maritime Partner and supplied by Pasch, of a 9.95 m length and 3.50 m beam, with capacity for 3 crew and 17 victims. Her engines (2 x 170 bhp) enable her to reach 32 knots. High-tech navigation and communications equipment are installed on her bridge. Three pneumatic rescue craft, each fitted with two outboard motors.
• G67 davit for FRDC craft, of a 10 m reach and 6.7 t SWL, and two G15, 1.7 SWL davits for rescue craft, all produced by Hydramarine and supplied by Pasch.
• Tow hooks manufactured by Industrias Ferri • Two Pesbo rescue boats • Five D8B life rafts for 5x12 persons, with a launching platform, supplied by Llalco • Service boat with outboard motor Marine Aries pollution cleanup kit formed by: 300 m oil spill contention barrier Oil skimmer Waste transfer pump Also arranged on board is a Skum monitor to provide firefighting service to other ships Propulsion and Maneuvering Izar Manises participated actively in the construction of the hospital ship Esperanza del Mar.
The company also supplied a deck crane, and the complete propulsion pack. The ship is arranged with two separate shaftlines for total engine redundancy, to ensure rescue operations at all times.
Each propulsion line consists of a Mak Model 9M25 four-stroke propulsion engine with a power output of 2,700 kW at 750 rpm in compliance with IMO NOx emission requirements. Each engine is coupled through a Vulkan resilient coupling to a Reintjes WAF 4545 reduction gear of a reduction ratio of 3.42. Shafting 18.5 m in length and four fixed pitchpropellers by Balino of a nominal speed of 219 rpm. The system is fitted with braking elements and the shafting has a clutch that confers the system broad operating flexibility. The electric power plant installed aboard the Esperanza del Mar, supplied by Pasch, is composed of three gensets and one emergency set, all designed and manufactured by Demp. Three MAN D 2842 LE301, 12 cylinder in V auxiliary engines and one 500 kWe Stamford electric power alternator. These sets are cooled by means of a water/water heat exchanger with a centralized on-board water circuit.
An emergency genset with a MAN D 2842 LE201, 12 cylinders in V and a 500 kWe Stamford electric power alternator, cooled by means of an air/water radiator. Special care has been given to control noise emissions and vibrations, given the mission of this ship.
The weight/power/volume ratio of these gensets is excellent. The main and emergency switchboards, as well as the control stations of engines 1 and 2 and the control console installed in the engine control room were built and supplied by Isotron. Hispano Radio Marftima supplied the electronic navigation, external communications and telemedicine.
Ship Name CMA-CGM Balzac Shipbuilder Hanjin Heavy Industries & Construction Co., Ltd.
Ship Type Containership Owner Conti Reederei GmbH/NSB Ship Name Polar Endeavour Shipbuilder Litton Avondale Ship Type DH Tanker Owner Polar Tanker Representing an important milestone for U.S.
commercial shipbuilding, the delivery of the 141,740-dwt Polar Endeavour signaled the unfolding of a major new chapter of investment in the fleet dedicated to coastwise transportation of Alaskan crude oil. Giving first form to the Millennium concept, the tanker has been purpose-designed for trade in the world's most environmentally-sensitive waters. While Polar Tankers' main requirement of the Millennium-class is to ship crude to Puget Sound from the Trans Alaska Pipeline terminal at Valdez, the series is also suited to the needs of the traffic to California and Hawaii. The program had been implemented in 1997, when former Avondale Industries was awarded the first vessel by California- based Arco Marine, the predecessor of Phillips Petroleum's Polar Tankers. Five vessels of the Polar Endeavour-type have been ordered to date from Litton Avondale for Polar Tankers, and options are outstanding on sixth and seventh tankers.
While ranking as the first, pure crude carrier of double-shell construction to have been ordered in the USA, she has the added distinction of a twinengine, twin-screw configuration and a double-hull spacing of 10ft, 50-percent greater than the mandatory minimum. The landmark class, combining proven technologies and innovative features, is a response to rising expectations as to service dependability and environmental compatibility.
Two low-speed MAN B&W diesel engines, the discrete arrangement of machinery and fuel systems, and independent rudders and steering gear, confer an exceptional degree of redundancy in a crude oil tanker context. Polar Endeavour's total loading capacity of just over 1-million barrels of oil is encased in 12 cargo tanks, arranged in six pairs about the centerline longitudinal bulkhead. Polar takes the view that the double-shell should be treated as the last line of defense. Citing failure of major systems such as the engine or rudder as a significant cause of marine accidents, it has therefore championed the concept of redundancy throughout the new tanker. Each seven-cylinder MAN B&W S50MC-C prime mover has a nominal output of 15,015- bhp(ll,060-kW), and the total propulsive effect ensured a speed of 16.55-knots at laden draft marks.
The engines are installed in two completely independent machinery rooms, separated by a longitudinal, watertight bulkhead. Each main engine drives a Kamewa controllable pitch propeller through a Renk PTO (power take-off) tunnel gear, for electrical power generation, and through a Renk friction clutch and thrust bearing, to allow disengagement of the propeller shaft. A multi-plate clutch in the gear interfaces with an ABB shaft generator of 8,600-kW. The rationale for the system is to enhance overall operating economics by harnessing main engine rotational energy to cover the electrical load while under way, and to also step-up PTO generator power, with the propeller disengaged, to meet the heightened electrical power need for cargo working. The arrangements enable the plant to be operated in three principal modes, covering opensea navigation, maneuvering and cargo handling.
The strength and durability of the vessel structure has been bolstered in the light of over 20 years' operational experience of tanker structural performance in the harsh Alaskan environment. The ship has been built primarily with mild steel, employing above-regulatory margins in areas where high tensile steel has been used, as in the upper deck, sheer and deck strakes and high-stress structural details.
The owner claims that the design incorporates 8,000-tons more steel than a comparable-capacity tanker intended for a typical international trade route. Steel placement to best effect has been guided by state-of-the-art, computer-aided structural design techniques, with the goal of ensuring the requisite 30-year fatigue life. Polar's antecedent Arco Marine considered the latest generation of North Sea shuttle tankers, which have to maintain similarly demanding service patterns in arduous environments, when laying down a basis for the design. Accordingly, input on shuttle tanker design and construction from IZAR contributed to the U.S.
company's investigations, as did assistance from Norwegian offshore tanker operator Knutsen OAS Shipping. The broad-based technical input to the project has also involved consultancies J J McMullen, MCA Engineers, Herbert Engineering, Glosten Associates and SSPA Sweden.
Ship Name NYK Lodestar Shipbuilder Samsung Heavy Industries Co., Ltd.
Ship Type 6,200 TEU Containership The design of the 6,200 TEU containership HN1367 for NYK features a maximum capacity of 6,422 TEU conforms to the now standard large container ship layout, with a short accommodation block and engine room approximately three-quarters aft, and seven holds forward and one aft of this position. The forward holds are dimensioned to accept 2 x 40 ft. containers (4 x TEU) in cell guides, and each is closed by two sets of lift-on/off pontoon covers comprising three transverse panels, while the aft holds with three sets of covers, can accept 3 x 40 ft. containers plus 1 x TEU, but otherwise restricted by the aft-body hull form. Containers are carried on the hatch covers over the full width of the vessel, and an additional FEU tier can be carried aft of No. 8 hold above the mooring deck. Lashing bridges are fitted on deck between the hatches. Refrigerated cargoes are catered for by the provision of 500 electric sockets. Maximum stowage on deck is 16 rows of 7 TEU tiers, and in the holds, 14 rows and 9 tiers. The hatch coamings are continuous and form the major longitudinal strength member, and a double hull structure surrounds the cargo space, forming part of a tank arrangement comprising side, bilge, and three transverse double- bottom compartments. Two sidetank port and starboard is utilized for automatic heel adjustment, with water transferred by means of water ballast & heeling pump.
HN1367 does successfully claim to use the largest main engine available for marine use. The ship's HSD-Sulzer 12RTA96C, unit is one of the most powerful commissioned for marine use. Built in Korea by Samsung, this has an MCR rating of 89,640 bhp (65,885 kW) at 100 rpm, and when operating at 85 percent full power with a 20 percent sea margin, produces a service speed of 25 knots. A Geislinger torsional vibration damper is included in the propulsion line, together with a monitoring system. In addition two bowthrusters of 1,650 kW each are fitted for efficient maneuvering. The shaft alternator develops 3,000 kW, whilst four diesel-powered sets each contribute 2,800 kW to an electrical operation controlled by a power management system. The ship is equipped with integrated navigation system (INS), including a console, which includes two radars, multi-function display for X band Radar/ARPA display and electronic chart display and information service (ECDIS), and electronic plotting table. An engine room monitoring station is also fitted on the bridge.
Ship Name Bertora Shipbuilder Samsung Heavy Industries Co., Ltd.
Ship Type Shuttle Tanker Since 1993, Samsung Heavy Industries (SHI) has built specialized and value-added shuttle tankers including a Heidrun shuttle tanker for Conoco, three multipurpose shuttle tankers for Statoil, a pair of Hibernia shuttle tankers for MCM/Ugland, and a TeraNova shuttle tanker for J.J.Ugland The company has scored again, with a 100,000-dwt shuttle tanker dubbed Bertora for Bergshav.
The ship, classified by DNV, measures 784 x 137.8 x 68.4 ft. (239 x 42 x 21.3 m) with a 49.5 ft. (15.1 m) draft (design & scantling).
The vessel has been designed to utilize, as much as possible, existing conventional Aframax tanker design and added essential feature for shuttle tanker such as a tunnel bowthruster; a retractable bowthruster, a tunnel stern thruster, a controllable pitch propeller, a schilling rudder, a dynamic positioning system (redundant), a bow loading system, an electric motor driven cargo pumps, a telemetry system (buyer supply and builder install.), and foot prints for VOC (volatile organic compound) plant and related power generating plant The double-hull structure of the vessel is designed to fully comply with the requirements of OPP-F notation, and the structural analysis is performed by DNV and SHI jointly as per Nauticus (Newbuilding) and CSA-1(25) notation. The combination of the DP system, satellite and seabed positioning systems enables station keeping and continuous loading in sea states up to 5.5 m significant wave height in the North Sea.
Ship Name Sorolla Shipbuilder Hijos de J. Barreras Ship type RoRo Ferry Owner Transmediterranea Marking an important stage in the regeneration of the RoRo ferry route network maintained by Compania Trasmediterranea, last spring's delivery of the 28,275-gt RoPax Sorolla strengthened the stateowned firm's position in the Balearics trade.
Imbuing both a higher degree of service quality and operational flexibility in an increasingly competitive segment of the Mediterranean market, Sorolla was built at the Vigo yard of Hijos de J.Barreras.
She underscored the emergence of the Galician shipbuilder as a growing force in RoRo construction.
Privatized in 1998 through its sale by the erstwhile Astilleros Espanoles (now encapsulated in IZAR) to a group of Spanish maritime and industrial interests, Barreras also supplied blueprints for sistership Fortuny to IZAR's Puerto Real yard.
Completed in a build time of just 16 months, the 23-knot Sorolla melds a high grade of accommodation for 1,000 passengers with a RoRo intake of up to 98 trailers plus 165 cars. The garage areas can alternatively stow 80 trailers and 336 cars, or equivalent permutations of road freight, vans and cars.
She was assigned to the Barcelona-Palma di Mallorca connection, cutting two hours off the previous schedule. Second-of-class Fortuny was subsequently delivered from Puerto Real into the other principal link between the mainland and the islands, the Valencia/Palma route. The modest draft of 20 ft.
(6.2 m) relative to a dwt of 5,000 tons reflects the owner's wish to ensure long-term operating versatility, including accessibility to the Menorcan port of Mahon.
Sorolla is a testament to Trasmediterranea's drive to raise vessel productivity, increase revenue generation, and meet the growing expectations of freight clients and passengers alike. The grade of accommodation and range of facilities is in keeping with the owner's decision to introduce a cruise ferry standard to its mainline routes. Cabins have been provided for nearly 75-percent of the total passenger complement, distributed throughout deck 7, while the two decks immediately above include a gymnasium with sauna, swimming pool, jacuzzi, solarium, open-air bar, and a saloon disco with bar, dance floor and stage.
All vehicle handling to and from Sorolla is concentrated through two stern ramp-doors of identical dimensions and capacities, with Trasmediterranea having decided to eschew a drive-through configuration. This has resulted in a finely-faired foreship section compatible with the requirement for a relatively high, sustainable speed.
Cargo access equipment specialist MacGregor accordingly sought to ensure efficient cargo working and expeditious turnarounds in the absence of a bow door. The axial stern ramps provide an entry point across the full width of the main trailer deck, and fold in the stowed, upright position so that passenger can enjoy an unimpeded view from the public deck spaces and accommodation in the aftship area.
A fixed ramp leads down to the lower hold, with the requisite headroom and strengthening for trailers and designation for hazardous items of freight, while the upper RoRo deck and associated, hoistable car deck, is also reached via two fixed ramps at the aft end of the main garage deck. One caters for cars and the other is dimensioned for trailers.
Peaks in the car-accompanied passenger traffic during the summer season are also served by the arrangement of a fixed, intermediate car deck between the after parts of the upper RoRo deck level (deck 5) and deck 7. While the contractual requirement was for a speed of 23-knots, Sorolla achieved 25.2-knots on sea trials at the machinery's 100-percent maximum continuous rating on a draft of 20-ft. (6.2-m), and 24.5-knots at 85-percent mcr.
One of the most popular designs of machinery among the RoRo, ferry and passengership communities, the Finnish-manufactured Wartsila 46, was nominated to power Sorolla. The plant consists of four eight-cylinder models, each delivering a 7,240- kW at 500-rpm, with propulsive effect delivered by two variable pitch propellers made by Navalips through Reintjes reduction gearboxes. Shaft generators driven off the gearsets enhance overall operating efficiency.
Ship Name Mercuay Glory Shipbuilder Daewoo Shipbuilding & Marine Engineering Co. Ltd.
Owner GULF Maritime Management S.A.
Mercury Glory, a 1,089 ft. (332 m) vessel that was designed and built to meet the standard of DNV rule, is a double hull crude oil tanker under Panama flag delivered in March 2001.
To enhance environmental protection up to date International Rule & Regulation, including MARPOL Annex VI, have been applied and H.F.O. tanks arranged as double hull. Other requirements and industrial standards also have been considered such as OCIMF recommendations, USCG Requirement and criteria. The vessel is intended for the trade of crude oil having a flash point below 60 degrees C in cargo tanks and has been constructed as double side and bottom in way of cargo tanks and arranged with five center/side tanks and two slop tanks.
The cargo handling system consists of three cargo pumps with capacity of 5,000 cu. m. each driven by steam turbine and three cargo manifolds on deck for three segregation of cargo loading and discharging.
The main engine is Sulzer 7RTA84T-B with MCR output of 36,960 PS at 74 rpm driving a fixed pitch propeller. The hull structure design was based on the DNV Nauticus with enhanced scantling for safer and stronger structural integrity. The six-tier deckhouse located aft provides accommodation for 41 persons.
The wheelhouse was arranged for the concept of the One Man Bridge Operation (Wl-OC) equipped with integrated navigation system including electronic chart display and information system, interfaced with other equipment, which is also provided with a remote and automated control system.
Ship Name Berge Artic Shipbuilder Daewoo Shipbuilding & engineering Co. Ltd.
Ship Type Ore Carrier Berge Arctic is an ore carrier built under NIS flag and delivered in November 2001 to comply with the requirements of Det Norske Veritas and classed +1A1, "Ore Carrier ESP", NAUTICUS (Newbuilding), HC, IB(+), EO, ICE-1C, LCS(SI), TMON. The vessel has a continuous upper deck with forecastle, a raked stem with bulbous bow, a transom stern with open water type stern frame, a semi-balanced rudder and a fixed pitch propeller directly driven by a slow speed diesel.
The vessel is ice strengthened, with the hull structure designed and strengthened to meet "ICE 1C" notation as required by the classification society.
The design fatigue of the hull structure is minimum of 25 years based on operation in the North Atlantic between U.K. and Canada.
The cargo area is divided into center cargo holds and wing water ballast tanks by two longitudinal bulkheads. The double bottom structure is arranged throughout center cargo holds, and center cargo holds are divided by corrugated type transverse bulkheads with upper and lower stools. Inner bottom plating in way of ore cargoes is strengthened for empty grab weight of 35 tons The hatch covers are electro-hydraulically operated side rolling type consisting of one panel of peak top type to operate satisfactorily in temperature ranging between -30 degrees C to +45 degrees C.
The vessel is configured with seven cargo holds, 16 ballast tanks including peak tanks. Total cargo capacity is 101,014 cu. m. and ballast capacity of 102,817 cu. m., including peak tanks.
Two centrifugal ballast pumps of the capacity of 3,000 cu. m./hr. and one of the capacity of 1,500 cu. m./hr. each driven by electric motor, are provided.
Electric power generating plant is consist of two diesel generators, one turbo-generator and one emergency generator. One oil fired auxiliary boiler of the capacity of 11,500 kg/hr. is provided to supply the steam for turbo-generator, general service and heating.
The Integrated navigation system (INS) and ECDIS are provided. Fire indication and failure of detector are of analog addressable on the central panel and interfaced with IAS to display mimic diagram. Instruments, alarms and control equipment for safe operation of main engine and auxiliaries are arranged for a part of integrated automation system (IAS).
Ship Name Nils Holgersson Shipbuilder SSW Fahr-und Spezialschiffbau Ship Type RoPax Ferry Owner TT Line Providing the first application for podded electric drives in the ferry market, July's arrival of the innovative RoPax vessel Nils Holgersson signaled a vibrant new phase of development of the busy Travemuende/ Trelleborg route between Germany and Sweden. The TT-Line project marries an advanced dieselelectric configuration with pragmatic requirements relating to operating efficiency, plant and power flexibility, cargo section design and environmental compatibility in the eco-sensitive Baltic trading regime.
Completed by the Bremerhaven yard of SSW Fahr-und Spezialschiffbau, the 34,500-gt Nils Holgersson is also notable for the arrangement of its multiple, main diesel generator sets within the vessel's doubleshell structure rather than in a conventional engine room location aft. Nils Holgersson and second-of-class Peter Pan embody a very much increased freight intake and reduced passenger capacity relative to two ships of the same name (subsequently converted, enlarged, renamed and redeployed), which the newbuilds replaced on the southern Baltic crossing. The new breed provides for 2,640 lane-m of vehicles and 740-passengers, compared with the previous sailing capacity of 1,480 lane-m and 1,044-passengers. In a freight carrying context, Nils Holgersson is a three-deck vessel characterized by a high degree of freight carrying and loading flexibility. The drivethrough capability, including two-tier stern access, is complemented by side doors for vehicles in the forebody, while a system of fixed, hoistable and tilting ramps expedites inter-deck transfers and turnaround flows. A key feature of the MacGregor RoRo equipment package is a huge, tiltable ramp serving as the conduit for vehicles between the main and upper deck levels.
The bow ramp/door accessing the main garage deck is designed in such a way that the section forming the watertight door at the collision bulkhead is physically apart from the other ramp sections, as prescribed by class rules.
The stern-handling arrangements comprise a wide ramp/door serving movements on and off the main deck threshold, plus a narrower ramp to convey vehicles direct between the shore and the upper deck level.
Direct access into and from the uppermost level is also achieved through the apertures in the foreship side shell structure served by two ramp/doors port and starboard. The tank top lower hold is reached from the main deck by a fixed ramp aft and a hoistable ramp forward. TT-Line's previous generation of ferries, the socalled 'Green Ships' Nils Dacke and Robin Hood commissioned from Aker Finnyards in 1995-96, had marked a milestone in ferry technology by embracing diesel-electric power and propulsion plant. The Nils Holgersson and consort Peter Pan have taken the concept a bold stage further through the adoption of a system where the propulsive effect is conveyed by steerable pods. The exacting level of maneuverability needed for the new ships, the savings in fuel associated with more efficient maneuvering, along with weight, space, and propulsive efficiency factors, favored the selection of azimuthing pods in preference to a more standard diesel-electric layout based on inboard propulsion motors driving fixed-pitch propellers.
Although convinced of the efficiency as well as maneuverability attributes of the electric pod concept, TT-Line sought a system, which would suit the special installation criteria imposed by a stern-ramped RoRo vessel, while delivering the requisite power and thrust. Practical requirements relating to the comparatively low threshold height of the main garage deck and the need to ensure unobstructed stern access and a flush deck for RoRo operations colored its choice of system.
In the event, the company settled on the Siemens-Schottel Propulsor (SSP) solution, opting for two SSP10 pods of 11-MW apiece, giving a speed of 22- knots on a power output of 9.8-MW from each unit. One of the distinguishing features of the SSP system is its permanent-field synchronous motor, incorporating double-wound stators, and another is its use of two propellers, one at each end of the nacelle, both rotating in the same direction.
The combination of optimized aft lines and the nature of the pod system are claimed to achieve a 14-percent saving in power for a given speed relative to a conventional, twin-propeller layout.
The diesel-electric plant caters for all shipboard consumers besides the propulsion system. Electrical power for the podded motors is drawn from the bus fed by a total of five generators based on MaK medium-speed diesel engines manufactured in Germany by Caterpillar Motoren.
The main gensets are positioned in the side compartments between the B/5 longitudinal bulkheads and outer shell, as was the case in the previous generation of ships. One 7M43 and one 8M43 engine and associated alternators are arranged in line in the portside machinery compartment, while 7M43, 8M43 and 6M32C-based gensets are laid out in the starboard-side machinery room.
Total plant output is 29,880 kW, of which a maximum 22,000 kW is available for propulsion purposes.
Ship Name Tycom Reliance Shipbuilder Keppel Hitachi Zosen Ship Type Cableship Keppel Hitachi Zosen Limited (KHZ) delivered its first cable laying and repair vessel to TyCom. Named TyCom Reliance, it was designed to be the most efficient cable laying and repair ship in TyCom's fleet. KHZ was awarded the first contract to build two cable laying and repair vessels for TyCom in April 2000. Subsequently, TyCom exercised its option to build an additional four sister vessels in November 2000.
"The effective execution of the construction of TyCom Reliance has been made possible through the application of new technology, creditable work put in by the design team, good project management skills and close partnership with suppliers, sub-contractors, classification and regulatory authorities and TyCom's project team," said Choo Chiau Beng, Chairman of KHZ. Fred Hamilton, TyCom's vice president of International Construction, Operations and Maintenance, said, "We are receiving an excellent ship at a competitive price. This vessel will play an important role in the deployment and maintenance of the TyCom Global Network in this region." At 12,130 git, each cableship is twin screw, diesel electric driven and dynamically positioned. Measuring 459 ft. (140 m) in length and 72 ft. (22 m) in breadth, the cableships are purpose-built for installation and maintenance of undersea fiber optic systems and are equipped with the latest in cable, navigation and safety equipment.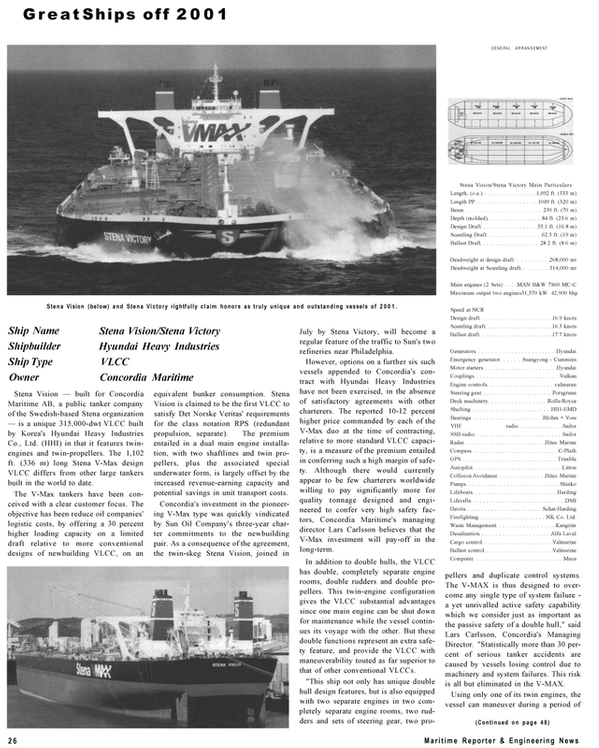 Read Great Ships of 2 0 0 1 in Pdf, Flash or Html5 edition of December 2001 Maritime Reporter
Other stories from December 2001 issue
Content