Schulte Marine Concept MD Kozdron Talks Shipbuilding
By William Stoichevski
If you are an American thinking Asia for converting a vessel, building a drydock or contracting a medium-sized newbuild, then Krzysztof Kozdron, Managing Director of Germany-based Schulte Marine Concept (SMC), is the man you need to speak to. Easy to talk to, the Shanghai-based naval architect and engineer knows shipbuilding from all sides. Parent company Bernhard Schulte Shipmanagement (BSM) has owned and operated ships for 150 years, and he draws on that and his own 25 years of project experience. As SMC has grown to operate 100 vessels and manage 600, Kozdron too has risen rapidly through the ranks. He discusses current shipbuilding challenges and opportunities.
"Within the ship management division, we have a specialized, dedicated entity, that helps develop and execute newbuilds, and that's Schulte Marine Concept. We try to be a one-stop shop for clients," said Kozdron. SMC has now overseen more than 450 vessel projects — from an advanced wind-service vessel in Norway to work for U.S. yards building drydocks at other U.S. yards. The number includes ballast-water system installs, modifications and newbuilds. Lately, though, the market has been "imploding" somewhat, although in China, at least, mergers have proven "very successful." Elsewhere, things are different.
"Everybody's kind of in survival mode, including shipyards. Some of them are struggling to exist. Some survive mostly because of help rendered by local ship-owning companies or via the financial sector and their government. Ship owners are also struggling with charters that are (inexpensive). They're struggling to arrange financing for newbuilding projects, and shipyards are struggling with low prices and a low number of (new) orders."
Much of SMC's recent business has been carried out on new-builds in Asia — China, Korea and Japan — in that order. "We actually managed a newbuild project in Europe last year (the Windea vessel at Ulstein)." Most of the recent work has been "very specialized, high-volume vessels. When it comes to bulk orders, big vessels, large numbers Asian shipyards are unbeatable."
The Market
That,"the market hasn't moved much the last years," isn't lost on Kozdron. "We've seen some movement into cruise liners or at least the small, adventure cruise sector. It's an interesting sector. It's always kind of a new sector. Only a few shipyards are capable of designing and delivering these vessels without losing money. The shipyards in Europe, of course. We've seen attempts by Asian yards to undertake such projects, but they've proven a complete technical-financial failure."
Kozdron says the cruise industry boom still underway means, that if you want a slot to build a new cruise vessel, then "You'll have to wait until 2025 or 2026." European shipyards, he suggests, will survive by excelling in niche sectors like Cruise. SMC, for its part, is involved in development-stage tenders for smaller, adventure vessels.
Outside of cruise, overcapacity has ravaged shipyards. "You can build a shipyard within two years from scratch to fully functioning, depending on the infrastructure. The main challenge is to find experienced people to manage the shipyard and work there, but once you dismiss people it's hard to get them back. The maintenance of these and other complexities is the main challenge. Shipyards were forced by the market to review their capacity, and they've done this by closing down floating docks, dry docks, production lines and by dismissing personnel.
"Today's shipbuilding prices are low. They're very tempting, and it's the perfect time for owners who can arrange financing and have employment for the vessels. Shipyards today are flexible and open to discussing (customization), new equipment and technology, unlike a few years ago when they were too busy and flooded with orders and they exercised the policy of "Take it or leave it," and they were afraid to move away from a vessel's standard design. At this moment, you can get the vessel you want made with the equipment you want at a good price." SMC, he says, would make sure the design is optimized for cash value, the customer's actual needs, re-sale value and a particular competitive edge. "We add value to the build."
The Challenge
"The hardest thing is to make sure the shipyard and the ship owner speak the same language, that they understand each other," he says, before relaying the tale of two American yard clients who struggled in the roles of client vs. shipyard during their "agreed" build. "Both knew better than the other," he relates with a smile.
More often, there are cases when the contracting parties simply don't understand each other, and that's when SMC — with its pedigree as ship owner, ship manager and builder — can smooth things over. "You can't allow a shipbuilding contract and technical specs that are not 100 percent exhaustive," he says, adding that there's always a "technical, functional, operational grey area," so "you need to have common understanding between ship owner and yard on what you want to achieve."
Not all clients can do that. Kozdron recalls two wanting to be ship owners for the first time. They were given a run-down of their industry; their fleet needs; the right designs for them; negotiations with and supervision of the builds, as well as ship management advice for "that cargo" and "those destinations." "The shipyard's offered design was reviewed and optimized. So, yes, we channel our ship-owning experience into newbuilds. We don't just provide supervisors, we do the whole turnkey solution."
Some Conversions
Since regulations and technology have made vessels more complex than ever, that "universal rule" of finding understanding on expectations is more important than ever. The triple experience of shipowner, shipbuilder and ship managers means SMC and Kozdron are tuned right in to "the most reasonable" solution. "Whatever compliance is requested, we find the right technology, the right CAPEX and OPEX plan to meet it in full."
Installing ballast water systems, for one, "are not always easy on the newbuilding site," while building a vessel from scratch might require a new slip. The price of conversions and their equipment, too, are "very high." Owners don't always understand that "the new equipment requires energy to operate, and the energy might not be available due to the electrical balance or a space issue." Owners will always face the issue of adding a piece of equipment that costs "$1.5 million" for a vessel that originally cost "a few million dollars. They'll want to know that they can operate the vessel for five years in the current shipping market." For BWTs, he says, they might change a ship's capacity. "It may happen that a number of vessels that are 20-plus years old will basically be scrapped, as the installation of BWTs will not be affordable or justified from a commercial perspective."
Capex and Opex
Then there's MARPOL Annex VI, Regulation 14 — the sulfur cap on marine fuels (deadline 2020). "Owners are still wondering," he says, about what choices they'll have on compliant fuel or heavy oil versus exhaust scrubbers. "The only question is does the installation of that scrubber provide compliance with MARPOL which addresses sulfur content in the fuel."
He drills deeper: "The initiation of scrubbers is a very expensive exercise, both from the capex an the opex perspective. On the technical side, a special scrubber requires a lot of space. If you look at a smaller vessel like small feeders or small bulkers, the limited space available means the feasibility of a scrubber is a big question mark. It'll come at the price of cargo capacity. Smaller vessels are technically and commercially challenging (to convert for scrubbers)."
Build a Drydock in Asia
You won't bog Kozdron down in conversion talk. Despite the looming rules, he knows "most" shipyards "are reducing capacity." He'd rather talk newbuilds, especially of ships and drydocks built in Asia.
"We're trying to reach out to clients in the U.S. who want to build a vessel or drydock or are travelling to Asia for the first time with a big expensive, complicated project in mind. We want them to be aware that you can get value for money and make it efficiently and safely, if you have someone who knows how to do it and knows the local solutions. It'll be on-time and on-budget."
Building in Asia for international trade avoids Jones Act limitations. "It's a new experience that you bring home with you. Learning something new is always something good. Being stuck with in-house technology can make you fall into an excessive comfort zone."
He promises you'll be able to communicate your needs. "That's what we do. We offer communications channels. We translate," he says.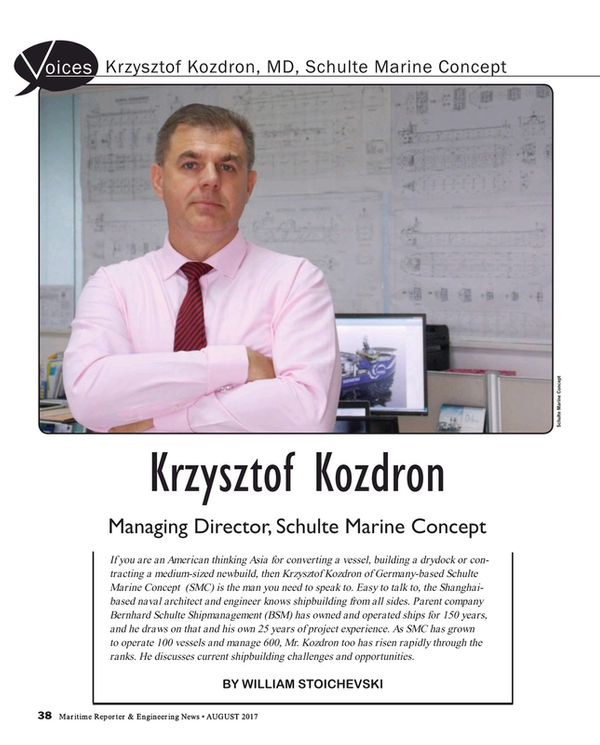 Read Schulte Marine Concept MD Kozdron Talks Shipbuilding in Pdf, Flash or Html5 edition of August 2017 Maritime Reporter
Other stories from August 2017 issue
Content