How Augmented Reality Technology Could Transform Shipping
By Alexander Buchmann
Augmented Reality (AR) is predicted to be the next technology game-changer to improve business processes and employee performance and it's no wonder many companies are getting excited about its potential.
While virtual reality completely immerses people in a computer-generated world, AR overlays computer-generated images on the real world.
A great example of how AR combines the imaginary with the real world is in the hugely popular AR game Pokémon Go, where people search for and catch pocket monsters in the real world. This is one of the most downloaded games ever and analysts predict AR has the potential to have a similarly dramatic impact on businesses too.
According to PwC's 2017 Global Digital IQ survey 24 percent of executives will make a significant investment in AR in the next three years.
According to PwC, the benefits to be derived are the real-time delivery of relevant information to employees regardless of location, the fact it will enable greater flexibility, increased operational mobility and improved efficiencies.
AR has multiple uses for businesses across virtually any industry. These include the ability to connect employees in different global locations, deliver training and education or for companies to use the technology to increase the efficiency of product repairs or do demonstrations.
The appetite for AR technology is growing. Data from the International Data Corporation (IDC) estimated that augmented and virtual reality headset device shipments will reach almost 100 million units in 2021, up nearly 10-fold from the 10.1 million units shipped in 2016.
Fuelling this demand are the new devices being launched, the lower price points for devices and the expanding content now available for consumers and business users, according to IDC. We believe AR will have a revolutionary impact on the shipping industry and that it will be the next step on the industry's digitalization journey.
While shipping companies have traditionally been slow adopters of technology many are now embracing technology to optimize fleet management, automate their processes and improve communication between staff on ships and on shore.
Shipping companies won't want to be left behind as AR becomes the latest must-have technology to transform business. But what benefits can companies expect?
Benefits of Augmented Reality
Augmented reality, like any other cutting-edge technology, can help shipping companies to accelerate and simplify their processes. It is comparable to switching from pen and paper to a computer and will provide new tools to execute tasks faster and more intelligently.
It will also improve the performance of workers. For example, in the aviation industry it was reported that the use of an AR headset to help a technician wire a wind turbine's control box improved a worker's performance by 34 percent on first use.
Rather than immersing us in an alternate universe as virtual reality does, devices that use augmented reality enhance our actual surroundings by adding holograms into our field of vision to interact with. Augmented reality makes it possible to merge the real and the digital world, creating a mixed reality.
There are nearly unlimited possibilities, especially as the technology progresses. For example, instead of looking at a GA plan on a screen, workers could look at the entire ship in 3D on a table in front of them. They could look at it from all angles, virtually highlight certain areas or display the main engine making the interaction feel more natural instead of looking at a screen.
Using AR-devices means screens and monitors could also become obsolete, with employees able to access cloud-based data wherever they are working. Additionally, it will render a lot of hardware redundant. Just as the smart phone included the functionality of a lot of gadgets such as camera, telephone, calendar or calculator, AR devices are one more step forward.
For ship inspections for example, inspectors will no longer need to take additional equipment with them because the questionnaire could be displayed directly in the room and pictures could be taken with the camera within the device. A report from analysts Forrester says there are tangible benefits to using an AR headset over a phone or tablet camera feed to obtain information, with the added advantage of the worker's hands being free.
There are also communication benefits. The industry is already working on projects that make it possible to have virtual meetings. Holoportation is a new type of 3D capture technology that allows high-quality 3D models of people to be reconstructed, compressed and transmitted anywhere in the world in real time.
When combined with mixed reality displays such as HoloLens, this technology allows users to see, hear, and interact with remote participants in 3D as if they are in the room. Communicating and interacting with remote users will become as natural as face-to-face communication.
Who will benefit most?
Initially, it's likely that management teams will benefit most from AR technology because of the possibilities it offers to display all kinds of operational data, such as the movement of fleets.
It will probably have the biggest impact on productivity and training expenses, since it's possible to display instructions right next to an engine to execute maintenance tasks or provide general information that is essential for the staff. But engineers can also benefit by displaying machine parts and simply highlighting certain areas by gesture, for example for maintenance purposes. The further the technology advances, the more areas of application will be found.
Companies may have concerns that AR will be complicated, and that staff will require extensive training to use it, however, this isn't necessarily the case. Younger generations tend to be digitally savvy so are unlikely to have any difficulties getting started.
Other users might need an introduction to get used to the headset. Apart from the headset, the technology relies on software – so it's simply a question of understanding how it works and getting used to wearing it.
We have been working with Microsoft HoloLens to make this a reality for the shipping industry and we already implemented ways to visualize data from our software using this device.
The HoloLens device is the first self-contained, holographic computer which allows the user to project and interact with holograms and recent research from analyst firm, CCS Insight predicted that mixed reality devices like Microsoft's HoloLens will start gaining sales come 2019, and that 2018 will mark the start of growth in adoption of AR devices.
We are perhaps still two to five years away from AR devices being rolled out across the shipping industry, however, companies should start to investigate and learn about the possibilities, as we believe this technology will revolutionise the way they will work in the future.
The Author
Alexander Buchmann was inspired by the release of the first iPhone to develop a software that would facilitate the complex processes managed by shipping companies. He founded Hanseaticsoft in 2009 and developed Cloud Fleet Manager. Since March 2017, Lloyd's Register one of the world's largest ship classification societies, holds a share in the software company.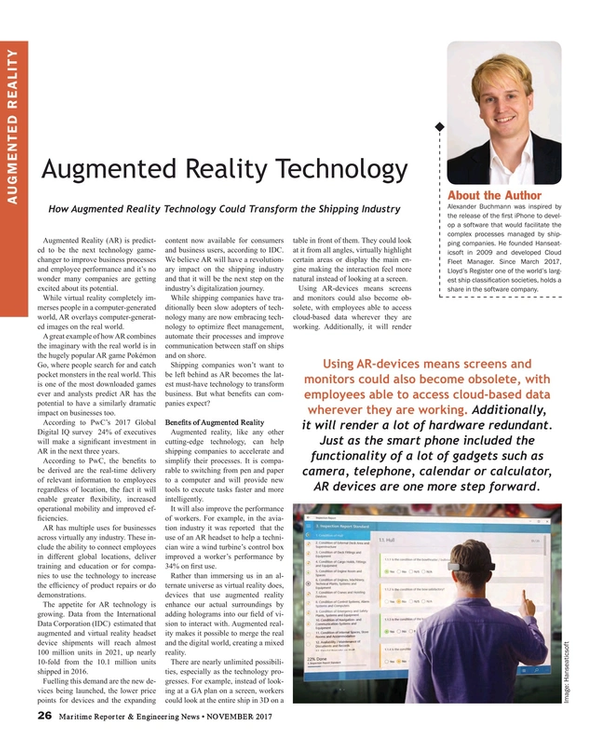 Read How Augmented Reality Technology Could Transform Shipping in Pdf, Flash or Html5 edition of November 2017 Maritime Reporter
Other stories from November 2017 issue
Content