A New Breed of Tug
By William Stoichevski
When markets expand niches are created, goes the logic. For builders of tugs, that market is "floating gas" and the expanding use of liquefied natural gas, or LNG, as a fuel. In support of LNG, there'll be more oceangoing tug duty — the new floating storage and regasification units, or FSRUs, mean busier LNG carriers, and LNG cargo owners have an interest in tug escorts that share their "carbon footprint". Still, new emissions rules offer ways to keep using refinery products, and the work of master tug designers suggests the new breeds of tugs are about more than fuel.
"The impact of LNG carrier and FSRU fleets worldwide is a significant and positive one for our tug business," Robert Allan president and CEO, Mike Fitzpatrick, tells Maritime Reporter & Engineering News. "The owners of LNG carriers and FSRU's demand much higher quality and higher performing tugs than other shippers for a variety of good reasons."
In fact, the push to LNG by Europe is real: The Continent is out of oil but well-supplied by natural gas and U.S. refinery products. Europe's port cities strive to be carbon-free harbors that nevertheless give free reign to LNG supply barges or LNG-fueled cruise ships. Marine fuel and emissions are being strictly monitored, with the monitoring technology offered up by classification societies. For over two years, now, MARPOL Tier III nitrogen oxide rules have been in effect for vessels with engines equal to or greater than 130 kW, and new Emissions Control Areas and the 2020 (or 2025) 0.5-percent sulfur cap are on the way. Since the preponderance of tugs already operate in current or future near-shore ECAs, they face widening compliance issues (as in the waters around Europe's many LNG import terminals and two LNG export terminals at Hammerfest LNG in Northern Norway and Yamal LNG in the Russian Arctic).
The Arctic — sensitive, likely future ECA of large and frequent LNG trans-shipments — has provided cold inspiration to at least one energy company insisting LNG-powered tugs handle the LNG carriers moving its "clean" cargoes: Statoil's ECA-LNG imperative offered market entry for three oceangoing LNG-powered tugs delivered recently by Spanish yard Astilleros Gondan to Ostensjo Rederi, a renown Norwegian tug operator and now the first owner in Europe of these LNG types. The vessels, designed by Robert Allan, won't need to respond to quite the same arctic conditions as tugs plying, say, Yamal or Northeastern Quebec, but they do need to respond to remoteness, freezing mists and fast shipping. To power that preparedness, they have Wärtsilä LNGPacs of two, six-cylinder, 34DF engines offering "seamless" LNG-diesel use and 3,000 kW each. Like every vessel in the Norwegian arctic, they have assigned roles in area oil-spill defense: onboard oil skimmers and booms; a RIB for arctic rescue and comfort for eight. The third of this trio of 40-meter tugs — Audax, Dux and Pax, with their (LNG) cargo-handling cranes and 107 tons of Ballard pull — was delivered in July 2017 and immediately heralded as "trend-setting" in Europe's gas powerhouse, Norway.
"The Ostensjo RAstarDF tugs are actually quite different from the TundRA design built for Group Ocean in Quebec," says Mr. Fitzpatrick. "The Ostensjo tugs use our standard escort tug hull form with some reinforcement to achieve a relatively light Ice Class, whereas the TundRA design is a specialized ice-breaking hull form with heavier reinforcement." The Swedish port of Lulea is understood to have already tendered to European shipyards for a powerful (diesel-electric) hybrid TundRA of 100 t BP based on the Group Ocean vessel.
Robert Allan isn't alone in proliferating new, "high-spec" tug designs. As we wrote these lines, Wärtsilä — its designs are the basis of 1,000 tugs worldwide — launched the HYTug concept and encapsulated gains made in mechanical and electric hybrid propulsion. The designer and builder of the 20 DF and 34 DF LNG is known for early LNG tug design deliveries to China and the Middle East. In 2012, Wärtsilä struck a deal to supply China's first LNG-powered tugs and were first out with a 29 m tug in partnership with Dry Dock World in Dubai on vessels that were delivered but never commissioned. In gas mode, Wärtsilä's LNG tugs are Tier III compliant for cutting emissions of sulfur oxide completely and trimming carbon-dioxide by 20 percent and nitrogen-oxide by 80 percent.
The non-LNG HYTug, however, allows for fewer emissions by enabling less installed power than a "conventional" design. "We believe that new tugs will in future rely more and more on battery and hybrid propulsion," says a Wärtsilä Marine Solutions statement. The HYTug launches at the Asian Tug Technology and Salvage conference in September 2017.
LNG Aspects
A Wärtsilä LNG bunkering system completes the company's LNG Pac offering of fuel storage and supply "designed with the smallest onboard footprint" for a tank, connection and process kit (in cold-box). Robert Allan documents confirms the surprisingly small space adjustments required to use Wärtsilä LNG storage tanks for some LNG tug models designed by the Vancouver-based outfit: "The aft deck space on many tugs is thus often just a large empty area. We considered it prime real estate (on the Robert Allen Rangler design) for locating the accommodation facilities displaced by the LNG tanks." On a RAstar 4000 DF built for an escort speed of 15 knots to chase 300 fast-moving LNG carriers a year in arctic waters, there is still 313 cubic meters of diesel fuel oil storage; 33 m3 of LNG capacity; 46 m3 of fresh water storage; space for 254 m3 of oil slick; 20 m3 of fire-fighting foam and 20 m3 of dispersant.
"The new RAstar 4000-DF class tugs are indeed first of class in many respects and truly have no equal in the world of tugboats," Mr. Fitzpatrick asserts.
Along with the speed and storage are some peculiarities of LNG engines. Each tank-connection space contains LNG liquid and vapor passageways; a pressure build-up evaporator; a main gas evaporator and the gas valve unit for each engine. "The tank hold is designated a non-hazardous space accessed from the engine room by means of an A-60 rated watertight door, (and) all gas supply piping is double wall." On top of this novel complexity, there's the LNG bunker station on the main deck for bunkering from a tank truck or barge.
"We are working on a number of new projects at the moment utilizing the unique RANGLer design which we expect will proceed to construction in the not too distant future," Fitzpatrick said. "The main factor driving these RANGLer projects is the need for greater endurance when running on LNG. In our more conventional RAstar and RAmparts designs we are realistically limited to a LNG capacity of about 30-40 m3 whereas we can accommodate tanks of up to about 100 m3." Until tanks are that large, tanker-supply, fuel-sharing and bunkering — including via a new Wärtsilä bunkering barge just released for use in Europe — will be the order of the day.
Warm-water Tugs
At Statoil's Melkoya LNG terminal off Hammerfest, there's the need to tackle high sea states for serving as emergency response backup. The Ostensjo hull forms are "optimized for excellent sea-keeping" in rough, cold sea states. Fore and aft winches are enclosed in insulated and heated winch rooms. Exposed working decks have heat tracing to reduce ice build-up. The wheelhouse is fitted with heated windows, and an efficient combination of electric- or oil-fired boiler provides hot water for "domestic use", the "pre-heating of engines" or to heat recovered oil tanks.
Tropical tug operations have the opposite requirement, and designer Piriou recently recorded an order for an OST 30 30 m vessel at Pointe-a-Pitre harbour in French Guadeloupe, an island in the Carribbean. Caraibes Remorquage will operate the 30.3 meter tug with 55 t BP and two 1,678 kW azimuth stern-drive propellers. The buyers wanted Piriou's indirect refrigeration system for all vessel equipment and box coolers adapted to tropical conditions without seawater circulation. The tug was shown at Tugnology in Rotterdam in May 2017 and will be built in Vietnam.
Robert Allan, too, has had something for warmer waters, including a dual-fuel RAstar 4200-DF for Ningbo Port Co. A pair of Niigata 8L28AHX-DF dual-fuel engines driving two Rolls-Royce US 255 CP Z-drives and delivering 80 t BP will carry up to 60 m³ of LNG fuel on this RAstar 4200. It'll be classed with China Classification Society. That's not the only warm-climate work the company's designs have found, and assisting Shell's giant Prelude FLNG vessel — the largest vessel in the world — are a team of dual-fuel Robert Allan ROTORTUGS "infield support vessels" for owner's KT Maritime Services Australia.
So, to a tug designer, is gas the new oil? Not yet.
"That statement is perhaps a bit of a stretch if we are talking about LNG as a fuel for tugboats," Fitzpatrick said. "I do not realistically see a time when a large portion of the tugs we design are LNG-fueled unless fuel prices rise significantly."
A typical tug operating 1,500 to 2,000 hours per year at an average load factor of 30 percent "simply does not burn enough fuel to offset the significantly increased capital costs to build an LNG-fueled tug.
"That said, I am certain we will continue to build a number of LNG fueled tugs every year for operations where the (other factors) of burning gas outweigh the economic issues. Ultimately, the range and endurance of a tug with LNG is severely compromised in comparison to a diesel-powered tug of the same dimensions."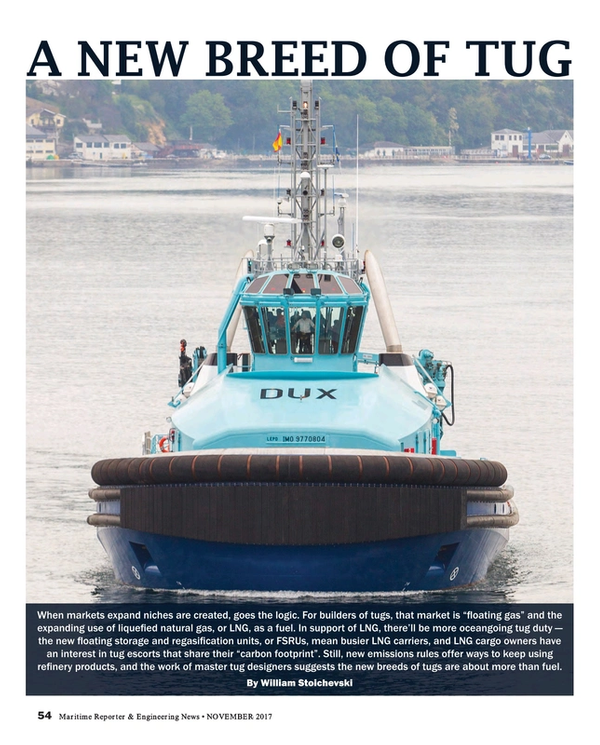 Read A New Breed of Tug in Pdf, Flash or Html5 edition of November 2017 Maritime Reporter
Other stories from November 2017 issue
Content