Five Requirements for Safe Ops
By Murray Goldberg
A safety culture starts with the CEO

As I write this article I am flying back to my home base in Canada from the 42nd annual Interferry conference in Split, Croatia. Interferry is an outstanding conference full of dedicated and passionate ferry operators and those who serve the industry. One presentation was delivered by Captain John Wright, a Master Mariner who has spent his career in the maritime industry in a variety of roles including vessel master, marine superintendent, chief executive and general manager. All of his roles have had a focus on safety and cultural change.
In Croatia Wright shared his knowledge as a trainer and has acted as a consultant on some very successful maritime safety culture transformations which have created dramatic improvements in accident rates. Interestingly, they have also created dramatic improvements in performance because, as Wright teaches, safety and performance are inextricably linked – you cannot improve safety without seeing an improvement in performance.
Wright's presentation covered what he sees as the cardinal requirements for achieving safe maritime operations. None are secrets, and every operator (ferry or otherwise) is capable of implementing them. But there is almost no point in trying to do so unless there is a real and unwavering commitment from the top of the organization. In the absence of this clear commitment from the top, operations will likely be generally safe most of the time, but will go very wrong at some point. It is just a matter of time. Listed below are the basics of what needs to be done to achieve safe operations according to John Wright. I have embellished most of John points here with my own thoughts as well – so if you disagree with something that is said, please feel free to blame me first.
Requirement #1: Patience and Persistence
It takes real time to implement safe operations and a strong safety culture. How long specifically? Easily five years, and maybe more. It depends on the level of commitment, and the starting state and nature of the organization.
But asking how long it requires to achieve safe operations somewhat misunderstands the process because once the journey has begun, it is never complete. It takes years to see real improvement, but even once those improvements are gained, effort must remain. John likens safety culture to a garden. Left untended it quickly becomes grown over. But with regular and consistent attention the garden will remain in a pristine state.
Requirement #2: Ownership
Safe operations and a positive safety culture are not things that can be imposed from the top. They are only ever achieved if every employee is bought in. And the only way an employee will be bought in is if he or she has ownership of the process.
What does this mean in a practical sense? It means that employees at every level of the organization, from the deck up, must be involved in defining success and identifying the best way to get there. Some need to be involved deeply – for example by leading or participating in working groups to identify unsafe practices and situations and to propose solutions.
Those people will be the champions among their peers. In addition to those who are deeply involved, every last employee needs to be involved in some way – even if it is simply to ask them to provide suggestions or provide feedback on how their roles can be performed more safely.
In the end, Wright made the strong point that we cannot achieve our goal without ongoing and meaningful involvement and contributions from all employees. If our employees have helped define the solution, they are certain to believe in it and implement it. That is what ownership is all about. It turns the conversation from "this is how you will be safe" to "help us understand how we can help you do your job in the safest way possible."
Requirement #3: Communication
Without frequent, honest and open communication, trust and teamwork cannot be achieved. Both of these are required for the organization to achieve success. On the path to safe operations there will be successes and failures. In the absence of open communication, the successes will mostly go unnoticed but the failures will be common knowledge (and made worse by speculation and lack of real information). It is the CEO's role to regularly address all employees on an ongoing basis. That communication should reiterate the organizational commitment and should champion the successes and identify those at all levels who contributed to those successes. It should be frank about the failures, using them as learning events. Reiterating the point that the entire organization is in this together, is working on this together, and benefits (or suffers) from this together creates trust, teamwork, and resilience from the occasional and inevitable failure.
It should also be remembered that effective communication requires that it be two-way. John made this point many times in his presentation. Listen to your employees and make sure the listening is active and organized where everything heard is reported on and reacted to – never ignored.
Requirement #4: Fair Blame
Unless an accident or near miss is caused by gross or willful negligence, it is counterproductive to blame the employee(s) involved. First, can we absolutely say that they are solely responsible? Or could the cause have been broader – including shortcomings with equipment, training or procedures? Second, by assigning blame to the employee(s) involved, we are encouraging our employees to hide or misreport accidents and near misses. This robs us of the most powerful of learning opportunities. Blaming our employees for what are, in most cases, shared shortcomings guarantees that we will repeat the same failure over and over. This is the worst of all possible situations.
It takes a great deal of trust for an employee to report an issue they were at the center of. This is especially true in organizations which start from a position of being heavily blame oriented. It takes time, commitment, and communication to earn the trust of employees - enabling them to come forward to report an issue. The CEO's reaction to that first brave employee's report will set the stage and begin to build (or diminish) trust. Thus, a steadfast management commitment is required here, no matter how difficult it may seem.
Trust is hard won and easily lost, and that trust is a requirement for success.
Requirement #5: Employee Commitment
Safe operations essentially boil down to one thing – the commitment each officer and crew member brings to his/her company and job. As it is often said, safety is about "doing the right thing, even when no one is looking". That is a good definition of commitment in this context. That level of commitment cannot be demanded, and it can rarely be hired. It must be earned. And the only way to earn it is for the organization to lead by first committing to each employee. An employee who feels that the company is committed to their career and their development is one who reflects that commitment back to the organization.
How do we commit to each employee and demonstrate that commitment? In the view of many including myself, the most powerful demonstration of commitment to employees is ongoing employee development through best practice training. In a practical sense this means cooperatively crafting a career development plan for each employee and providing the training and experience necessary to advance according to the plan. This development plan should be visible, organized and structured - not informal. It should be reviewed regularly. Employees will know immediately whether the company commitment is meaningful.
Like the career development plan, the training that supports it should be structured and effective. The most effective and efficient training approach is blended learning where the training consists of carefully constructed on-line learning together with hands-on training. This approach is substantially more effective than other approaches. It also has the added advantage that the technology that supports it, the Learning Management System or LMS, is highly visible to employees in the form of an online company training website often referred to as the companies' "training academy" or similar.
Conclusion
The five items above constitute only the broad strokes. There is much more to it, but if an operator gets the above requirements right, almost all else will follow. Get advice from experts, both those who are external experts, as well as the experts you already have working as deckhands, engineers, officers, cooks, and in every other position in your company.
Implementing the requirements listed above may mean a lot of change for many organizations. I would argue, however, that the bigger the change required to achieve these, the more critically necessary it is to start making each one of those changes. That is where the commitment from the top comes in. Are you ready?
The Author
Murray Goldberg id CEO of Marine Learning Systems, maker of MarineLMS. A researcher and developer of learning management systems, his software has been used by millions of people and companies worldwide.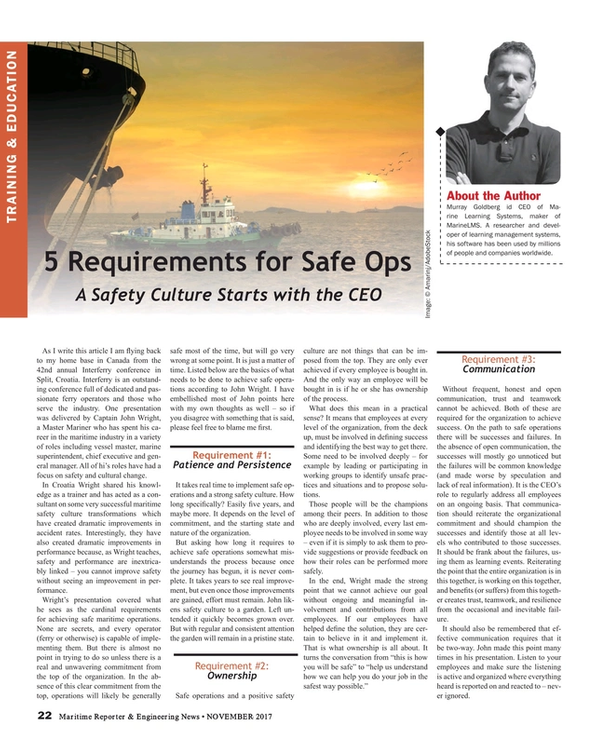 Read Five Requirements for Safe Ops in Pdf, Flash or Html5 edition of November 2017 Maritime Reporter
Other stories from November 2017 issue
Content