W&O Supply Holds a Steady Course
By Greg Trauthwein
Michael Hume, President & CEO, holds top marine distributor W&O Supply on a steady course.
W&O has been a distribution leader in the commercial marine space for more than four decades for a number of reasons, but it all starts with stability at the top, in the form of the leadership of Michael Hume, President & Chief Executive Officer. Hume has been with the company since 1992, and on a recent visit to his office in Jacksonville, Fla., he discussed the challenges and opportunities that lie ahead for his company.
W&O supply is a ubiquitous name in the business of marine supply, supporting 18 locations globally staffed by more than 330 maritime professional and housing more than $50 million in standing inventory. But the story of W&O transcends the typical maritime product supply story, as the company stands out with its breadth of product and service offering, its sole focus on the marine business and its ability – as a wholly owned subsidiary since 1999 of PON Holdings B.V., a multi-billion dollar privately held company based in the Netherlands – to invest with the long term, big picture in mind.
"PON is a hands-on family company, they are involved in the business and they want to understand the opportunity that we see," said Hume. "This affords us the opportunity to plan a program to triple the size of the company; they listened, they understood and they supported us."
W&O is well on its way to hitting its growth target, no small feat in the face of a historically tight maritime market. When asked "how," Hume was succinct: acquisitions.
"We are looking at two or three acquisitions as we speak. To get to a $250 million company it will be about finding the right acquisitions, domestic or international." Through PON, W&O has the resources and the wherewithal to move quickly when opportunity arises to "invest ahead of the trend. PON has a 'buy and hold' strategy; they don't do anything temporarily just because it might look good," said Hume.
The Market: A Slugfest
"The marine market today is soft, some parts of it are as bad as we've ever seen," said Hume. "The offshore space is terrible; the inland workboat piece is off too."
But all is not bleak, as both the cruise ship segment and government/navy new construction business is helping the fill some gaps.
In step with a tight market, Hume said that competitive pressures in the marine space are greater than ever, coupled with a squeeze on margins and the requirements for quality, project support and documentation. "In a competitive world already, all of those things can create an awful burden, and then the question becomes 'how many people do you need to handle it and how do you make money doing it?'"
But Hume, having seen his fair share of marine cycles, neither gets too excited when times are good nor too down when business is bad. Looking ahead he predicts a "sluggish 2018 with the proverbial light at the end of the tunnel in 2019-2021."
"Marine is a cyclical business, and it's down. But I believe in the economics of maritime. As long as there is a fleet out there working – and we believe in the need for a strong inland shipping business, the need for a strong coastal shipping business, the need for a strong defense (Military Sealift Command, Coast Guard, Navy) – and we believe there will be a strong long-term demand for maritime."
Looking beyond 2018 Hume is decidedly bullish, as there are a number of government and commercial drivers in North America that promise to drive growth forward fast.
"This is what I'm excited about looking ahead" to 2021-2022: "I think the Ballast Water business comes together in heavy quantity in 2020-2022; I think (the U.S. Coast Guard) OPC is fully loaded by then, I think the TAO program is fully loaded by then. In addition, they are going ahead with the SB6 at NASSCO, and I think the Canadian navy programs really starts to come together then. We are really bullish on the future."
The Strategy
W&O maintains its strategy to eye new business opportunities and invest, an investment strategy backed by PON. But W&O, like every other company in nearly every other industry, anxiously eyes the movements of the Amazon's and the Google's of the world to see how and when they might enter this maritime business space as a 'disruptor.'
"We are always looking at what could happen … how could someone else disrupt the business model that we have, how could someone try to commoditize what we do," said Hume.
To that end, Hume points to the key acquisition many years ago of VAC in San Diego, an investment that brought to W&O a critical technical knowledge and engineering capability. "That was a relatively small acquisition, but VAC's niche was engineering. VAC helped to show us how powerful our platform could be if we partnered with shipyards at the right level. We believe our technical knowledge and capabilities are a differentiator," said Hume.
In a way, Hume sees PON as a disruptor in the marine space, as W&O has evolved from a supplier of parts to a supplier of engineering systems and services, an engineering partner that helps it get in on the ground floor of a new projects.
"The more we get in on the front end of a project, the harder it is to change it," said Hume. But that's a trick, too, as W&O is a distribution model with commissioned sales people, and asking them to call on naval architects, spending a few hours with them advising when they could be in a shipyard selling product, is a challenge.
People Power
Though it may sound trite, the power of people cannot be undervalued, particularly in a small market like maritime where relationships are key.
When discussing the types of people he look for to drive the W&O business forward, Hume admits he is "old fashioned," looking for a person who first and foremost has a good work ethic, someone who is humble, someone with energy and someone with the willingness and capacity to learn.
"I always separate those two, as there are people with the capacity to learn, but not willing to put the time in; where there are others that are willing to learn, but simply don't grasp some of the technical evolution and the requirements that we have," said Hume.
"This is a relationship business. Marine people will reward hard working marine people if you stand behind what you do and you're honest when problems come up. I'm not so worried about education or pedigree."
And picking the right people to lead the W&O charge – particularly the people in the field that are facing the customers daily – is central to the company's long-term success.
"I think our field leadership is three fold from where it used to be," said Hume. "The OEM relationships are stronger than they have ever been, and we are only as good as the OEMs that we work with. We've always been strong with our customer support, but the OEM relationships have really helped us to grow."
So with all of the focus on technology, engineering, price and market, at the end of the day, for Michael Hume, it really comes down to people. "I truly believe that companies want to do business with other companies that provide value."
Vessel owner and operators are in a battle for profitability, eying fuel savings and emerging environmental regulations, amd finding and keeping the right people is increasingly difficult. "Our job is to help them find solutions," said Hume.
"At the end of the day, those that provide creative, on-demand solutions will win. That's how we've evolved the company. We will always have local stock, local people, but we will continue to centralize capability on the more sophisticated marine solutions. If we can be an extension of the engineering department (of our customers), we have won. If we can be the go-to for a port engineer when they are struggling with something on their ship and we go visit the ship, we have won. If we can plan to have everything they need at dry dock when they need it, we have won. It's not about selling anything; it's all about planning and estimating and engineering and being an extension of our customer."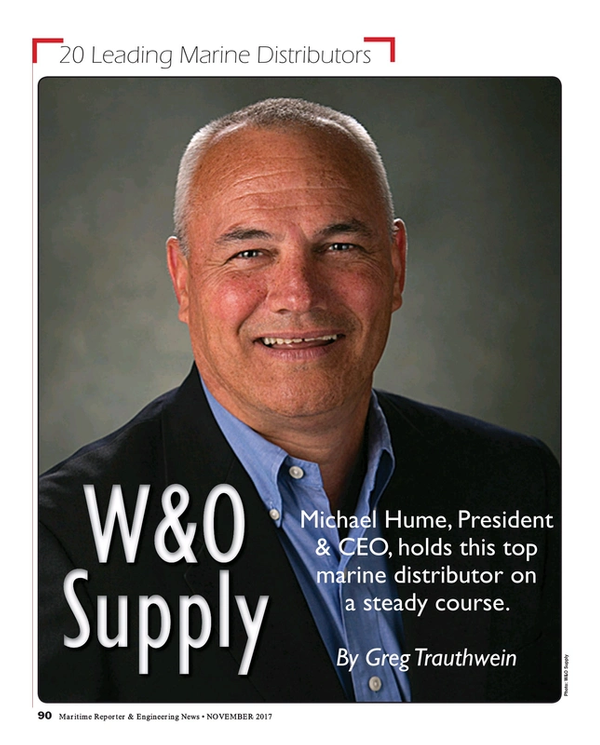 Read W&O Supply Holds a Steady Course in Pdf, Flash or Html5 edition of November 2017 Maritime Reporter
Other stories from November 2017 issue
Content