MN100: ClassNK America
Marine News
The Company:
ClassNK is dedicated to ensuring the safety of life and property at sea, and the prevention of pollution of the marine environment. Bolstered by a workforce of more than 1800 engineers, surveyors and maritime professionals, ClassNK focuses on delivering the highest quality classification services while maintaining its totally independent third party, non-profit status. With more than 230 million gross tons on register, ClassNK is one of the world's largest classification societies, helping to secure the safety of about 20% of the world's ocean-going commercial vessels. The Society has more than 130 offices worldwide with 10 offices in the United States. ClassNK has developed and is constantly improving solutions for the U.S. Towing Industry to meet the standards of the recently published 46 CFR Subchapter M. ClassNK is approved and recognized by the U.S. Coast Guard to conduct surveys and audits of towing vessels as a Third Party Organization. The ClassNK America Group, which combines the capabilities of subsidiaries Safety Management Systems, LLC and Helm Operations with the renowned classification society, provides a market leading suite of compliance services and verification systems for towing vessels. With over 700 towing vessels included in ClassNK's Register of Ships, the vision of this organization is to provide reliable and experienced people as well as proven resources in support of the U.S. towing industry. Additional 2016 significant milestones include the U.S. Coast Guard authorizing ClassNK to participate in the Alternative Compliance Program. ClassNK is the first classification society to enter an agreement with the AWO to conduct audits for the Responsible Carrier Program.
Services & Highlights:
In addition to its classification survey activities, ClassNK conducts surveys on behalf of third parties including State administrations, offers technical services for offshore structures and onshore plants construction projects and verifies the safety management systems of ship-management companies and ships, in accordance with the International Safety Management (ISM)Code and International Ship and Port Facility Security(ISPS) Code. ClassNK offers a full range of auditing and surveying services for compliance with 46 CFR Subchapter M as a Third Party Organization. These services include audits of a Towing Safety Management System (TSMS), and the vessels to which the TSMS applies, to verify compliance with the applicable provisions of 46 CFR Subchapter M; issuance of TSMS certificates to the owner or managing operator who is in compliance with part 138 of 46 CFR Subchapter M; conducting surveys of towing vessels to verify compliance with the applicable provisions of 46 CFR Subchapter M, and; issuance of survey reports detailing the results of surveys, carried out in compliance with part 137 of 46 CFR Subchapter M. ClassNK has a working agreement with the American Waterways Operators to conduct Responsible Carrier Program audits.
111 W Ocean Blvd Suite 1220
Long Beach, CA 90802
Telephone: (562) 432-4307
Website: www.classnkamerica.com
CEO/President: Koichi Fujiwara
(As published in the August 2016
MN100
edition of
Marine News
)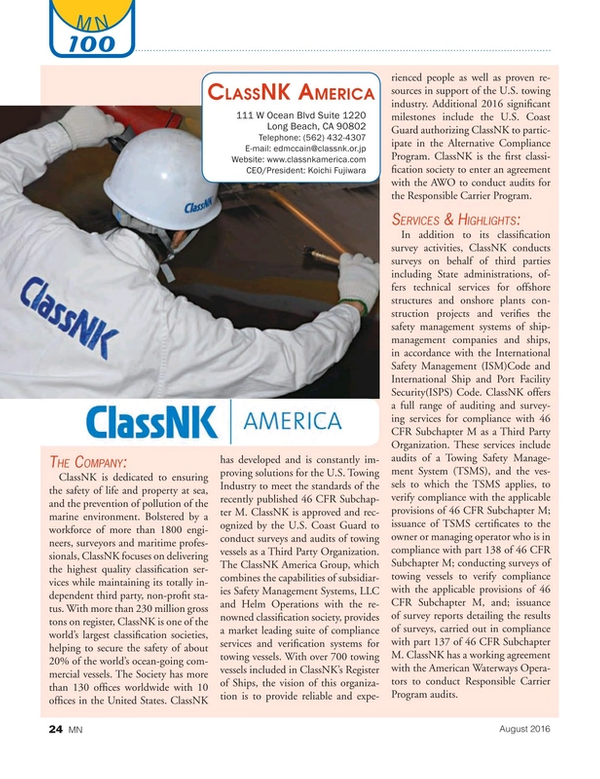 Read MN100: ClassNK America in Pdf, Flash or Html5 edition of August 2016 Marine News
Other stories from August 2016 issue
Content