Focus on Safety, Future Drive Operator Success
By Patricia Keefe
The Right Stuff: Innovation, Customer Service, Crew Welfare
The hallmarks of a successful vessel operator are the same whether they are carrying liquid, physical or human cargo: A laser focus on safety, a twin commitment to customers and crew, and the vision to embrace and invest in the future. However obvious the bar, it is not easy to meet.
"I don't think there is any magic formula," says Rob Grune, senior vice president and general manager, petroleum services, Crowley Marine Solutions. "The difference is that everything we work on regards providing a high quality of service to customers, pays off. In a rising market, it's easy to do well. When the market is struggling, if you don't need a vessel, you don't need one. But in the long run, [because of] that great relationship, that high level of service, we tend to stay employed."
Safety also drives success. From Crowley's "safety card" authorizing workers to stop unsafe activity to Bouchard Transportation Co., Inc.'s unyielding focus on zero incidents, to Hornblower Cruises & Events integrated management system that emphasizes safety, this bottom-line priority has produced award-winning safety records for these top-draw operators. "This is a tough industry that demands a high level of safety, and I will accept nothing less," says Morton S. Bouchard III, president/CEO of his namesake company.
The feature companies of this year's vessel operators' category in the annual Marine News 100 – Crowley, Bouchard and Hornblower – have much in common. Crowley and Bouchard represent a maritime heritage dating back to nearly 100 or more years, run by generations of a single family, surviving in great part by constantly preparing for the future and staying close to clients. In the case of Hornblower, a willingness to explore new opportunities through constant product innovation and entering new markets has propelled the cruise and event company in its first 36 years to the top.
Crowley Maritime Corp.
Founded in 1892, Crowley is the largest marine transportation and logistics company in the world, and one of the largest independent operators of petroleum tankers and barges in the U.S. It earned 2015 revenues of approximately $2.2 billion, and has 5,300 employees, and a fleet of more than 200, including RO/RO (roll-on/roll-off) vessels, LO/LO (lift-on/lift-off) vessels, articulated tug-barges (ATBs), tankers, tugs and barges.
It has expanded into a wide range of marine services and locations under the consistent helm of three generations of Crowley leadership, including current CEO Thomas B. Crowley, Jr., striving to fulfill the company motto, "Innovative solutions done right." The foundation of that motto is integrity, a core Crowley value, according to John Hourihan, Jr., senior vice president and general manager, Puerto Rico. "When we say 'do it right,' we mean 'right' in all aspects."
It helps that Crowley "can bring a lot of expertise to bear on any issue pretty quickly based on the diversity of the business," according to Mike Golonka, vice president, government services. That's because Crowley not only operates vessels, but through its subsidiaries, it designs, builds, docks, salvages, services and supplies them with fuel and cargo through a network of warehouses, terminals, trucks, tank farms, containers etc..
Safety is paramount. Beyond the standard training, equipment and daily meetings, Crowley goes a step further, addressing crews' fear of speaking up if something is wrong. All personnel carry a card from the CEO authorizing them to stop any unsafe activity.
In the petroleum business, the overriding objective is to provide safe, reliable transportation to the customer, says Grune. "Safety is not just a word on the front of a brochure; it's what we live and work every day."
Crowley also won't shy away from a good fight or a challenging situation, as evidenced by its testimony in April before a Congressional hearing on efforts to lift the Jones Act the mainland and Puerto Rico, where Crowley has maintained a presence for 60 years. Crowley general counsel Michael Roberts told the committee that Jones Act detractors "have offered no credible proof that such a change would help Puerto Rico, and we are confident it would do more harm than good for both Puerto Rico and for the country generally … with no offsetting gains."
Crowley should know. It transports about half of all products produced in Puerto Rico to the U.S. mainland, and is the dominant provider in liner service to the island. At a time when the competition is scaling back or pulling out due to the island's economic crisis, Crowley has committed more than $500 million to new terminal, pier and vessel construction to expand and improve service to the island. "Our investments look to the future, not to today or tomorrow," says Hourihan.
It has spent $69.5 million on improvements to, and expansion of, its Isla Grande terminal, including new piers, gantry cranes, a seven-lane terminal exit gate and dredging in preparation for the summer 2017 delivery of the first of two LNG-powered combination container roll-off-roll-on (ConRo) ships. They will replace Crowley's triple deck barge fleet in the south Atlantic, and will offer the most cubic cargo space available, in a faster, environmentally-friendly service.
"Our investment in these new ships – the first of their kind in the world – is significant on so many fronts," says Chairman and CEO Tom Crowley III. "We named them the Commitment Class because they represent our commitment to the people of Puerto Rico, the environment, the Jones Act and the U.S. maritime industry. Without the Jones Act, these ships and all the other associated investments do not get made. What we are doing is truly transformational, not only from an environmental standpoint, but after 60-plus years of providing a very reliable tug and barge operation, we are moving to a high-speed container ship service. When combined with our growing logistics operation ... we are able to offer a complete supply chain solution ... We think it is a real game changer."
Crowley has been working to add some 3,000 pieces of cargo handling equipment to its fleet, including $58 million in containers and chassis this year. On the tanker side of the business, Crowley is building "LNG-ready" vessels that can be converted to LNG for propulsion, and in May, took possession of the third of four such tankers. The final tanker is slated for a third-quarter delivery.
These massive investments, much of it in new technologies, across several markets makes one thing clear – modern-day Crowley is living up to the incorporating motto of the Crowley Launch and Tugboat Co. in 1906, "Anything, anytime, anywhere on the water."
Bouchard Transportation Co., Inc.
It takes a tough man to run a tight enterprise. At least that's the way an unapologetic Morton S. Bouchard III sees it. "I do not like being characterized a tough to work for, but the results show." Indeed they do. Bouchard Transportation Co., Inc., the nation's largest independently owned, ocean-going petroleum barge company, dates back to 1918, with President/CEO Bouchard III representing the fourth generation at the helm. It was the first to adopt ATB technology.
The company's operations span all four U.S. coasts, operating a fleet containing 26 barges ranging from 35,000 barrels to 260,000 barrels and 25 tugs ranging from 3,000hp to 10,000hp. Its employee count fluctuates between 500 and 600.
Born out of heroic acts during a colossal safety incident, when founder Capt. Fred Bouchard went to the aid of vessels involved in the Black Tom Explosion involving WWI munitions, it's not surprising that safety is Bouchard's top priority. "You cannot be profitable in the petroleum transportation industry unless you are safe. As a company we still have one goal: Zero spills, zero injuries and zero damages. Nothing short, period," says CEO Bouchard III. That linkage drives a no-excuses commitment to safety, early adoption of new technology and a willingness to embrace new trends and requirements. Successful application of these tenets fuels Bouchard's success.
For example, in the early 90s, Bouchard was the first Jones Act company to build double-hull ocean-going ATB barges with Intercon, and added hot oil systems to its barges to reduce downtime and product loss while increasing efficiency. Bouchard recently completed a five-year modernization effort that produced four flat-deck, double hull ATB tugs and two barges, all with clean water ballast systems, bringing its ATB fleet to 20. These include two 6,000hp Twin Screw Articulated (ATB), Intercon-equipped tugs, the M/V Frederick E. Bouchard and the M/V Morton S. Bouchard Jr., as well as two 150-ft, 10,000hp, Intercon-equipped double-hulled, Dual Mode ATB Units, the M/V Kim M. Bouchard and M/V Donna J. Bouchard.
The International Maritime Hall of Fame induction of Bouchard III in 2013, describes him as a "maritime visionary who exemplifies . . . futuristic thinking." Bouchard says it all comes back to a belief in his responsibility to continue his forefathers' "tradition of reinventing in the best and most modern equipment possible."
Hornblower, Inc.
Hornblower may be the industry leader in charter yachts, dinner and sightseeing cruises, but co-founder and CEO Terry MacRae says he is really in the business of "creating amazing experiences." That singular focus has enabled him to take the purchase of a two-yacht charter business and grow it over 35 years into a 70-plus fleet of entertainment and hospitality vessels catering to tourism, dining, corporate and special events in a dozen cities. The company employs more than 600 and had sales of $208 million in 2014.
To continually be 'amazing' requires openness to new ideas, new technologies and change, which can in turn open the door to new business opportunities. For example, Hornblower stoked its growth by moving into the ferry market via a sister company, HMS Global Maritime, now the largest private operator of high-speed passenger/vehicle ferries in the U.S., with operations in nine cities, and the nation's only fleet of hybrid ferries.
Hornblower scored a huge coup in March, when it won a five-year, $30 million, up to 20-vessel contract to run Citywide, New York City's first citywide ferry system in more than a century. MacRae expects the contract will grow his company by 20%. Slated to launch in 2017 and be fully operational by 2018, the service will connect 21 neighborhoods across five boroughs via six routes to various points in the city, lifting some out of a "transit desert." For the price of a subway ride, the service will traverse some 60 miles of waterway and carry 4.6 million passengers via 900,000 landings annually. The long-term goal is to tie the ferry service into the larger transportation network of buses, trains and subway.
Citywide will "revolutionize" the way New Yorkers live, work and play, says MacRae. The growing communities on underused waterfronts are often far from transit connections. "It is so hard to get a bridge, tunnel or new subway built, and the cost is outrageous. But it's not hard to get a boat built and manned with great mariners," says MacRae. Moreover, municipalities want a turnkey system run by one operator, leaving them with a single number to budget for. "They want predictability, they want to lower their risk profiles, and there aren't many companies that can deliver this turnkey model," he adds.
Hornblower is building 18 handicap-accessible ferries for citywide using two almost completely interchangeable designs for maximum flexibility as the system evolves. Capable of carrying at least 149 passengers, the cutting-edge vessels will offer WIFI, and feature narrow, elongated hulls designed to reduce drag, limit wakes and maximize fuel economy. Moteurs Baudouin's M26.3 engines will help reduce noise and emissions, and offer interchangeable parts between engine models. The extent to which recycled materials are worked into the interior is also unique.
Hornblower will continue to navigate new opportunities by keeping its eyes on the prize: "While technology may be different tomorrow, and values will change over time, the core mission will stay the same whatever the price point or part of us that touches you – an amazing experience from the customer perspective," says Cameron Clark, Vice President & General Manager of Hornblower New York.
The Author
Patricia Keefe is a veteran journalist, editor and commentator who writes about technology, business and maritime topics.
(As published in the August 2016
MN100
edition of
Marine News
)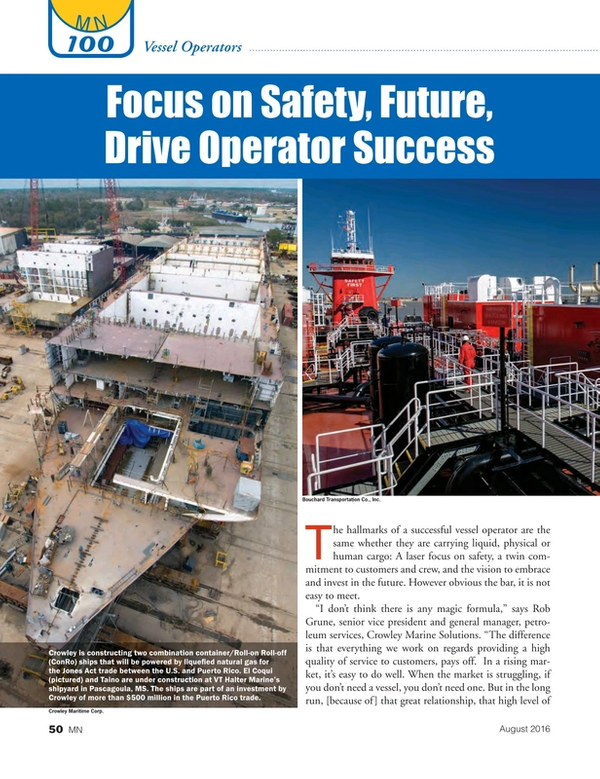 Read Focus on Safety, Future Drive Operator Success in Pdf, Flash or Html5 edition of August 2016 Marine News
Other stories from August 2016 issue
Content