MN100: Elastec
Marine News
The Company:
Located in Carmi and Fairfield, Illinois and Cocoa, Florida, Elastec manufactures water pollution control products specializing in oil spill recovery equipment. Established in 1990 with the invention of the ELASTEC Drum Skimmer, the U.S. Clean Water act inspired Elastec to expand its product line to include floating booms, turbidity curtains, vacuum systems, work boats and portable incinerators. Elastec's new Omni Cat is a waterway maintenance catamaran designed to help municipalities comply with nonpoint source pollution. To control silt and sediment pollution during marine construction, Elastec also manufactures turbidity curtains. A recent project near the Golden Gate Bridge has earned Elastec an environmental award. The firm has about 110 employees.
Primary Product / Service:
Elastec manufactures and markets oil spill recovery equipment: drum, grooved disc and weir skimmers, oil boom, BoomVane, dispersant systems, response trailers and Hydro Fire Boom and American Fireboom systems. The company also manufactures work boats, such as the ELASTEC Omni Cat for waterway maintenance and landing craft response boats. ISO9001:2008 certified, Elastec has shipped products to 155 countries.
The Case:
In 2015, Elastec celebrated 25 years of manufacturing oil spill recovery equipment. As they look forward to the next 25 years, Elastec is developing new ways to keep our waterways clean from trash, debris, sediments, invasive aquatic weeds, as well as to recover oil spills. Elastec's Hydro-Fire Boom and American Fireboom systems were deployed in the controlled burn operation during the Deepwater Horizon incident in the Gulf of Mexico. Elastec won the Wendy Schmidt Oil Cleanup X CHALLENGE with its patented Grooved Disc Skimming technology.
926 County Road 1350 N
Carmi, IL 62821
Telephone: (618) 384-2783
Website: www.elastec.com
CEO/President: Jeff Cantrell & Jeff Bohleber
(As published in the August 2016
MN100
edition of
Marine News
)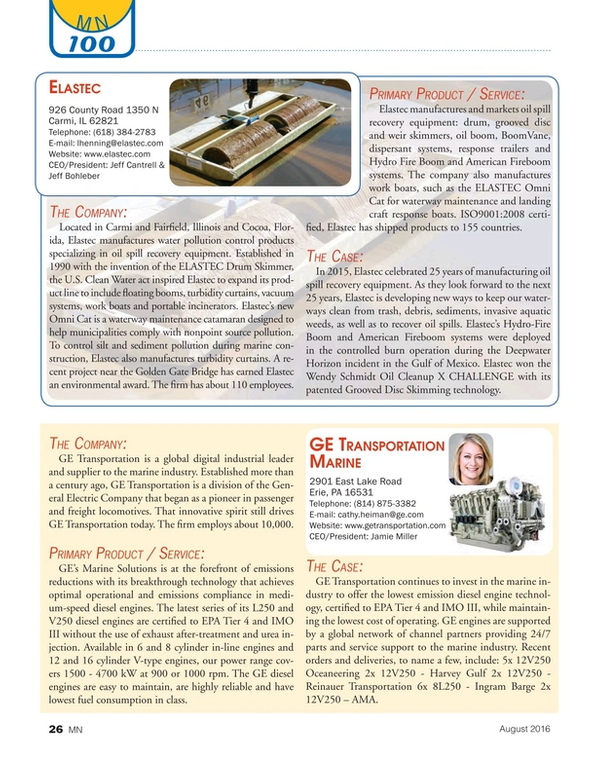 Read MN100: Elastec in Pdf, Flash or Html5 edition of August 2016 Marine News
Other stories from August 2016 issue
Content