Shipbuilding: P3 Projects (with a Twist)
By Kathy A. Smith
Private partnerships, executed perfectly – that's West Coast boatbuilding in today's challenging business climates.
P3 Partnerships: no, we're not talking about infrastructure funding. But, in our P3 version, boatbuilding in the Pacific Northwest and Alaska is alive and well, because of it. Long-standing enterprises and relative newcomers are all experiencing an uptick in projects. Here, as part of our annual MN100 top company profiles, we take a look at how three organizations have either merged and/or partnered with complementary companies to expand skills, capabilities, employees and market reach.
Nichols Brothers Boat Builders
Nichols Brothers Boat Builders (NBBB) is a complete new-build shipyard and full-service repair facility with over 50 years of experience on Whidbey Island in Washington State. Founded in 1964, NBBB specializes in steel and aluminum vessel construction, repair and major conversions.
NBBB has a 15-acre shipyard and a growing workforce of over 300 skilled tradespeople. In fact, many employees have been with the company for more than 20 years. These employees are training the next generation of boat builders. NBBB also has an in-house, state-recognized apprenticeship program that ensures its personnel meet and exceed NBBB expectations and regulatory demands. "The training program runs every Tuesday and Thursday night for our apprentices," says Matt Nichols, Executive Vice President. "It's very advanced, and about 30 young men and women are going through it right now."
NBBB's diversity in skill enables it to provide a wide variety of vessels to customers, such as lightweight, aluminum high-speed catamarans, small cruise ships, ferries, tug boats, ATBs, and most recently, a 140' x 38' x 13' Cargo/Passenger containership for American Samoa. The company has also built boats with Z-drives, Voith Schneider propellers, water jet propulsion and working paddlewheels.
Facilities include 11 "big top" portable buildings, each 40' x 85 wide and 55' high that can be constructed as needed, in addition to the permanent administration building, engineering, warehouse, electrical, pipe, carpenter and paint shops.
"We use a lot of local naval architects here to design a lot of what we build," explains Nichols. We also have engineers on staff. I think we're about as modern as you can be. We try to keep materials in front of the people and design staff and have the equipment necessary for them to work with and be safe and clean at the same time." Besides constructing vessels from scratch, NBBB has also partnered with Vigor on several ferry projects for Washington State ferries that involved building massive 375-foot-long, five-story high superstructures. "We always have an open mind and think outside the box when we're approached with new projects," says Nichols.
Recent workboat deliveries include two 10,000 HP 136' x 44' x 19' ATBs for Kirby Offshore Marine, LLC. Also for Kirby, NBBB is currently building two new 120' twin screw LineTow tugs. The tugs are expected to be delivered in May and November of 2017.
Boat building is accomplished using the most environmentally-conscious practices. All vessels are cocooned before being blasted and painted. Additionally, an award-winning advanced storm water runoff treatment system deals with anything that hits the ground. Looking at safety, NBBB has its own Emergency Response Team (NBBB ERT). All members are trained in firefighting, EMS, Rescue, and Hazmat/ Spill Control. The NBBB ERT responds to all fire, medical, rescue, and or hazmat responses within the facility. The team regularly trains with the local Fire Department and Hospital; Island County Fire District #3 and Whidbey General Hospital EMS, as well as performing in house drills on a monthly basis.
"I think we have a great crew," says Nichols. "I always say to them, there are three things in sales: price, delivery and quality. I only have two things to worry about because your quality is always excellent."
Vigor
Vigor, headquartered in Portland, Oregon, has long been a staple of shipbuilding, ship repair and complex fabrication in the Pacific Northwest and Alaska. In the Marine sector, 45 percent of Vigor's business is in ship repair and 40 percent in shipbuilding. The company has not only grown its own expertise, but it has also merged with other companies to create even more value to its customers. Vigor now boasts 12 locations and approximately 2,500 employees.
In the past two years, Vigor merged with Kvichak Marine Industries and Oregon Iron Works (OIW). While Vigor proper began building barges, it now has a very diverse North American market, providing ferries, fish boats, hovercraft, aluminum pilot boats, patrol boats, and oil skimmers to various customers. In addition, Vigor has been expanding into overseas markets as well. And the partnership with OIW has led to Vigor dominating the high performance vessel market for defense and maritime security customers.
When Kvichak became part of the Vigor family, it was 35 years old. It is still run and managed by one of the original the owners, Brian Thomas. Keith Whittemore and Jim Meckey have taken on broader roles within Vigor, lending their expertise throughout the various marine teams within the company. "Kvichak is as good of an aluminum workboat builder as anybody in the world and probably anybody in the Americas," says Whittemore, EVP of Business Development. OIW, now called Vigor Works, has been building boats in Clackamas, Oregon for 30 years. "Where Kvichak is very high tech and has been building by standard practices, Vigor Works takes it to a whole new level of fine-tuned complexity," adds Whittemore.
Vigor Works' specialty is high performance vessels; anything from variable ballast vessels to autonomous vessels to an autonomous sub chaser that was built for DARPA, which is the US Navy's Research and Development arm. "The pride right now of that group is the Combatant Craft Medium, which is 62 feet long and is faster than 50 knots (the actual speed is classified). "We already have a lot of inquiries from overseas from other countries interested in the craft," says Whittemore.
Kvichak has also helped make advances in overall production capabilities and production organization due to their three existing facilities. "After this merger, all of the business development is done centrally in Harbor Island, the engineering work is being done together and the Kvichak cutting facility is cutting Combatant Craft Mediums for Vigor Works and prefabricating work," says Whittemore. "It makes for a more efficient workforce. We're reducing the production costs of the boats and getting the quality up. Our warranty claims have dropped to almost nothing. And we have very robust sea trial and QA processes."
Recent workboat deliveries include 180 patrol boats for different US Coast Guard agencies, two 54' Fast Response Boats for the City of Portland, two 19m pilot boats for the Port of Duqm, Oman, a 45' Response Boat Medium-C for the New York Police Dept Harbor Unit, two 83,000 BBL tank barges and an ATB tug for Harley Marine Services. "Putting these three companies together is a huge plus," says Whittemore. "We're sharing people, talents and knowledge. For us, this is a dream come true. All sides couldn't be happier."
Moose Boats
Moose Boats, Inc., based in Petaluma, California was founded in 2000 by Roger Fleck who began with a 34' aluminum catamaran design, the 340C, propelled by twin diesel water jets. The company is known for building high-quality aluminum catamaran and monohull vessels and its market focus has been the US Navy and several top tier law enforcement and firefighting agencies throughout the United States.
The US Navy Combatant Craft Division (CCD) recognized Moose Boats in 2002 and the design was further enhanced to meet military specifications. "After 9/11, the Navy started looking for domestic builders to build small craft," explains Mark Stott, Sales Engineer. Subsequently dozens of Moose Boats 340C catamarans, and its M2 successor, were delivered to CCD fulfilling submarine escort and harbor patrol roles.
In the early 2000s, Moose Boats began tapping the firefighting market after successfully implementing firefighting equipment into sheriff's boats. There are over 100 Moose Boats vessels in service, and more than 20 are their firefighting workboat design. "We've managed to get in with the right kind of agencies like, for example, the New York Police Department, the New Jersey State Police, the Los Angeles Police Department and many of the Bay area agencies," says Stott.
In 2007, Moose Boats delivered a larger M1-44' catamaran to the New York Naval Militia. The M1 has continued to be a success in both law enforcement and firefighting applications as a command and high-volume fire suppression platform. In 2011, Moose Boats developed its first mono-hull, the M3, as a smaller, more maneuverable platform aimed at tactical and interdiction applications, completing its current product line up.
Like Vigor and Nichols Brothers, Moose Boats looked outside its yard for synergy and added value. To that end, Moose recently merged with Lind Marine, a 110-year-old tug and barge company which operates a shipyard adjacent to the 440-foot Dry Dock 4, along with 2,000 linear feet of pier at the site formerly known as Mare Island Naval Shipyard. Moose is moving its Port Sonoma operations in the early fall into the 20,000 square-foot facility co-located adjacent to Lind Marine's shipyard, which will consolidate production into one place, allowing for production automation such as in-house water jet cutting. Dedicated rigging bays will mean that multiple boats can be outfitted simultaneously with rigging crews able to access tools and equipment readily from the deck level of the vessels. Moose will also have access to a 137-ton portal crane. "Occupying the space and sharing the shipyard will take us into the realm of being able to design and build 60-plus-foot crew boats as well as tug boats and survey boats, so
there will be a big shift in what we're building over the next 10 years," says Stott.
Moose Boats expects to expand the company's workforce alongside the new operations facility. "It's a good place to attract skilled workers because it would be a welcome industry move there," adds Stott. "There are a number of industries already operating on the Mare Island Naval Shipyard."
With access to a deep-water channel, Moose Boats can now offer boat maintenance and repair, in conjunction with Lind Marine. "This is where the blend of two skill sets come together," says Stott. "Lind Marine is very familiar with the larger-scale equipment they run with their tugs and barges, and Moose Boats has very in-depth knowledge of electrical, electronics, mechanical installation and interior outfitting, along with our aluminum welding capabilities. We listen to our customers and collaboratively design a boat to final specifications with them. Out of that comes good ideas and the need for increased performance of the boats."
Beyond Boatbuilding: Planned Partnerships with Purpose
With each new vessel project, these boat builders are fine-tuning their output and procedures, according to customer expectations, changing technologies and regulatory demands. While competition between companies is the natural state of affairs, this new breed of strategic partnerships appears to be helping bring more diversity, market share and revenue to all involved. And that adds up to a greener bottom line – and, a "P3" model of a different kind.
The Author
Kathy A. Smith is a Victoria, BC-based maritime writer who has penned over 100 published trade articles.
(As published in the August 2016
MN100
edition of
Marine News
)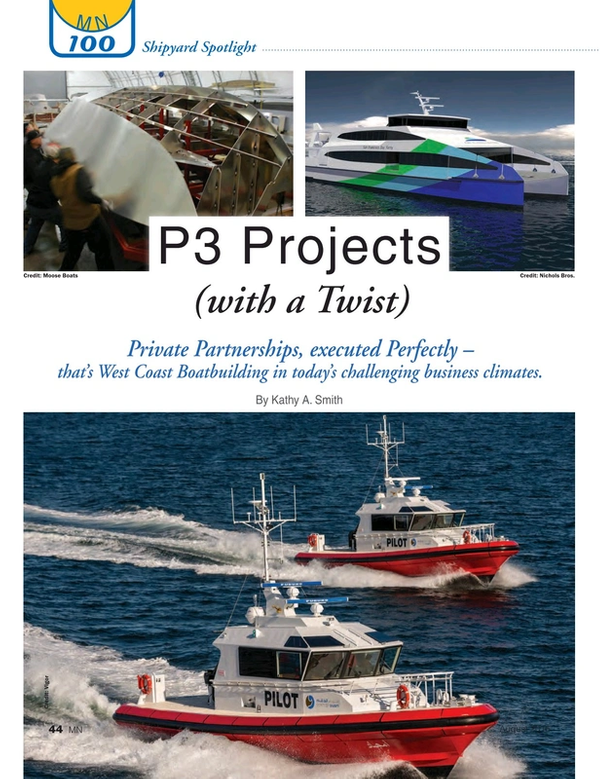 Read Shipbuilding: P3 Projects (with a Twist) in Pdf, Flash or Html5 edition of August 2016 Marine News
Other stories from August 2016 issue
Content