MN100: Kirby Inland Marine
Marine News
The Company:
Kirby Corporation is a premier tank barge operator in the United States, transporting bulk liquid products throughout the Mississippi River System, on the Gulf Intracoastal Waterway, along all three U.S. Coasts, and in Alaska and Hawaii. Kirby's service includes the transporting of petrochemicals, black oil products, refined petroleum products and agricultural chemical products by tank barge. Kirby's diesel engine services segment is a leading after-market service provider for medium-speed and high-speed diesel engines, reduction gears and ancillary products for marine and power generation applications. Kirby also serves as a distributor and service provider for high-speed diesel engines, transmissions, pumps and compression products, and manufactures and remanufactures oilfield service equipment.

The Fleet:
The Kirby Inland fleet of 912 active tank barges and 251 active towboats has a total liquid cargo capacity of 18.5 million barrels. Kirby Offshore Marine is the nation's largest tank barge operator, with 70 coastal tank barges, or approximately 26% of the nation's coastal fleet. This fleet represents the broadest capabilities in the marine inland tank barge industry to satisfy customers' diverse needs. Kirby's inland tank barge fleet represents approximately 25% of the U.S. inland tank barge capacity, as well as being one of the youngest fleets in the U.S. coastal trade, transports refined petroleum products, petrochemicals and black oil along the East Coast, West Coast and Gulf Coast, as well as Alaska and Hawaii. Kirby's coastal tank barge fleet consists of 72 tank barges with 6.0 million barrels of capacity and 73 tugboats. Kirby also operates six coastal dry-bulk barge and tug units transporting coal and limestone rock across the Gulf of Mexico, and dry sugar products between Florida and the East Coast.

The Case:
Kirby Inland Marine, through a centralized dispatching system, can minimize repositioning and power costs. Kirby Inland Marine brings these operating efficiencies to best serve its customers. Kirby Inland Marine seeks opportunities where it can add value to the transportation services it provides. Kirby's safety record is exemplary, as recognized by the U.S. Department of Transportation and U.S. Coast Guard in awarding Kirby the first William M. Benkert Award in 1995. The operating segments comprising Kirby Inland Marine have been certified to the ISO 9002 standard. Kirby Inland prides itself on having the best-trained crews and support staff in the industry providing both formal classroom and hands-on instruction at the Kirby Training Center in Houston, Texas. Beyond this and since 2008, through Kirby's inland tank barge construction program, the average age of Kirby's inland fleet has declined from 23.9 years to 15.2 years today. For example, during 2015, Kirby continued to reinvest in its inland tank barge fleet with the delivery of 36 new tank barges, adding 489,000 barrels of capacity at a cost of approximately $71 million. In early 2015, Kirby acquired six inland pressure tank barges with a total capacity of 97,000 barrels for $41.3 million. Today's slighter smaller fleet features more deadweight and cubic capacity – all on younger vessels: the quintessential definition of reduced risk.

55 Waugh Drive / #1000
Houston, TX 77007
Telephone: (713) 435-1000
E-mail: [email protected]
Website: www.kirbycorp.com
President: William G. Ivey


(As published in the August 2016 MN100 edition of Marine News)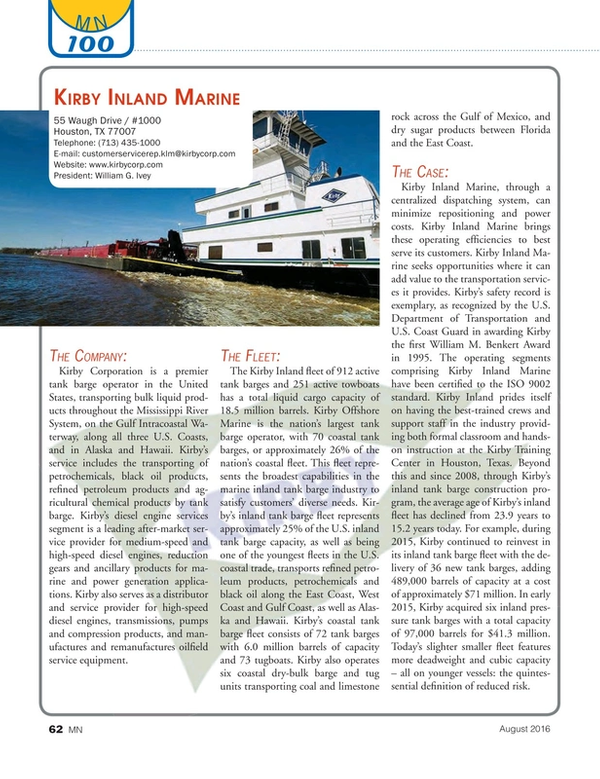 Read MN100: Kirby Inland Marine in Pdf, Flash or Html5 edition of August 2016 Marine News
Other stories from August 2016 issue
Content