1st Annual OUTSTANDING VESSELS REVIEW
AMBASSADOR In November this year the Jos.
L. Meyer shipyard in Papenburg, West Germany, delivered the rollon/ roll-off ship Ambassador to Coordinated Caribbean Transport, Inc. (CCT) of Coral Gables, Fla., a subsidiary of Transway International Corporation. The $19.5- million RO/RO is the first vessel built in Europe in many years for registry under the American flag.
CCT has subsequently placed an order with the Meyer yard for a sister ship, with delivery scheduled for the second half of 1981.
The 13,412-gt Ambassador has an overall length of 168.8 meters, beam of 21.6 meters, depth to A Deck of 13.9 meters, and draft of 6.45 meters (about 553.8 by 70.9 by 45.6 by 21.2 feet). Designed to operate at a speed of 17.2 knots, the ship has a capacity for 159 trailers and 110 automobiles carried on four decks—tank top, B Deck, A Deck, and 1st Superstructure Deck.
Loading is accomplished via a Von Tell stern ramp that leads to B Deck. Access to the other three cargo decks is by way of ramps.
The ramp on A Deck is closed by a Von Tell ramp door, while the ramp opening in B Deck is closed by a Von Tell hinged cover.
Main propulsion is provided by a Stork-Werkspoor diesel engine, type 6TM620, with an output of 10,000 bhp at 425 rpm. A KaMe- Wa controllable-pitch propeller is driven at 175 rpm through a Renk reduction gear. Auxiliary power is provided by two Stork-Werkspoor diesel generators each with an output of 875 kva, one shaftdriven A. van Kaick generator, one emergency and harbor generator set (MWM diesel of 270 kva), one exhaust gas boiler system, and one thermal oil boiler system.
Other equipment includes a Svendborg steering gear and Jastram bow and stern thrusters.
All crew members are accommodated in single cabins, each with toilet and shower. The complete superstructure, topped by the bridge, is located far forward.
A Hamworthy water treatment plant and Electrolux vacuum plant have been integrated in the ship's sanitary system.
Electronics include two Selenia radars, ITT radio system type MRU 29B/30C, NCS series 2900 satellite navigation system, Sperry autopilot and gyrocompass, Furuno echo sounder, and Ben speed log.
The Ambassador has been built to American Bureau of Shipping Classification + A1E, +ACCU.
According to her owner, she is the only U.S.-flag homeported in Miami.
ANTILLIA With the recent delivery of the multipurpose cargo ship Antillia, Equitable Shipyards, Inc. of New Orleans completed a three-vessel contract for American Atlantic Shipping, Inc. of New York. Built at a total cost of $28.5 million, with a 48.5 percent construction differential subsidy from the Maritime Administration, the three motor vessels are said to be the most technologically advanced ships of their size in the American- flag merchant fleet. The first of the series, the America, was delivered near the end of 1979; the Amazonia was completed at mid-1980.
Designed to operate at shallowdraft ports with limited shoreside facilities, the Antillia has an overall length of 295 feet, beam of 45 feet, depth of 22 feet, and draft of 14 feet. The breakbulk/reefer container vessel is designed for a high degree of cargo flexibility and fast turnarounds.
The main propulsion engine is a Fairbanks Morse 12-cylinder, opposed-piston diesel, type 38TD8- 1/8, developing 3,960 bhp at 900 rpm driving a fixed-blade, 10-foot propeller through a reduction gear supplied by Philadelphia Gear.
Operating at 85 percent of total bhp on the 14-foot design draft, trial speed was 13.75 knots and estimated average fuel consumption 12.5 tons per day. Electrical power is provided by two 400-kw generators driven by Caterpillar D379TA diesel engines.
Designed as a three-hold, 'tween-deck vessel with No. 3 hold refrigerated, the 2,000-dwt Antillia has a total bale capacity of 3,677.57 cubic meters, of which 736.24 cubic meters are refrigerated.
Cargo holds and hatches are dimensioned to accept 20-foot containers in all three holds, and 40- foot boxes in No. 1 and No. 2 holds. Total container capacity is 99 TEUs, of which 16 can be reefers connected to deck outlets.
Maximum deck loadings are 550 pounds per square foot on the tank top, 350 on the 'tween deck and its hatch covers, and 332 psf on the main deck and hatch covers.
Cargo-handling gear comprises two Hagglund 20-ton cranes, one 8-ton boom, and two 5-ton booms.
The Hagglund cranes are of the automated tandem type, which enables one operator to control both cranes simultaneously, thereby doubling the lifting capacity when necessary. Tandem crane operation is coordinated and synchronized by a mini-computer.
ARCO CALIFORNIA The oil tanker Arco California, second of two 188,500-tonners built for Atlantic Richfield Company by National Steel and Shipbuilding, was delivered at the San Diego yard. Like her sister ship Arco Alaska, which was delivered to ARCO at the end of 1979, the new tanker is employed primarily in the Alaska to West Coast trade.
The principal destination is Long Beach, Calif., where ARCO has offloading and storage facilities to supply its 185,000-barrel-per-day refinery located at nearby Carson.
The tanker has an overall length of 952 feet 8 inches, beam of 166 feet, depth of 78 feet, and fullload draft of 59 feet 3 inches. She has a cargo capacity of 1,320,000 barrels, and a complement of only 27 men.
Main components of the power plant are the General Electric turbines and gears, and the Combustion Engineering boilers. When operating at 80 percent of the rated 28,000 shp, the ship has a service speed of 14y4 knots.
The Arco Alaska and Arco California, third and fourth in the NASSCO-designed San Diego Class to be completed, are the largest vessels in ARCO's fleet of 14 tankers, and the first to have double bottoms to prevent oil spillage and to carry segregated ballast.
They are fitted with collision- avoidance radar.
An inert gas system maintains all cargo spaces in a noncombustible condition, thus minimizing the chances of shipboard fires or explosions. The cargo system is designed with a holding tank to collect oil from tank washings for discharging to shore facilities.
The bilge system also contains apparatus to separate and retain oil from the bilge waters for discharge to shore in accordance with Coast Guard requirements.
'ARCO CALIFORNIA' MAJOR SUPPLIERS Buffalo Forge, fans & motors Centritech, bearings Combustion Engineering, main boilers Cutler-Hammer, controllers Demco, valves Federal Pacific Electric, panels Ferguson, propeller General Electric, main turbines & gears Hopeman Bros., joiner work Hose McCann, telephone system Johnson Pump, fire pump Keenan Supply, valves Lake Shore, lifeboats Lawless Detroit Diesel, generators Matsui, anchors & chain Paul Munroe Hydraulics, topping winch Reliance Electric, motors Transamerica Delaval Turbine, air ejectors Victor-Pyrate, fixed tank cleaning system Worthington Pump, centrifugal pump BENJAMIN HARRISON The first of two combination lighter-aboard-ship/container carriers, the Benjamin Harrison, was delivered to Waterman Steamship Corporation earlier this year by Avondale Shipyards, Inc. She will be joined before the end of the year by sister ship Edward Rutledge.
Like all LASH ships, they were designed by Friede and Goldman, Ltd. of New Orleans.
The LASH carrier is a singlescrew, turbine-powered vessel designed for independent handling and carriage of 89 LASH type barges, each of which have a cargo capacity of 370 long tons, loaded in seven holds serviced by 16 large hatch openings, and on deck.
The Benjamin Harrison has an overall length of 845 feet 4 inches, beam of 100 feet, depth to main deck of 60 feet, and design draft of 28 feet. Her deadweight at design draft is 21,901 long tons.
The ship's 32,000-shp propulsion plant includes Transamerica Delaval steam turbines and gears, and Combustion Engineering boilers.
Service speed at the 28-foot draft is 22 knots.
The superstructure containing all accommodations and the navigating bridge, which has 360- degree visibility, is located forward.
All machinery is aft. The ship has its own 510-ton gantry crane mounted on rails running almost the full length of the ship for loading and unloading barges over the stern, permitting an operation independent of shoreside facilities.
'BENJAMIN HARRISON' MAJOR SUPPLIERS Alco Power, standby diesel generator Alexander Industries, air powered pilot hoists, searchlights, window wipers Alfa-Laval, L-0 purifier & motor Alliance Machine, gantry crane Appleton Machine, machinery & stores cranes Aqua-Chem, distilling plant main L-0 cooler, drain inspection tank cooling coil, F-W heat exchanger, heaters & pumps Aurora Pump, pumps Basic Engineers, spring hangers, sway braces Bethlehem Steel, shafting forgings Broehl Deck Machinery, anchor windlass, mooring winches, accom. ladder winch Buffalo Forge, gland leak-off exhauster Bull & Roberts, boiler water test outfit, feedwater sample cooler, hydrazine injection pump motor Carrier-Transicold, air-conditioning plant Combustion Engineering, main boilers Comsat General, satellite communication system Delaval IMO, pumps Delaval Turbine, main turbines & gears, ss turbogenerator, turning gear & motor, aux. L-0 pump Dover, O/W separator pump & motor Facet Industries, oil/water separator, oil content overboard monitoring Federal Pacific Electric, power & lighting panels, connection boxes FMC Coffin, main feed pump, L-0 pump General Electric, motor controllers, group control centers George Engine, emergency diesel generator & muffler Goulds Pumps, bilge pump Harvey Division (Avondale), propeller Henschel, shaft revolution indicator ITT Mackay Marine, Loran C, radar systems, radio console, VHF radiotelephone, facsimile recorder, radio direction finder, telex, lifeboat radio, antenna systems Johnson Controls, thermostatic controls Joy Mfg., vent fans & motors Kingsbury, main thrust bearing Leslie Co., control valves Lips, bow thruster Magnetics, transformers Mapeco, Pilgrim nut Maricon Instruments, satellite nav.
equipment Marine Safety Equipment, lifeboat winch Mario Coil, cooling coils & heaters Paceco, container crane Perkins, navigation & signal lights Red Fox, sewage treatment plant Reliance Electric, electric motors & controls Service Foundry Division (Avondale), line shaft & steady bearings Simplex, elec. clock system Sperry, collision avoidance system, speed log, steering control, gyrocompass, rudder angle indicator Sperry-Vickers, steering gear hydraulic plant Tano, bridge control console, engine room console, flame detector system Bendix, wind speed/direction indicator Warren, pumps — main circ., main condensate, bilge & ballast Westinghouse Electric, forced draft blowers Wilson Walton Int'l, cathodic protection system Worthington, boiler hydrostatic test pump & motor BURNS HARBOR The motor vessel Burns Harbor, Bethlehem Steel's third 1,000- foot ore boat, entered service in the fall this year, having been christened earlier in ceremonies at the Sturgeon Bay, Wise., yard of Bay Shipbuilding Corporation, a subsidiary of the Manitowoc Company.
Named in honor of America's most modern steelmaking plant— Bethlehem's Burns Harbor, Ind., complex on the southern shore of Lake Michigan — the new vessel has joined the Lewis Wilson Foy (also constructed by Bay Shipbuilding) and the Stewart J. Cort to make Bethlehem the only com- pany with three 1,000-footers on the Great Lakes.
Addition of the Burns Harbor gives Bethlehem a seven-vessel Great Lakes fleet which, in terms of average age and average vessel capacity, is the newest, most efficient fleet on the Lakes, To achieve this distinction, Bethlehem has invested some $125 million in its Great Lakes fleet during the past decade.
Capacity of the new boat is 58,000 tons—the same as the Foy and 2,000 tons more than the Cort. Like the other two 1,000- footers, the Burns Harbor is a self-unloader. Equipped with a 250-foot unloading boom, the new boat is capable of discharging its cargo at a rate of 10,000 tons per hour.
Ten stories high from its engine room floor to the pilothouse, the vessel has a displacement (total weight of cargo and boat) of 73,000 tons. Propulsion power is supplied by four diesel engines with a total output of 14,000 bhp driving twin four-blade, 17V2- foot-diameter controllable-pitch propellers. The boat has a top speed of 16 mph and a draft fully loaded of 27Vo feet. Bow and stern thrusters improve the vessel's maneuverability.
Bethlehem's newest Lakes boat is fitted with the most modern navigation, steering, and control equipment available, including a computer and an automated hull stress monitoring system. It also has a complete sewage treatment plant that removes contaminants biologically and disinfects the effluent.
A 30,000-gallon holding tank and transfer system backs up the treatment system.
The Burns Harbor has a total complement of 30, including 12 officers. Crew quarters are located in the deckhouse aft. All crew members are accommodated in private cabins with bath, and the entire crew space, including the pilothouse and galley, is fully airconditioned.
With its 105-foot beam, the new vessel is locked into the Great Lakes. Like the other 1,000-footers on the Lakes, the Burns Harbor is able to sail to and from Lake Superior through the Poe Lock at Sault Ste. Marie, Mich., but is too large to pass through the Welland Canal leading from Lake Erie into the St. Lawrence Seaway.
'BURNS HARBOR' MAJOR SUPPLIERS Electro-Motive Division, GM, main engines (4) Falk, reduction gears (2) General Electric, ship-to-shore radio ITT Imperial, switchboards Ohio Machinery, generators Propulsion Systems, Inc. (PSI), propellers, engine controls, thrusters Raytheon, radar, fathometer R.L. Drake, VHF radio St. Louis Ship (FAST), sewage treatment system Sperry Marine, steering gear Stephens-Adamson, unloading equipment Westinghouse Electric, motor control equipment CAPTAIN FRANK MEDINA Delivered at midyear by Peterson Builders in Sturgeon Bay, Wise., the big tuna seiner Captain Frank Medina departed immediately on her delivery trip to Panama via the St. Lawrence Seaway.
Built for Capt. and Mrs. Joe Medina of San Diego, the new vessel represents Peterson's latest development of a design prepared by San Diego naval architect Ivo Zaninovich.
With an overall length of 225 feet, beam of 41 feet, and depth of 19 feet, the vessel can load 1,200 tons of tuna in her 17 refrigerated wells. The refrigera- tion system was furnished by Vilter Manufacturing Company of Milwaukee, and includes four 8-cylinder compressors circulating ammonia through some 26,000 feet of galvanized pipe coils in the wells.
The Medina is powered by a General Motors Electro-Motive Division 20-645E7 diesel engine with an output of 3,600 bhp at 900 rpm, producing a top speed of 16 knots. Electrical power is supplied by three Caterpillar D353 diesels driving Kato 300-kw, 480- volt generators. A Schottel 48- inch bow thruster is driven by a Detroit Diesel 12V-71N engine rated 400 bhp at 2,100 rpm. The bow thruster is interfaced with the Sperry autopilot system to permit automatic heading keeping with the main engine shut down.
The deck machinery hydraulic system was designed and furnished by MARCO Seattle, and is powered by a dedicated Caterpillar D353E engine rated 470 bhp at 1,225 rpm. A standby main hydraulic pump drive is installed on the forward end of the port auxiliary generator, while an 80- hp electric motor/pump unit provides power for the anchor windlass, forward deck Husky crane, and speedboat davits. A MARCO WS444 Superseine winch and 54- inch power block with power grip are principal features of the deck machinery complement.
The electronic gear is unusually complete and includes two Sperry MK 126E radars, a Furuno 850B scanning sonar, Baymar recording depth indicator with Paragon digital readout, Taiyo marine band ADF and VHF automatic direction finders, two Hull single sideband radios (one with Northern N541 1-kw linear amplifier), a Morrow model SSB-150 emergency SSB radio with programmable scanner and emergency tone generator, a King K195 aircraft band radio, two Kenwood VHF radios, two Hygain model 655 VHF-FM radios, a Magnavox 1242 satellite receiver, Furuno weather facsimile receiver/printer, Yaesu allband receiver, Regency VHF scanner, and a complete ham radio installation in the navigator's cabin.
The radio installation was engineered by Honor Marine Communications Inc. of San Diego and installed by Peterson technicians.
Other machinery and equipment on the vessel includes two Westphalia model OTA7B fuel oil centrifuges; Pacific Pumping brine circulating, transfer, bilge, condenser cooling, and general service pumps; Buffalo Forge fans; Red Fox sewage treatment plant; Federal P a c i f i c switchboard; Cutler-Hammer controllers; Waukesha stern bearings and seals; Coolidge five-blade, stainless steel propeller; Star Machinery electric cargo hoists ; Crosby blocks and wire rope rigring; and Marlite doors and paneling.
The vessel is coated with epoxy and urethane paints applied using a system developed and supplied by Pro-Line Inc. of San Diego.
Peterson Builders fabricated the two speedboat davits and bridge deck speedboat crane that permit rapid launching of all five aluminum chaseboats, which are powered by Volvo Aquamatic inboard/ outboard units. About 3,900 gallons of fuel is carried for the chaseboats.
The Captain Frank Medina is designed to carry a Hughes 300 turbine-powered helicopter; 12,- 000 gallons of turbine fuel is carried in double-bottom tanks for the helicopter, and a pumping and filtration system is provided to supply the fuel to the helicopter deck.
EDGAR B. SPEER United States Steel's second 1,000-foot Great Lakes ore carrier, the motor vessel Edgar B.
Speer, entered service recently transporting taconite pellets from Minnesota to the steel company's facilities along the south shores of Lake Erie and Lake Michigan.
Constructed by the American Ship Building Company in its Lorain, Ohio, yard, the vessel was christened there earlier this year by Mrs. Edgar B. Speer, widow of the Corporation's former chairman of the board for whom the ore carrier is named.
The 1,000-foot self-unloader has a beam of 105 feet, depth of 65.8 feet, and draft of 28 feet when carrying in excess of 61,000 long tons of cargo. The Speer and U.S.
Steel's first 1,000-footer, the motor vessel Edwin H. Gott, each can transport as much as seven of the older carriers in the USS fleet.
Two Colt-Pielstick 18PC2V diesel engines with a total of 19,260 bhp make the Speer and the Gott the most powerful ships on the Great Lakes. Designed for winter operations, these vessels are strengthened against ice damage with special steels—AH 36 highstrength steel in the hull plating and structural components, and impact-resistant T-l type A steel for reinforcement of the bow and forward shoulder areas. More than 28,000 tons of these special steels were supplied for these two ships by U.S. Steel operations, including South Works in Chicago, Gary Works in Indiana, and U.S. Steel Supply Division.
The Speer and the Gott represent a marked departure in design from other ore carriers in the company's Great Lakes fleet. The bows are fuller to provide greater cargo capacity, and the sterns are squared. Both the pilothouse and the crew quarters are located aft, together with the engine room areas and the galley. The distance from keel to pilothouse is equivalent to the height of a nine-story building, and an elevator is installed to service the various levels.
The last U.S. Steel Great Lakes vessel designed traditionally with pilothouse and living quarters forward is the motor vessel Roger Blough, which was delivered by American Ship Building in 1972.
The Blough is 858 feet long with a beam of 105 feet, and has a capacity of 45,000 long tons of taconite pellets.
KAUAI In August this year Matson Navigation Company of San Francisco accepted delivery of its newest containership, the Kauai. Built by Sun Ship, Inc. in Chester, Pa.
to the highest classification of the American Bureau of Shipping, the new ship cost about $76 mil- lion including related equipment and financing expenses.
The Kauai is powered by a 32,000-shp Delaval geared steam turbine that gives her a service speed of more than 22 knots. The 720-foot ship can carry 1,212 containers, including 1,030 24-footers and 182 40-footers. She also has the flexibility to carry 162 27-foot containers and 104 20-foot units in lieu of 24-footers.
The 26,350-dwt vessel was built from an advanced design of Matson's Manukai (ex Hawaiian Enterprise), Manulani (ex Hawaiian Progress), and Maui, delivered in 1969, 1970, and 1978, respectively.
Advanced design features of the new ship include improved fuel economy and added capacity for carrying 51 automobiles in garage- type stowage. A special safety feature is the computer-controlled, anti-collision radar system developed by Sperry. A computer determines the course, speed, and closest point of approach by other vessels within a 36-mile range; the results on a radar screen enable the watch officer to plot the safest course.
The ship's five cargo holds are fitted for stowing containers up to eight abreast and six high, without intermediate supports.
Hold No. 1 has one container row, Holds 2 and 3 each have three rows, and Holds 4 and 5 have four container rows. This configuration could be modified in the future by appropriate relocation of bolted transverse box girders and watertight bulkheads.
Main propulsion machinery consists of a single cross-compound, geared steam turbine of non-reheat design, delivering propulsion power via a six-bladed propeller.
Steam conditions at the turbine throttles are 850 psig and 950 F while exhausting to a vacuum of 1.5 inches Hg absolute. Maximum continuous power at these conditions is 32,000 shp at 110 rpm; normal power is 30,000 shp at 108 propeller rpm. The main reduction gear is of the locked-train, double-reduction, double-helical type; main condenser is scoopcirculated.
Two boilers are installed, each of the two-drum, bent-tube, single- furnace, s i n g l e - u p t a k e , airencased type fitted with horizontal convection superheater, economizers, rotary air heaters, and internal submerged type desuperheaters.
Boilers are r o o f - f i r e d, with two steam-atomizing burners per boiler. Both boilers can operate fully automatic and unattended over the full range of steam demand at sea and in port.
There are five stages of feedwater heating. The design includes features for reducing fuel consumption at power levels of about 50 percent of maximum without imposing any penalties at normal and maximum levels. A 1,250-hp bow thruster is fitted to assist in docking.
Electrical power is supplied by two 2,500-kw ship's service generators, one driven by a steam turbine, the other diesel-driven; and one 250-kw diesel-driven emergency generator.
A complete array of advanced navigation equipment has been installed aboard the Kauai. Included are Loran C, radio direction finder, echo depth sounder, and a satellite navigation system.
Two radars are provided. The main one is a complete S-band surface search navigational radar system, the secondary an X-band surface search system. Both have 16-inch plan position indicators with heads-up relative motion, azimuth stabilization drive, electronic bearing and range markers, and variable range marker.
The Sperry collision-assessment system that is provided has interswitch capability between the main and secondary radars. Each radar system is complete and capable of operating independent of the other, so that failure of any part in one cannot affect the other.
'KAUAI' MAJOR SUPPLIERS Alco Power Inc., ship's service diesel generator Alfa-Laval, L-0 purifier, D-0 purifier Ametek, desuperheaters (external) Aqua-Chem, distilling plant, distiller feed pump, 1st stage feedwater heater, F-O heaters, main L-0 coolers, deaerating feed tank, feedwater sample cooler, L-0 purifier heater, contaminated evaporator ASEA, horsepower meter Aurora, contaminated evaporator feed pump, potable water pumps, fresh water pumps Babcock & Wilcox, main boilers Bird-Johnson, bow thruster Blackmer, molasses pumps Buffalo Forge, forced-draft blowers, vent fan Bull & Roberts, clarity indicators Camar, gland exhaust fan Cutler-Hammer, motor controllers Delaval, main condenser Delaval Turbine, main propulsion turbines and gears, main thrust bearing, F-0 service pumps, D-0 transfer & boiler cold start pumps, L-0 service and transfer pumps Drew Chemical, boiler water test outfit, boiler water treatment, auto hydrazene injection metering pump Engelhard Industries, cathodic protection system FMC Coffin, main feed pumps Federal Pacific Electric, transformers Ferguson, propeller General Electric, ship's service turbogenerator, electric motors I.T.E. Gould, switchboards Hankinson, control air dehydrator Hemple's Marine Paints, coatings Honeywell, temp, sensors for F-0 tanks Hopeman Brothers, joiner package Hose McCann, sound-powered telephones A.C. Hoyle, hose-handling cranes, stores cranes ITT Barton, F-0 meter ITT Mackay Marine, radio & associated equipment Ingersoll-Rand, ship's service air compressors Kiesling Elevator, dumbwaiter Kocks Crane & Marine, anchor windlasses, mooring winches Leslie Co., hot water heater, whistle, drain regulator, control valves Lidgerwood Mfg., steering gear Marine Electric, public address system Marine Safety Equipment, boat davits & winch McNab, salinity indicating system Manning & Lewis, 4th & 5th stage feedwater heaters Mapeco, propeller nut Red Fox, sewage treatment units Sperry, radars, gyrocompass, steering control transfer & rudder angle indicator systems Warren Pumps, main circ. pump, main condensate pump, fire & bilge pump Waukesha Bearing, sterntube bearing, seals & L-0 pump; line shaft bearings Worthington, fire, ballast, general service, main bilge, salt water service, sw circ. pumps York Division, Borg-Warner, ship's stores refrigeration plant, air conditioning plant LOUISIANA The LNG carrier Louisiana, 10th liquefied natural gas carrier built by General Dynamics during the past three years at its Quincy, Mass., shipyard, was delivered recently to Lachmar. Earlier this year a s i s t e r ship, the Lake Charles, was completed for the same owner, which is a partnership of subsidiaries of Panhandle Eastern Pipe Line Company, General Dynamics, and Moore Mc- Cormack Bulk Transport, Inc.
Lachmar is 40 percent owned by Pelmar Company, a subsidiary of Panhandle Eastern; 40 percent by Pantheon, Inc., a General Dynamics' subsidiary; and 20 percent by Morgas, Inc., a subsidiary of Moore McCormack Bulk Transport.
With a capacity of 125,000 cubic meters of LNG in her five spherical tanks, the Louisiana has an overall length of 936 feet, beam of 143.5 feet, depth of 82 feet, and design draft of 36 feet.
Her displacement is 95,088 long tons, and deadweight 63,600 long tons.
The main propullsion plant is a 43,000-shp General Electric geared steam turbine, driving a single Ferguson propeller at 103 rpm for a design speed of 20.4 knots. The ship's two Foster Wheeler main boilers are arranged to burn heavy fuel oil alone or in combination with LNG cargo boiloff.
The five spherical, aluminum cargo tanks, which carry the LNG at —265 F, each have an inside diameter of 120 feet. They were fabricated at General Dynamics' Charleston, S.C., facility and transported to the Quincy yard aboard a specially constructed barge, one at a time.
Loading/unloading time for the 125,000-cubic meter cargo is 12 hours using 10 J.C. Carter pumps, each with a minimum capacity of 1,100 cubic meters per hour. A Bird-Johnson 2,200-hp bow thruster is installed to assist in docking and undocking.
The Louisiana has a complement of 30. Accommodations are provided for 35, which includes two owner's staterooms, two for cadets, and one for a pilot. All are one-man cabins with private bathrooms.
Operating on fuel oil only, the ship has a range of about 10,500 nautical miles. She carries 6,600 long tons of fuel oil, 185 tons of diesel oil, and 470 tons of fresh water.
'LOUISIANA' MAJOR SUPPLIERS Alco Power, diesel for generator Ansul, fire extinguishers Aqua-Chem, desalinization unit, pumps & accessories Baldt, anchors & chain Bird-Johnson, bow thruster Carrier, reefer plant for ac system Carter, cargo pumps, cargo cooldown spray pumps Cutler-Hammer, group control centers, controllers Ferguson, propeller Foster Wheeler, main boilers, inert gas/ dry air plant General Electric, main turbines & gears, thrust bearings, turbogenerators, motors Gould, switchboards Graham, main condenser IDT, joiner work, insulation lotron, collision-avoidance system ITT Mackay Marine, radio system Jered, steering gear Walter Kidde, C02 system Lake Shore, anchor windlass, mooring winches National Forge, forgings, main shafting Posi-Seal, butterfly valves Raytheon, radar systems, Loran C, doppler log, recording echo depth sounder Reactor Controls, bridge & engine room consoles Rotoflow, LNG compressors Simmons Precision, custody transfer system Sperry, gyrocompass & gyropilot systems Warren, pumps Worthington, deaerating feed heater NEW YORK SUN The New York Sun, first of two fuel-efficient, diesel-powered coastal tankers under construction for Sun Transport, was delivered recently by Sun Ship Inc. of Chester, Pa. Sun Transport's design for the New York Sun and sister ship Philadelphia Sun (see MR/ EN 8/15/80 issue, page 10) anticipated the regulatory changes that have evolved since construction of these vessels began. The two ships incorporate many of the environmental and safety features that succeeding legislation has made mandatory for tanker designs of the future.
The 34,400-dwt ships have an overall length of 612 feet, beam of 90 feet, depth of 49.5 feet, and draft of 36.75 feet. Propulsion is provided by a single Mitsubishi/ Sulzer slow-speed, type 6RND- 76M diesel engine with an output of 14,200 bhp, providing a service speed of 15.5 knots.
Outstanding features of the the New York Sun include a high level of automation, permitting control of engine speed and direction from the bridge; fully air-conditioned crew accommodations; and an elevator connecting the four superstructure decks with the engine room.
The new tanker is capable of carrying six different types of refined petroluem products simultaneously, including gasoline, kerosene, jet fuel, heating oil, and naphtha. Six pumps can discharge the ship's 247,000-barrel cargo in 15 hours.
New York Sun is equipped with a wide array of modern navigational aids, including a collisionavoidance radar system, a satellite navigation system to enable the ship's crew to pinpoint its exact position at any given time, and a weather facsimile system that p r o v i d e s up-to-the-minute weather reports.
A segregated ballast system has a total saltwater capacity of 12,000 long tons. With this system, several of the ship's tanks are used for ballast only. This means that when the tanker's ballast water is pumped out while cargo is being loaded, only clean salt water will be released.
In contrast to general practice in older tankers, ballast is not introduced into tanks that also carry the various petroleum cargoes.
Should conditions at sea necessitate additional ballast water being pumped into any of the ship's cargo tanks, an oil-water separator removes petroleum res- 'NEW YORK SUN' MAJOR SUPPLIERS Alfa-Laval, heat exchangers Babcock & Wilcox, boilers, exhaust gas economizer Carrier, air conditioning system, reefer compressors Delaval, fresh water generator, purifiers & separators General Electric, generators General Motors EMD, diesels for generators Goulds, main feed, cargo, and other pumps Hankinson, control air dehydrator Ingersoll-Rand, air compressors, seawater cooling pump International, epoxy coatings lotron, collision-avoidance system ITT Mackay, radio direction finder Kawasaki, steering gear Kocks, anchor windlass, mooring winches Kockums, cargo loading computer Mitsubishi/Sulzer, main diesel engine 6RND76M Nav-Com, satellite navigation system Robins & Meyers, pumps Selenia, weatherfax, Loran, radars Simrad, echo sounder & recorder Smit Nymengen, inert gas generator Sperry, gyrocompass system, autopilot, course recorder, magnetic compass Tano, bell logger Triton, VHF backup radiophone Warren, pumps Worthington, pumps Wilton Walton International, cathodic protection system Write 378 on Reader Service Card idue from the ballast water before it is pumped overboard.
A sewage treatment and storage plant has been installed to insure that raw sewage cannot be discharged at sea.
The New York Sun, and the Philadelphia Sun when she is delivered in 1981, will be assigned to various U.S. intracoastal trade routes.
PRIDE OF TEXAS Levingston Shipbuilding Company of Orange, Texas recently delivered the motor vessel Pride of Texas to the Levingston Falcon Shipping Company, a partnership of Levingston Shipbuilding and the Falcon Group of Houston. Designed to carry grain and other dry bulk cargoes, she is the first dry bulk carrier built in the United States that is specifically designed for service in U.S. foreign trade, in competition with foreign-flag ships.
The 36,000-dwt bulker has an overall length of 611 feet 10 inches, beam of 93 feet 2 inches, and depth of 50 feet 2y2 inches.
She has a gross tonnage of 23,500 and hold capacity of 1,589,570 cubic feet (45,005 cubic meters).
Her design draft is 32 feet.
'PRIDE OF TEXAS' MAJOR SUPPLIERS Armco, steel Baldt, anchors Carrier, air conditioning system GM Detroit Diesel, engines for generators International, coatings Kato Engineering, generators Lake Shore, deck machinery Marine Safety, lifeboats Marland Environmental Systems, sewage treatment system Sperry, steering gear Transamerica Delaval, main diesel engines and reduction gears United States Steel, steel Propulsion is provided by two Transamerica Delaval Enterprise medium-speed diesel engines, type DMRV-12-4, having a total maximum continuous rating of 14,824 bhp at 450 rpm. This power plant gives the ship a maximum speed of 17 knots, but fullload service speed is 15.7 knots.
The new ship has been built to meet all the requirements of the American Bureau of Shipping and the U.S. Coast Guard for unlimited ocean service. She is manned by a crew of 34.
First in a series of three sister ships (two others in the original contract have been cancelled) for the same owner, the Pride of Texas is also the first vessel built in the U.S. to a Japanese design and with the assistance of Japanese shipbuilding experts.
The design is the highly successful "Future 32" standard bulk carrier developed by Ishikawajima- Harima Heavy Industries Company, Ltd. (IHI) of Tokyo.
Since the beginning of construction of the Levingston Falcon ships, engineers from IHI have been assisting Levingston Shipbuilding personnel in an unprecedented "Technology Transfer" program that is designed to improve U.S. shipbuilding productivity.
RESOLUTE The Resolute, second of two highly automated containerships built by Bath Iron Works for Farrell Lines Incorporated, was delivered 13 weeks ahead of contractual schedule by the Maine shipyard. She and sister ship Argonaut are of the same basic design as six containerships built by BIW between 1968 and 1973 for American Export Lines, which has now been absorbed by Farrell.
The new ship has an overall length of 610 feet, beam of 78 feet, depth to main deck of 541/2 feet, and summer draft of 31 feet 7 inches. Container capacity is 928 TEUs, of which 56 will be carried on deck. Design speed is 20.5 knots.
Built at a cost of $43 million, the Resolute was constructed to the highest classification of the American Bureau of Shipping, and to the current standards and requirements of the U.S.
Coast Guard, U.S. Department of Health, Education and Welfare, Safety of Life at Sea 1960 (SOLAS) Convention, and the Loadline Convention 1966.
Designed by John J. McMullen Associates, she is powered by a General Electric geared steam turbine plant, with steam generated by two Babcock boilers with steam conditions of 870 psig and 950 F. Central control of the power plant is by a Bailey Controls system. A McMullen Flume stabilization system is installed, as well as a Bird-Johnson bow thruster.
The Resolute has no shipboard cargo-handling gear, but provision was made for possible installation of gantry cranes if required in the future.
'RESOLUTE' MAJOR SUPPLIERS Arcadian Equipment, bilge pumps Arnold Machinery, emergency diesel generator Aqua-Chem, deaerating feed tank Aurora, fresh water, hot water circ. & salt water circ. pumps Babcock & Wilcox, main boilers Bird-Johnson, bow thruster Buffalo Forge, forced-draft blowers, gland exhaust fan Delaval, main & aux. condensers and air ejectors, F-0 service & transfer pumps Engelhard, cathodic protection system FMC Coffin, main feed pump Gaso, boiler test pumps General Electric, main turbines & gears, turbogenerator Honeywell, heating controls Hopeman Bros., joiner work A.C. Hoyle, capstan, accom. ladder winch Ingersoll-Rand, control air compressor Inn Keepers, commissary equipment ITT Mackay, radio, radio direction finder Joy Manufacturing, vent fans Walter Kidde, C02 system King Engineering, tank level indicators Manning & Lewis, F-0 meter, L-0 cooler, gland exhaust condenser Marine Safety Equipment, lifeboats, davits & winches Mass Engineering, tank for fresh water system McMullen Associates, Flume stabilization system Nelson Electric, switchboards Raytheon, radar Reliance Electric, motors Richardi Electric, power & lighting distribution panels Riley-Beaird, distilling plant, distillate pump Separation & Recovery Systems, L-0 purifier & heater Sperry, steering controls St. Louis Ship, sewage treatment plant (FAST) Tomlinson Refrigeration, ss refrigeration plant Warren, pumps Waukesha Bearing, sterntube bearings & seals, steady bearings Western Gear, steering gear, mooring & anchor winches Worthington, ss air compressor, bilge & general service pump SHIN AITOKU MARU The 1,600-dwt tanker Shin Aitoku Maru, Japan's first commercial sail-equipped motorship, went into service recently. Developed jointly by Nippon Kokan (NKK) and the Japan Marine Machinery Development Association, the vessel is also powered by a diesel engine with an output of 1,600 bhp at 25 rpm, driving a variable-pitch propeller.
Construction cost amounted to some $2,325,000, which included about $263,000 for the sails. NKK officials say that although the cost of the vessel was more than 15 percent higher than that of a regular tanker of the same class, the ship is expected to use about 50 percent less energy than regular motor tankers because of the auxiliary use of sails and various improvements on the hull design, propeller, main engine, generator, and waste gas recycling.
The Shin Aitoku Maru has a BP length of 66 meters, molded beam of 10.6 meters, molded depth of 5.2 meters, and design draft of 4.4 meters (about 216.5 by 34.8 by 17 by 14.4 feet). Two sets of rigid sails are made of thin steel frames and canvas, each measuring 8 meters wide and 12.15 meters in height (about 26.2 by 39.9 feet). Total area for the two sails is about 200 square meters (2,150 square feet).
The sails are controlled automatically by a built-in microcomputer that maneuvers them and keeps them set constantly at the optimum angle for maximum utilization of wind power.
Maximum speed is 12 knots.
The ship has a crew of 10; according to NKK officials, there was no need for extra manpower to operate the sails.
NKK and the Japan Marine Machinery Development Association has conducted joint research to develop a sail-equipped motorship for the past two years.
Wiley Manufacturing of Port Deposit, Md., has completed and delivered a passenger and automobile ferryboat, the Surry, that is now operating on the James River between Glasshouse Point and Scotland, Va. Designed by Coast Engineering Company of Norfolk for the Virginia Department of Highways and Transportation, the vessel has a capacity of 50 automobiles and 350 passengers.
Surry has an overall length of 200 feet, beam of 64 feet, depth amidships of 16 feet, and design draft of 9 feet 6 inches. Powered by a General Motors Electro- Motive Division, 1,450-bhp diesel engine, model 12 E6, the ferry has two Columbian Bronze propellers (one fore, one aft), Morgan Engineering propeller shafts, Fernstrum keel coolers, two Raytheon radars, and three Detroit Diesel generators — two ship's service and one emergency.
The introduction of this 350- passenger ferryboat has helped to alleviate peak travel delays in the important James River historic and tourist areas.
Wiley Manufacturing is a unit of AMCA International Corporation.
Its steel f a b r i c a t i n g and shipbuilding facility at Port Deposit is capable of building vessels of up to 425 feet in length, and constructing any type of floating steel equipment up to 2,400 dwt.
'SURRY' MAJOR SUPPLIERS Chromalox, electric heaters Columbian Bronze, propellers Consolidated Switchgear, switchboard, engine alarm panel Delco, generators Fernstrum, keel coolers GM Electro-Motive Division, main diesel engine 12 E6 GM Detroit Diesel, engines for generators Goulds Pumps, fresh water service, fire & bilge pumps Henschel, engine order telegraph system, sound-powered telephones Walter Kidde, C02 fire extinguishing system Lufkin, reduction gear Marine Safety Equipment, lifeboats Mathers Control, engine controls Morgan Engineering, propeller shafts Quincy, air compressors Raytheon, radars, radiotelephones Red Fox Industries, sewage treatment plant Seacarl Marine Industries, insulating, sheathing Sperry, electro-hydraulic steering system S.E. Steigerward, deck covering WHITE NILE This year the B&W Shipyard in Copenhagen completed two Hamlet Multi-flex ships of about 12,- 600 dwt for Sudan Shipping Line.
The ships were named the White Nile and the Blue Nile. Like other vessels of the Hamlet Multi-flex type, they have been built to Lloyd's Register of Shipping Class + 100 A1 +LMC "Strengthened for Containers" and to the usual international conventions and regulations for cargo ships trading worldwide.
The White Nile is powered by a single B&W turbocharged, twostroke diesel engine, type 5L55- GFC, with maximum continuous rating of 6,700 bhp at 150 rpm.
The main engine is direct-coupled to a four-bladed propeller, and is capable of burning fuel oil with a maximum of 3,500 Sec. Redwood I. A soundproofed control room is installed in the engine space. Electrical power is supplied by three generator sets, all driven by B&W turbocharged diesel engines. Trial speed at 80 percent of mcr was about 16.5 knots.
The ship has four separate holds, with four hatches in the upper deck and three hatches in the 'tween deck. As a special feature, cargo hold No. 1 has been arranged for carrying vegetable oils, with necessary heating and pumping systems installed. The hatches are fitted with MacGregor folding type steel covers on the upper deck, and hatch covers with longitudinal hinges on the 'tween deck. All hatch covers are reinforced for stowage of containers.
Roll-on/roll-off cargo is handled via a slewing stern ramp.
Cargo-handling gear comprises five electrohydraulic cranes—two of 36-ton capacity, two of 25 tons, and one of 18-ton capacity aft.
The twin cranes can be operated in tandem to double their lifting capacity. By means of cargo yokes, a combined lifting capacity of 95 tons can be achieved with four cranes working in unison.
Accommodations are provided for a 39-person complement. The officers' deck contains living quarters for the captain, chief engineer, and other officers. The captain and chief engineer each has a suite comprising living room, bedroom, and bath.
Crew accommodations are located on one deck and consist of one- and two-berth cabins, each with a bathroom. Messes and dayrooms are located on the saloon deck, close to the galley and stores areas. Also located on the saloon deck is a hospital.
The b r i d g e deck contains a roomy combined wheelhouse and chartroom equipped with the most modern navigational instruments, radio station, and cabins for the radio officer and pilot. A swimming pool is located aft of the wheelhouse.
The poop deck contains offices, hobby room, emergency generator, ventilation room, C02 room, paint locker, workshop, and storerooms.
The White Nile has an overall length of 133.5 meters, beam of 20.50 meters, depth to upper deck of 12.20 meters, and draft of 9.4 meters (437 by 67 by 40 by 31 feet).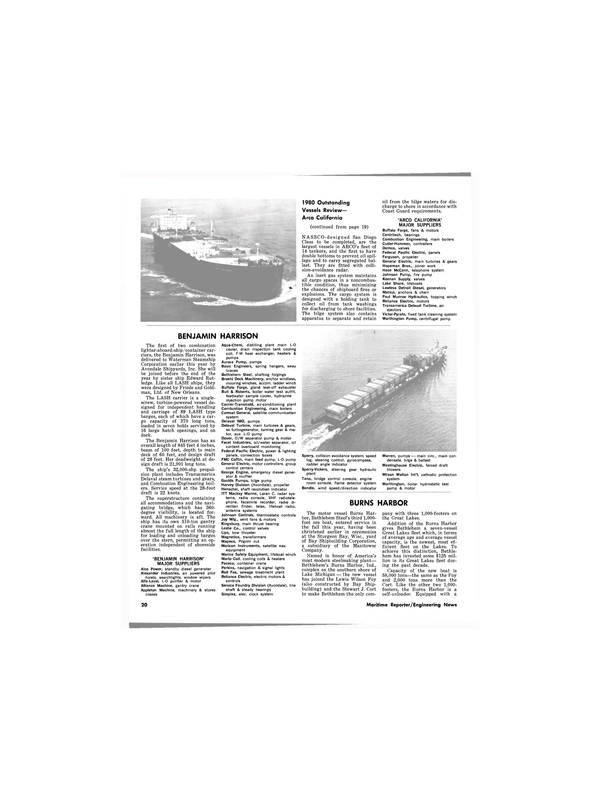 Read 1st Annual OUTSTANDING VESSELS REVIEW in Pdf, Flash or Html5 edition of December 1980 Maritime Reporter
Other stories from December 1980 issue
Content