Twin Nickum & Spaulding "Schooners7 Join Alaska Fishing Fleet
The Prowler and the Sablefish — both wide-waisted, house-aft boats termed "schooners" by West Coast fishermen—recently headed north out of Seattle for the king crab season, their introduction to the working fish fleet. The twin boats joined a growing group designed by Seattle naval architects Nickum & Spaulding Associates, Inc. The boats were built in the Mitchel Phares Boat Construction Company yard in Wilmington, Calif.
Both 114 feet in length and 32 feet in beam, the Prowler will be registered out of Ketchikan and the Sablefish out of Friday Harbor, Wash. While initially equipped for crabbing, plans call for both vessels to return to Seattle for installation of specially designed processing equipment and modifications to deck gear to fit the boats for pot fishing.
Both boats have —30 degrees F air blast freezing units, with freezing holds in the forepeaks capable of freezing 25,000 pounds of fish a day. Both differ only in the deckhouse layout and some machinery. The Nickum & Spaulding fish boat team, headed by Paul Gow, has designed a series of fish boats with similar lines in lengths ranging from 104 feet up. The firm also designed a 54-foot combination seiner/crabber now in use in Alaska. Mr. Gow said that fish boats ranging up to 140 feet and processors are now on the firm's drawing boards.
Co-owners of the Prowler include the skipper, Lou Dodd; Rudy Johanson, and Virgil Gordin.
Co-owners of the Sablefish include Co-captain Roger Bassett, Arch Campbell, Derry Gislason, Mr. Johanson, and Mr. Gordin.
The skippers plan to keep the boats in action pot-fishing sable fish and other bottom fish nearly the year round, not only in Alaska but south to the California coast.
In addition to the blast freezer, the boats have 650-foot bait freezers.
The forecastle also contains hydraulic power centers — Model 4-71 Detroit Diesel in the case of the Prowler, and electrically driven pumps for the Sablefish. The holding tanks comprise 7,535 cubic feet of space to accommodate 195,000 pounds of crab in circu- lating seawater or 300,000 pounds of fish. Ultra-Cold refrigeration systems, designed and installed by Fabten Corporation, involve freon chilled seawater systems.
A pair of 12V-149 Detroit diesels provide p r o p u l s i o n power, each engine delivering a continuous 675 bhp at 1,800 rpm. Kobelt provided the engine controls and Far West Marine Electronics the alarm monitors. The Aquamet 18 shafts are driven through Twin Disc MG 527 5.17:1 ration reduction gears. The twin propellers are 72-inch, five-bladed Coolidges.
On the Prowler, two Detroit Diesel 12-71 diesel/generators with Kato alternators put out 150 kw each at 1,200 rpm for main service power. In the Sablefish, the Detroit 12-71 diesels drive Delco generators delivering a continuous 300 kw at 1,800 rpm.
Standby generators are Model 4-71 Detroit diesels putting out 50 kw at 1,200 rpm. Far West built the main switchboards. Wagner Pneumatic steering controls include the standard wheel amidships and jog levers port and starboard in the wheelhouse.
Overall, the boats have high houses aft, relatively high forecastles with good flair to the bow to keep the boat dry, and broad waists that allow a clean expanse of working area on deck. Forecastles carry the free-standing main mast and anchor windlasses — William Drury windlass to handle Danforth anchors on the Prowler, and Rowe windlass and Yaquina Boat anchors on the Sablefish.
Deck machinery includes Pullmaster winches for main topping, main cargo, and picking booms.
Yaquina provided the pot haulers ; Hansen Welding and Iron Works the pot launchers and bait choppers; and Marco the King Coilers. Slattery 12-ton, swingboom deck cranes are placed about midships on the port side.
Wheelhouses are relatively compact with Skipper's consoles to starboard, wheels and Sperry gyros in the center, and second steering stations with jog levers and throttle controls to port. The automatic pilots are Sperry 8Ts.
Common electronic equipment includes Furuno FR-1011 radar, RDI B r i d g e w a t c h and Radar Watch, Ross Fisherman depth sounder, Furuno depth recorders, InTech Mariner VHF/FM, SEA 106 SSB, and DynaMarine I.C.
and Loud Hailer. Loran C equipment aboard the Prowler consists of two Northstar 6000 sets.
Aboard the Sablefish, this equipment includes the Simrad LC123 with CC2 navigation computer.
Main cabins on the boat decks provide spacious master's suites with aft doors opening onto the aft decks. Main deck living spaces include two 4-man staterooms, one 2-man stateroom, galley and mess area, storeroom, and freezer, with galley and dinette forward on the Prowler and aft on the sablefish.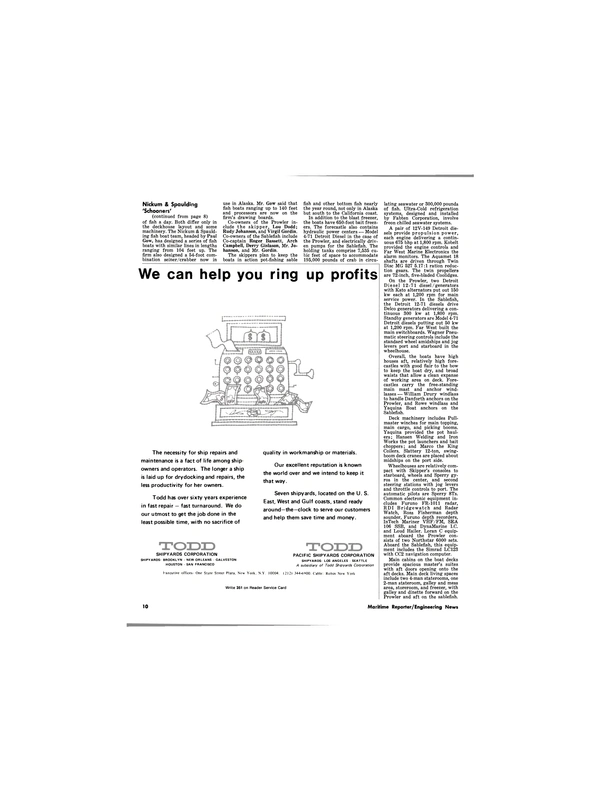 Read Twin Nickum & Spaulding "Schooners7 Join Alaska Fishing Fleet in Pdf, Flash or Html5 edition of December 1980 Maritime Reporter
Other stories from December 1980 issue
Content