Bell Aerospace A w a r d e d $ 1 0 2 M i l l i on To Build Six M o r e LCACs For U.S. N a v y
Bell Aerospace Textron, Division of Textron Inc., has just been awarded a $102-million contract to construct additional air cushion landing craft for the U.S. Navy.
The contract was announced by John J. Kelly, senior vice president and general manager of Bell Aerospace Textron, New Orleans Operations, and president of Bell Halter Inc.
This latest fiscal year 1984 contract authorizes production of six additional Landing Craft, Air Cushion (LCAC), to be delivered in 1986, and included a $197-million option for another 12 craft for the FY '85 program. This $299- million package provides for a total of 24 LCACs to be built at the Bell Halter production facility in New Orleans.
The LCAC is an amphibious, air cushion landing craft that can travel at speeds up to 50 knots and can quickly transport troops, equipment, and weapons from support ships over the horizon to dry landing points beyond the beach.
The craft are designed to replace the Navy's fleet of WWII-era landing craft, and will improve dramatically the ship-to-shore capability of the Navy and Marine Corps.
The first six LCACs are now under construction (photo) at Bell Halter under a $182-million production contract awarded to Bell Aerospace. Bell Halter, a company formed by Bell Aerospace Textron and Halter Marine Inc., is the manufacturing facility for Bell Aerospace. Rollout of the first two LCACs is scheduled for this year, with three more to be completed in 1985.
The new LCAC contract comes as Bell Aerospace Textron begins its 15th year of operation in the New Orleans area. A pioneer in the advanced marine craft field, Bell established its New Orleans Operations in 1969 to design, develop, build, and test an experimental surface effect ship (SES) under U.S. Navy contract. Over the years, the New Orleans office has concentrated on the design and construction of air cushion vehicles and SESs for military and commercial use.
Beginning with only a handful of employees transferred from the company's facility near Buffalo, N.Y., Bell's New Orleans Operations has grown to 750 employees, including about 100 at the test site in Florida, and has established a strong engineering and production base for the new air cushion technology emerging in this country.
The Bell Halter shipyard, which grew out of an earlier joint venture between Bell Aerospace and Halter Marine, is currently dedicated to the production of air cushion vehicles and surface effect ships, thus establishing a new type of shipbuilding industry in the U.S. Centrally located in Louisiana, the shipyard currently has 330 employees, drawn largely from the Southern Louisiana and Mississippi labor markets.
The offsite support facility of the New Orleans Operations is the Bell Aerospace Textron Support Department located in Panama City, Fla. Established in 1973 with 30 employees, the facility has grown to a staff of more than 100.
The Support Department has been used to test Bell ship designs, including the prototype for the LCAC.
When completed, the first LCAC will undergo initial checkout, builder's trials, and U.S. Navy acceptance testing at the Panama City site.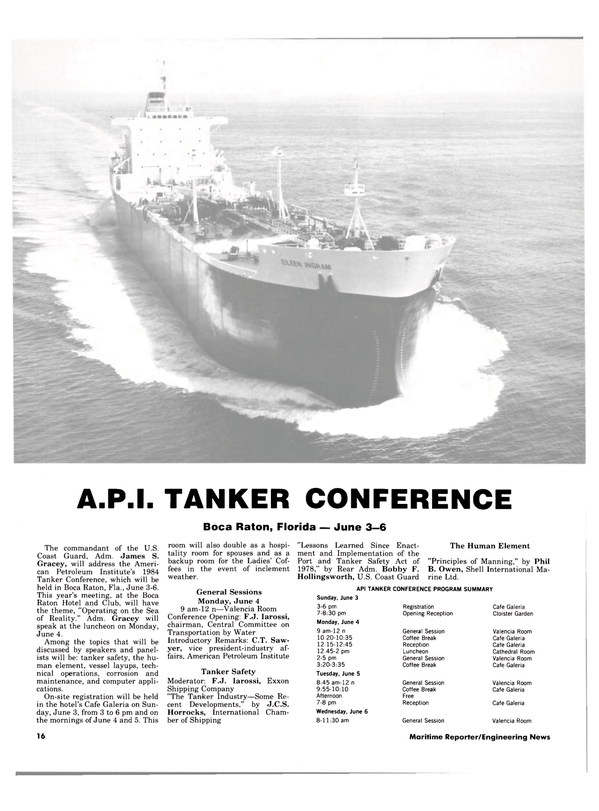 Read Bell Aerospace A w a r d e d $ 1 0 2 M i l l i on To Build Six M o r e LCACs For U.S. N a v y in Pdf, Flash or Html5 edition of April 15, 1984 Maritime Reporter
Other stories from April 15, 1984 issue
Content