Unique Lobster Boat Miss Julie D e l i v e r e d By G l a d d i n g - H e a rn
Designed by Robert Henry of Bay Marine, Inc. and built by Gladding-Hearn Shipbuilding Corporation for Robert P. Stevens of Buzzards Bay, Mass., the lobster boat Miss Julie is an all-aluminum, 65-foot single-screw vessel that combines speed, maintainability, economy of operation, and comfort in a lightweight but rugged boat.
The Miss Julie has some definite differences from the usual lobster boat design. Her unpainted aluminum hull is a rarity for offshore fishing vessels. An aftmounted, 12-cylinder diesel, together with lightweight construction, provides significant speed and and fuel-saving advantages. Upand- down, amidships lobster tanks are designed for ease of unloading, and controlled water levels provide added weight savings. These features, among others, will provide longevity of service, speed enhancement, low maintenance requirements, and operational efficiency.
The vessel's M.A.N, diesel engine, model D-2543-MLE, is rated 515 bhp at 2,100 rpm. Cooled by a heat exchanger, the engine drives a Columbian Bronze 40-inch, 4-bladed stainless-steel propeller through a Twin Disc 3:1 reduction gear and Armco Aquamet-17, 3'/2- inch-diameter shafting. This efficient propulsion system moves the lightweight boat at speeds up to about 14.5 knots.
Topside, the Miss Julie has a 19- foot beam, with a spacious deck aft capable of accommodating 40-50 lobster traps. A 14-inch hydraulic pot hauler, driven off the main engine and controlled from the pilot house, is fitted to the aft bulkhead of the cabin. Amidships are two fully insulated holding tanks with a combined capacity of some 16,000 pounds of lobster. The tanks and their piping systems are designed so that the level of the holding water is held at just what is needed to cover the quantity of lobsters caught. Both tanks are fitted with bottom aluminum trays that are raised and lowered by an electric hoist to bring the catch to the surface for ease of unloading. A circulating water system, as well as a backup aeration unit that infuses filtered air into the holding water, serves both tanks.
In addition to her functional efficiency, the Miss Julie offers a full range of amenities for convenience of operation and crew comfort.
She has a spacious, well-insulated and electrically heated pilothouse fitted with starboard control station, charting area, captain's berth, day galley, and locker area with access to the engine room. The front of the pilothouse is of "West Coast" design, with forward- slanting windows and protective visor. This arrangement allows more space for overhead mounting of electronics, and generally enhances visibility in bad weather. Crew quarters in the forecastle has accommodations for four hands and includes a galley area, mess table with settees, bunks, head/showers, and storage area.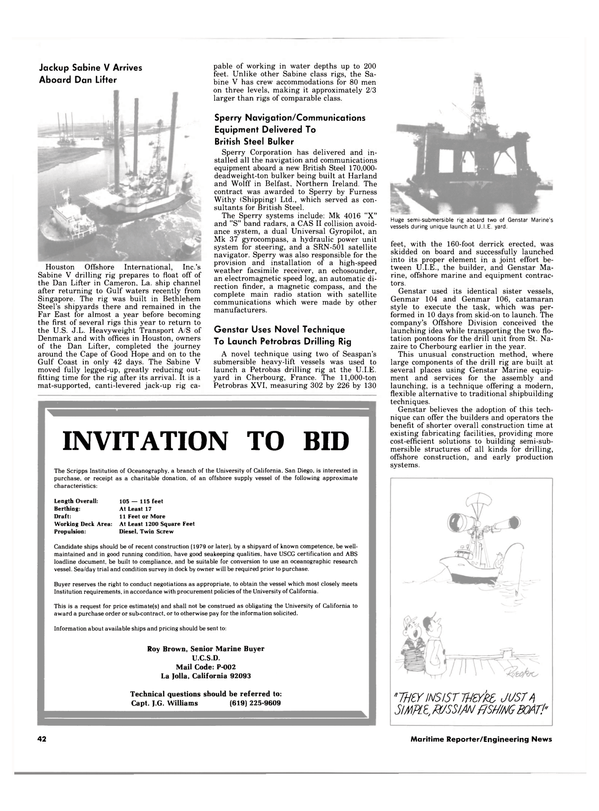 Read Unique Lobster Boat Miss Julie D e l i v e r e d By G l a d d i n g - H e a rn in Pdf, Flash or Html5 edition of April 15, 1984 Maritime Reporter
Other stories from April 15, 1984 issue
Content