SURVIVAL AT SEA
The occasional sinking of ships and capsizing of offshore structures, especially in hostile, frigid environments, are reminders that the perils of the sea are still with us. In many of these disasters, official investigations have found that hypothermia (low body heat) was the primary contributing cause of death for some of the victims, who might have been saved if they had been wearing protective exposure suits when they were in the icy waters.
On February 7, 1984, the U.S.
Coast Guard published a final Rule in the Federal Register that will require offshore drilling rigs and certain other vessels operating in frigid waters off the outer continental shelf of the United States to carry survival suits for workers to wear if they are forced to abandon the platforms because of an accident.
This Rule becomes effective 180 days after the publication date.
The ME I EN editors asked manufacturers and suppliers of shipboard safety and survival equipment to tell us about their latest developments in products and services.
The review that follows is based on the replies that had been received up to press time.
FOR MORE INFORMATION If you wish to receive additional information on any of the products described in the following review, please circle the appropriate (immediately after the company name) number(s) on the Reader Service Card in the back of this issue. If you wish to receive information from all of the manufacturers and suppliers of safety and survival equipment included in this review, Circle 30 on Reader Service Card A L A S K A DIESEL ELECTRIC Circle 3 1 on Reader Service Card Suitable for use as emergency fire-fighting equipment, Alaska Diesel Electric, Inc. markets the Northern Lights® EP-41 portable gasoline-powered pump. With a dry weight of only 18% pounds and rubber-gripped, balanced carrying point, the unit is easy to tote to an emergency site. CDI ignition gives quick starts and reduces maintenance by eliminating contact points.
The EP-41's advanced engineering combines heavy-duty features with light-weight materials. The cast aluminum engine block of the 2.2-hp, air-cooled engine is heavily gusseted for strength, and has an integral cylinder liner of hardened steel. Cooling fins and a crankshaft- mounted fan efficiently dissipate heat.
The die-cast aluminum pump housing saves weight and stops corrosion. An open type impeller insures smooth operation even in muddy water.
Optional equipment available includes: kit with 10-foot suction hose, 25-foot discharge hose, nozzle, and fitting; kit with 25-foot suction hose, 25-foot discharge hose, nozzle, and fitting; and an adjustable hose nozzle, lVu-inch Lexan, fog to straight steam. The pump can deliver 80 gpm at 59 spi.
A N S U L FIRE P R O T E C T I ON C i r c l e 3 2 on Reader Service Card Ansul Fire Protection is a division of Wormald U.S., Inc., part of the Wormald International Limited Group of companies. Ansul is a manufacturer of quality fire protection products and systems that are marketed through a network of more than 500 independent, authorized Ansul distributors throughout the world. Ansul also develops, manufactures, and supplies fire protection equipment to Wormald group companies worldwide.
Among the marine fire protection equipment and systems offered by Ansul are Halon 1301, carbon dioxide, twin-agent hand hose line, and Ansulite AFFF (Aqueous Film-Forming Foam) fire suppression systems, as well as smoke detection systems.
Ansul offers Halon 1301 fire suppression systems comprised of certain hardware and software elements that are designed and organized to provide a total integrated system. The Halon 1301 system can generally be divided into the following subsystems: Halon 1301 agent and agent storage modules; system operation and control; agent distribution; and technical documentation. These systems are designed in accordance with the National Fire Protection Association Standard 12A, "Standard for Halogenated Extinguishing Agent Systems," and listed by Underwriters Laboratories.
Ansul also offers Halon system designs in accordance with marine and offshore regulatory agencies such as the U.S. Coast Guard, American Bureau of Shipping, Lloyd's Register of Shipping, Det norske Veritas, U.K. Department of Energy, U.S. Geological Survey, International Maritime Organization, and the Norwegian Maritime Directorate.
The Ansul high-pressure carbon dioxide fire suppression system is designed for central storage of the agent as a liquid in pressurized cylinders. The cylinder valve re- leases the CO., into fixed piping, terminated with specially designed discharge nozzles in the protected space. Several types of manual and automatic controls are available for actuation of the system. These C02 systems are also designed to meet the rules and regulations and all the agencies mentioned above for the Halon systems.
Twin-agent fire protection refers to the "twin-attack" capabilities of dry chemical and foam fire-extinguishing agents. These Ansul systems consist of separate 'Purple-K' agent and Ansulite AFFF agent storage tanks, nitrogen cylinders to pressurize the tanks and expel the agents, hose lines to deliver the agents to the twinned nozzle assembly, and manual and/or pneumatic actuation devices,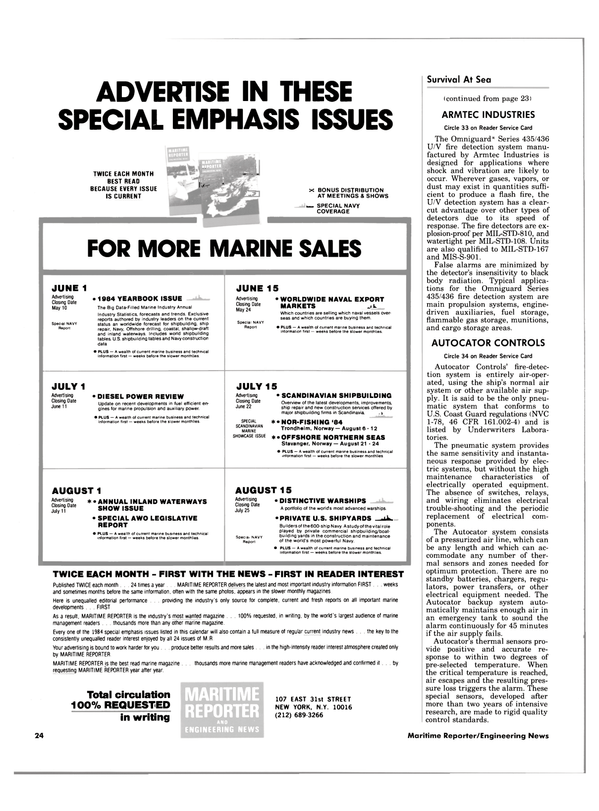 Read SURVIVAL AT SEA in Pdf, Flash or Html5 edition of April 15, 1984 Maritime Reporter
Other stories from April 15, 1984 issue
Content