Caterpillar Offers Literature On New Marine Diesel Propulsion System Products And Support Programs
Fuel Savings Alone Can Justify New Engine Investment At the New Orleans Work Boat Show in January, Caterpillar Engine Division announced new and improved diesel marine propulsion system products and support programs designed to help operators reduce costs and improve equipment availability. "With fuel and lubricants representing up to 90 percent of vessel operating costs," said Bill Jensen, North American marine business manager, "operators must analyze new products and their potential contribution to bottom- line profitability." In addition to new vessel construction, existing vessels are prime candidates for new, fuel-efficient engines. Coupled with low fuel and lube oil costs, low maintenance and financing costs, operators can pay for new engines by simply paying for them with fuel savings and higher availability. According to Mr. Jensen, "Operators today are feeling more cost pressures than ever before. Survival often depends upon more technology investment . . . and the basic need for low operating cost and high availability can best be met with current technology." Caterpillar diesel engines are offered in a range of propulsion ratings from 85 to 3,000 hp (64 to 2,240 kW) and marine generator sets from 55 to 1,800 kW (60 Hz). During 1986, with commercial availability of the 3616, propulsion ratings will extend up to 6,000 hp (4,475 kW) and generator set ratings up to 3,650 kW.
Marine transmissions match desired shaft speeds for both high productivity and low fuel consumption.
Caterpillar auxiliaries are also provided as generator set packages or in industrial, mechanical drive configurations to provide essential ship services—lighting and communications, powering winches, operating compressors, pumping water, and operating bow and stern thrusters.
Optional power takeoffs are also offered for powering steering pumps, winches, power blocks and refrigeration units.
3600 Series On Stream Caterpillar's 3600 Series mediumspeed, heavy-duty diesel engines in the 2,000- to 6,000-hp (1,500-4,500 kW) class were announced to the industry two years ago. Marine field testing began in August 1984, with the 3606 repowered Cecile Erickson, a bulk freighter operated by Morton Salt. The 2,250-hp (1,675 kW) engine has been in service more than 7,500 hours and fuel consumption has been cut by almost 15 percent compared to the previous engine. A 3612 was used to repower the George A. Sloan during the spring of 1985 and has since accumulated more than 1,300 hours. This 4,500- hp (3,356 kW) 12-cylinder engine powers a self-unloading bulk freighter operated on the Great Lakes by USS Great Lakes Fleet.
The Sloan has obtained almost onethird fuel savings and a 15 percent increase in its carrying capacity, the result of increased speed capability and a small increase in tonnage that can be carried each trip because the new engine is lighter than the steam engine it replaced.
Production of the 3600 Series is underway at Cat's Lafayette, Ind.
facility. Four 3606 Generator Sets and a 3612 Locomotive Engine were shipped during the fourth quarter, 1985. A 3616 Generator Set and three 3608 Marine Engines will be shipped early in 1986. The 3608 on display at The Work Boat Show is destined for Mid-South Towing's Julia Woods along with two other 3608s. The 3606 displayed at Europort 1985 is currently being installed on a Rhine River barge; and, the first 3606 production engine to run on residual fuel will be installed in a hopper dredge in Belgium.
These applications occurred after single and multicylinder test engines accumulated more than 56,100 hours.
The 3600 Engines represent the company's first entry into big ship main propulsion and large ship auxiliary power. According to Mr.
Jensen, "Whether you operate a tug, push boat or container ship, your vessel is no better than the power that helps it do its job .. . we know of no engine in the same horsepower class of similar rpm that is more fuel efficient than the 3600 Series. The 3600 will meet or exceed fuel economy of any comparable engines manufactured worldwide." Early production engines have demonstrated specific fuel consumption of 198 g/kW-h with pumps at full load.
Residual Fuel Cat continues to thoroughly test residual fuels in order to determine their effect on engine performance and durability. "We are learning how to heat, clean and treat residual fuels, and how to modify our engines for their use," said Mr. Jensen.
"Our laboratory programs have significantly improved component life that previously was severely shortened by the heavy fuels." The 3500/ 3600 Series have been designed to start, operate and stop on blended residual fuels. Because blended residual fuels vary greatly, Cat Engines will be individually modified to optimize return on investment for the operator, balancing higher initial cost against time-to-overhaul based on regional fuel characeristics.
The 3600 Series are currently qualified on residual with up to IF380 viscosity, up to 4 percent sulfur content by weight and up to 300 ppm vanadium. The 3500 Series up to IF160, up to 2Vi percent sulfur and up to 100 ppm vanadium.
New 3500 Series Ratings During 1985, after hundreds of thousands of successful operating hours, Cat has increased 3500 Series output up to 25 percent and improved fuel economy up to 3 percent for all ratings, while retaining or exceeding original component durability and reliability objectives. The series consists of 60° V8, V12 and V16 models, all with 6.7-inch bore and 7.5-inch stroke (170 x 190 mm).
Higher ratings and improved fuel efficiency are the result of design improvements, including a stronger, reinforced cylinder head and fuel system components; a forged aluminum, gallery-cooled piston; increased main and rod bearing load capabilities; higher load capacity valve train; and more efficient turbocharging and air induction systems.
Maximum intermitten output is now approximately 125 hp (93 kW) per cylinder compared to 100 hp (75 kW) per cylinder at introduction.
According to Mr. Jensen, "3500 Series Engine performance and low operating cost has been exceptional in workboat applications, whether used in new vessel construction or repower." Mr. Jensen cited improved performance capabilities.
When introduced in 1980, the 3500 Series offered more than 11 percent improvement over the 6.25-inch bore 300 Series fuel comsumption.
Putting this into perspective, a 3512 Engine would save the owner $250,000 over its operating life— more than double the original purchase price of the engine. The additional 3 percent improvement offered during 1985 would produce an additional $50,000 in lifecycle cost savings. It should also be noted that the 3512 is about 20 percent smaller in volume than the D399, is significantly quieter, and easier to service.
Coupled with product improvements just completed, Caterpillar's low cost financing will make the engines an even better investment.
3300/3400 Series Products Caterpillar continues to improve 3300 and 3400 Series Marine products.
Specifically, Series B 3300 and 3400 Series Engines now use a new high pressure fuel system with matched turbocharging and manifolding to ensure precise injection and efficient breathing for better fuel efficiency. The fuel system maintains top fuel economy without periodic adjustment at full and part load. Part load performance is important to main propulsion and auxiliary applications where engines do not run fully loaded 100 percent of the time.
New 1,200 rpm ratings for auxiliary packages are now available for generator sets where extended life, reliability, reduced noise, and improved fuel economy are important.
Increased 3208 Output The 3208, having served the workboat industry for more than 15 years, is now available from 150 to 375 hp (112 to 280 kW). For harbor tugs and utility vessels, the 3208's cubic inch (10.41) displacement and short power stroke give it quick response and acceleration without sacrificing fuel economy. The compact, low-profile, turbocharged and aftercooled 3208 engine's 375 hp (280 kW) rating burns only 21.1 gph (79.9 1/h) at full load and rated (2,800) rpm. Backing off 400 rpm, it burns 12.1 gph (45.7 1/h). In addition to reducing fuel costs and providing dependable operation, the 3208s are completely rebuildable with redorable block, regrindable crankshaft and undersized bearings.
"The challenge at hand is first to analyze the current operating costs of your equipment, including downtime, repair and maintenance," concluded Mr. Jensen. "Second, compare these known costs with manufacturers' projected costs for new, fuel-efficient engines. New technology is available to make your operation more profitable by lowering operating costs and increasing availability.
The third step is to make a decision to become more profitable.
This means setting into motion a plan of change. Caterpillar dealers are prepared to make a feasibility analysis of investment alternatives.
To survive, operators must use fuelefficient engines." For full literature on the complete line of Caterpillar Diesel Engines, including the brochure, "Marine Systems: Propulsion and Generator Set Power," which contains a listing of Caterpillar Marine Engine specifications, Circle 9 on Reader Service Card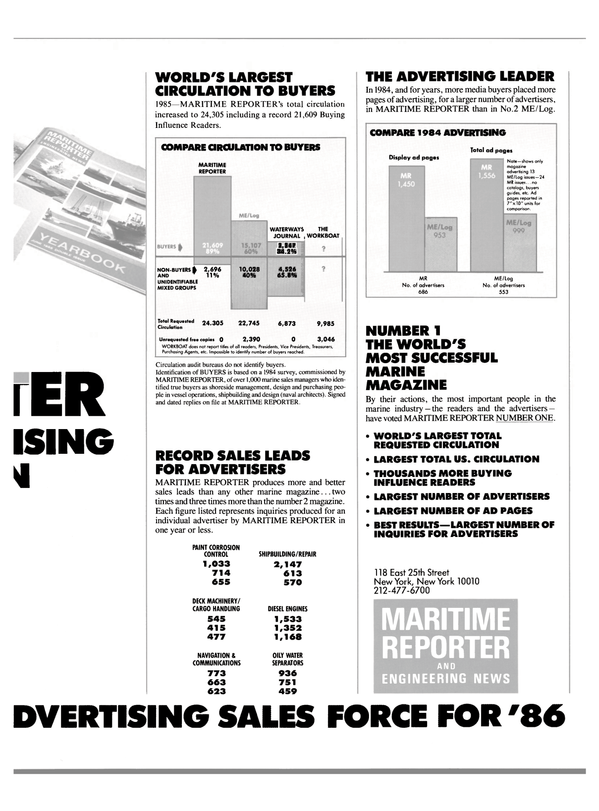 Read Caterpillar Offers Literature On New Marine Diesel Propulsion System Products And Support Programs in Pdf, Flash or Html5 edition of February 1986 Maritime Reporter
Other stories from February 1986 issue
Content