Water Jetting System To Install Steel Pilings Developed By Navy
The U.S. Navy is developing a unique universal footing that uses a novel internal water jetting system to install steel foundation pilings in all types of seafloors, more quickly and more economically than present methods.
The Naval Civil Engineering Laboratory (NCEL) at Port Hueneme, Calif., designed the new concept primarily for the Navy's Advanced Cargo Transfer Facility (ACTF), under construction at the research and development center. Supported by a series of pilings placed into the seafloor, the ACTF will extend more than 2,500 feet from the shore into the ocean, to containerships berthed in water depths of 50-60 feet. Cargo will be unloaded directly for transfer across the facility to storage areas ashore.
The ACTF poses installation problems because installers did not have the luxury of changing or modifying footings. The NCEL universal footing system provides a onefoundation capability for all seafloors— clay, silt, sand, gravel, coral, and rock. The system consists of three parts: spike, spud can, and an internal jetting element. The coneshaped spike supports the structural weight when the footing is deployed into the rock or coral seafloors.
Made of high-strength steel, the spike also guards against sliding.
The spud can is an enlarged footing base that supports the piling in soft sediment (mud, silt, and sand) and reduces the required pile length. When embedded, the spud can provides major resistance against sliding, bearing failure, and pullout.
The internal jetting system fluidizes (suspends and hangs in water) the soil around the footing. This action allows the footing to move downward through the sediments until it is buried by its own weight.
If the footing is placed on a sand or silt seafloor, the downward jetting of water will fluidize the sediments and induct footing penetration.
Both upward and downward jets may be activated for retrieval of the footing.
Dr. Sheng S. Lin, a senior civil engineer at the NCEL and developer of the concept, said the system features 20 nozzles—16 holes in the bottom of the spud and four on the spike. Tests of a model footing (photo) reveal that the universal footing can be buried by its own weight. At a water pressure of 60 psi and flow rate of 60 gpm, the footing can penetrate soft sediments at two feet per minute. It takes 12 minutes to gain equal penetration with a jet flow rate of 35 gpm. Pullout forces of the footing decrease from 1,200 pounds without jetting to 200 pounds with 60 gpm.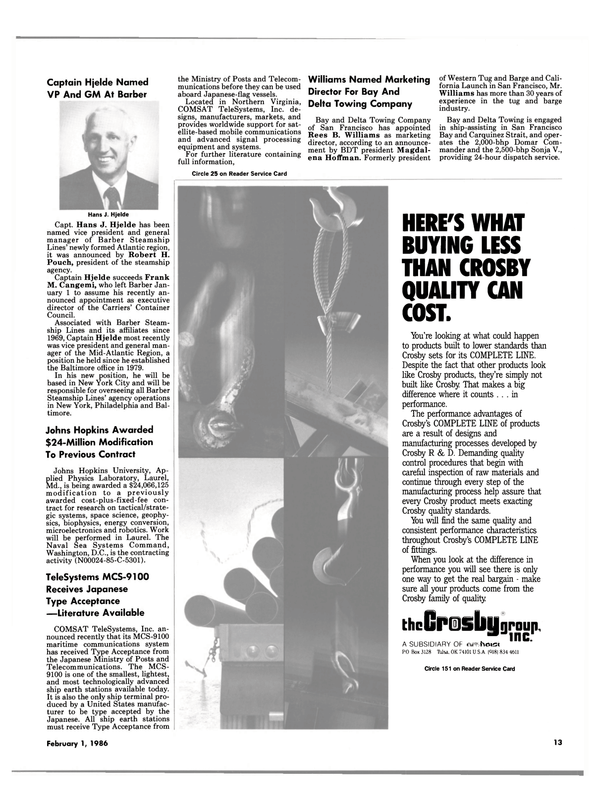 Read Water Jetting System To Install Steel Pilings Developed By Navy in Pdf, Flash or Html5 edition of February 1986 Maritime Reporter
Other stories from February 1986 issue
Content