Vessel Safety Takes Center Stage
By David Tinsley, technical editor
At a recent industry gathering in London, a series of presentations on passengership safety issues inevitably but rightly raised nightmare scenarios of mass evacuation. However, the tone set by the speakers and participants at the conference "Safety of large passenger ships — looking to the future" was pragmatic rather than alarmist. Organized by the Institute of Marine Engineers and the (U.K.) Maritime and Coastguard Agency, the event drew observations on safety matters and perceptions of upcoming needs from qualified professionals, in the light of major expansion in the cruise shipping sector.
The consensus view was of a need for a circumspect and proactive approach to operational safety issues, to better ensure the status quo as regards the good safety record demonstrated by the industry. In U.S. waters, it is understood that not a single passenger life has been lost over the past 16 years due to a casualty involving a large passengership.
With the stakes being so high, not only in human terms, but also as regards the well being of shipping's most dynamic business segment, there can be no room for complacency, even if the safety statistics indicate that the industry must be doing a lot that is right and appropriate.
Images brought to mind of possible situations where thousands of passengers and crew might have to be rapidly evacuated from a large cruise vessel in hostile weather conditions, amid great confusion, at night, perhaps in an ocean area with no other ships in the immediate vicinity and distant from search and rescue (SAR) resources, will hopefully never become a picture in reality.
But trends in cruise liner size, scale, complexity and numbers, passenger-to-crew ratios, and crewing aspects have set the alarm bells ringing, as have a number of what might be termed close calls around the world in recent years. The manner in which certain incidents involving shipboard fire and other situations have been handled and contained have demonstrated the effectiveness of new standards designed to protect passengers.
But several speakers at the London conference alluded to the fact that quite a number of recent years' emergencies involving large cruise vessels had taken place in calm weather, during daylight, and with SAR facilities and other ships close to hand.
The 'what might have been factor' in conjunction with the considerable technical and operational challenges presented by safely controlling and dispatching floating communities of potentially 5,000 or more people from a stricken vessel call for all safety-related issues and legislation to be revisited.
The International Maritime Organization's secretary-general William O'Neil has his finger on the pulse. In the immediate run-up to the IMO's Maritime Safety Committee meeting in London during the latter part of May, O'Neil suggested at the conference that a dedicated working group be established to examine all safety issues relating to passenger ships. Cognizant of major fleet development, reflected in huge investments in luxury cruise liners of unprecedented size, the secretary-general's proposal was colored by a perceived need for a more coordinated and holistic approach to the safety of such vessels, particularly as regards emergency situations.
O'Neil said "the safety of recently- built cruise ships is not in doubt, nor is there concern as to whether such ships conform with the most recently adopted safety standards applicable to ships of this category." Rather, he felt that SOLAS and Load Line Convention requirements warranted review to identify whether or not the edicts need enhancing, given the evolution in ship size and complexity, and whether they duly address all safety aspects of operations, especially emergencies.
He also advocated an assessment of the STCW (Standards of Training, Certification and Watchkeeping) Convention in the same light. Douglas Ward, president of The Maritime Evaluations Group, calculated that the world fleet of cruise ships carrying more than 1,000 passengers numbered 80 vessels in service as of mid-May this year, including 50 of more than 50,000-gt, of which four were in excess of 100,000-gt. Ward predicted that the population of cruise vessels above the 50,000-gt mark will have swelled to 127 by the end of 2005, on the basis of confirmed shipbuilding contracts, and that 18 of these will measure more than 100,000-gt.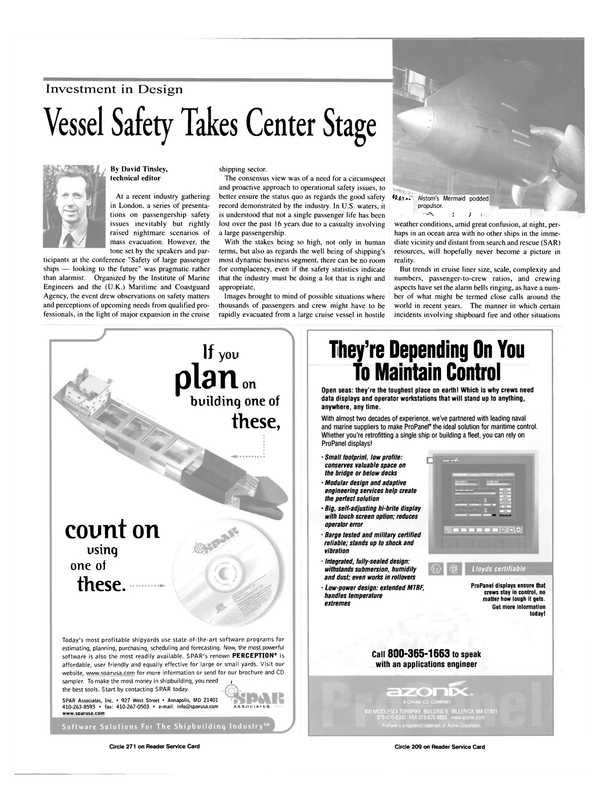 Read Vessel Safety Takes Center Stage in Pdf, Flash or Html5 edition of July 2000 Maritime Reporter
Other stories from July 2000 issue
Content