Advances in CAD and CAM System Integration
Over the past 25 years CAD and CAM have become a vital part of shipbuilding.
The individual tools have evolved into highly capable products of today. This has included the change from 2-D to 3- D CAD, a dramatic increase in the level of usability (example: from batch mode to fancy 3-D GUI's) and increased functionality within the tools themselves.
With the development of these tools has also come improved integration of the CAD and CAM data. While 2-D CAD drawings were originally entered into the CAM system manually, it has now become commonplace to utilize a fully integrated product model environment from vendors such as Dassault Systems (Catia), Intergraph (ISDP), Nupas-Cadmatic, Sener (Foran) and Tribon Solutions (Tribon Ml).
Even today, some current installations utilize a complete 3-D product model for the design of a system such as piping or HVAC, but then create a paper drawing to transfer data to the production (CAM) system.
CAD and CAM integration has always been a primary problem for U.S.
shipbuilders. U.S. naval shipbuilders have tended to use general-purpose mechanical CAD systems such as CADDS or CATIA because of their exceptional 3-D model viewing capabilities.
An Integrated Solution Because these systems lacked shipbuilding CAM capabilities, they had to be combined with separate shipbuilding CAM systems such as AUTOKON or SPADES. Few options were open as to how to integrate these CAD and CAM systems, and yards have normally created the connections themselves by writing dedicated custom interfaces. These interfaces must then be maintained by the shipyard (or sub-contractor) and be modi f i ed to a c c ommo d a t e sof twa r e upgrades or new tools.
In general European shipyards have tended to utilize shipbuilding specific CAD/CAM systems such as Tribon, Foran and Nupas. These systems provide an integrated CAD/CAM solution as part of a single system. Such monolithic systems utilize proprietary data architecture, to provide seamless links between the two systems. In this case the shipyard is tied to a single vendor and may have to compromise on the available features in one part of the system in order to have the desired features of the other part. Additionally, many shipyards implemented the sole source vendor's products while they were in the early stages of product development and were left to create many custom interfaces to other shipyard systems themselves.
Up until now, major Japanese shipbuilders have employed either their own homegrown systems such as Mitsubishi Heavy Industry's MATES or specialized shipbuilding CAD/CAM systems such as Tribon. Like their European counterparts, the Japanese put more emphasis on CAM and production than the U.S.
yards, which, as mentioned, tend to emphasize model viewing.
Regardless of the type of configuration, once the shipyard finally gets all of its connections in place, little flexibility remains to adopt new. improved products or practices. In order to make changes to a single system, a major revision to the connection architecture is normally required.
Additionally, several manual steps might be necessary to perform the actual data transfer. These environments typically don't have support for data management, putting a heavy burden on the systems user. This is especially true in the "one of a kind" production in shipbuilding, where the CAD to CAM data transfer happens often.
Research, Development, Sharing = Better CAD Systems As the implementation of 3-D product modeling becomes the norm in more shipyards, the need for a flexible CAD and CAM integration solution will increase. The need for flexibility is compounded by the worldwide consolidations taking place in the industry. Acquisitions and mergers have created families of companies working together in ways that would have seemed impossible just five years ago.
The current direction from the large product model vendors is to allow an open standard format as an optional output from their product model.
This is demonstrated by vendor involvement in projects such as NSRP, ISE / ESTEP. Use of open standards would support a local integrated architecture and provide data access between systems used by sister shipyards or subcontractors.
Two open-standard formats; STEP and STEP-NC are destined to compete with proprietary solidmodel formats. These important standards allow the sharing of model data between different systems and will provide a better integration of CAD and CAM.
STEP or ISO 10303 (http://www.diffuse.Org/products.html#STEP) is a vendor neutral standard that describes how to represent (and therefore exchange) digital product information. STEP-NC or ISO 14649 (www.stepnc.
org) provides a neutral NC-programming interface to support information transfer between CAD and CAM and NC systems. Recent emphasis has been on milling operations; however further exploitation of this standard for other applications such as shipbuilding is currently underway.
There are several U.S.-based R & D projects currently underway that are intended to better integrate CAD, with the current and planned CAM systems.
The Integrated Steel Processing Environment (ISPE) is an NSRP-ASE funded research project.
Headed by Northrop Grumman Ship Systems, the project goal is to create an interoperable solution that removes the dedicated link from one CAD system to one CAM system for the design and production of steel plate.
STEP Tools (Troy, NY) currently is working on an U.S. Navy, ONR funded research project to examine the technical merits of utilizing STEP-NC for manufacturing operations in the shipbuilding industry. STEP Tools will study applying STEPNC technology to control pipe bending and cutting at Electric Boat, Quonset Point, RI.
Atlantec Enterprise Solutions (Annapolis, MD)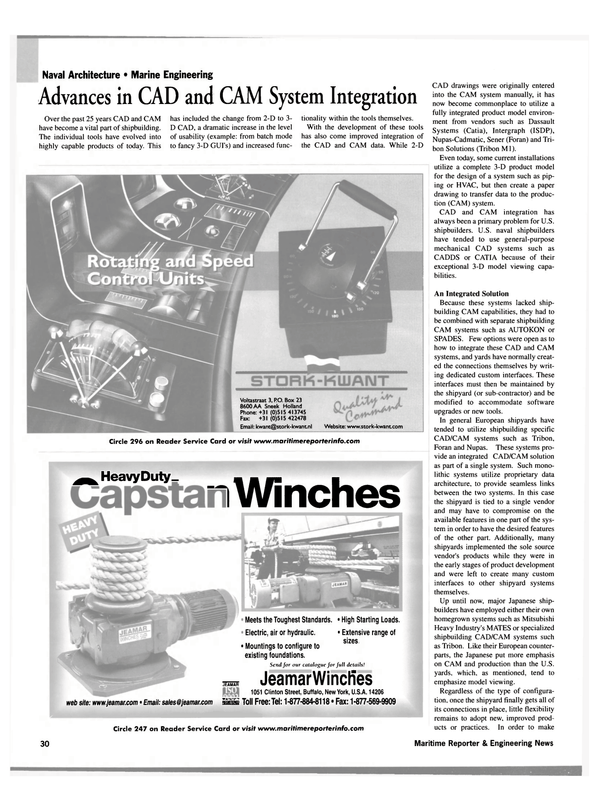 Read Advances in CAD and CAM System Integration in Pdf, Flash or Html5 edition of September 2002 Maritime Reporter
Other stories from September 2002 issue
Content