Nor Crane Powers Ahead
By Greg Trauthwein, Editor
At less than 10 years old, Nor Crane is a relatively new name in deck machinery. While short on years, it is long on experience, with an impressive order book, too.
Nor Crane is not unlike a number of other Norwegian technology companies in that it has a history strongly rooted in the country's offshore and fishing fleets, espouses the mandate of quality over costs, and is truly global in its scope and reach.
Nor Crane was established in 2004 by Finn M. Nilsen, Managing Director, as an engineering company from pulling and lifting technology for the marine and offshore support industry. While the company history is short, the industry experience is long, as the company was formed by experienced engineers with more than 30 years experience with the winch and crane industry and broad network of steel contracting.
Maritime Reporter recently met with Nilsen at his new Dubai Maritime City location, which he moved to from Jaddaf in 2012, but just recently has received full amenities, such as power and water.
At the time of the visit in early January 2013 Nilsen and company were putting the final touches on its portion of the contract whereby four China-built Platform Supply Vessels (PSV) were being converted to modern Diving Support Vessels (DSV) for Saudi Arabia-based Zamil Offshore, vessels that will be on charter to Saudi Aramco.
On the first vessel, Zamil 401, Nor Crane delivered only the cranes. On the ensuing three vessels, Zamil 402, 403 and 404, it supplied the cranes as well as a four-point mooring system. Grandwelds, the steel and aluminum shipbuilding company that also recently moved into its modern Dubai Maritime City location, conducted the installation of the deck machinery.
The cranes on all four vessels are exactly the same: three tons at 21 m and eight tons at 14 m, used for onboard lifting and for heavy lifting, such as support of the diving bell over the side of the vessel.
"When we got this job from Zamil Offshore, we were given six weeks to deliver," Nilsen said. "We managed to get winches back from other projects. These are relatively big for the size of the vessel, and they were electric so we converted them to hydraulic drive, which was done simply to accommodate the tight time frame. Normally you have six months delivery time on equipment such as this." Nor Crane is an engineering firm, so it builds all of its winches in China, and the company offers a full line, including anchor-handling winches up to 300 tons pull.
While the turnaround was short, Zamil Offshore holds a special place in the history of Nor Crane, as not only was it the company's first customers, it was a customer before Nilsen had a chance to incorporate his company in 2004.
"Zamil was my first customer in 2004, and we sold them three complete anchor handling sets; 150-ton anchor handling winches," Nilsen said, "which was more or less four months before I had a chance to register the company."
Zamil remains one of Nor Crane's steadiest and best clients to this day. In fact, as Zamil's Shipbuilding group works towards opening its new shipyard, Nor Crane has been invited to open up a workshop on the premises of the new shipyard to better facilitate its services in the region.
"We have a special relationship with Zamil, and we are in the process to establish a company in Dammam," Nilsen said. Zamil is building a new shipyard – a $250m investment – in the new shipyard in Dammam – which will feature the biggest ship lift (a Rolls-Royce 9,000 ton Synchrolift) in the Middle East.
"We were asked by them if we are interested to do fabrication with them, and we said, 'yes,' and that would be first for the Saudi market," said Nilsen. "That means we will fabricate all steelwork for winches and cranes in Saudi, for Saudi market."
While Zamil Offshore is an important client, it certainly is not the only. In fact by volume India is Nor Crane's main market, and currently it has $10m in orders at the ABG shipyard for 130 bollard pull anchor handlers, four complete ship sets of 300-ton anchor handling winches. Nor Crane also recently received an order from Mubarak for all of the mooring equipment (eight-point mooring systems) for a series of new barges, and it also recently delivered to Schlumberger in Indonesia two 25-ton cranes for some swamp barges, fully classed, fully explosion proof as they are working in a gas area.
Nor Crane is a specialist engineering company, focusing on cranes in the 10-15 tons range, as well as the manufacture of smaller offshore cranes. It's a small company, with a 2012 turnover of $20m according to Nilsen, but a competitive company, and one that was shaped mightily by the global economic crisis of 2008. "Before 2008 we had an order book of $140m; now we have an orderbook of $10m," Nilsen said. "The market has been really tough; and when things get tough, the competition gets much tougher. But we are very competitive."
Today the company numbers 35 worldwide, a size that suites Nilsen for the moment, but may have to change as it mulls new opportunities in far-away places, such as cracking into the insular Brazilian market. But Nilsen tries his best to keep it focused and simple. "The company is still relatively young, and when you're running around trying to take some business from the big guys, you need some references. Our references are to use components in our systems that are recognizable, readily available." The premise is simple in that having readily available components when they're needed, where they're needed, is central to long-term success in the mobile, global maritime and offshore markets.
"When I started the company in 2004, I wanted to grow it big," Nilsen said. "After 2008, I changed the company a lot. I went into the market relatively cheap, and it has taken me many years to bring the prices back to where they should be. And now I appreciate perhaps a smaller volume of orders at higher margins, versus a higher volume of orders at smaller margins."
With a new workshop in Dubai Maritime City, manufacturing capabilities in the UAE and China and test beds in Singapore, Dubai and China, Nor Crane seems well situated to further expand its influence across the region and the world, one ship set at a time.

(As published in the April 2013 edition of Maritime Reporter & Engineering News - www.marinelink.com)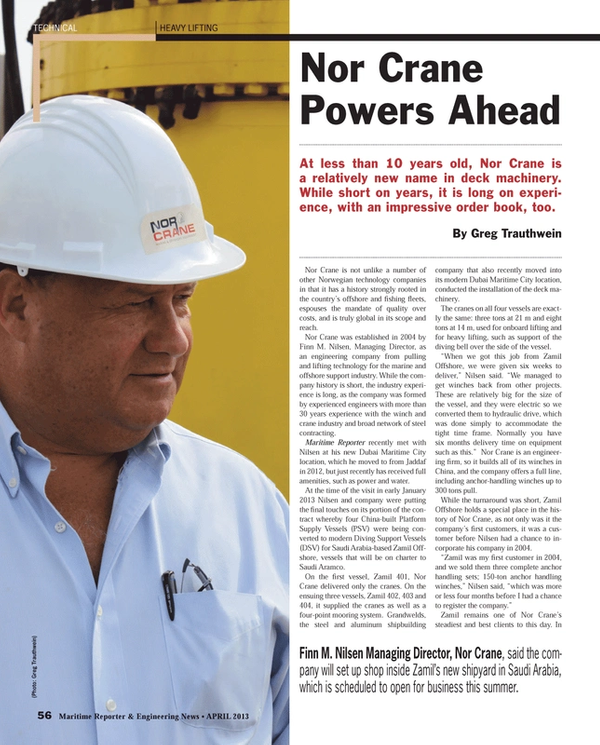 Read Nor Crane Powers Ahead in Pdf, Flash or Html5 edition of April 2013 Maritime Reporter
Other stories from April 2013 issue
Content