Keeping Marine Projects Afloat
By Alain Houard
Plan, Manage, Track, Connect, Anytime, Anywhere

Today's marine and offshore industry faces increasing challenges: the need to work faster on more complex marine products with an extended supply chain in a very competitive environment; to deliver on-time information to customers on the project's status at any time; and to reduce program management costs as well as design and production time. In order to keep a competitive advantage, shipyard executives are pressuring both their suppliers and their own organizations to integrate and consolidate existing business practices and technology for information management to optimize program management activities and foster collaboration.
Marine and offshore organizations are increasingly taking advantage of business platforms to plan and manage complex projects with an interactive 360 degree program management approach, ensuring on time and on budget delivery. These organizations can now tackle head-on the industry's biggest challenges.

Supply Chain Collaboration
With up to 80% of all vessel and platform components provided by the supply chain, shipyards are more and more playing the role of integrators. A lack of coordination along the supply chain can cause costly delays. Effective collaboration with suppliers is, therefore, key to the success of any marine and offshore project. This includes careful orchestration of the request for quotation (RFx) process as well as efficient access to data for successful project execution.
To do this successfully, the entire RFx process lifecycle needs to take place in a single collaborative environment. Suppliers will then have secure access to up-to-date product information for efficient collaboration in real time, enabling companies to make the most of their supplier network. Additionally, the sharing of real-time data will result in fewer changes. As every stakeholder will be working off a single version of the truth, there will be no more mistakes coming from users accessing different versions of the documents.

Contract Management & Cost Containment
Building a naval or cargo vessel is a massive undertaking. Many of these vessels are built to order, with tailored features and capabilities that make each ship a one-of-a-kind endeavor. With programs totaling in the millions of dollars, contracts have become essential to any ship owner- shipyard relationship.
At the same time, military shipbuilding contracts are changing. Gone are the days when shipbuilding companies could easily increase the price of a particular ship if costs went up due to a request for a last minute change. The United States and other countries have now moved to a "fixed contract" approach, where the price is defined once and for all. The U.S. Navy, for instance, will indicate precisely what they need and the shipyard will agree to a set amount in advance of starting the work. Keeping track of the cost of the ship, until it is finally delivered, becomes a critical activity.
Using a common, collaborative platform, organizations can manage and track contracts and requirements throughout the project lifecycle. This prevents any surprises, such as the late addition of specific CO2 emission requirements, which would create a problem that would be costly for the shipbuilder. This also allows organizations to maintain traceability and have an efficient means to ensure that all contract and requirements items are accessible to appropriate team members.
Also, if the customer requests any changes, such as the addition of a new cabin or bigger windows, the impact these will have on the entire project in terms of design and schedule can quickly and easily be seen. This allows both parties to immediately understand the impact of any change on the cost and delivery date of the ship, enabling them to make more informed decisions. In addition, organizations can use the collaborative environment to monitor a vessel's compliance to international and national marine classification rules.

Improved Visualization
A substantial amount of documentation can be produced for a marine and offshore project. This can include specifications, project schedules, safety and quality documentation as well as detailed plans of the vessel or platform. With 3D visualization tools, decision makers can make more informed decisions by looking at the product in 3D, versus looking at a spreadsheet.
This also provides the ability to see potential problems and make adjustments before it is too late.

Intellectual Property (IP) Protection
Intellectual property (IP) protection is of the utmost importance for projects that involve collaboration between several companies and suppliers. By defining access for each user based on role or discipline, managers can ensure that there is no unauthorized access to information.
A collaborative environment can also help generate, efficiently manage and track all of an organization's electronic documents for maximum traceability. Organizations can use it to protect their documents with advanced security mechanisms that identify and keep sensitive materials safe from unauthorized access.

On Time Production
In the marine and offshore industry, producing on time is a compelling necessity. In fact, being late by one day can cost upwards of $5M. Let's look, for example, at the refurbishment of India's aircraft carrier INS Vikramadity, which had been purchased from Russia. It has been delayed by numerous cost overruns and project mishandling. The installation of the nuclear engines was supposed to be done with Chinese insulation plates. However, the material was deficient, causing a delay. Russia is now suing China for $800 million for this error, which was due to an incorrect requirement management approach.
Originally set to be completed in 2008, the refurbishment is now scheduled to be completed in October 2013, assuming there are no additional delays or problems. The cost has skyrocketed, costing billions more than originally expected.
Strict process and resource planning throughout a project is required to avoid situations like this, given the sheer size and cost of a vessel or offshore platform. All stakeholders need to know where the project is against where it should be at any given point. Workflow must be managed with every actor knowing when to intervene and what action is expected.
A collaborative environment also provides organizations with the tools for role-based project management, according to a project's schedule. Tasks can be tied to requirement items, ensuring traceability. It provides the tools to effectively plan and manage activities with an organization's supply chain network and ensure that the project is on schedule and within budget.
Thanks to real-time dashboard and metrics, all stakeholders can easily access up-to-date information and status. Organizations can make informed decisions and take corrective action, if necessary, in a timely manner for smooth project execution.

Opening New Horizons in Global Maritime Trade
Technology is an important trump card in a climate of economic uncertainty where investments are continually scrutinized and control of projects and costs is key to remaining competitive. Streamlining the flow of information for efficient project management ensures marine and offshore manufacturers' ability to meet their number one priority: to deliver on-time and on-budget. By taking advantage of a marine-centric collaborative, intelligent environment to monitor all activities across the extended enterprise, which includes their suppliers, shipyards are empowered to improve time to market and product quality while controlling margins. Since all stakeholders have secure access to up-to-date project data in real time from anywhere, common challenges that typically resulted in cost overruns and significant delays can be minimized.
The On Time To Sea Industry Solution Experience based on Dassault Systèmes' 3DEXPERIENCE platform is a marine-centric digital environment that supports the interactive 360 degree program management approach required for marine and offshore companies to engage in collaborative planning, monitor project status and performance, and ensure secured traceability.
As the industry adopts this technology, the potential for the successful completion and launch of today's complex vessels and platforms is boundless.
(As published in the April 2013 edition of Maritime Reporter & Engineering News - www.marinelink.com)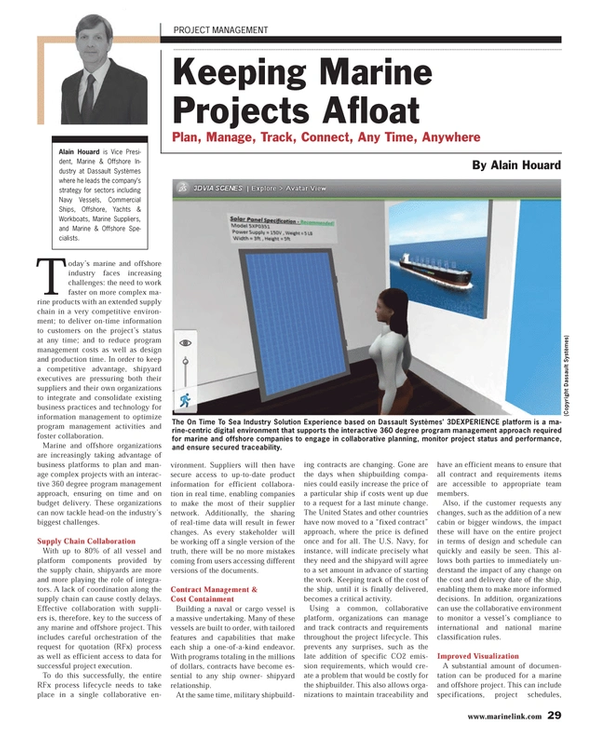 Read Keeping Marine Projects Afloat in Pdf, Flash or Html5 edition of April 2013 Maritime Reporter
Other stories from April 2013 issue
Content