Keeping Maritime and Offshore Cranes Ship Shape
Maritime Reporter & Engineering News
ALATAS Americas is a global company with strong roots in maritime and fast growing branches in the offshore sector. MR visited Robin Thomas, VP, for his take on emerging trends in both sectors.
ALATAS is a global company with roots in the maritime sector, but there has been a decided move toward offshore oil and gas business. Why?

Historically, our business has been predominantly fueled by the maritime industry, over the last five years we have increased our customer base in the offshore market. Nowadays in the U.S. our customer base is more than 80% offshore customers, mainly consisting of drilling contractors and offshore support companies, globally offshore custom accounts for approximately 50% of our business. In the last few years there have been numerous legislation changes in the offshore industry with regards to crane design and manufacturing standards as well as crane maintenance requirements, which has resulted in a greater need for expert crane service.

How do maritime and offshore clients differ?

Offshore cranes are, generally, significantly more complex than shipboard cranes. Offshore operation requires dynamic lifting requirements in severe sea and weather conditions. Furthermore, offshore cranes are operated in a considerably more remote environment, therefore immediate assistance or alternative crane support is not available. As a result of this isolation and lack of contingency, cranes must be maintained to a much higher standard and with substantially more spare parts available in case of breakdown and for preventive maintenance. A fundamental difference though, I would suggest, is economical; in most cases a drilling rig reliant on its cranes loses considerably more per day than a merchant vessel if it's crane is down, therefore offshore crane owners are willing to invest more in preventative maintenance than your average ship manager.

What is your outlook for the offshore O&G business in the coming 24 months? What indicators do you monitor?

I have a very positive outlook for the coming years. Despite our global service network, we are still relatively small, therefore our growth potential is very good, particularly in the North, Central and South American markets. The more cranes sold the more cranes we can expect to service once the warranty period is breached. Every press release I see for a multi-crane contract is simply a future opportunity. Recently many smaller crane manufacturers have boasted multimillion dollar crane sales (many for the Brazilian market), so likely our service support network will be utilized more and more as the OEM concentrates on sales and commissioning, rather than long term upkeep.

ALATAS is a small company working on equipment from major manufacturers. Why would a company choose to have ALATAS service its cranes rather than the OEM?

First and foremost, service. At ALATAS we concentrate all our efforts on keeping existing cranes in operation; this is our core business, and as such, we achieve a higher standard. We are now in a market saturated with complicated electric over hydraulic crane technologies, and the entire industry experiences a lack of suitably qualified and competent technicians. Our strategically placed global service networks offer field service as well as hydraulic component repair, and we have recently launched our crane design company in Austria. All of this combined with our core-service orientated philosophy gives us a better capacity for supporting our customers.

Is there any work that ALATAS cannot do on these large cranes?

We aim to employ OEM factory trained technicians wherever possible, as this enhances our group knowledge base and give us expertise on all manner of crane systems. We are capable of working on any mechanical, hydraulic and electric system. Our only restriction is for reprogramming of software produced by the OEM for control systems. Such systems are safety relevant and 'locked' giving only the OEM can access.

How has ALATAS invested to keep itself relevant to the needs of your martime and offshore clients?

To run a successful business in any industry you must constantly adapt, and we have developed our company to offer increasingly complete crane solutions. In the last three years we have established full hydraulic workshops in the U.S., Singapore and Hong Kong for pump, motor and gearbox repairs and testing. In the U.S. we have established an Offshore Hose Management Service, providing with full labor and DNV Containerized equipment for producing, testing and installing hydraulic hose offshore. We have set up training facilities in several locations worldwide, as well as establishing a Crane Design office in Austria, enabling us to offer comprehensive Class certified crane upgrades. Our next priority will be establishing a service center in Brazil, as this huge market has an urgent need for qualified crane service support, and we have an existing customer base with a confirmed interest.

(As published in the April 2013 edition of Maritime Reporter & Engineering News - www.marinelink.com)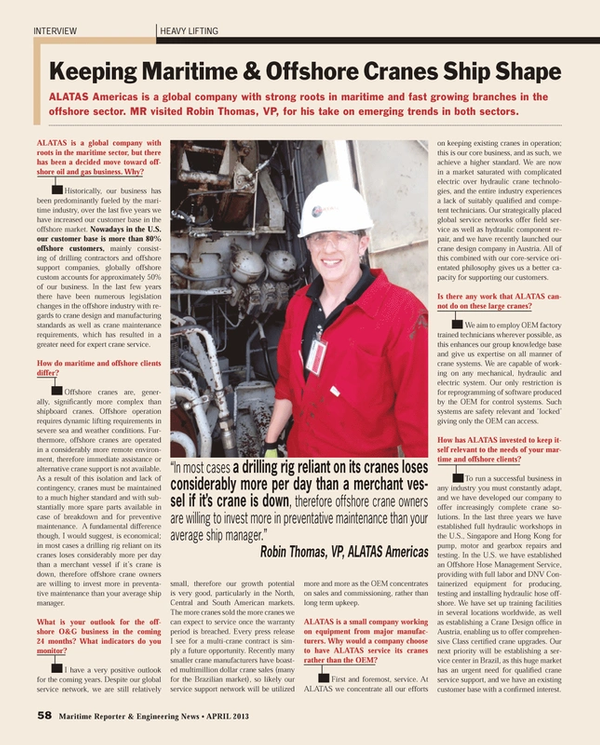 Read Keeping Maritime and Offshore Cranes Ship Shape in Pdf, Flash or Html5 edition of April 2013 Maritime Reporter
Other stories from April 2013 issue
Content