Salvage Response under OPA 90: Non-Tankers are Next
Maritime casualties have always been tackled by a relatively small, egotistical, passionate and intrepid group of mariners called "salvors." Salvage as history knows it, however, may be taking a sharp turn as a result of the new game rules being injected by the Oil Pollution Act of 1990 (OPA 90).

Back in 2008 the USCG issued the tanker final rule for salvage and marine firefighting (SMFF) under the Oil Pollution Act of 1990. This rule primarily requires tank ships and barges, carrying oils as defined in the 33 CFR 155 as cargo, to pre-contract qualified salvors able to respond to a marine casualty in U.S. waters without delay.

On the sidelines, the Non-Tanker community, defined by the USCG as any vessel over 400 gross tons, has been, since 2004, quietly awaiting their turn to follow the tankers with the SMFF requirements. The Non-Tanker rules, stalled in Washington, D.C. circles for several years, have now been accepted by the Office of Management and Budget and the final rule is expected to be out within the next 60 days.

More than 16,000 ships currently operating in and out of U.S. waters will be required to update their Vessel Response Plans (VRP) by contracting with a qualified salvor.
As experienced during the Tanker process, most vessel owners should carry out in-depth vetting and evaluation of potential salvors to include review of contract terms, equipment inspection to determine whether it is owned or rented, presence in the U.S., existing clients, personnel qualifications and experience with USCG, among other criteria.

"OPA 90 regulations place strict liability on the shipowner himself and as such it is critical for them to diligently evaluate to select the best contractor, and not just go by third party recommendations or fancy websites," said Mauricio Garrido, president, T&T Salvage. USCG regulations concentrate on the need for a credible salvage and marine firefighting response capability throughout U.S. waters. Whether the crisis is caused by human error, act of nature, or terrorist attack, the ability to deploy the proper equipment and personnel to a casualty is paramount not only to environmental protection and homeland security but also to mitigate potential liability exposure.

Salvage under OPA 90 is merely setting forth to plan for a casualty. Realistically, the manner in which salvage is executed will not change under the new rules; however, the manner in which shipowners and underwriters must plan for salvage has changed dramatically.

With a large inventory of prepositioned owned salvage and firefighting equipment, Garrido said that T&T Salvage continues to meet compliance in all USCG Captain of the Port Zones, including Puerto Rico, Alaska, and Guam, and stands ready to support Non-Tankers to not only comply with the new rules but also to capably respond in the case of an actual emergency. According to Garrido, T&T Salvage has proven results, as it has been selected by major operators such as BP, Chevron, Conoco-Phillips, Kirby, SeaRiver, Mitsui OSK, Aramco and Maersk, to name a few, holding more than 60% of the total tank vessel market share.
(As published in the April 2013 edition of Maritime Reporter & Engineering News - www.marinelink.com)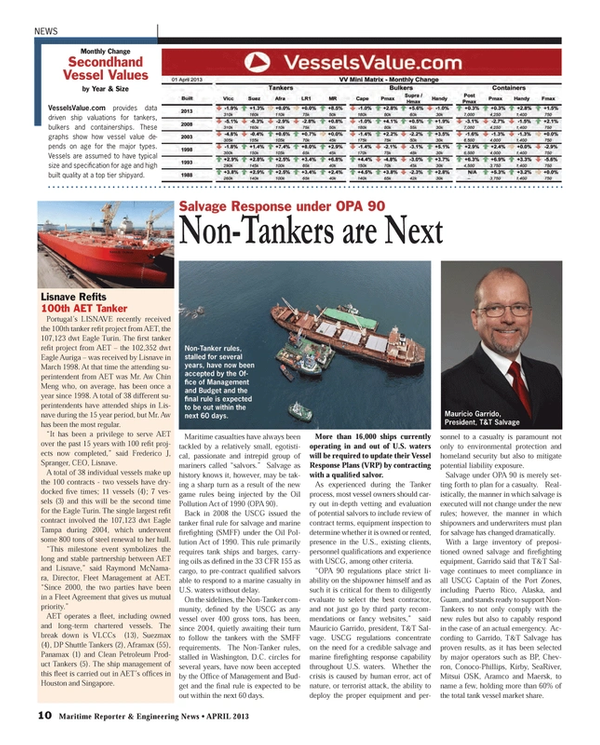 Read Salvage Response under OPA 90: Non-Tankers are Next in Pdf, Flash or Html5 edition of April 2013 Maritime Reporter
Other stories from April 2013 issue
Content