Understanding the Ups and Downs of Insurance
By Rich Desimone
Business is cyclical, and nowhere is there more evidence of its cyclical nature than in the insurance market, characterized by ups and downs in insurance premiums, coverages and profitability.

By most accounts, the current insurance market has been one of the most competitive in recent memory. With intense price-cutting and expanding coverages, these conditions are typical of a "soft" market which is very much a buyers' market. The obvious benefits of a 'soft' market to the buyer are lower insurance premiums, broader coverage, easier underwriting criteria, larger policy limits and more insurance carriers looking to gain their business.
The reality, however, is that insurance companies cannot sustain themselves in market conditions like these for any period of time without significant financial consequences. When natural catastrophes like Superstorm Sandy or events like Deepwater Horizon or the Costa Concordia occur, the value of insurance becomes very apparent. Many companies would be faced with financial ruin were it not for their ability to collect a good part of their financial losses from various insurance coverages. Paying losses is what insurance companies do and to be able to pay expected losses along with catastrophic losses, companies need to have a capital base or surplus set aside so they can respond when the worst happens. Collecting inadequate premiums and incurring higher than expected losses will eventually deplete the balance sheets of even the strongest companies. Insurers eventually need to replenish their capital and build a cushion to position themselves to be able to respond to claims, be they attritional or catastrophic.

Large Losses
One of the worst years ever for the insurance industry was 2011. According to the Insurance Information Institute in New York, in 2011, catastrophes worldwide caused an estimated $350 billion in economic losses, shattering the previous record of $230 billion set in 2005, the year of Hurricanes Katrina, Wilma and Rita. High catastrophe losses, along with high underwriting losses in key non-catastrophe exposed lines such as workers compensation, helped push the industry's combined ratio to 108.2—its highest level since 2001. Generally speaking, insurers gauge their underwriting success and stability on their combined ratio which is simply losses and expenses divided by premiums. If the combined ratio is under 100% a company is said to have an underwriting profit. High combined ratios are a sign of poor financial health and when an insurance company consistently runs a high combined ratio they will eventually become financially impaired and might not have the money to pay its claims leaving policyholders left holding the bag.
As part of the underwriting process, projected losses on individual accounts are developed by underwriters when evaluating a new account or renewing an existing one. This process is imprecise at best and highlights the fact that insurance companies sell a product, the cost of which they do not know at the time of sale. This creates one of the greatest challenges for any insurance company: to set the proper level of loss reserves. Incurred and reported losses must be reserved at realistic levels reflecting the true potential payouts plus expenses associated with adjusting claims. In addition, for those lines of business with so called long tail exposures like certain classes of liability insurance, setting a reserve for future losses that will occur as a result of writing these polices takes the considerable skills of highly experienced actuaries. Most insurance company failures have been the result of inadequate loss reserving.
Underwriting is only half the equation for insurance companies. Investment returns are another factor affecting where the insurance market is in its cycle. Insurance companies collect premium for taking risks which in turn, is invested to generate cash for investment at a lower cost than other sources of capital. In the past, when interest rates were higher, the insurance industry relied on investment income from not only premiums but from loss reserves and surplus to generate additional income. Today, with record low interest rates returns on their investments cannot make up the shortfall if underwriting income falters. To alleviate dependence of investment returns, in a weakened investment economy, insurers must take a more disciplined approach to their underwriting. This could mean passing on business that an insurer may have written in a soft market. Or, it could mean adjusting rates to more adequately reflect the risk it is assuming.

Insuring Insurers
One of the functions of insurance is to spread risk and reinsurance is insurance that insurers purchase to improve their spread of risk and to otherwise protect their business. Buying reinsurance is an expense just like the purchase of insurance and when an insurer suffers a multi-million loss, a portion of the loss is likely covered by reinsurance. As a result of recent loss events, reinsurers have paid out significant amounts of money and reinsurance rates are now rising. Like marine, property or casualty underwriters, reinsurance underwriters also take a closer look or restrict what risks they will reinsure. In part, a rise in reinsurance rates is often a precursor to insurance rate increases and stricter underwriting discipline.
So, losses occur. Investment results are low. And insurers' reinsurance rates creep up. These are the first signs that the insurance market might be heading the other way into a so called "hardening" market. Under these conditions, insurers reevaluate the risks they underwrite, the rates they will charge and the coverages they will provide. They look to tightened insurance coverage terms and conditions, including available capacity. As marine insurance is considered to be the oldest form of insurance, the market has seen and survived its share of market cycles.
While most early marine insurance came from Lloyd's of London, a few American marine insurers formed during the War of 1812. When the fighting ended, price wars broke out between American and British insurers.
By the Civil War, many American marine insurers were out of business but those who survived were stronger and some are still in business today.

Surviving Cycles
The history of marine insurance is filled with stories of companies who survived and others who didn't. And in today's dynamic business environment, the challenges are greater than ever. Survival in today's insurance market depends on many factors but disciplined underwriting and investing are paramount. Those companies who are disciplined and have the best talent and expertise in the lines of business in which they choose to be active participants will persevere and thrive. While market conditions impact transactional business, many buyers know that the best deal is not always the cheapest one. Having established broker and insurance carrier relationships often outweighs excessive premium savings. Working relationships become particularly important as market conditions begin to turn and buyers, especially those businesses with complex risks such as the marine industry, may have more difficulty buying insurance with the terms and conditions they want. Long term relationships and working with experienced underwriters and brokers might not always be the least expensive approach to the purchase of insurance but working with insurance professionals who have the knowledge and understanding of an insured's business and can provide additional services in the form of risk control and professional claims expertise will more often than not get a buyer of insurance the "best" deal.
More disciplined underwriting requires insurers will be asking more questions to understand the risk they will be taking on when issuing or renewing a policy. Therefore, in this business climate, insurance buyers are wise to prepare ahead when renewing their insurance. Companies need to plan in advance and get the renewal specifications together early. Insurers are examining their risk retentions and rates as they review renewals and some companies may be willing to accept more risk retention, or in other words, higher deductibles, to get better overall rates. And, in a weakened economy, underwriters will look carefully to see how a business' exposures might be changing as a result of the economy. At times, it is a test of willpower. In a 'hard' market, insurers do not want business at any cost, but at the right cost. And, adhering to strict disciplined underwriting is a matter of survival to service their customers now and years from now.
Buying insurance is an important financial decision for any company. And in most cases, businesses want their insurance companies to be with them for the long haul. Insurance companies sell their promise to serve and offer financial support to their clients in the event of a loss. It's an agreement to pay a claim. In order to do that, they need quality underwriting results that produce a profit to contribute to the financial strength that allows an insurance carrier to remain true to its claims-paying promise.
(As published in the April 2013 edition of Maritime Reporter & Engineering News - www.marinelink.com)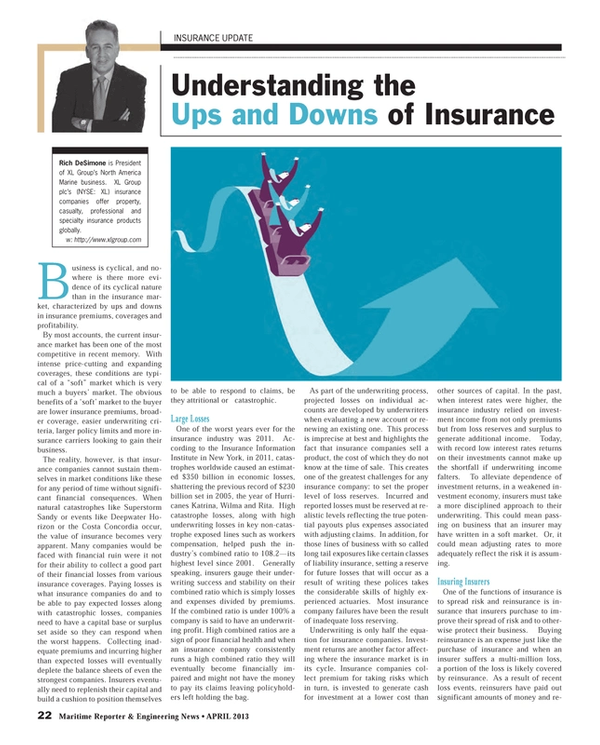 Read Understanding the Ups and Downs of Insurance in Pdf, Flash or Html5 edition of April 2013 Maritime Reporter
Other stories from April 2013 issue
Content