USS America: LHA with an Aviation Focus
By Peter Ong
The U.S. Navy's newest Amphibious Assault Ship, USS America (LHA 6) was commissioned on October 11, 2014 at Pier 30-32 in San Francisco. First in its class, the USS America does not have a well deck, unlike her previous counterparts, thus making the USS America an LHA with an aviation focus. The removal of the well deck allows USS America to have larger hangar facilities and more capacity for aviation fuel and munitions. The U.S. Navy points out that, "In lieu of a well deck, the LHA 6 hangar bay was enlarged and numerous aviation-related work spaces and shops were incorporated." She has two aircraft elevators, one each on the port and starboard side behind the superstructure, and her two twin smokestack funnels are angled away to starboard from the flight deck.
USS America is the fourth U.S. Navy ship to bear the name, and the first America-class Amphibious Assault Ship. With a displacement of approximately 45,000 tons fully-combat loaded, a length of 844 ft., a beam of 106 ft., and a draft of 26 ft., the USS America can sail in excess of 20 knots via two marine gas diesel turbines generating 70,000 total bhp. The ship cost about $3 billion dollars and was launched on June 4, 2012. The USS America sailed around South America on her maiden voyage after her launch from Pascagoula, Mississippi with stops in Guantanamo Bay, Cuba, Brazil, Chile, Peru, and Columbia before arriving at her homeport in San Diego, California on September 15, 2014. USS America's sailors and Marines conducted joint-training programs with these South American allies. Her role is to act as flagship for Marine Expeditionary Units and will be capable of supporting the V-22 tilt-rotor Ospreys and CH-53E "Sea Stallions" to transport them ashore. Aviation firepower will be provided by AH-1Z "Super Cobra" and MH-60R "Sea Knight" helicopters, and AV-8B Harrier jump jets or F-35B Short takeoff and vertical landing (STOVL) stealth fighter-bombers. UH-IY helicopters provide aerial Command and Control. According to NAVSEA, "LHA 6 carries various mixes of aircraft (airplanes and helicopters), with the concept of operations dictating the specific aircraft amounts [carried]."
Depending on the mission, the aircraft complement could be arranged to carry 20 F-35B STOVL fighter-bombers and two MH-60Ss, in essence turning this Amphibious Assault Ship into a small aircraft carrier. Like previous amphibious assault ships, the LHA 6 does not have a skijump at the bow so Harriers and F-35Bs line up at the stern and travel the length of the ship to take off. Her flight deck is constructed of HY100-strength steel, the same high-hardness steel used to build the hull of U.S. Navy nuclear submarines. The deck has been designed to stand up to the high heat of the V-22 Ospreys and F-35Bs' downward facing exhaust nozzles.
The America-class can accommodate 65 officers and 994 enlisted personnel and can carry 1,687 Marines. Since the America does not have a well deck, only those Marine vehicles that could be air-transported via CH-53Es and V-22s are carried. Those air-transportable Marine vehicles include High Mobility Multipurpose Wheeled Vehicles (HMMWVs) and Light Armored Vehicles slung-loaded under a CH-53E, and the M1161 and M1163 "Growler" Interim Tactical vehicles and the Expeditionary Fire Support System (120mm mortar) carried internally by V-22 aircraft. U.S. Navy SEALs can be inserted via the MH-60S. Marine Corps vehicles that are unable to be offloaded by aircraft aboard USS America include the M1A1 Abrams Main Battle Tanks, AAV7 Amphibious Assault Vehicles, M88 Recovery Vehicles, M1 Assault Breacher Vehicles, Medium Tactical Vehicle Replacement trucks and the M777 lightweight towed howitzers, Mine Resistant Ambush Protected Vehicles (MRAP), MRAP All-Terrain Vehicles (M-ATV), and High Mobility Artillery Rocket Systems (HIMARS). These heavy vehicles will not be carried aboard the USS America. The second America-class ship, the USS Tripoli (LHA 7), is under construction and will be a nearly identical copy of the USS America. LHAs following the Tripoli will have a well-deck built in to allow the transport of all Marine armor and vehicles.
The USS America is armed with two 21-cell Rolling Airframe Missile (RAM) anti-missile launchers (6 kilometer range), two eight-cell Sea Sparrow Missile launchers firing the Evolved Sea Sparrow Missile (ESSM) (50+ kilometer range), and two 20mm Phalanx Close-in Weapons Systems (CIWS) with radar and Forward Looking Infrared sensors (1,490 meter range). One RAM and one ESSM launcher is located forward of the bridge while a CIWS is positioned over the bridge for forward coverage. The other RAM is located on the starboard stern corner with the ESSM in the middle of the stern and the remaining CIWS on the port corner of the stern. Seven twin .50cal heavy machine guns line the port and starboard sides for close-in defense against small surface threats. USS America also carries an electronic warfare sensor suite and anti-missile decoy launchers for self-protection.
(As published in the February 2015 edition of Maritime Reporter & Engineering News - http://magazines.marinelink.com/Magazines/MaritimeReporter)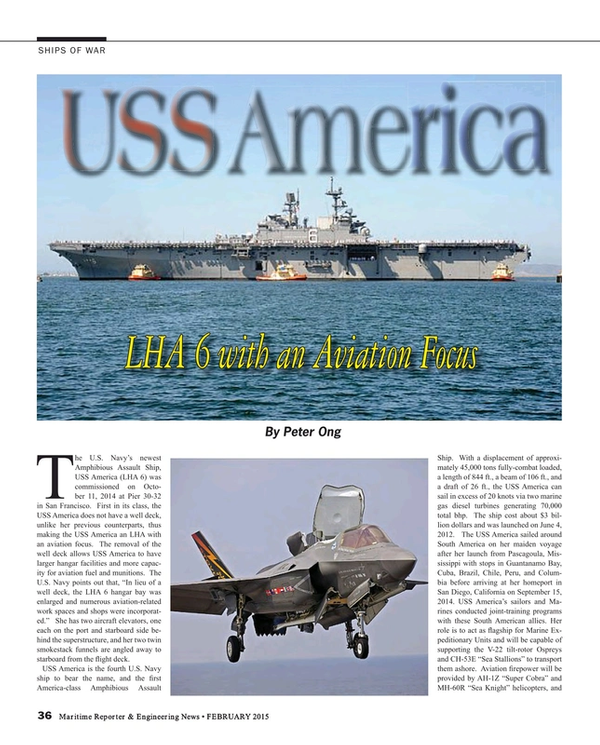 Read USS America: LHA with an Aviation Focus in Pdf, Flash or Html5 edition of February 2015 Maritime Reporter
Other stories from February 2015 issue
Content