Efficient Computer Control with G&D
By Dipl.-Ing. Peter Pospiech
For centuries, mariners have relied on paper maps to navigate the world's oceans and waterways. Today, the computer technology used on board literally controls the vessel. Along with computers, KVM technology enters ships across the world. German manufacturers Guntermann & Drunck GmbH (G&D) were already working on KVM solutions before this technology had a name. The company was founded by Udo Guntermann and Martin Drunck in 1985.
Maritime Reporter & Engineering News asked CEO Roland Ollek how a medium-sized German company has managed it to become part of numerous prestigious shipping projects.

KVM: A New Tech for the Shipping Industry? Please explain.
KVM stands for Keyboard, Video and Mouse and refers to computer ports. KVM products are connected to these – and other – ports from where they extend or switch computer signals. Therefore, KVM is a group designation of a technology, but not a specific brand or company. Over the years, more signals have been added to the transmission range and KVM was enhanced by various management and monitoring functions. The three main product groups are KVM extenders (extending of computer signals), KVM switches (switching of KVM signals) and KVM matrix switches (extending and switching of computer signals).

Why is this technology required on vessels?
KVM is a niche technology within the IT industry and requires much explanation. Let me give you an example to show you how it works: the crew on board a ship monitors multiple processes 24/7. But neither the bridge nor the technical control room provides enough space for sensitive yet noisy, heat-emitting computer equipment. Thanks to KVM, computers can be removed into separate, access-secured server rooms. Robust KVM extender systems bridge the distance between computers and users on the bridge or in the control room. The crew has access to the remote computers in real-time without noticing any latency or loss in quality – without any additional software and independently from any network. But not only users benefit from their connection to the KVM system.
Updates and maintenance work can be carried out directly in the server room without distracting the technical crew from their work. And on top of it, a protected, air-conditioned environment ensures a long life for every product. Installing the equipment in on-shore control rooms work just the same. Our KVM solutions are deployed across all shipping sectors, wherever safety and control matter. Fitting-out general cargo ships or luxury cruise liners and super yachts makes no exception, because KVM is equally important as in any other control room or safety relevant environment.
Additionally it is possible to display any kind of passenger information in real time anywhere aboard the vessel via latency free video extenders. KVM solutions are mainly deployed in wheelhouses, engine control rooms and safety command centers as well as in production and entertainment areas. The heart of the vessel is the wheelhouse, where the captain and his crew need to work fully concentrated in a noise free environment. All relevant information has to be made accessible at any time, unhampered by maintenance work or weather conditions.
Removing all computers into an air-conditioned server room frees up space and reduces heat and noise level at the same time. And not to forget: The computers are safely stored away and protected from unauthorized access. Our solutions unite a lot of knowledge and, ultimately, our customers know that when buying our solutions they buy from the KVM experts. The great feeling of security may be one of our most captivating USP. And security is the most important aspect at sea.

Tell us a bit about your company.
We focus all of our energy on our only location in Wilnsdorf, Germany. We try to keep hierarchies as flat as possible. Our employees talk to their team leaders who then talk to the CEOs. Our entire workforce is united under one roof. This has the advantage of being able to keep lines short and flexible; an aspect from which our customers benefit immensely. Currently, about 100 employees contribute to our success.
Fortunately we need to think about how to divide our employees to individual tasks and assignments than vice versa. All our employees have enough work throughout the next years. The exact number of turnover, however, remains an intimate detail we don't want to make public.
(Ollek smiles when he speaks about global market share/export share) Well, as you know, we'd like to keep these data to ourselves. But let me try to explain it in this way: Until 2008, G&D was active almost exclusively in German-speaking and nearby European countries. Since then we've been selling our equipment in many more countries. Now you can find G&D hardware anywhere from Canadian icebreakers to cruise ships in the Mediterranean Sea. Just recently we finished an order by installing our KVM solutions in one of the latest and most modern large cruise ships, the MV Quantum of the Seas.
This first ship of the Quantum class sets new standards in terms of eco-friendliness. It features highly energy-efficient systems, optimized hydrodynamics, heat recovery, an effective underwater paint coating, a state-of-the-art exhaust gas treatment plant (hybrid scrubber) as well as energy-saving LED lighting systems. Sophisticated alarm, safety and communication systems combined with the latest technology in propulsion and navigation is typical for Royal Caribbean cruise ships. The same high standard applies to entertainment and interiors. And G&D KVM is part of it. But not to forget: we had to make sure that our products have been tested and certified according IEC 60945.

IEC 60945?
G&D carefully selected specific products of their portfolio to have them tested according to specification IEC 60945, a particular specification for maritime navigation equipment. Complying with this norm, G&D KVM products are ready to be applied in engine rooms, technology rooms and on ship bridges, IEC 60945 approved G&D KVM solutions qualify for usage alongside navigation and radio communication equipment. The specification includes numerous tests regarding the environment (heat, cold, vibration), security and electromagnetic compatibility (EMC) and meets international standards.


And, in closing this interview, can you share with our readers your wishes for the future?
A stable economic environment, since stability provides the opportunity for future-oriented growth for investing in people and technology.
And I would wish for experienced KVM experts to fall from the sky, because, as you can imagine, finding people who are familiar with such a special technology is not easy.

(As published in the February 2015 edition of Maritime Reporter & Engineering News - http://magazines.marinelink.com/Magazines/MaritimeReporter)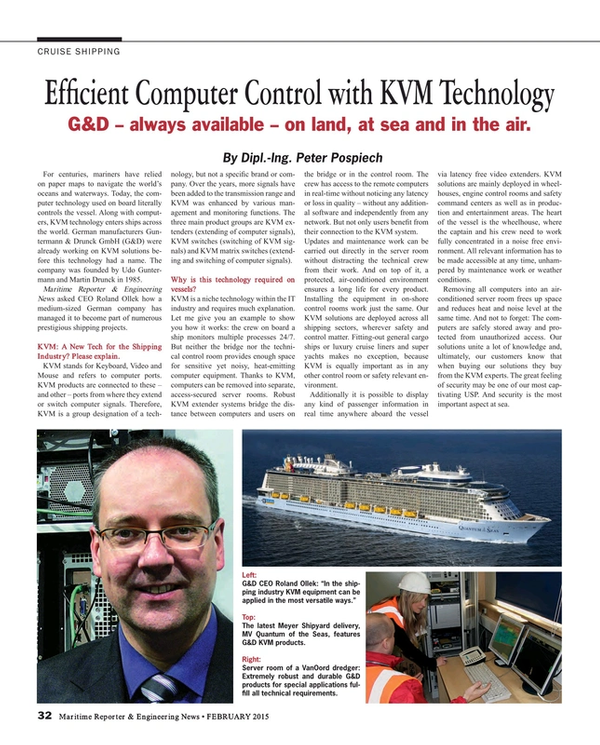 Read Efficient Computer Control with G&D in Pdf, Flash or Html5 edition of February 2015 Maritime Reporter
Other stories from February 2015 issue
Content