Virtual Aids to Navigation Mark Research Equipment
Posted by Irina Tabakina
Vesper Marine will provide its Virtual Aid to Navigation technology to the French company CGG, a geoscience company that provides geological and geophysical survey and analysis primarily to the oil and gas industry. In its ongoing quest to map the ocean's floors, CGG survey vessels tow an array of cables in the water at a up to a 50 ft. depth, an array of cables that contain seismic energy sources, usually a series of airguns that are fired at regular intervals as the vessel moves along predetermined survey lines. Energy reflected from beneath the seafloor is detected by numerous 'hydrophones' contained inside long, neutrally buoyant 'streamers' also towed behind the vessel.
A typical towed configuration is between 12 and 20 cables and streamers, measuring up to 5mi long with a separation of 328 ft., a massive spread which equates to 3 square miles of equipment under the surface. Previously other ships had no way of knowing that this equipment was in the water, and there historically have been numerous collisions with the streamers resulted in a high loss of both equipment and productivity.
It is hoped that by using Vesper Marine's Virtual AIS Beacons to broadcast positioning data to other ships in the area, CGG will eliminate this loss.

The Virtual AIS Beacon
The VAB1250 Virtual AIS Beacon is designed to continually broadcast the positions of the towed equipment via an interface to CGG's proprietary navigation software. The software provides the updated position of the equipment regularly to the VAB1250 identifying points at the front, middle and tail of the spread of streamers and on the outer cables. These points are then displayed on any AIS-equipped ECDIS, chart plotter and radar within a range of approximately 20nm. "We began discussing this project with Vesper Marine in July 2013," said Matthieu Champenois, Field Support Engineer – Navigation & Positioning Department, CGG. "Jeff Robbins and his teams quickly grasped our needs and developed a solution that was suited for this project."
CGG currently has two ships outfitted with Virtual AIS Beacons and has made the decision to outfit all 13 vessels in their fleet. The first installation was completed in December, 2013 on the CGG Symphony. In step with Vesper, CGG developed its own software interfaces between the existing navigation and positioning systems and the beacon. The fully automated system shares an existing VHF antenna on the ship with the radio via a Vesper Marine AIS/VHF splitter. "The second system was installed on the CGG Oceanic Challenger in May 2014 before a job in a location where the vessel traffic reached 120 vessel crossings per day," said Champenois. "As the broadcasted marks appearing on the displays presented an unusual situation for vessels in the area, their bridge officers contacted the Challenger's master in order have a clearer view of the situation and to avoid any collision. This was exactly the intended result."

What is a Virtual Aid to Navigation (VAtoN)
A Virtual Aid to Navigation is created when a signal sent from a transmitter in an accessible location is used to mark a remote point. This mark is displayed as a special feature or hazard on a vessel's ECDIS, chart plotter or AIS display when within range. The ship's onboard equipment is then able to alert crews to the presence of and if they are on a collision course with the marked navigational hazard.
www.vespermarine.com


(As published in the February 2015 edition of Maritime Reporter & Engineering News - http://magazines.marinelink.com/Magazines/MaritimeReporter)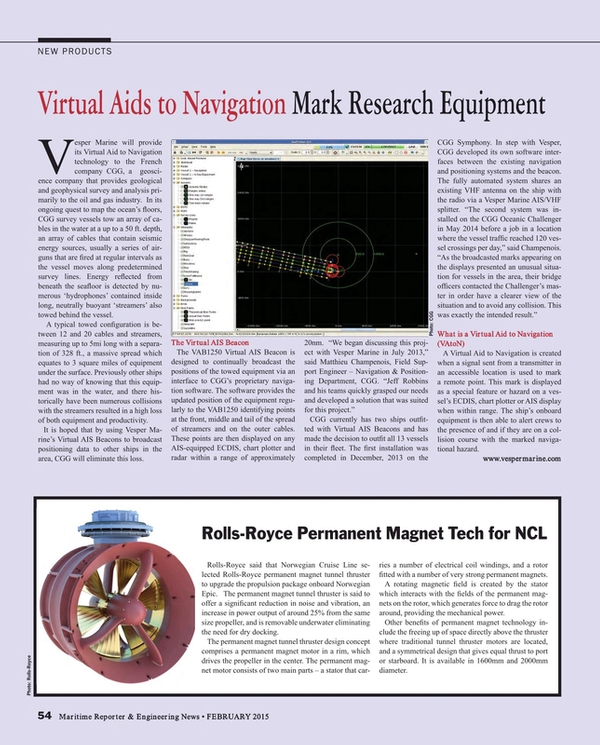 Read Virtual Aids to Navigation Mark Research Equipment in Pdf, Flash or Html5 edition of February 2015 Maritime Reporter
Other stories from February 2015 issue
Content