Finland: A Maritime Powerhouse
By Joseph R. Fonseca
Innovation, superior technology and competitiveness are the characteristics that have brought the Finnish maritime industry world repute. Its well-knit maritime cluster responsible for achieving a high level of production has propelled it into prominence in the global market. Extreme conditions during winter have set technological and quality demands on Finnish shipping which, in turn has contributed towards the emergence of a competitive maritime industry in Finland. The Finnish Maritime and Offshore Cluster (incl. Marine industries, shipping and port operations in private and public sectors) is one of the central industries in the Finnish technology industries. The strength of the Finnish maritime industry is based on close cooperation between businesses and research communities, leading to innovations in the field. Around 2,900 globally active companies exist in this Cluster employing nearly 48,000 persons in activities directly related to the maritime sector with the maritime industries alone employing 21,000 people. Today, Finland ranks among the most competitive economies in the world. The country is highly globalized and foreign trade forms an integral part of the business culture. Sixty percent of the total trade is with the European Union. The largest trade flow is with Eurasian countries including Russia, Sweden, Germany, the United Kingdom, Netherlands and China besides the United States of America.
Star Players
To a certain extent it can be considered as a manufacturing hub for high quality ships and other allied marine equipment. The maritime sector boasts of many global brands, products and companies. Based on a strong tradition in shipbuilding and production of marine engines, propulsion systems, specialized integrated solutions and port cranes all playing a pivotal role as a group of core companies responsible for generating these top-of-the-line products and services.
Spearheading the major Finnish-based global leaders are:
• Wärtsilä Corporation, offering lifecycle power solutions for the marine and energy markets;
• The Wärtsilä Ship Power, providing ship machinery, propulsion and maneuvering solutions worldwide;
• Cargotec, with its three production brands in Hiab, Kalmar and MacGregor; and
• Konecranes offering cargo lifting solutions for manufacturing and process industries and shipyards, ports and terminals.
Taking advantage of the well-established maritime and offshore cluster, International brands too set up manufacturing bases in Finland successfully integrating specific advantages and characteristics to add value to their products. Among those that have established a significant track record are:
• STX Finland Oy, Finland's largest shipbuilding group specializing in cruise ships, and offshore units. (Recently, MEYER WERFT and the Finnish Government signed a share purchase agreement with the current owner STX Europe. With its 70% stake MEYER WERFT takes industrial leadership of the new company).
• Arctech Helsinki Shipyard Inc. owned by Russian United Shipbuilding Corporation (USC) started its operations on April 1, 2011 in Helsinki. It specializes in Arctic shipbuilding technology and other Arctic offshore and special vessels.
• British Rolls-Royce is a leading integrator of technologically complex, mission critical system for ships and offshore oil and gas, merchant and naval vessels. Rolls-Royce Oy Ab's Rauma site is one of the world's biggest production units of Azimuth thrusters used for offshore drilling rigs and supply vessels.
• ABB Marine Systems, leading producer of electric power and propulsion systems for ships. ABB Marine & Cranes unit develops and produces electricity and automation solutions for ships. Its main product is a true Finnish innovation: electrical Azipod propulsion system.
• Technip Pori, subsidiary of the French Technip, a world leader in project management, engineering and construction for the energy industry focuses on offshore construction and drilling rig projects installed all over the world.

The (Next) Boom in Offshore
The future and long-term prospects of offshore industry looks promising, despite the current low price per barrel. The offshore industry, which comprises of more than 150 active companies, experienced substantial growth in exports between 2010 and 2012, which decreased slightly in 2014 compared to the previous year. The total exports of the industry exceeded Euros 1.7 billion in 2014. Technology is the most important offshore industry segment in Finland accounting for over Euros 13 billion, around 70 % of the industry's revenue.
Major players include Wärtsilä, Rolls-Royce, ABB and Steerprop, specializing in propulsion, power and engine technologies. The industry employing around 5,000 persons is known for its high technological expertise and uncompromising quality in offshore as well.
Finnish Shipping
Finnish shipping business has changed over the years. Historically, there have been large Finnish shipping companies with liner traffic even outside of Finland, strongly supported by local industry (such as FÅA/Effoa, Finnlines). However, due to the inflexibility of labor unions, cost pressure and globalization, Finnish industry began to look elsewhere and has increasingly shifted to foreign suppliers. At the same time, shipowners have begun to flag out their vessels to save costs. As a consequence, the percentage of Finnish tonnage handling exports/imports has dropped from 49% in the 1970s to 29% in 2012.


Inland & Coastal Transport
Although gifted with a long coastline and extensive inland waterways, much of the domestic cargo in Finland continues to move by road and rail. The total length of the fairway network of approximately 16,000 km maintained by the Finnish Maritime Administration consists of coastal fairways of 8,200 km and inland waterways of 7,800 km. Efforts have been made to move more cargo through water transport but there has not been any perceptible change.
Bodies of water cover almost 10% of Finland and it is aptly called the Land of a Thousand Lakes.
There are approximately 190,000 lakes in Finland, which is more than those found in any other country. About 180,000 islands are scattered around Finland. Along the coast an estimated 95,000 islands form one of the world's most complex archipelagos which is also Europe's largest. This includes the self-governing province of the Åland Islands, which lie off the south-west coast of Finland.
The efficient and economical running of Finland's vital international transport demands a comprehensive and safe network of fairways.
The mission of the Finnish Maritime Administration is to build fairways so that they intermesh seamlessly with other modes of transport.
In addition to merchant shipping, fairways also serve other shipping services, such as island ferries, fishing and boating.
(As published in the February 2015 edition of Maritime Reporter & Engineering News - http://magazines.marinelink.com/Magazines/MaritimeReporter)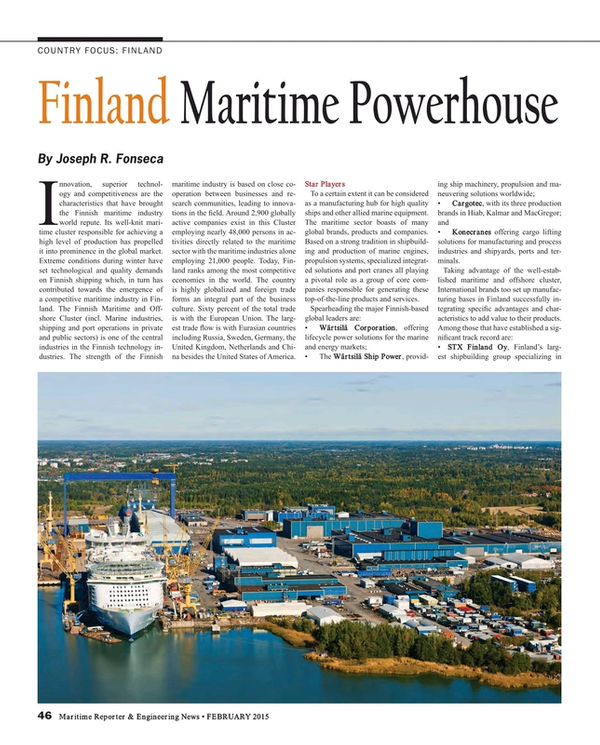 Read Finland: A Maritime Powerhouse in Pdf, Flash or Html5 edition of February 2015 Maritime Reporter
Other stories from February 2015 issue
Content