BIG DATA & Big Savings for Maritime Ops
By Henrik Segercrantz
We are on the brink of an extraordinary revolution that will change our world forever. In this new world everyone, everything and everywhere will be connected in real time. We call this the Networked Society, and it will fundamentally change the way we innovate, collaborate, produce, govern and sustain. The transport industry will benefit from this evolution – writes the communications technology and services provider Ericsson, which recently has entered into strategic cooperation with both Inmarsat and Cisco
The development of integrated fast on-line computer technologies, new satellite link capabilities, and efficient cloud storage capabilities of information have resulted in huge opportunities for utilizing vast amounts of data for optimizing all kinds of operations. In order to use this new technology leap, global communications technology providers are entering into strategic cooperation. There is a growing number of companies specializing in providing consultancy and software services aiming at lowering their clients' energy bills. Within the maritime industry the focus is on optimizing shipping operations to save costs.

There is already now a huge amount of data potentially available within the maritime industry, considering the number of ships carrying vast amounts of goods to and from the numerous ports worldwide. To date, only a fraction of this information is used, but times are changing.

In December, ClassNK reported that it had established a Ship Data Center in Tokyo to support the utilization of data gathered from ship operations. Regarding the big amount of ship data today being gathered, the company reports, 'However, the approach to data capture is still very fragmented with similar data being sent to several vendors and analysis still being carried out almost entirely on a ship-by-ship basis. To make larger gains, an effective platform capable of centralizing and managing such diverse data is essential. ClassNK's Data Center though starts small, with trials using one container vessel. The Data Center is to serve as an information hub to independently manage the utilization of big data in the maritime industry. It aims at maximizing the benefits of big data for the industry with minimum cost and burden, such as the annual monitoring, report and verifying of fuel consumption for vessels 5,000gt or larger which call at any EU port, under the Monitoring, Reporting and Verification (MRV) regulation by the EU required from 1 January 2018.

The number of companies offering high-level technologies for optimizing ship operations is increasing. A pioneer was Finnish Eniram, soon followed by ABB, with its EMMA, and also, as in the example above, by similar technologies developed by ship classification societies. Sophisticated technologies developed by companies like Laros, from Greece, and GreenSteam, from Denmark, pave way for growing ship data markets.

Sensors are installed onboard to gather the data analyzed by software comparing it with optimal and displaying the data both onboard and sending it ashore, where increasingly sophisticated systems process and present it. All types of ship data is gathered, depending of the ship type at least including trim, speed and propulsion machinery and navigational data, up to recording hundreds of different data sources for sophisticated cruise ships, which also have completely separate systems looking into the consumer behavior and onboard hotel and restaurant business operations. The technical data is typically first processed by computers onboard comparing performance with pre-stored statistical ship data. Some pre-processed data is sent ashore to the shipowners' office for further analysis. Typically also the system provider receives the data in order to be able to process it further for the shipowner. The trend is towards sophisticated systems where data processing is automated as far as possible.

Eniram, established in 2005, has its system installed on some 250 ships already, many of them sophisticated cruise ships. Increasingly focusing on its Analytics Services, the company can provide more insight in the performance of the vessels and the fleet, such as the fleet budget follow up. From the cumulative database gathered one can extract trends, correlations and even develop new products. Ship specific tasks include, for example, looking into the effects of changing the propulsion system, or the application of fresh hull painting on a vessel, comparing the data from some months before a dry-docking with data after the changes. The potential of detailed data analysis is huge. As an example, the four percent estimated annual savings from using Eniram's system onboard 12 of Royal Caribbean Cruises' cruise ships saves $12m annually. The goal is to reach 14 percent in energy savings.

Meanwhile ABB Marine recently set up its own Marine R&D laboratory (profiled in the November 2015 edition of Maritime Reporter & Engineering News) to bring together all of their offerings for the marine industry as well as the research and development work. The laboratory is to work also on its Integrated Operations, based on its commitment to the Internet of Things, Services and People, joining up the shore operations to what happens onboard. ABB's Marine Advisory Systems is continuously further developed. The ship data is also transferred to a cloud-based application providing forecasting and benchmarking across the fleets of vessels. The EMMA system was originally developed to cater for the need in the cruise and ferry sectors whereas another Advisory System brand, the Octopus Advisory Suite, was developed for handling specific needs within the oil and gas industry, within offshore work, and for optimizing the routes of cargo vessels, such as container vessels and LNG carriers, to provide a safe journey with minimized vessel motions and accelerations. On latest cruise ships more than 1,000 different signals are gathered.

LAROS
The ship information platform Laros, developed by Greek company Prisma Electronics Group, uses wireless communication between the sensors and the server onboard. The onboard data is sent ashore to the main data center as compressed binary data, either saved on the cloud or on a dedicated server. After analysis and data mining for different purposes, it is used by the owner and the charterers and authorities where applicable. "Key Performance Indicators are then produced from the data. This data needs to be presented to the right people in the right way, to fleet managers and ship owners through web applications or to use it internally or with the classification society through pdf or excel reports," Serafeim Katsikas, CTO of Laros tells Maritime Reporter. "The real problem now is that there is no dedicated and approved standard way to analyze data such as hull performance or operational performance of the ship. There are only the EEDI and EEOI," he notes referring to IMO's Energy Efficiency Design Index and Ship Energy Efficiency Operational Index. "This is what the maritime sector is running into right now. What will it do to handle all this data? Including the cargo control there are 2.5 million measurements per day, some of which are processed already onboard." Mr. Katsikas describes how their data today is automatically sent ashore through satellite links once every hour to assure all the data is transmitted, because of the satellite links. "In some places there is a problem with the connection. In a critical situation, such as in an accident this can be changed down to say every two minutes. As they are continuously sending up more satellites, maybe in the future the ship has direct access to the cloud computing or to the Big Data analysis system."

In two years time Laros has been installed in some 150 tankers, container ships and bulk carriers. The amount of data gathered by Laros is in total 1,188,000 measurements per hour. The data is though automatically processed, and accessed by a desktop computer and even a mobile phone, where critical information can immediately be recognized.

In order to be able to utilize this new type and amount of data efficiently, Serafeim said that changes ashore, among the shipowners, are needed.

"We are talking about changing the way they manage their ships and the way their company is operating daily. They need to build a new framework inside the company, hire an engineer that has a background in energy efficiency for example, and build a team around him, before investing in this type of systems."

Danish company GreenSteam has in two years reached commercial speed in its operations, with 40 ship installations under its belt, and claims a three months pay-back time for its system. Among references are such companies like Brittany Ferries and Smyril Line. "We see us as a company providing Big Data for marine fuel efficiency," said Daniel J. Jacobsen, CTO of the company. "The methods we use can be summarized under the definition of machine learning."

Vessel and fleet performance can be accessed from any standard browser, anywhere. Automatic alerts are given when attention is required.

Inmarsat and Ericsson in Strategic Agreement
In November, Inmarsat, the global satellite communications services provider, and Ericsson, the communications technology and services provider, announced they have signed a strategic agreement that is intended to facilitate the sharing of maritime cargo, logistics and vessel operational data to help streamline the maritime supply chain. The two companies will jointly develop services, solutions and applications to drive industry standards for satellite connectivity and application integration in the maritime industry. Ericsson will handle the distribution of Inmarsat's XpressLink, the combined L-band and Ku-band VSAT network for the maritime market to be extended to Inmarsat's new Fleet Xpress when it becomes available on the market.

"Everyone is talking about 'big data,' but eventually it is the deployment of applications onboard and the end-to-end management of integrated intelligence, that will ultimately change the way the maritime industry operates; making it more efficient, greener and unlocking greater value," said Ronald Spithout, President Inmarsat Maritime.

"With Fleet Xpress, the world's first mobile hybrid Ka/L-band high-speed broadband service, embedded in and enabling world-class solutions from Ericsson, we are re-defining maritime connectivity. This transformational agreement will open up opportunities for vessel operators and managers to capture intelligent data immediately," said Ronald Spithout, President Inmarsat Maritime. The agreement will pave the way for integration with Ericsson's Maritime ICT Cloud and global connectivity including both Ka and L-band. "We are happy that the reliability of the Inmarsat constellation of satellites and operational standards are recognized as the best fit in the Ericsson road map of integrated services," Spithout said. Ericsson believes that the Internet of Things has the potential to generate tremendous value for the maritime industry. "Partnering with the leading provider of global mobile satellite communications services is the best means of helping the maritime industry to realize this value. Together with Inmarsat we will jointly develop fully integrated services, solutions and applications, and work toward establishing maritime industry standards for satellite connectivity and application integration," said John Taxgaard, Head of Maritime at Ericsson.

Ericsson has developed the Connected Vehicle Cloud, which enables application developers, government organizations, businesses and automotive manufacturers to reach automotive drivers and passengers with services and information. Ericsson observes that shipping companies are increasingly investing in machine-to-machine communications, which creates a need for full mobile coverage onboard vessels, as well as cost-efficient, high-bandwidth connectivity over satellite links. "To make the most of this connectivity, shipping companies will need to modernize their ICT environments. The Connected Vessel concept is based on an open and horizontally layered model with solutions for connectivity, connectivity and device management, and service and information management," the company announces. Noting that at present ships rely on manually updated traffic, cargo, port, weather and safety information that is sent point-to-point rather than made available to all parties simultaneously via a network, Ericsson is introducing its Maritime ITC Cloud which will connect vessels at sea with shore-based operations, maintenance service providers, customer support centers, fleet/transportation partners, port operations and authorities. At the same time, the offering supports services used to manage fleets, monitor engines and fuel consumption, oversee routes and navigation, and ensure the well-being of the crew. Ericsson is to provide everything from satellite connections to application support in one complete package, and manage operation of the Maritime ICT Cloud on behalf of its customers. Ericsson's Maritime ICT Cloud solution connects vessels at sea to shore-based operations such as maintenance service providers, customer support centers, fleet/transportation partners, port operations and authorities. Enabled by Inmarsat, the Maritime ICT Cloud will ensure that trucks will spend less idle time at ports, cargo will spend less time in transit, and producers will be better able to plan their shipments, the companies announce.

In recent years Ericsson has supplied complete mobile satellite connectivity to ship fleets, such as the 400 container vessels of Maersk Line. Another 'key step forward' in Ericsson's 'company transformation,' as Hans Vestberg, President and CEO, Ericsson, puts it, is its recently announced cooperation with Cisco aiming at creating future networks combining the know-how of both companies. Ericsson will together with Cisco, leader in IP-networking, offer end-to-end leadership across network architectures for 5G, cloud and IP, and the Internet of Things. Ericsson expects this strategic partnership to generate $1 billion or more of additional sales by 2018 for the company.

Another high-end example of a company specializing in data processing is the technology company Maana, recently funded by over $14m by Chevron, ConocoPhillips, Intel and GE. Maana has come up with sophisticated algorithms analyzing and combining big data to find useful information automatically and come up with relevant conclusions which would be impossible to find manually.

Eniram has estimated that there are some 56,000 potential vessels in the world which have a potential to invest in their system, based on fuel consumption and achievable savings. There is still some way to go but with the efforts now invested by many, we will see the main world fleet monitored on our computer screens in a not too distant time frame.
(As published in the February 2016 edition of Maritime Reporter & Engineering News - http://magazines.marinelink.com/Magazines/MaritimeReporter)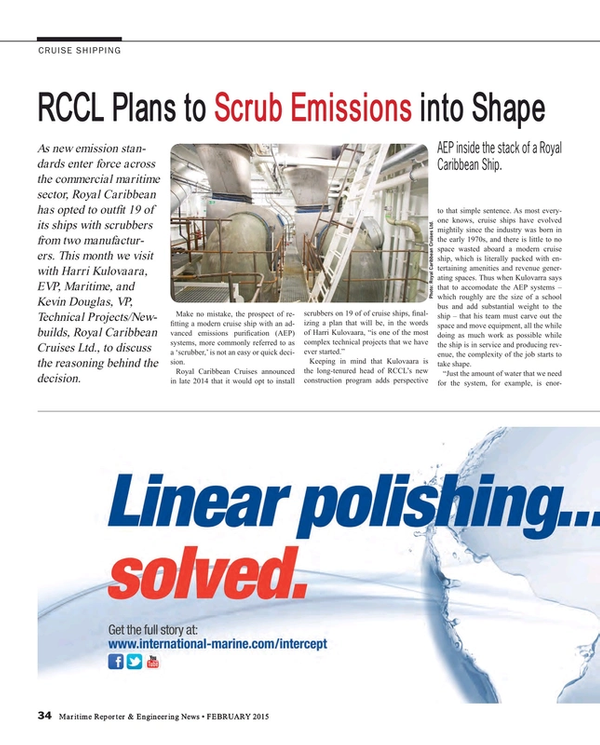 Read BIG DATA & Big Savings for Maritime Ops in Pdf, Flash or Html5 edition of February 2015 Maritime Reporter
Other stories from February 2015 issue
Content