The Economic Importance of U.S. Shipbuilding and Repair Industry
Marine News
This summer, the U.S. Department of Transportation's Maritime Administration (MARAD) asserted that domestic shipyards annually support $36 billion in gross domestic product. The report, entitled "The Economic Importance of the U.S. Shipbuilding and Repairing Industry," aptly laid out how U.S. Shipyards create quality jobs and support economic growth far beyond our nation's ports and waterways. The report also notes the U.S. shipbuilding industry, unlike the rest of the nation's consumer-based model, has run a trade surplus in six out of the last ten years. In fact, and BY THE NUMBERS, domestic boatbuilders pack a ferocious economic wallop:
Total GDP National Impact ($): … 36 billion
Shipbuilding Gross Domestic Product (GDP $): … 9.8 billion
Shipbuilding Labor Income ($): … 7.9 billion
Cumulative Trade Surplus ($): … 410 million
DOT Dollars spent in U.S. Shipyards Since 2009 ($): …150 million
Number of Direct Jobs from Shipbuilding: … 107,000
Average Shipbuilding Incomer (annual $): … 73,000
Number of vessels delivered in 2011: … 1,457
Average Number of Vessels Delivered Annually: … 1,200
Number of U.S. Shipyards: … 317+

Economic activity directly associated with the U.S. shipbuilding and repairing industry is primarily captured in government data under the North American Industry Classification System (NAICS) sector 336611, Shipbuilding and Repairing. Shipyard activities include ship construction, repair, conversion, and alteration. They also include the production of prefabricated ship and barge sections, and other specialized services. The government says that about 90 percent of revenues were derived from routine repairs and maintenance of maritime vessels.
Of particular interest to MN readers, U.S. shipbuilders delivered 1,260 vessels of all types in 2012, down from 1,457 vessels in 2011. Notably, more than 80 percent of vessels delivered in the last three years have been inland tank and deck barges. Deliveries of tugs and towboats, passenger vessels, commercial fishing vessels, and inland tank barges increased from 2010 to 2012. While recent deep draft orders – particularly in the resurgent Jones Act tanker trades and Tote's order for 2 LNG-powered containerships – are encouraging, the backbone of the U.S. merchant marine and the shipyards that supply them, continues to be, and will remain, its inland, energy and offshore sectors.

Smaller hulls remain the staple for domestic shipbuilding, but the federal government (U.S. Navy, Army, and Coast Guard) remains an important customer for U.S. shipbuilders. While only 15 of the 1,459 vessels delivered in 2011 were delivered to the U.S. government, nearly all (8 out of 11) of the large deep-draft vessels were delivered to U.S. government agencies. The report also revealed that total revenues for U.S. shipbuilding and repair industry amounted to $21.9 billion in 2011, down slightly from $22.1 billion in 2010. Initial estimates for 2012 from industry sources indicate total revenues of $19.7 billion with 60.3 percent coming from military shipbuilding, 21.7 percent from commercial shipbuilding, and the remaining 18.0 percent from ship repairs.

Despite an increase in foreign competition, exports by U.S. shipbuilders have strengthened in recent years, rising to $539.1 million in 2012 (representing 2.7 percent of industry revenues). As a result, the U.S. shipbuilding industry has run a trade surplus in six out of the last 10 years. In fact, combined over the last 10 years the industry has run a trade surplus of $410 million.
Employment in shipbuilding and repairing is concentrated in a relatively small number of states. In fact, 62 percent of all private direct employment in the industry is located in just five states: Virginia, Louisiana, Mississippi, Connecticut, and California. These numbers do not include federal government employment. According to the U.S. Bureau of Labor Statistics, total employment at federal government-operated shipyards was 29,452 in 2011, up from 28,234 in 2010. As a result of the global recession the industry contracted, losing more than 9,000 payroll jobs between 2008 and 2011, before rebounding in 2012. Payroll employment averaged 98,070 over the first half of 2012.
Currently there are 117 active domestic shipyards, spread across 26 states. In addition there are more than 200 shipyards engaged in ship repairs or capable of building ships but not actively engaged in shipbuilding. Of the 117 active shipyards, five are public yards operated by the U.S. Navy or U.S. Coast Guard, six are major shipyards capable of building large naval vessels and/or deep-draft ocean going commercial ships, 20 are large shipyards capable of building mid-sized to large merchant ships, mid-sized to large naval vessels, offshore drilling rigs and high-value, high-complexity smaller vessels. The remaining 86 are relatively small shipyards, capable of building smaller commercial vessels, such as tugs, towboats, offshore service vessels, fishing vessels, ferries and barges. In addition to these shipyards, there are nine shipyards currently producing large yachts and 13 occasionally producing larger vessels. Marad says that another 293 shipyards and boatyards are classified as inactive.

Get the Report
The Marad report, in our estimation, is one of the finer efforts to come out of DOT in a long time. This is what Marad should be doing. Nicely summing up the importance of U.S. boatbuilding, there is much more to the report than what you find on these pages. Access the report at:

www.marad.dot.gov/documents/MARAD_Econ_Study_Final_Report_2013.pdf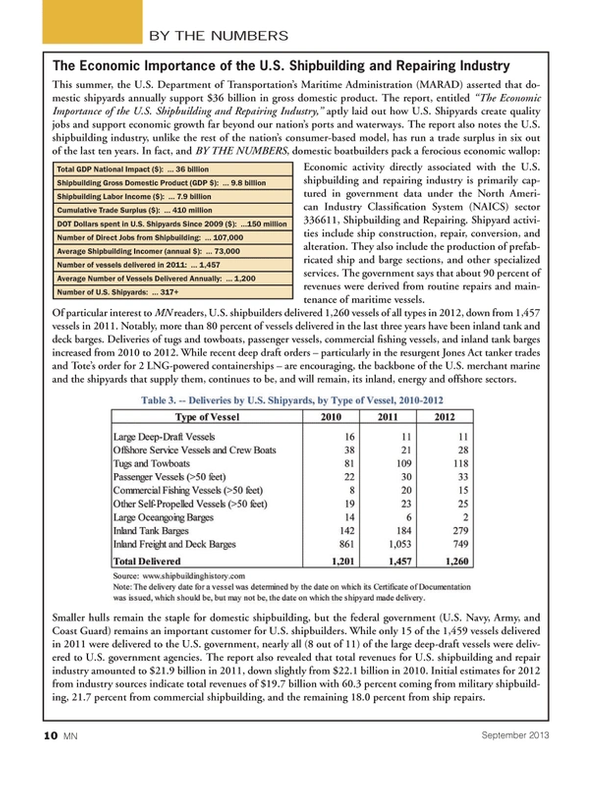 Read The Economic Importance of U.S. Shipbuilding and Repair Industry in Pdf, Flash or Html5 edition of September 2013 Marine News
Other stories from September 2013 issue
Content