Offshore, Equipment & Partnerships, too
By Joseph Keefe
W&O caps a busy year with two additional deals intended to penetrate the busy offshore markets with cutting edge products.
For many, the recently announced W&O Supply partnership agreements might come as just another piece of news in the busy marine markets. For starters, however, W&O Supply is now the exclusive sales agent for PG Marine Group – Ing Per Gjerdrum AS – in North America. Separately, Bestobell Valves, part of the President Engineering Group (PEGL), also named W&O Supply as its exclusive distributor for Bestobell Valves in North America. Finally, and in concert with PG Marine in a 3-way partnership, W&O was also named as the exclusive North American sales distributor for the Hyde GUARDIAN Ballast Water Treatment solution (BWTS) to the marine industry. That's a lot of digest in one sitting.
Since 1982, PG Marine has specialized in pumping systems directed to the offshore oil & gas industry. PG Marine is a supplier of pumping hardware, but more often a partner to operators, shipyards, naval architects and oil companies providing total system integration. For W&O, this partnership provides a significant opportunity to represent a quality supplier; for PG Marine, it means easier entry into the red hot North American oil & gas markets. And, according to PG Marine's CEO, Roy Norum, PG Marine has two products that are game changers in the industry. The PG-MACS system is a flexible below-deck handling cargo-handling system for all liquid and dry bulk material. PG-MACS allows operators to handle and transport drill cuttings offshore. The other product is PG-Submix; a fully submerged, hydraulically driven (high torque, no gears), slow running, wide diameter agitator that handles liquid mud.

PG-MACS
Previously, drill cuttings were dumped to sea, partially with rather large environmental impacts. As the industry evolved, drill cuttings were transported to shore for processing in big-bags, open containers and more recently in closed-tank containers. The logistics for these processes required significant resources on the rigs, ships and onshore. Massive volumes of cuttings are being handled daily.
Triggered by the strict environmental regulations in cargo and waste handling in the North Sea area, where "zero-discharge-to-sea" was an absolute must to allow exploration and production of oil & gas in these very sensitive regions, PG Marine in 2001 began the development of a below-deck solution for Drill Cuttings. These efforts produced patents in 2006. Initially, it was hoped to have drill cuttings handled as any other liquid cargo, but the mere composition of the material made that path impossible, early on.
Today's version of PG-MACS provides a closed-loop, efficient and safe solution for pumping drill cuttings from the rig down to the vessels' below deck tank clusters – upon which safe transportation (no spillage in rough seas) to shore is made possible. A secondary benefit to the operators is the PG-MACS tanks for drill cuttings are also well suited to carry dry and wet cargo to the rigs, and are large capacity surplus to the ships Recovered Oil Response ability. In addition, by removing the container from the deck, the area is released for other pay-load.
Roy Norum explains, "PG-MACS offers a unique flexibility for various cargos to be handled, as the entire tank cluster can be used for dry bulk, liquid bulk, mud and ORO – or any combination of these. In Brazil we have seen this configuration voiding the need to build specialized tonnage, as all these are covered with one design." The financial advantages provided by PG-MACs are easy enough to see. More importantly; highly versatile, flexible and spacious vessels attract a significantly wider audience globally.
Owners and operators have options, but newbuild installation is perhaps the best way to go. That said; Norum says, "We have done both retrofitting and new builds. Our experience shows that both options are possible, however a retrofit for such features is a major one, taking the vessel out of service for a relatively long period of time with significant additional costs. To help meet our customer's needs we have developed portable PG-MACS solutions intended for deck transportation for short term jobs, but find that these cargo demands are rather long-term-oriented. In the end, the best way to target these demands are with dedicated new builds."

PG-Submix
PG Marine's PG-Submix, quite simply, handles liquid mud. Now producing the third generation of PG-Submix agitators, PG Marine is experiencing growth for this working solution in the market. Deep water drilling, enhanced drilling technologies, the development of new composition synthetic mud, longer voyages and extended storage time onboard are all combining to challenge offshore support providers in their ability to keep large volumes of drilling mud in suspension. And, because it is critical to assure that the mud received from the shore base is the same that is eventually delivered to the rigs, large changes in this field are now being experienced. Roy Norum told MN in August, "As the newbuild market shifts away from traditional pump-recirculation and electric mixers which are not able to cope with the high SG and viscosity, large, high thrust, high torque "paddle type" agitators are moving in to take there place. PG-Submix is tailor-made for this and several major ship-owners are already running replacement-programs to retrofit with PG-Submix; not only in Europe but also in the United States.
In a nutshell, PG-Submix equipment involves fully submerged, hydraulically driven (high torques, no gears), slow running, wide diameter agitators. These machines generate Primary Pump Flows up to about 16,500 m3/h directed downwards to the bottom of the tank, creating a vertical flow which efficiently lifts the liquids' solid particles and keeps them in suspension during extended voyages. The agitators may be used during recovered oil operations to ensure the oil/water/emulsion is kept pumpable for short turnaround of the vessels.
PG-Submix units are already here in the U.S. markets. Norum adds, "We have, especially after Macondo, delivered a significant number of PG-Submix agitators to US operators, but are not able to specify U.S. flag tonnage numbers as these ship owners have large fleets both in domestic and international trade. Several hundred are installed in U.S. owned vessels."

Bestobell Valves
Bestobell has more than 40 years' experience in cryogenic valves, with products specialized and approved specifically for use in marine applications. Todd Nestel, Director of Engineered Solutions, W&O, explained the thought process behind the deal. "It is difficult to gauge the current domestic business potential and even more difficult to forecast the years to come. It appears that the current new construction project's (Harvey Gulf) success may be key to answering those questions. We do know that the infrastructure development to support LNG powered vessels domestically is underway, which of course is necessary for market growth. Within the last few months we have been estimating valve packages for existing vessel conversions, new builds and LNG bunker barges that are in the design phase."
In the meantime, Bestobell has already been active in the marine sectors. Having recently supplied as many as 70 valves to what has become the fastest LNG (liquefied natural gas) fuelled ferry ever built, the specialist cryogenic valve manufacturer also boasts over 50 years of industrial gas experience and 15 years of successfully supplying to LNG marine markets. The company's valve technologies are used on LNG Carriers, FLNG (Floating Production & Storage Units) and FSRUs (Floating, Storage & Re-gasification Units).
The latest deal with W&O is intended to penetrate the rapidly expanding domestic interest LNG as fuel in the U.S. OSV markets, and beyond. Nestel adds, "As infrastructure development ramps up in the U.S., it was important for W&O to stay on top of the industry trend and in order to do so, partnering with Bestobell was the best option. We positioned ourselves to support our current and future customer base with the latest technology."

Win-Win
A common denominator for all of these partnerships and deals seems to be innovative, new products, hitting the market at arguably the right time for a customer base that is growing. The OSV / PSV market is booming and U.S. operators have plunged into the LNG markets with tentative steps, while also looking for better ways to service oil and gas clients offshore. As the exclusive North American sales agent for all PG Marine products, Bestobell valves, and Hyde Marine's ballast water treatment solution, W&O will utilize their extensive branch and sales network to represent each to a growing offshore and mariner segment in North America.
For Gulf of Mexico-based operators, the partnership(s) are perhaps less important than the easier access to the equipment that each deal could bring. Coming arguably the right time and – for the right reasons – the three agreements represent a winning combination for the OEM's, W&O and of course, industry itself.

(As published in the September 2013 edition of Marine News - www.marinelink.com)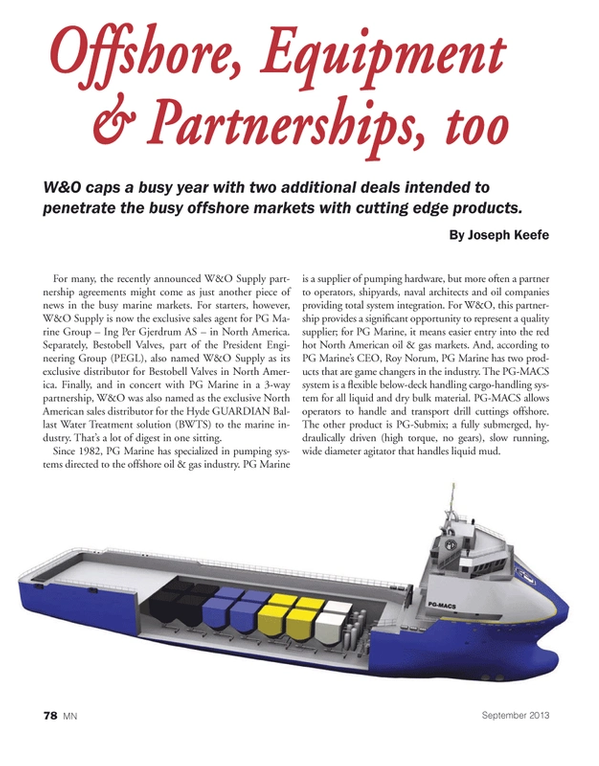 Read Offshore, Equipment & Partnerships, too in Pdf, Flash or Html5 edition of September 2013 Marine News
Other stories from September 2013 issue
Content