Remembering an Industry Icon
Marine News
Paul B. Candies, Sr., 11/23/1940 – 7/21/2013

When Paul B. Candies passed away suddenly on July 21, 2013, the lifelong resident of Des Allemands, LA left behind a prolific, enormously accomplished family and one of the most well-respected marine services and vessel operations firms on the planet. His passing also opened our eyes to the breadth and depth of an individual whose influence and impact extended far beyond the sometimes insular world of maritime commerce. Fitting far more into his time here on earth than others living much longer, the waterfront – although supremely important to him – was only one of many parts to Paul's life. And everything he took on, he did with zeal and ultimately, produced with excellence.
MarineNews readers knew him as President and Chief Financial Officer of Otto Candies, LLC, the company founded in 1942 by his Father, the late Capt. Otto Candies. He was a graduate of Southeastern Louisiana University, and along the way, served in the United States Coast Guard. Unbeknownst to many in the maritime world, he was also Founder and Co-Owner of the legendary drag racing team Candies & Hughes, and Chairman of the International Grand Isle Tarpon Rodeo for more than 30 years. His racing team was in 1999 enshrined into the International Drag Racing Hall of Fame. In his spare time, he was said to be an avid dove hunter and enjoyed spending time hunting in Argentina. Married for 48 years to Rita Daigle Candies, he also left two sons, two brothers and countless other close relatives. Many of the Candies family members (at least 15, by our count) today are active in the operations and management of Otto Candies, LLC.
As President and CFO of Otto Candies, he oversaw a fleet of more than 100 vessels serving the offshore oil and gas industry worldwide. Along the way, he was part of the company which, among other things, is known as the first to transport an oil production platform from Houston to the North Sea, for its response to the Exxon Valdez spill in Alaska, as the first to transport a full refinery from Houston to Puerto Rico, and even the specialty transport of the enormous Saturn V rocket to Cape Kennedy, FL. Like his affiliations to the world of drag racing, rodeo and a dozen other interesting pastimes, whatever Paul Candies did, he was a winner.
Nicki Candies, Otto Candies Director of Government Affairs and Public Relations, perhaps summed up the man best when she told MarineNews in August, "From my perspective as his niece, he was a loving, fun, family man who was dedicated to our family and to our company's success. He was always present in our lives – both personally and professionally. His leadership and guidance will be missed."
Underscoring that reality were the estimated 1,000+ people who came to mourn at his funeral, but instead ended up helping to celebrate a life well spent. Those attending, appropriately enough, hailed from all walks of life and represented the full expanse of Candies' far reaching world. Drag racers, politicians, local dignitaries, law enforcement officers, mariners and the maritime community itself honored Candies in a very public manner that, for the most part, he shunned as he went about his daily business in life. Clearly, Candies will be missed as much for what he accomplished away from the office as he will be for his efforts in his chosen profession. That's something we can all aspire to.
Paul B. Candies, Sr.; gone but not forgotten.


(As published in the September 2013 edition of Marine News - www.marinelink.com)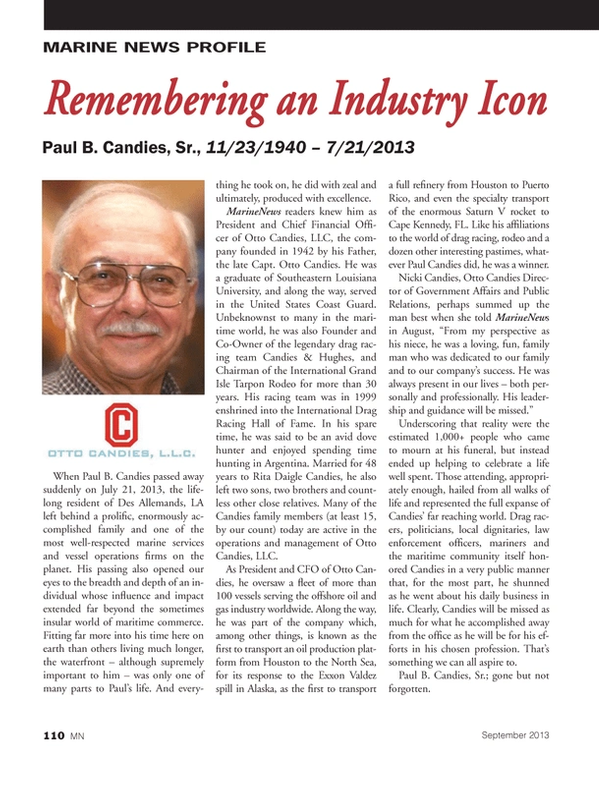 Read Remembering an Industry Icon in Pdf, Flash or Html5 edition of September 2013 Marine News
Other stories from September 2013 issue
Content