Full Speed Ahead with Gas
By Peter Pospiech
Dutch-based Peters Shipyards introduces revolutionary Inland Shipping concept.
Planned, developed and built by Dutch Peters Shipyards, located in Kampen, a unique inland tanker is now the world's first river vessel driven by combustion engines consuming purely natural gas. In April, the innovative new vessel was handed over to its time charterer, Shell Netherlands, who will operate the "MTS Greenstream," via Interstream Barging, between the Netherlands and Germany; primarily on the river Rhine.

The vessel is the brain child of Geert van Voorn, CEO of Peters Shipyards, who masterminded the design of a new type of inland vessel for the next future. He explained, "After almost three years of development we see the result: The natural gas powered Greenstream Tanker is a gas-electrically powered ship and that leads to much less impact on the environment. This is a milestone that could bring about a revolution for inland and coastal navigation. For example, natural gas will help shipowners meet increasingly stringent emission standards, some of which already apply to the river Rhine. That was one of the key drivers of the project."

Regarding the principals behind the development of the natural gas powered inland tanker, Geert van Voorn continues, "We wanted to make several more steps forward in the areas of sustainability, safety and efficiency. Therefore, we skipped the step of propulsion based on 'dual fuel'; the combination of diesel and gas. We see 'dual fuel' as an interim solution. Beyond this, natural gas the engines easily fulfill IMO Tier III emission levels and because the propulsion drive line is fully gas-electric, it also provides for a quieter ride. In inland waters, this can be a big advantage."

Striking Design – MLC Compliant…
The design of the LNG Greenstream Tanker is striking. Aside from the environmental advantages, much attention was paid to energy efficiency and a comfortable working environment for the crew. The wheelhouse located at the bow is unusual in European river trades and enhances the pleasing lines of the vessel. According to Geert van Voorn, the design allows for more efficient propulsion through better trim and optimal weight distribution. In increasingly crowded inland waters, the forward-positioned wheelhouse also provides deck officers with a better view of what's ahead.

The spacious interior of the cockpit adds to the comfortable and well-designed workspace. Geert van Voorn, with an eye towards the MLC 2006 rules, adds, "In the past, this was always neglected. A pleasant working environment shows respect and has a positive influence on the motivation and productivity of people."

Lower Energy Consumption with LNG-Packs
Located on the ship's stern are two modules, the Peters LNG-Packs, containing four gas engines. This arrangement provides both capacity and more flexible power consumption. When moving downstream, for example, less power is needed and the two modules ensure safety, redundancy in case of an engine failure and efficient maintenance. The modular arrangement of the gas engines allows easy removal and prompt exchange of the Peters LNG-Packs, which means that the boat is not idled due to maintenance and can remain in operation almost continuously.

Two double-walled gas storage tanks, with each a capacity of 40 cubic meters and containing liquefied natural gas under a pressure of around 4 to 6 bar, are placed aft on deck. Liquefied gas cannot be used to operate the engine – first it must be changed into gaseous condition by an evaporator at a temperature of around 30 to 40 degree centigrade. In this gaseous condition, the gas passes the gas train into the engine under little overpressure. The vessel's bunker capacity allows for a range of about 1,600 kilometers or around 1,000 miles. Refueling is done, until more permanent bunker facilities can be arranged, by truck. That said; refueling takes less than 2 hours.

Approval ABC's: ADN, CCNR & LR, too …
The Greenstream Tanker design was partly produced in cooperation with others, including the Central Commission for Navigation on the Rhine (CCNR), which granted its approval for the concept. CCNR inspects every new vessel designed for use on the Rhine. Additionally, approval has also been granted under the ADN, the European Agreement concerning the International Carriage of Dangerous Goods by Inland Waterways. According to van Voorn, the regulatory approval process was no easy bar to clear. Also involved with the design and approval process were the Dutch Government, Lloyds Register and various other local authorities. The "MTS Greenstream" LR –classed as follows: LR+A1 i.W.W. Tanker Type "C", p.v. +50kPa, S.G. 1.00.

Scania: a Pure Gas Engine
Scania, with its Dutch partner, Sandfirden Technics B.V., began to develop a pure gas engine at about the same time as Peters began to move its inland tanker concept forward. A series of special Scania gas generator sets for marine use, each with a power output at 285 kWe, runs on 100% natural gas. Classed by Lloyds Register of Shipping, these are among the very first natural gas engines which have been marinized and classified in this power range. They also have been designed according to the ESD regulation (ESD= emergency shut-down).
The engines are based on Scania's diesel engine design. Modified in close cooperation with Sandfirden the SGI-12 and SGI-16 gas engines feature single cylinder heads with 4-valve, heavy-duty industrial glow plugs. With an approximate durability of 2,000 operational hours, ensuring reliable service and lower maintenance costs, the mechanical output, available at the flywheel, is between 205 and 300 kW (COP) at 1,500 and 1,800 rpm. Producing lower gas consumption and, of course, less noise, these so-called 'lean-burn' engines operate in an air-rich environment. This extra air lowers the combustion temperature and the engines emit far less harmful substances, as well as consuming less fuel.

General Sales Manager of Sandfirden Technics, Erik de Wit explained, "Compared to the diesel version, our gas engines deliver a more than 80% reduction in the emission of nitrous oxides (NOx) and a more than 25% reduction in CO2 emissions, with zero emissions of SO2 and particulates. At the same time, the gas engines deliver high output, and the completely new fuel system regulates the gas supply in such a way that the quantity of fuel delivered can be quickly adjusted to the unique propulsion demands of coastal and inland shipping."

A Snapshot: The GREENSTREAM
The vessel, managed by Interstream Barging, has been added to the existing Shell Rhine fleet and will sail on the inland waterways of the Netherlands, Germany and Switzerland, plying the refined petroleum, diesel and domestic heating oil trades. The 110 meter LOA vessel has a beam of 11.40 meters and draws just 3.45 meters when fully loaded. Its (2,865 tonnes) deadweight capacity incorporates a complete double hull system and allows for 3,132 cubic meters of product in six specially designed tanks in two segregations.
In total the power of the four Scania / Sandfirden units supply 1.200 kWm via generators to the two Veth Z-drive propulsion units (VZ-550 x 500 kW at 1,800 rpm each). With these features, the vessel has a maximum speed of 21 kph in deep and wide waters. For better maneuverability, an additional Veth-Jet bow thruster of type 2-K-1000 (279 kW at 1.800 rpm) has been installed. All in all, the environmentally correct, exceedingly quiet inland vessel could well set the standard for other similar vessels, to follow.


(As published in the September 2013 edition of Marine News - www.marinelink.com)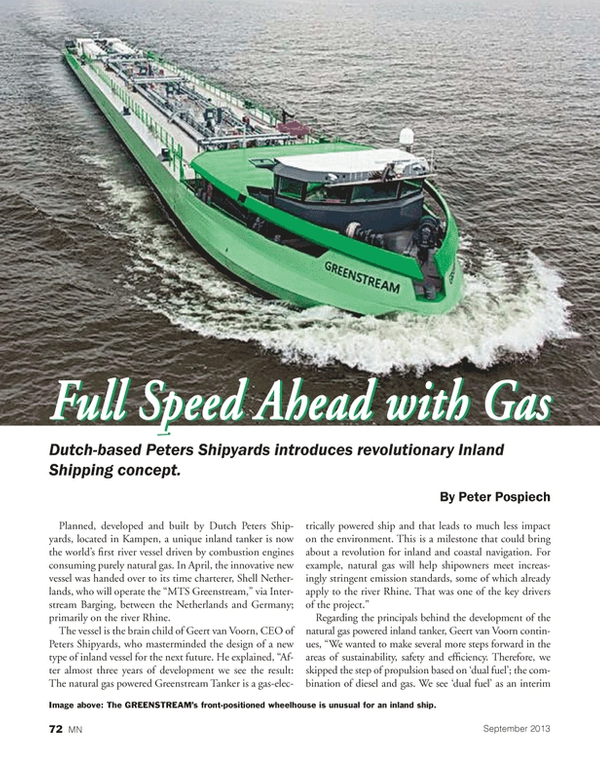 Read Full Speed Ahead with Gas in Pdf, Flash or Html5 edition of September 2013 Marine News
Other stories from September 2013 issue
Content