Offshore Service Providers Drive Robust GoM Boom
By Susan Buchanan
Ongoing infrastructure and newbuild activity not expected to let up. Modern, sophisticated and quality tonnage arrives at just the right time.
Vessel builders are ramped up for strong demand from the Gulf of Mexico, where oil drilling is very soon expected to return to pre-Macondo levels. Utilization rates for offshore vessels are rising in the GoM, along with associated dayrates. Three Louisiana leaders--Edison Chouest Offshore in Cut Off, Hornbeck Offshore Services Inc. in Covington and Harvey Gulf International Marine in New Orleans--are engaged in aggressive newbuild programs. Next year should be particularly busy for the Gulf oil and gas sector, company executives say.

Chouest's more than 40 Newbuilds are mostly for the GOM
Privately-held Chouest announced plans in July to expand its fleet and terminal facilities. Chouest's newbuild order book contains more than 40 vessels to be produced mainly at its four southern U.S.-affiliate shipyards, along with its Navship yard in Brazil. "Delivery times on most of these vessels will be over the next two to three years," Lonnie Thibodeaux, spokesman for Chouest said last month. "The majority of these vessels – and certainly those built in Houma and Larose, Louisiana and in Gulfport, Mississippi and Tampa, Florida – will be for Gulf of Mexico service."
"In terms of our biggest presence, the GOM remains our largest market," Thibodeaux said. "The Brazilian market continues to be very strong for us, too." Chouest Offshore evolved from a two-vessel shrimping operation in the 1950's into a marine giant that builds, owns and operates vessels, with over 9,700 employees worldwide. Chouest's newbuild program includes 17 platform supply vessels or PSVs, with options for an additional twenty, in a class of 312' x 66' x 26' new-generation, clean design, diesel-electric PSVs.
Chouest also plans to build four subsea construction vessels, slated to work the GOM. Features include Remotely Operated Vehicles or ROVs from Chouest affiliate C-Innovation, along with 400 MT AHC deepwater cranes.
C-Innovation, started in 2007, provides a range of ROV services from subsea construction to field development, engineering and project management.
Other Chouest newbuilds include one 314', 1.5 million-gallon refueling vessel; one 318' multi-purpose construction supply vessel, with a150-metric ton motion-compensated deck crane; one 318' diesel electric well-stimulation vessel; five 201' DP-2 fast supply vessels; and two 194' DP-2 fast supply vessels.
Among the new vessels will be five 303' diesel electric 5,150-metric-ton deadweight Brazilian-built PSVs; two 316' 26,000 HP hybrid propulsion Brazilian-built AHTS with 300-metric-ton bollard pull; and five 304' clean design, 5,500-deadweight-ton Polish-built PSVs.
In July, Chouest President Gary Chouest characterized his firm as "customer-centric," one which provides state-of-the-art vessels, along with subsea services, fully-integrated logistics, expanded terminal facilities and shorebase support. The company's worldwide fleet includes nearly 250 specialized offshore service and support vessels. Notably, Chouest is also the largest U.S. designer, builder, owner and operator of ice-breaking vessels. Two new ice-class vessels for Arctic service are under design now in Louisiana. They will be the fifth and sixth ice-break vessels in the company's fleet.

Hornbeck's HOSMAX Newbuilds
Covington-based Hornbeck Offshore also expects Gulf of Mexico deepwater drilling activity to grow. A total of 37 deepwater units are working in the GOM now, President and CEO Todd Hornbeck said during the company's Aug. 1 report on quarterly earnings. "Two of these units are transitioning between drilling locations," he said. "We anticipate an incremental four to six units to commence drilling by the end of this year," with an additional, 14 deepwater drilling units likely to be delivered through 2014.
In addition to impetus from future drilling, demand for vessels is driven by activities that follow a drilling campaign, including fuel development, production, IRM or Inspection, Repair and Maintenance and decommissioning. "A number of significant, ongoing and planned projects in the Gulf are offsprings of past drilling activity," Hornbeck said on Aug. 1.
Roughly 115 U.S.-flagged, high-specification OSVs are operating in the GOM, and 20 of those belong to Hornbeck. The company is currently building 23 HOSMAX 300 class OSVs and MPSVs, under its fifth OSV newbuild program, for service in the GOM on dates extending through 2016.
In late June, Hornbeck delivered its first HOSMAX OSV 300 class newbuild, which was chartered in the Gulf right from the shipyard. Four, additional HOSMAX 300 class vessels should be ready later this year. At the beginning of August, the first three of five HOSMAX OSVs to be delivered in 2013 were chartered for periods ranging from six months to three years, and the company was close to finalizing a customer for the fourth vessel of the five. "We're pleased with the charter rates that we secured for these three initial deliveries from our current newbuild program," Hornbeck said.
In May, Hornbeck contracted for the construction of two additional HOSMAX 310 class MPSVs, bringing its total Jones Act MPSVs vessels under construction now to four. "These U.S.-flagged MPSVs are diversified marine platforms that will enable our customers to obtain Jones Act-compliant services to support their subsea operations," Hornbeck said on Aug. 1. HOSMAX class DP-2 vessels are being built 300, 310 or 320 feet long. They have a cargo-carrying capacity of between 5,650 to 6,200 deadweight tons and can hold more than 20,000 barrels of liquid mud.
Hornbeck in June agreed to sell most of its downstream segment vessels--the company's active fleet of nine ocean-going tugs and nine double-hulled tank barges. These boats are to be sold to Genesis Marine LLC, an affiliate of Genesis Energy LP, for $230 million. "We plan to redeploy the cash proceeds from the sale into our core upstream segment," CFO Jim Harp said in the company's August report on its earnings. Upstream revenue in second-quarter 2013 was more than $5 million higher than in the previous quarter because of greater utilization of and dayrates for the company's high-spec OSVs and MPSVs in the GOM, Harp said. Average new-generation OSV dayrates, primarily in the GOM, in second-quarter 2013 were about $26,000, or $1,000 more than in the first quarter.
Utilization of Hornbeck's fleet of 50 new-generation OSVs in second-quarter 2013 was 88% versus 87% in the first quarter. MPSV utilization was 99% in the second quarter, exceeding 95% in the prior quarter and 91% in the year-earlier quarter. MPSV effective dayrates of about $89,000 in second-quarter 2013 were $1,600 higher than in the previous quarter. Reflecting those encouraging metrics, Hornbeck shares traded on the New York Stock Exchange last month approached their all-time high, set in 2007.

Harvey Gulf Orders LNG-Fueled OSVs
Harvey Gulf has committed $400 million to build, own and operate liquefied natural-gas-powered offshore support vessels, as well as two LNG-fueling docks, CEO Shane Guidry said in June. The entire Harvey staff is committed to reducing negative impacts on the environment, he said. Founded in 1955, Harvey Gulf provides offshore supply and multipurpose support vessels, mainly to the GOM.
Last spring, Harvey placed three newbuild orders for two STXCV heavy-lift construction vessels, along with as a sixth dual-fuel OSV. Once these boats are built, Harvey will own the biggest fleet of LNG-fueled OSVs in the world. The new heavy-lift construction vessels are to be called the Harvey Sub-Sea and Harvey Blue-Sea, with dimensions of 340' x 73' x 29.5'; 12,000 square feet of usable deck space; 250 metric-ton active-heave compensated cranes; and accommodations for 120 crew, fitness centers and a 48-person theater.
The vessels are in addition to an STXCV 310 light-construction vessel, the Harvey Deep-Sea, built by Eastern Shipbuilding Group. Harvey took delivery of the Deep-Sea on July 22 under a four-year charter to DOF Subsea, saying the boat is "a first of its kind for the Gulf of Mexico." The 690v, diesel electric Deep-Sea, designed by STX Marine, is 302x64x24.5 feet, with four Cat3516C Gensets providing 9,000kW of installed power, powering two 2,500kw z-drives and three 1,180kw transverse thrusters, with fuel oil capacity of 453,000 USG, liquid mud capacity of 15,500 bbls, dry bulk capacity of 8,200 cubic feet and methanol capacity of 1,700 bbls, supporting a working deck of 10,400 square feet.
In early June, Harvey announced the order of a sixth OSV to be built at Gulf Coast Shipyard Group, formerly Trinity Offshore, in Gulfport, Miss. This group of LNG-fueled OSVs represents collaboration between Harvey, the American Bureau of Shipping and the U.S. Coast Guard to develop the most environmentally friendly OSVs for the GOM, Harvey said.
In addition, Harvey signed an agreement last spring to purchase eleven Gulf Offshore Logistics DP 2 offshore supply and fast supply vessels.
In early June, Harvey Gulf got its first public rating from Moody's Investors Service for a new $1 billion credit facility. Moody's assigned a corporate family rating of B1 to Harvey and a B1 rating to the company's proposed credit facility--which consists of a $250 million revolver and $750 million term loan. Proceeds from the financing transaction will be used to refinance $534 million of existing debt, acquire nine OSVs and fast service vessels from Gulf Offshore Logistics for $189 million, adjust for acquisition-related excess working capital, and pay related fees and expenses. The company expects to close on two additional GOL vessels next spring, for a total transaction valued at $268 million.
"The public rating will assist me in continuing to grow Harvey in order to meet our client's demands, while increasing our EBDITA to over $500 million in 2016 through additional newbuilds and acquisitions," Shane Guidry said in June. EBITDA is a measure of a company's operating cash flow.
Moody's said Harvey's B1 rating reflects Harvey's modest size, its GOM concentration, a relatively short track record as a company with sizable assets and fleet size, the fact that its top three customers account for over 60% of total revenues, and its exposure to oil and natural gas price cycles. But, Moody's said, the B1 rating also recognizes Harvey's significant position as a provider of Jones Act OSV and ocean-towing vessel services in the GOM, where activity is expected to remain robust through 2015. Moody's cited Harvey's long-term charters for most of its fleet, the quality of its vessels with an average OSV fleet age of four years, its good EBITDA margins and its deepwater focus. Currently strong fundamentals in the GOM are likely to keep demand high for Harvey's OSV services, Moody's said.

Port Fourchon: Also Expanding To Service Rigs
Louisiana's southernmost port of Fourchon continues to grow to meet offshore needs. Ninety-three percent of all GOM drilling rigs operate out of Port Fourchon, and 85% of that total is serviced by Chouest facilities. Chouest affiliate C-Port opened at Fourchon in 1996. Since then, additional Chouest affiliate and support companies, including C-Port 2, Martin Terminal, Clean Tank, Fourchon Heavy Lift, C-Logistics and C-Terminal, have been added at Fourchon. Chouest is the leading terminal support provider to the deepwater Gulf.
Chouest affiliate C-Port 3, under construction now, will have six covered slips to transfer cargo and provide support for deepwater vessels. The multi-service terminal is slated to open by March 2014. Meanwhile, design is underway on C-Port 4, which should contain nine covered slips at Fourchon. This year, Chouest purchased the C-Terminal facility at Fourchon, containing 2,000 linear feet of bulk-headed waterfront property and loading and storage facilities. The company plans to expand its C-Terminal site, adding to storage, warehouses, bulk, cement and barite plants, and expects to increase its fuel, mud and drilling fluid sales.
Separately, Harvey Gulf plans to build and run a liquefied natural-gas, marine-fueling operation at its vessel facility in Port Fourchon, with two separate fuel docks capable of storing 270,000 gallons of LNG. The first dock should be completed next February. Each dock will be capable of pumping 500 gallons of LNG per minute. In addition to Harvey, Chouest will provide LNG fueling at Port Fourchon. In March, Shell announced a deal with Chouest to supply LNG to vessels in the GOM. Under that agreement, Shell will produce LNG at a unit to be built in Geismar, La. Barges will move the fuel from Geismar to Chouest in Port Fourchon, where the barges will refuel customer vessels.
In late 2005, Hornbeck acquired a facility in Port Fourchon and named it HOS Port. The 88-acre site, with nearly 3,000 linear feet of dock space, serves as the company's GOM marine base and provides logistics support for drilling, production and construction in deep and shallow water. HOS Port has crane, forklift and labor services for cargo staging and transfer; indoor and outdoor storage; office space and trailer housing; vessel dockage and vehicle parking. HOS Port is aligned with other, on-site oilfield service firms to provide fuel and lube distribution, liquid mud production and distribution, and waste removal and tank cleaning.

Gulf's Second-Quarter 2014 Outlook Is Strong
Yards are busy on the Gulf now. A year ago, Executive Vice President Dino Chouest said the company's international order book was growing in Poland and Brazil to replace Jones Act tonnage that was returning to the GOM, after leaving two years earlier.
In the GOM, the big bulk of rigs will come on line in the second quarter of 2014, Hornbeck said on Aug. 1. "That's when we're delivering the bulk of our fleet as well." A customer ordering a vessel from Hornbeck now would probably have to wait 26 to 28 months for it. Moreover, that boat will cost 20% to 25% more now than it would have in late 2011 because "all of the integral parts and pieces that are built globally have gone up substantially" in price since then, he said. That's heady talk, perhaps, but the pace of activity in virtually all offshore operations and support sectors would seem to support that optimism.
For now, all leading indicators point to a busy 2014, and beyond. The U.S. Gulf of Mexico markets, now more highly regulated than ever, are also supported by some of the most modern equipment on the planet, with more on the way. The long anticipated "flight to quality" for this sector may finally be here. If so, that's a good thing.


(As published in the September 2013 edition of Marine News - www.marinelink.com)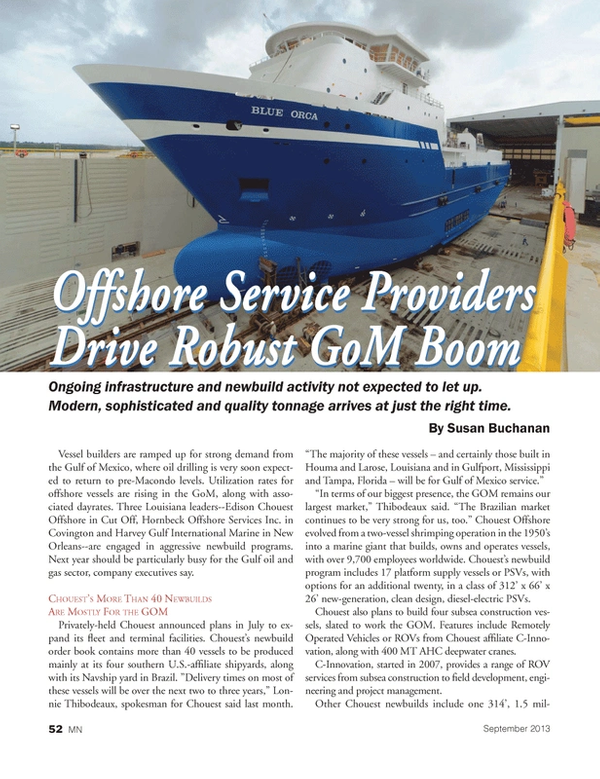 Read Offshore Service Providers Drive Robust GoM Boom in Pdf, Flash or Html5 edition of September 2013 Marine News
Other stories from September 2013 issue
Content