Onboard Testing Services Emerge
Marine News
Testing delivers data needed to clean up tugs and workboats
As increasingly strict government and international maritime regulations are phased in to reduce harmful emissions produced by workboats and tugs, the need for onboard, in-use testing services capable of delivering accurate, continuous emissions data needed has also come about. Monitoring emissions such as NOx, SO2 and particulate matter is fast becoming not just the right thing to do; it will soon become a requirement, as well. Although much work has been done to clean up ports and marine terminals, the next big target involves vessels, harbor-craft, offshore drilling rigs and all manners of workboats. These efforts will require retrofitting existing engines with aftermarket emissions control products or replacement with newer, low emission "green" engines.
The primary regulatory agencies driving this change include the U.S. Environmental Protection Agency (EPA), International Maritime Organization (IMO) with its MARPOL guidelines, and the California Air Resources Board (CARB). CARB, in particular, has taken a leadership role with some of the most stringent emission reduction measures and deadlines. Although similar to the paths taken by other industries targeted by the EPA to clean up diesel engines, the absence of testing services and products specific to the maritime industry has been a roadblock to progress. Until recently, a comprehensive testing service that meets the requirements of every existing regulation has not been available to maritime companies. Neither have the commercial devices required to conduct the testing.

Nuts & Bolts
To meet all the regulations laid out by CARB, IMO and the EPA, an on-board testing service would not just be a snapshot of engine performance, but would include ongoing "in-use" performance testing over time to meet the ISO 8178 testing protocols. This is where difficulty comes in, says Mark Adair, an emissions control product expert for the past 28 years. "The type of technologies used to clean up those industries will essentially be same we use to clean up ships," says Adair. "The difference is all those emission control technologies were developed in laboratory test cells under controlled conditions with engines removed from equipment and sent to the lab. You can't pull an engine off the ship." This means the testing service has to include devices that remain on a ship over time, constantly monitoring emissions ideally with minimal disruption to ships' crew.
Testing Services Emerge
GreenLink Systems, a company that produces high-tech emission monitoring and control products for heavy duty diesel engines, is now offering a comprehensive On-Board Emissions Testing (OBET) service along with the commercial testing products required to conduct such tests. OBET provides CARB, IMO and EPA "acceptable emissions data" that also meets the ISO 8178 standards for in-use emission testing. It can also be used to perform the International Air Pollution Prevention (IAPP) engine re-certification required by the IMO and the EPA.
The OBET testing service utilizes several new commercial testing products from GreenLink Systems to perform these tests: an emission testing analyzer and a continuous NOx emissions monitoring unit that remains on the vessel over time. Information from these units is relayed wirelessly via built-in 4G wireless modems to a secure, online database accessible over the Internet. The emissions testing unit (ETU) component measures eight gaseous emissions, including Hydrocarbons (HC), Nitrogen oxide, (NOx), Nitric Oxide (NO), Nitrogen dioxide (NO2), Oxygen (O2), Carbon dioxide (CO2), Carbon Monoxide (CO) and Sulfur dioxide (SO2).
A key advantage is that the ETU does not need a laboratory technician to perform analyzer calibrations since it is programmed to run in an automatic calibration mode. It can be operated by a crew member after initial set up. The continuous NOx emission monitoring unit (EMU) is installed directly on the engine and exhaust system utilizing sophisticated sensors. The EMU remains on the engine to measure, record and transmit data 24/7, with new updates uploaded every few seconds. According to Greenlink, theirs is the first unit on the market that meets the IMO NOx Technical Code requirements for all on board maritime engines, including auxiliary engines.
The continuous monitoring unit has been designed with both upstream and downstream sensors to satisfy CARB's Title 13 Div. 3 "Verification Procedure, Warranty and In-use Compliance Requirements for In-Use Strategies to Control emissions from Diesel Engines." The Verification Procedure calls for measurements of exhaust before and after treatment by a NOx emission reduction device while establishing in-use performance and durability over an established time period. According to Adair, a testing system that transmits data wirelessly with remote access capabilities is critical to reduce the time, crew labor costs, equipment transportation and access to a vessel that may only be infrequently docked in port.
Consistent with the rapid penetration of satellite communications into the busy workboat markets, emissions data is acquired and can be uploaded in a secure database that can be accessed through the Internet. The emission data assists in bookkeeping and reporting required by the regulatory agencies, reducing costs. The ability to monitor results is particularly important during the durability step of CARB's verification process.
Testing services will also play a key role in identifying emerging emission control technologies that can be retrofitted on marine platforms. A testing service that can measure emissions before and after the device will allow ship owners to separate emission control products that work as advertised from those that don't.


(As published in the September 2013 edition of Marine News - www.marinelink.com)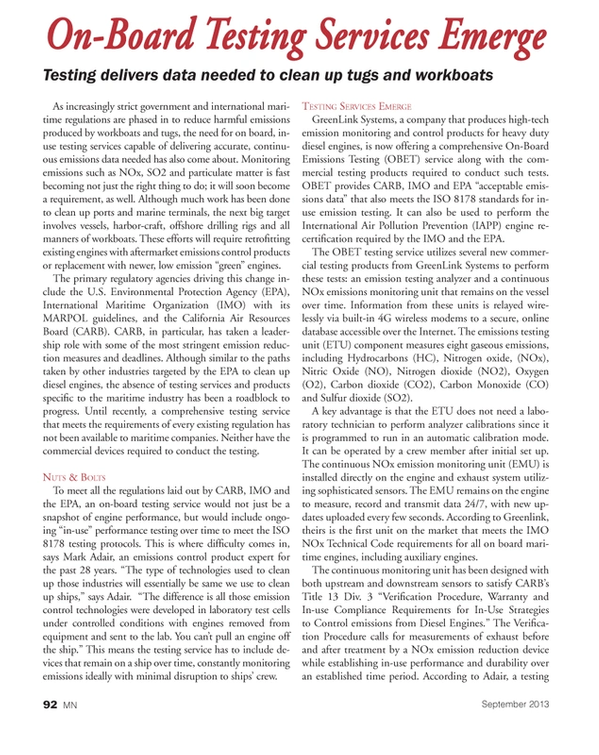 Read Onboard Testing Services Emerge in Pdf, Flash or Html5 edition of September 2013 Marine News
Other stories from September 2013 issue
Content