Top Marine Vessel Operators Overcome Challenges
By Susan Buchanan
MN 100: McAllister Towing, Edison Chouest Offshore, Interlake Steamship Company, Hornbeck Offshore Services

U.S. marine vessel operators have invested in their fleets, adopted new technologies and switched to cleaner burning engines and fuels to stay in business. In this edition, we take a look at how industry leading marine operators have flourished, sometimes in tough circumstances.
At family-run McAllister and Chouest, sons and daughters learned operations from the ground up, while CEO Todd Hornbeck revamped the first version of a company started by his dad. All value their employees and say workplace safety is a priority. Each of these companies is quick to meet customer demands. They have acquired similar or complimentary businesses in order to keep growing. Chouest and Hornbeck expanded overseas, while Interlake Steamship has shown leadership in its ongoing fleet renewal program.

McAllister …. 150 Years and counting
In New York City, tugboat and barge operator McAllister Towing marks its 150th anniversary this year. The company's fleet includes over 75 tugs, serving the U.S. East Coast from Maine down to San Juan, Puerto Rico. The firm's black, white and red stacks sail out to ships at twelve major ports. McAllister docks ships for more than 1,000 steamship companies, and is engaged in harbor and coastal towing and bulk transportation. McAllister owns the Bridgeport & Port Jefferson Steamboat Co., running passenger-car ferries between Connecticut and New York.
Fourth-generation Captain Brian A. McAllister worked his way up on the company's vessels and has been at the helm since 1974. In December 2012 on his 80th birthday, Captain Brian promoted the fifth generation, his sons Buckley and Eric. Today the company is led by Chairman Brian McAllister, President Buckley McAllister and COO Eric McAllister.
"McAllister Towing has experienced many ups and downs in our 150 years," Buckley McAllister said in July. World War I, the Great Depression, World War II, the 1979 energy crisis, the 1986 oil market collapse and the 2008 recession were all challenges. "We're proud to be the one remaining, family tug company dating to the 1860s," he said.
When asked how his company has endured, Buckley McAllister replied simply, "By adapting to changing customer needs. Today's ships are growing in size and capacity to benefit from economies of scale. Our customers require more power now but ship calls are declining."
This year, McAllister welcomes three newly built Z-drive or azimuth thruster tugs, making one third of its fleet modern Z-drive tractor tugs. The Buckley McAllister, a 5,150-hp tractor tug built by Senesco Marine in Rhode Island, was launched in June and is based at McAllister's Providence site. Buckley's sister vessel, the Eric McAllister, will be delivered soon, the company said in early July. This fall, McAllister plans to launch the Tate McAllister, a 6,000-hp tractor under construction at Washburn Doughty in Maine.
"These new tugs expand our vessel escort and emergency response capabilities," Buckley McAllister said. "We're investing to improve services to our customers. That's the best way to assure a resilient business." Among their demands, "some of our customers are insisting that we increase our safety-management-system standards," he said. Appropriately enough, Buckley McAllister this spring completed his tenure as chairman of American Waterways Operators, the tugboat, towboat and barge industry trade group. He remains a member of the AWO's board of directors.

Edison Chouest: Busy Building For Offshore Boom
Shipbuilder Edison Chouest Offshore, based in Cut Off, La., got its start in 1960 when founder Edison bought a 65-foot steel-hulled shrimp boat and hauled supplies to an offshore rig. The family-run firm swelled into a ship construction and oilfield services leader, with more than 7,000 employees worldwide. ECO's fleet now exceeds 250 specialized offshore service and support vessels.
At the helm is president and CEO Gary Chouest, the son of Edison--who passed away in 2008. The company has thrived because of its strong team, which worked many thousands of hours often into the night, and by taking risks, Chouest said.
In the 1960s, ECO bought and upgraded old vessels, and in1974 it built North American Shipbuilding in Larose, La. That yard produced cargo and utility vessels and expanded to offshore specialty vessels, along with ships for the federal government. In 1996, Chouest affiliate North American Fabricators opened in Houma, La, and then affiliates Gulfship in Mississippi and Navship in Navegantes, Brazil opened. In the late 1990s, Chouest built two C-port facilities at Port Fourchon, La. to transfer cargo from deepwater vessels.
Last year, the company said its order books included 40 new-builds at its U.S. Gulf affiliate yards and its Brazilian and Polish affiliates. Among them were 17 diesel-electric, 312-foot platform supply vessels, with options for another 20. The company said it was producing four sub-sea construction vessels for Gulf of Mexico service. The new-builds included a refueling vessel, a multi-purpose construction supply vessel, a diesel-electric well stimulation boat and seven fast supply vessels. Chouest's Navship in Brazil, its largest affiliate with over 1,600 employees, has been building diesel-electric PSVs and anchor handlers.
Early this year, ECO acquired seven PSVs that were under construction in south Louisiana when it bought assets from Bee Mar LLC, based in Broussard, La. This spring, Westport, LLC, a group including Gary Chouest and other Chouest members, acquired the assets of Washington state's Westport Shipyard, Inc., the largest North American yacht builder. The Chouest family also owns American Custom Yachts in Stuart, Fla. Today, it remains busy in all of its core markets.

Interlake Steamship Invests In And Repowers Its Fleet
Interlake Steamship Company in Middleburg Heights, Ohio is the largest, privately held U.S.-flagged Great Lakes shipping operator, carrying nearly 20 million tons of bulk material in a ten-month season for the steel, utility, construction and grain industries. The firm was launched in 1913 in a consolidation that united vessels managed by Pickands Mather & Co. in Ohio. Today, it is an industry leader with plans to convert its fleet to clean-burning LNG for propulsion.
"With more than a century in business, our company is very proud of its continued investment in fleet improvement," Brendan O'Connor, Interlake's vice president of marketing and marine traffic, said in July. The firm's fleet of ten vessels, with capacities of between 21,000 and nearly 70,000 gross tons, are between 690 feet and 1,013 feet long.
In the last decade, Interlake has repowered four of its vessels. In 2010, the company upgraded the 1,013-foot MV Paul R. Tregurtha, which was built in Ohio in 1981 and is the longest ship on the Great Lakes. The vessel's Pielstick engines were replaced with reduced emissions MAK diesel engines. In another innovation, the 767-foot Kaye E. Barker was converted from steam to diesel in 2012. Interlake received the Midwest Clean Diesel Initiative Leadership Award from the U.S. Environmental Protection Agency in 2010. The company's fleet is the only Great Lakes operation to participate in the Coast Guard's Streamlined Inspection Program.
O'Connor said Interlake has strong relationships with its shipboard Marine Engineers' Beneficial Association and United Steelworkers Local 5000 employees. "These groups are very involved in industry outreach and educational partnerships with maritime academies, maritime historical entities and the community," he said.
Interlake is an American Bureau of Shipping quality-management registered and audited International Standards Organization company, committed to continuous improvement, O'Connor said. "Over the last century, we've become more efficient through new technologies and because of our skilled professional employees," he said. "Holding ourselves to a higher standard than the market does has led to sustainable, shared success for Interlake and the customers we serve."

Hornbeck Builds Better Mousetraps
The new Hornbeck Offshore Services in Covington, La., co-founded by Todd Hornbeck in 1997, was listed on the New York Stock Exchange with the symbol HOS in 2004. A predecessor firm by the same name was founded by Todd's dad, Larry Hornbeck, in1980 in Galveston, Texas. The company provides technologically advanced OSVs, serving oil and gas in the U.S. Gulf of Mexico, along with some foreign markets.
As a teenager, Todd Hornbeck learned the business at his father's side and held summer jobs on vessels and in shipyards. At the new company, he assembled a team determined to build a better mousetrap--an improved generation of offshore vessels. The company benefited from relationships that Larry and Todd had forged with customers, employees, vendors, bankers and investors.
Hornbeck said two factors in particular make his company shine. "The first is our people," he said last month. "We have been able to attract and retain people who share our competitive spirit and our commitment to work safely and protect the environment, and who pursue excellence through teamwork and integrity." The firm has a staff of nearly 2,000 in Covington and Golden Meadow, La.; Houston; Brazil and Mexico.
"Secondly, we have built one of the most diverse and capable fleets of high-specification vessels servicing oilfield and select specialty markets," Hornbeck said. "We're expanding through one of the world's largest new construction programs to deliver twenty-four 300 class vessels--including five multi-purpose support vessels featuring helidecks and subsea cranes." The mid-point of that program is approaching. "We have been pleased with the performance of these vessels, which are among the largest supply vessels in the world," Hornbeck said.
The company's fifth OSV new-build program is valued at over $1.25 billion and consists of four 300 class OSVs, five 310 class OSVs, ten 320 class OSVs and five 310 class MPSVs. As of early June, Hornbeck had placed eight vessels in service under that program, with the remainder to be delivered into 2016. As of June 1, the company's operating fleet consisted of 55 new generation OSVs and four MPSVs.

Industry Leaders Respond To Customer Needs
"In the end, taking care of customers is the best bet to assure a resilient business," Buckley McAllister said last month. For their parts, Chouest and Hornbeck strive to meet demands from oil-company customers for safe, technologically advanced products that satisfy recently stricter offshore regulations. At Interlake, O'Connor said value-driven, long-term relationships with clients are crucial to success. For these reasons and more, all four have found a spot on our premier MN100 list.


(As published in the August 2014 edition of Marine News - http://magazines.marinelink.com/Magazines/MaritimeNews)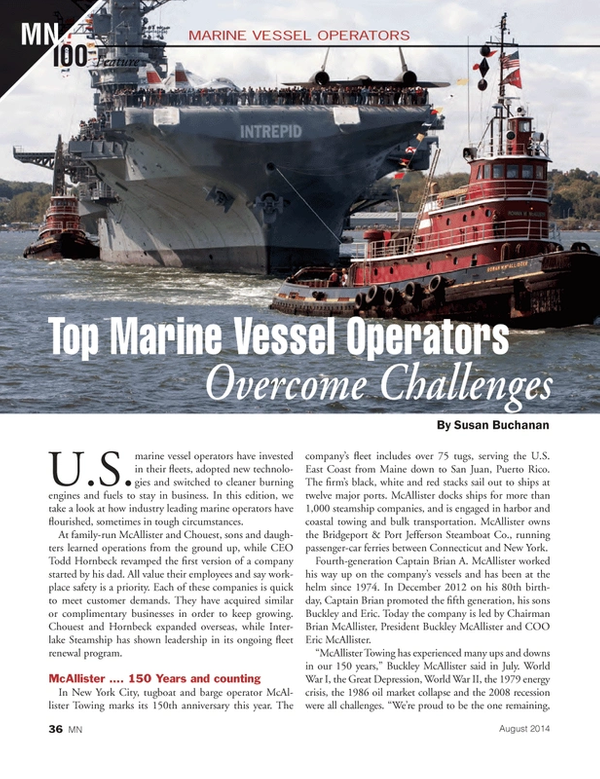 Read Top Marine Vessel Operators Overcome Challenges in Pdf, Flash or Html5 edition of August 2014 Marine News
Other stories from August 2014 issue
Content