Nautical Pedigrees Engineer Success of Top Marine Developers
By Patricia Keefe
MN 100: Hydrocomp, Transas, Boatracs (McMurdo group), Helm and FARO Technologies

The impact of technology on one of the world's other oldest professions has been nothing short of revolutionary, in some cases forcing the marine industry to finally lay aside centuries of thinking and time-honored, if not always accurate, tools. The digital age has not only transformed almost every aspect of seafaring vessels and the processes undertaken on board, but it has sharpened and strengthened the calculations and equations used to measure, shape, process, speed, track and image the steps involved in creating parts, solving problems and rendering reality-based training.
It's not rocket science, and yet, many companies miss the boat when it comes to really listening to customers. For example, users are often disappointed in applications that can ring every bell, yet fail to address their most basic needs. Software developed by geeks for geeks won't float in maritime waters.
Every software company in the Marine News 100 is here not just because they are market leaders in their sector. Toss in cutting-edge tools, good engineering, rigorous internal testing, best practices and expertise-backed support, and it's no surprise mariners keep coming back to our five winners for more: Hydrocomp, Transas, Boatracs (McMurdo group), Helm and FARO Technologies:

HYDROCOMP
If it touches the water, Hydrocomp is on it – the hull, rudder, propellers. "If it's above the waterline, with the exception of the main power plant, we're not interested. It's those things that make the ship different from a buoy that we're involved in," says McPherson. When the company entered the market, its competitors were developing suites of hull design software with a CAD/CAM focus. "No one touched applied hydro dynamics."
The New Hampshire-based maker of specialized hydrodynamic design and performance predictive analysis tools for hulls is celebrating its 30th anniversary, and you don't make it that far unless your products are really serving the needs of in-the-trenches users.
The original game plan was to offer a broad range of naval architectural tools. That segued into a propeller software package after McPherson "suddenly became known as the propeller guy" after circumstances allowed him to learn a lot about the "black art" of propellers. Suddenly the company found it had filled a niche and shelved plans for everything else, focusing exclusively on applied hydro dynamics.
NavCad is an integrated tool for resistance and propulsion and propeller sizing. PropCad is a geometric modeler tool that creates drawings and numerical documents for export to 3D CAD/CAM for creating custom and semi-custom designs.
Hydrocomp succeeds in part because it is a company of engineers who have learned to program. They understand their users on a level that generic software developers can't. McPherson's guiding maxim is that behavior always trumps performance. "You never want to have a case where it works great nine out of 10 times and works awfully that one time. That's expensive. Our goal is for the software to be as bullet-proof as possible, and well behaved."

TRANSAS
The reigning market leader in marine simulation, Transas has been a technology leader virtually from the start, when it entered the market with the industry's first PC-based application. "When we first introduced 'sim' to the industry, competitors thought we were crazy thinking that the power of the PC could serve the needs of these schools and large simulation complexities. Now every manufacturer in the world utilizes the PC," said George Toma, president and general manager of Transas USA.
Transas today is the biggest provider of full-featured simulation systems for professional training and certification to the marine community. It also provides a range of onboard navigation equipment, electronic navigation charts and data base systems, and port and vessel traffic management systems. It claims to hold 45% of the commercial maritime simulators market, 40% of the electronic navigation systems market, and its onboard equipment is used on more than 13,000 commercial and other vessels flagged in over 130 countries.
The Russian-owned company's roots come from navigators and sea-going officers and engineers. "They created a company for mariners, by mariners, and we've never lost that spirit. We understand the needs of our customers because we have been there ourselves," said Toma, himself a Kings Point graduate. Transas maintains that connection through "continuous communication and feedback with the customer base," as well by monitoring the rules and regulations by participating in various industry technical standards committees and organizations. "We were the first to come out with an ECDIS IMO-approved system," he noted, adding that Transas has a separate division that "does nothing but think five- to-10 years ahead of where we are now."
The Transas graphical user interface is simple and intuitive. 'There is a lot going in in the inland waterway, moving in both directions, amid demands to keep moving cargo as quickly as possible, and with that, the training needs to increase as well."
Another Transas advantage are its model tools: Model Wizard, which lets users to create their own practice areas, and Virtual Shipyard, which let users "manufacture" a vessel to spec. These tools have been used to model changes on the Ohio River in a study. For example, what would the environmental impact be if a lock was built here? As the cost of simulation systems has dropped, the interest from the cost-conscious tug and work boat sectors has risen. Brown water companies are also using simulation for in-house training on unique or proprietary aspects of their operations or equipment.

HELM OPERATIONS
The dispatching and billing woes of paper-bound, email-oriented log towing companies led a forestry worker to launch Helm Operations and it first application, Tug Assist, an early iteration of Helm's well-known Marine Operations system software. Tug Assist tackled jobs dispatching, tug utilization rates, inventory tracking and billing turnaround times. Over time that morphed into Helm's popular Marine Operations data base-oriented application, which features five shore-side modules and one shipside module, providing tugs and barge and OSV industries clients with comprehensive administrative, management and communications tools designed to increase business intelligence and operational efficiency.
"We are the world leader in dispatching and billing and job-oriented work – at least in the harbor docking sector," says Rodger Banister, vice president of marketing. He adds that Helm is "built on the principle of user experience," and it's the way Helm extracts that experience that has helped it to become known as one of the few companies out there with a system integrated through all departments.
Helm ensured that integration by diving into client processes, bringing users together to map out real workflows. "We find out how people work, and we look for trends, so that when we develop the software, it's based on what they told us," Banister explains.
Helm will follow that same model as it builds its next-generation successor to Operations, Helm Connect. The company claims it will be the first application-based, workflow-based, web-based software built for the workboat industry. Connect will ensure greater engagement through smaller, simpler, but powerful applications designed to handle specific tasks faced by crews and the shore-based team every day. Users will be able to see what's going on, at any time, with software designed to be used at all levels of the company.
Connects will be built on the theory that everything can be done online, simply and for a lot less. Intuitive workflows will vastly paper trails and training needs, predicts Banister. The company currently is halfway through building Connect's HSQE suite (first module). If all goes well, Banister looks to be rolling out the new module before year's end.

McMURDO GROUP (BOATRACS)
Fleet management and tracking is tiny Boatracs' claim to fame. From its roots in a North American truck-tracking application, Boatracs saw an unmet need and has single-handedly built the North American small-to-medium offshore, coastal and inland waterways vessel tracking market to 2,500 vessels, using a version of Qualcomm's OmniTRACS package of hardware, software and satellite communications adapted to shipping and backed by 24/7 support.
The Boatracs family includes multiple communications options ranging from its core offering of OmniTRACS-based products to its newer multi-mode broadband and voice capabilities, all powered by web-based messaging and mapping software (BTConnect and BTForms) to provide access to fleet-wide data from anywhere on any device, to increase operating efficiencies for thousands of vessels across North America.
The company adds features on a roughly quarterly schedule. "We are not just developing features for the sake of features. We go out and talk to the customers about what they would like to see next," says Jonas Olsen, Fleet Management Business Unit Manager of McMurdo Group.
"Four or five of the biggest inland waterway customers also have deep offshore operations or contracts in South America. It's inconvenient not to use the same software everywhere,'' says Olsen.
Also on tap for delivery this year is support for hand-held mobile devices. "Most of what we do will be on tablets in the near future. We see that support as critical," says Olsen. "There is not a lot of room in the wheelhouse for most customers, so to be able to go to the iPad or Android tablet, makes a lot of sense." Boatracs is also looking into finding better ways to inform customers of inland water conditions, such as water depth, lock status, and traffic, and working on an application to replace whiteboards with one large computer screen showing vessel traffic and performance.
Those offerings may come with a new name, as the McMurdo Group has purchased a division of Orolia, which bought Boatracs two years ago last month.

FARO TECHNOLOGIES INC.
FARO Technologies, Inc. has come a long way from its medical imaging start. Today it is a leading manufacturer of portable, computer-aided 3D measurement, imaging and realization technology. These devices, which measure a variety of distances at varying levels of accuracies, are used for repairs, upgrades, comparisons of parts and complex structures within production and quality assurance processes, inspecting components and assemblies, production planning, documenting large volume spaces or structures in 3D, surveying and construction, and reconstruction of accident sites.
The technology produces measureable ROI, such as tremendous time savings, lower labor costs, and reduced vessel downtime. To ensure customers start seeing savings within 90 days, the "Faro Check" sends out employees to assess the project and correct any issues, via more training or fixing workflow obstacles, etc. The company claims about 15,000 customers operating more than 30,000 installations. "Most of our products are simple enough our kids can use them," says Rob Pietsch, vice president of marketing –Americas.
Once bulky, heavy and expensive, scanners and lasers today are portable (some models are wearable and offer 4-5 hours of battery life), lighter weight (one model weighs about 11 pounds,) and a third the cost. The time savings can be massive: it includes fewer visits to take more comprehensive, complete measurements; easy uploading of data, which enables design work to be done onshore and the prefabrication of parts; easier access to confined spaces; less rework; and faster repairs.
For instance, to create a 3D model, Faro's arm scanner can collect a million data points in a matter of seconds versus the time involved to collect the same manually. The ability to do prefabrication and use robotic welding creates even bigger savings. "Those savings means the ship goes out into revenue-producing service that much quicker," adds Pietsch. With the world's fleet of 20-year-old vessels coming in for mandated ballast water retrofitting, this is no small advantage.
Moreover, that dry dock time is an opportunity to create an updated 3D blueprint that can be used for future work. Go in once; get whole picture in one fell swoop. It's measure once, cut safely multiple times over. Most vessels today have none to wildly inaccurate original blueprints. Faro's Focus3D is a high-speed, light-weight 3D laser scanner that uses a touch interface and produces detailed three-dimensional images of complex environments.


(As published in the August 2014 edition of Marine News - http://magazines.marinelink.com/Magazines/MaritimeNews)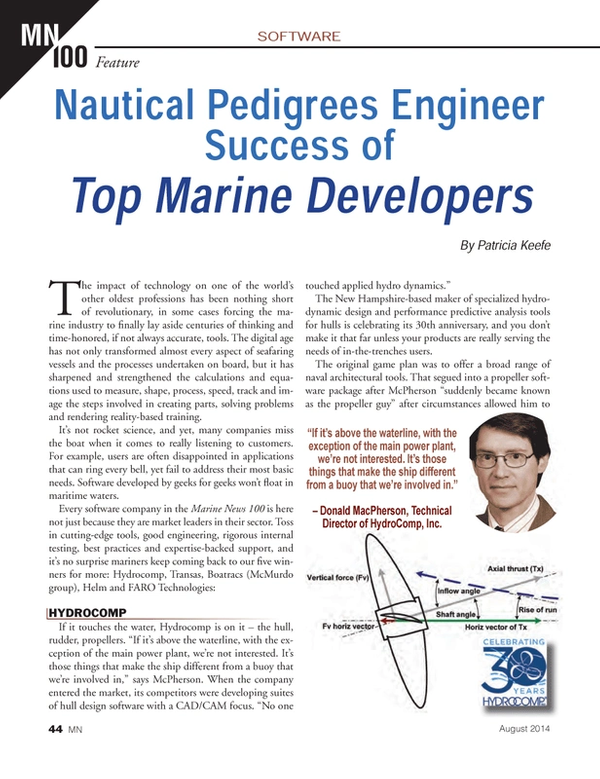 Read Nautical Pedigrees Engineer Success of Top Marine Developers in Pdf, Flash or Html5 edition of August 2014 Marine News
Other stories from August 2014 issue
Content