MN 100: Thordon Bearings Inc.
Posted by Nicole Ventimiglia
3225 Mainway
Burlington, State ON
Canada L9C5J8
Tel: (905) 335-1440
Email: [email protected]
Website: www.thordonbearings.com
President & CEO: Terry McGowan
The Company:
Thordon Bearings Inc. designs and manufactures a complete range of polymer bearing and shaft line products for the marine, clean power generation, pump, offshore and industrial markets. Thordon's strong and recognizable global brand is known for high quality and superior performance, eliminating oil and grease from bearing applications in ships, hydro-turbines, vertical pumps and many other applications. New ideas from the field are brought to New Product Development, who continually evaluate new polymers, products and application designs. Products are sold through an extensive factory trained distribution network that has been established in over 85 countries to service their international customer base.
The Argument:
Thordon products are reducing downtime for shallow draft vessel owners and eliminating sources of oil and grease pollution. Thordon's water lubricated propeller shaft bearings offer the longest wear life allowing vessel owners to reduce docking time. Thordon's self-lubricating rudder bearings, steering gear and deck equipment eliminate the use of grease. Thordon products typically operate with water or dry in slow oscillatory applications, eliminating any use of grease or oil. All products offer an exceptional wear life, a low coefficient of friction, and are easy to install on site. A dedicated team of Global Service Technicians ensure that all customer concerns are promptly addressed and that customer satisfaction is top priority. Thordon Bearings' engineering and focus on quality has earned them worldwide recognition. Quality procedures are certified to the ISO 9001:2008 Quality System – the most rigorous system in the world. Thordon bearing and seal systems are proven, cost effective, and pollution-free solutions for marine applications.

The Product:
Thordon Bearings, Inc. designs and manufactures water lubricated propeller shaft and grease-free rudder and deck equipment bearings for the workboat and marine markets. With strong engineering expertise and over 85 distributors globally, Thordon can help design and fit bearing solutions that last long, eliminate oil and grease, and are easy to fit. With over 25 years experience supplying bearings on the Mississippi River system, its RiverTough tailshaft bearings offer twice the life of rubber bearings in abrasive water conditions, bearing wear rates of 0.003" (0.076 mm) in 6500 hours of annual use, and easy installation. Thordon is the proven choice for the rudder bearings as well as the thrust washers. Thordon's SXL rudder bearings operate above and below the water line, resist abrasive wear and will not pound out of shape due to the elastomeric nature of the material. Internal lubricants reduce friction, resulting in smooth operation without grease lubrication. To eliminate grease in your deck equipment applications, ThorPlas bearings can be easily back-fit into virtually all applications where greased bronze is currently installed. ThorPlas non-metallic bearings require no grease to operate, are environmentally friendly and save in costly labor fees as the bearings require minimal maintenance.


(As published in the August 2014 edition of Marine News - http://magazines.marinelink.com/Magazines/MaritimeNews)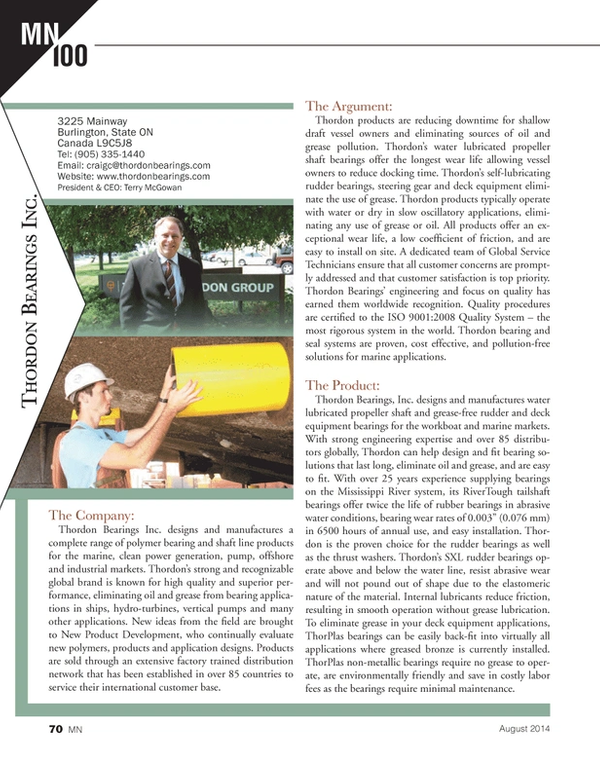 Read MN 100: Thordon Bearings Inc. in Pdf, Flash or Html5 edition of August 2014 Marine News
Other stories from August 2014 issue
Content