Spotlight on North American Ferries
By Sarah McCoy
MN 100: Catalina Express, Boston Harbor Cruises, British Columbia Ferries, Washington State Ferries, Staten Island Ferries

The most important part of the short sea shipping equation carries the most critical cargo: you.
The notion that North America's short sea shipping program has yet to set sail is purely based upon the failure of stakeholders to fully employ water routes as a means to move freight in an economically and environmentally correct fashion. On the other hand, the model seems to work perfectly when it comes to the movement of commuters, tourists and yes, even cargo – all aboard North America's many ferries. In this edition of MarineNews and our annual MN100 listings, we outline five of the continent's best operators.

Catalina Ferries
The Catalina Express ferry company does its best to kick off passenger vacations well before customers reach the gentle shores of Santa Catalina Island, some 22 miles west of Los Angeles. Pay a bit extra for the 60-to-75 minute cruise and you enter the premium zone of the Commodore Lounge, complete with panoramic windows, leather-trimmed headrests and seats and beverages and snacks served by cabin attendants. You're officially on vacation.
Santa Catalina Island, 22 southwest of the Los Angeles megalopolis, has beckoned tourists for the last century, but the advent of aluminum fast ferries kicked the Catalina Express into high gear. The company expanded over the past 32 years from one to eight high-speed ferries, four of them catamarans, with six ports of call. Restrictions on the number of automobiles allowed on Catalina Island mean that the ferries move only foot passengers, as many as one million annually.
Testimonials of satisfied passengers aren't hard to find, and the high-quality transportation experience is no accident. The company worked closely with several boat builders to maximize passenger comfort. Nichols Brothers Boat Builders of Whidbey Island, WA has built three catamarans for Catalina Express. The largest, the Catalina Jet, moves 450 passengers at a time, has two air-conditioned inside decks plus open-air seating on the top deck. Australian fast-ferry seating specialists Beurteaux supplied the seats. Seat-level windows provide the views.
The 144-foot vessel cruises at 35 knots and has a computer-stabilized ride. Designed by Incat Designs and built in 1999, its interior was completely refurbished in 2006. In 2007, the Catalina Express upgraded to low emission engines and new water jets.

Boston Harbor Cruises
Founded by Matthew "Matty" Hughes in 1926, Boston Harbor Cruises (BHC) has grown to 32 vessels and 200 full-time employees carrying foot passengers to an extensive network of destinations and activities. Along the way, BHC has become the largest private operator of passenger vessels and is now operated by Matty's grandchildren and great-grandchildren.
BHC's operations encompass foot ferries to the islands of the Boston Harbor Islands National Recreation Area; whale watches to the Stellwagen Bank Marine Sanctuary; passenger vessels to Salem, Massachusetts, and Provincetown on Cape Cod, plus a Boston Harbor water taxi, sightseeing cruises, Codzilla, private charters and an outdoor waterfront bar called "The Landing."
For the price of an $88 round trip ticket, the Provincetown Cape Cod Fast Ferry arrives at the tip of Cape Cod within 90 minutes. The vessel, Salacia, is the largest and fastest catamaran in the U.S. Another high-speed catamaran carries 149 passengers to Salem, Massachusetts, in less than one hour. Beyond this, the company has partnered with the New England Aquarium for three-hour catamaran whale watch tours to see the humpbacks finbacks, pilot whales and critically endangered right whales of Stellwagen Bank Marine Sanctuary.
Finally, the creative minds at Boston Harbor Cruises have come up with Codzilla, a 40-minute ride on an open boat with a top speed of 35 knots. A scripted show blasts Bobby Darin, The Standells ("Dirty Water, no doubt) and AD/DC. The disclaimer reads, "Before boarding, secure all headwear, eyewear, wigs, and pitiful comb-overs. No refunds issued for bad hair days."

BC Ferries
With an extensive area of service and pressure to turn a profit after being privatized in 2003, British Columbia Ferries has endured its share of criticism in the past few years. Now the company has shown profits plus awarded contracts for three new intermediate-class vessels. One of the largest roll-on/roll-off ferry operators in the world, BC Ferries' 25 routes and 47 ports of call reach south near the U.S. border and as far north as remote Haida Gwaii (formerly the Queen Charlotte Islands), some 300 miles. BC Ferries' 36 vessels range from pint-sized sixteen-car boats up to 470-car giants.
BC Ferries has not only made modest profits in the past two years, it has just announced that it has awarded contracts totaling $155 million (US dollars) to Remontowa Shipbuilding S.A. of Gdansk, Poland, to build three new intermediate class vessels. One new vessel will replace the 50-year-old Queen of Nanaimo used on the southern BC route from Tsawwassen to the Southern Gulf Islands. Another will retire the 49-year-old Queen of Burnaby, which sails between mid-Vancouver Island town of Comox and Powell River on the mainland. The third vessel will fill in on the Southern Gulf Islands route, plus provide spot relief around the fleet. The vessels are due in 2016 and 2017.
Showing real leadership, and in an effort to keep fares from rising and to use a cleaner fuel, the new vessels will operate as dual-fuel capable, using Liquefied Natural Gas (LNG) or diesel fuel for propulsion and power generation. BC Ferries is a hybrid: a Crown corporation owned and subsidized by the federal and provincial government, but independently managed and operated for profit. Between increased fares in recent years and increased subsidies, the system was in the black in 2013 and 2014. Earnings were $18.0 million for fiscal 2014, an increase of $2.5 million from 2013's net earnings of $15.5 million.
Washington State Ferries
With 22 million riders per year and nine marine routes, the largest ferry system in the United States could hardly afford not to be without steady funding, but that was the situation until recently. In 1999, voters repealed the motor vehicle excise tax that supported the ferry system. The system lost one-fifth of operational funds and three-quarters of capital funds. Attempts to replace the money with infusions from highway funds, service cuts and fare raises were called a "Band Aid" approach.
But now, a turnaround may have begun. David Moseley, just retired as head of the ferry system, says that, at long last, some new vessels are being built and paid for. "Our fleet had become the oldest of any major ferry system in the world. The average age of BC Ferries' vessels are 21 years old, Norway's 28 and ours, in 2008 when I came, was 38 years old. So, we had old boats, had cut service and raised fares on our customers – no wonder they were mad at us!"
The most recent state legislative session passed new fees sourced from car tabs and title transfers and expected to raise 22.5 million dollars a year. Since 2010, the state had managed to pay for two new ferries for lower-traffic routes. The first ferry, Tokitae, went into service in June of 2014. The second is under construction, and the third will be paid for with the new fees. State laws mandate that ferries are built by Washington State shipyards. Still, nine of 22 ferries are between 40 and 60 years old and will need replacement. Unfortunately, the new car tab fees do not generate enough revenue to meet the need.
Conversion of existing ferries to liquid natural gas fuel is also on the horizon. After studying conversion of six existing 1980s-era ferries, the ferry system has approved the concept. Hurdles remain. The Coast Guard must approve and once again, the legislature must find the funding. Through it all, the storied Washington State Ferry System soldiers on, as before.
Staten Island Ferries
For a government-run agency serving 20 million people every year, Staten Island Ferries attracts unexpectedly positive reviews. They run from "I love FREE!" to "Best view for Manhattan, The Statue of Liberty and Staten Island… The whole experience is just amazing because in an hour, we saw the great view twice and cost nothing!!"
As proprietor of eight of the world's most iconic ships, ferries that carry up to 5,200 passengers apiece, Staten Island Ferries, part of New York City's Department of Transportation, would seem to have a bear a burden of high expectations. But Staten Island Ferries appears to undertake numerous imaginative projects and attract thousands of riders every day. It, too, is studying the conversion of ferries to liquid natural gas fuel. The agency has added art to terminals and upgraded ramps using federal stimulus money. The Spirit of America ferry, built in 2006, has a keel built of steel taken from the Twin Towers.
In the past few years, the St. George Terminal on Staten Island has been revamped from a dingy, oversized waiting room into to a forward-looking, passenger-oriented modern transportation hub. With the removal of a brick wall, the terminal provides a view through a forty-foot glass wall of the harbor and ferry dock. A new photovoltaic louver system saves one quarter of the energy needed to operate the facility. Passengers can look upward to observe the local plants on the new "green" roof. A new system collects rainwater run-off, which then irrigates the soil of the rooftop garden.
The New York signature-orange ferries cruise past the Manhattan, Brooklyn and Newark skylines from terminals in lower Manhattan and on Staten Island. The ferry crossing showcases the Brooklyn Bridge and Statue of Liberty. As Alvar L. of Staten Island tells it online, "I love the ferry. It is the most reliable form of public transportation in NYC, is almost always on time, and best of all, it's free."


(As published in the August 2014 edition of Marine News - http://magazines.marinelink.com/Magazines/MaritimeNews)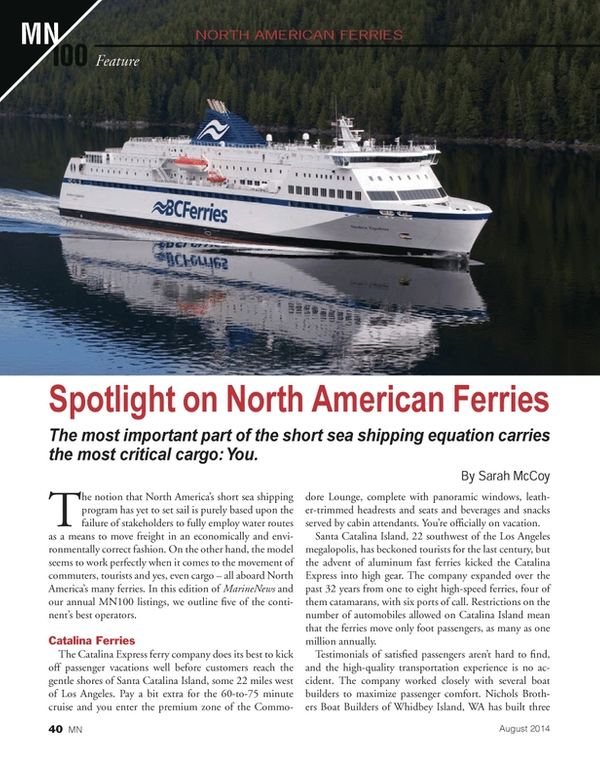 Read Spotlight on North American Ferries in Pdf, Flash or Html5 edition of August 2014 Marine News
Other stories from August 2014 issue
Content